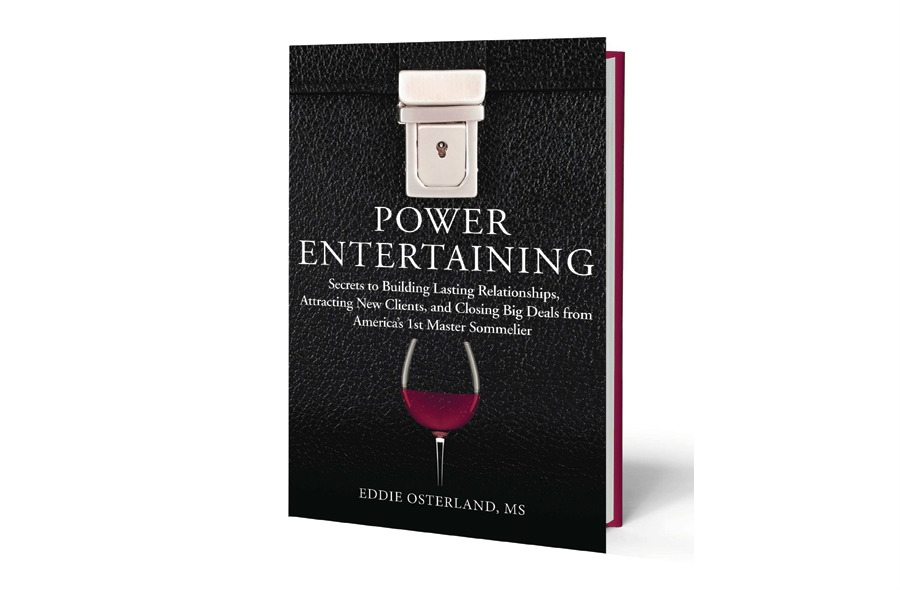 With another holiday season in front of us, I want to shed some light on gift giving from the point of view of a Master Sommelier.
I am happy to say that I have just had my book, Power Entertaining: Secrets to Building Lasting Relationships, Hosting Unforgettable Events, and Closing Big Deals by America's 1st Master Sommelier published by John Wiley & Sons. In one of the chapters titled "Power Tools," I describe what any business person needs to possess in order to stand out from the rest of the people they compete against. Power Tools are those items that distinguish those who insist on the finer things when it comes to entertaining better with wine and food.
Glassware
The One To begin with, let's start with glassware. One of the things that every serious "foodie" needs is a proper set of wine glasses that allow the wine's nose to capture varietal distinction. The nose tells you more than the palate. To put it another way, the palate serves to confirm what the nose indicates. Recently, a colleague and Master Sommelier Andrea Robinson did some extensive research and testing and came up with what I believe are the best set of durable and reasonably priced wine glasses out there. They are called The One! The name signifies that you only need one well-designed glass, and they make a white and a red. These are my everyday glasses because they are not only beautiful, but can withstand the dishwasher.
Wine Openers
Just when you thought that you've seen every model of wine opener from the Screwpull to the Rabbit, there are two new items on the market that I want you to be aware of:
Quick-Click
Here is a Waiter's Friend model that has a unique design that you will love. Italian-designed by a company that makes fine cutlery (including switchblades), this opener opens just like a switchblade. It also incorporates a foil cutter rather than the usual knife which allows you to carry it with you in your carry-on baggage (TSA approved). It has a lever fulcrum that adjusts so that you will never chip a bottle. They are a great marketing piece when you have your company logo on them (minimum 250) and I use them all the time to market Power Entertaining.
Code 38
This is for Jetsetters. Here is the ultimate client appreciation wine opener gift! The Code 38 wine opener series was designed for the professional sommelier. It incorporates functionality and durability (lifetime guarantee) and state-of-the-art stainless steel industrial design, and it performs like no other. This is one serious piece of equipment, handmade in Australia and used by the best sommeliers in the world. They have several models, and their spare no expense Code 38 Stealth costs as much as a magnum of serious Burgundy.
Wine Tote
As a Power Entertainer, you are always carrying wines to various events, and most wine carriers seen in retail shops and wineries are nothing to be desired and are cheaply made. Recently, the Court of Master Sommeliers issued each of their members a nicely made wine tote that we all felt great to carry. I decided to go the source and create some for my clients and friends. If you're looking for something for yourself or a classy way of sending someone a pair of wines to be compared, you can't go wrong here. It has double zippered insulation and a wine opener is included.
Cutco Knives
Everyone loves to get something world class and unique that they can use every day with family and friends. One of the best ways to appreciate clients is to give them something personal. Many companies like CUTCO (the largest cutlery company in the U.S.) have responded to this need and are custom engraving knives in-house with either a recipient's name, company logo, or both. These knives are the kinds of knives chefs carry wrapped up because they will accept no less in precision. Like the Code 38 wine openers, they are guaranteed for a lifetime. Take a look at the sample pictured here.
Power Entertaining
Finally, I mention my new book called Power Entertaining, just published in September 2012. I wrote this book for the business executive who would like to entertain friends and clients at a level they have never seen before. With over 35 years in the business, I share some of the secrets you need to know about so that you can build lasting business relationships, host unforgettable events and close big deals. Read this before you attempt to negotiate your next event at a hotel or restaurant
Hopefully, whether you're taking care of number one or looking to add value to business relationships with client appreciation gifting, you have seen what I feel are the gotta have Power Tools for this holiday season. I direct you all to my website where you will find special pricing on these items for Jetset readers.