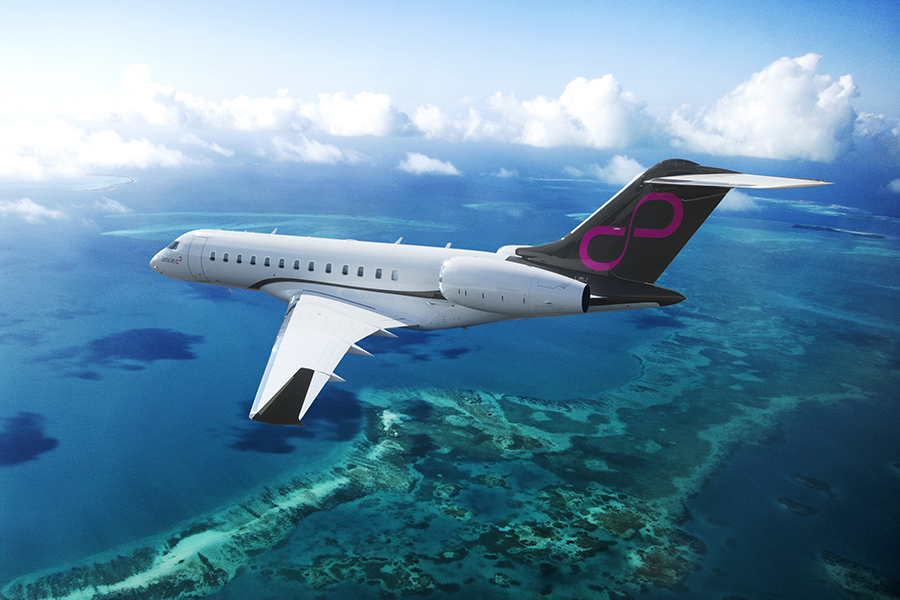 "We are bringing to market this ultra high-end Zetta experience, as a mixture of Asian attention to fine detail, European chic, and the American can-do attitude," says Geoffery Cassidy, managing director of Zetta Jet. In less than 15 months, Zetta Jet has grown to be one of the fastest-growing charter companies in the world with its owned and operated Bombardier fleet, featuring the latest Global 6000 and Global 5000 with ultra-long range intercontinental capabilities across the Pacific Rim.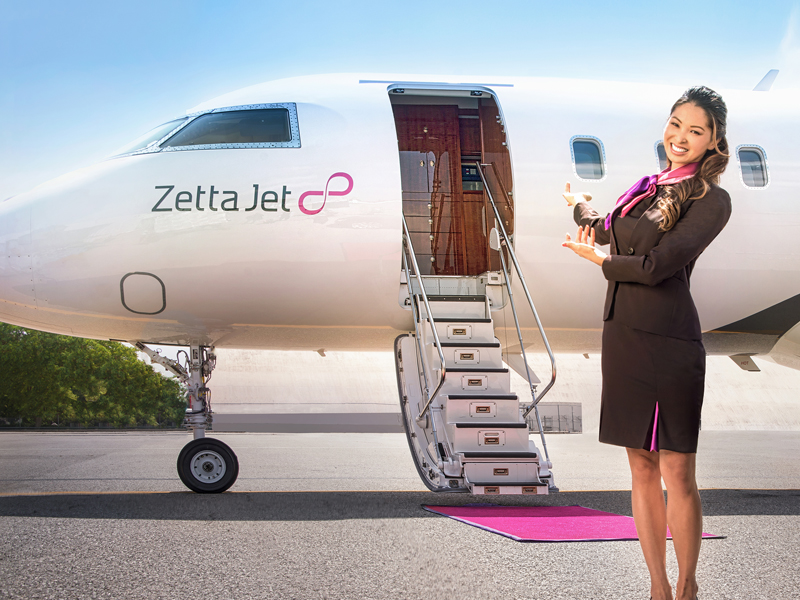 Dedicated to delivering the ultimate in bespoke luxury experiences to a discerning clientele, Zetta Jet ensures that the passenger's journey is a delight from the time they book a charter till they disembark. "We believe that no desire is too extravagant and no request too difficult to satisfy," said Cassidy.
Boasting Egyptian cotton linens, Christofle tableware, and a carefully curated wine list from a renowned sommelier, no detail is overlooked. Zetta Jet tailors all aspects of every flight to the preferences and needs of each client, creating unique experiences for different passenger groups from business groups to individuals and families. A wide choice of menus, including catered meals from Michelin-starred restaurants, and a vast library of current and classic onboard entertainment options ensure the most eclectic tastes are sated.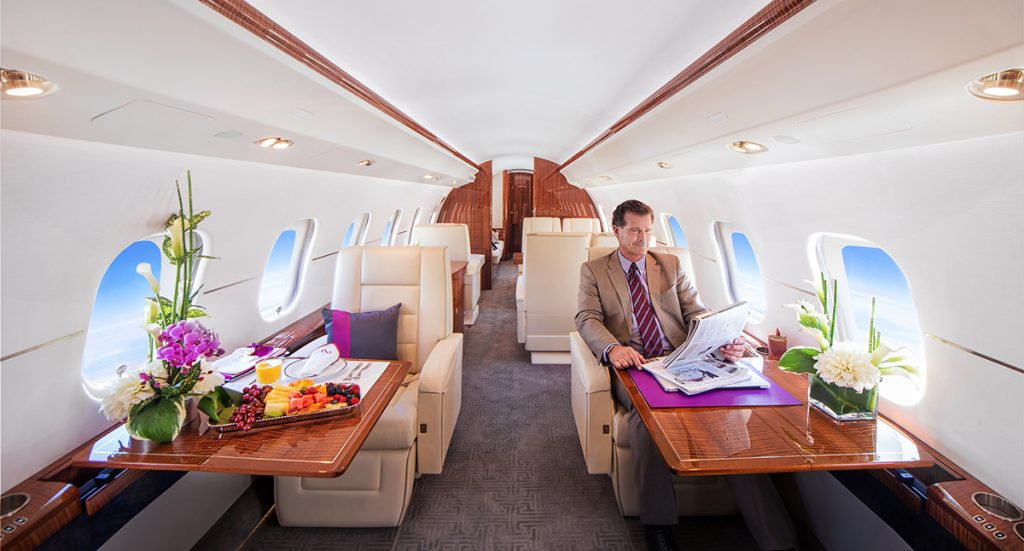 "Our flight attendants are selected from the world's finest aviation, hospitality and service organization, representing some 20 nationalities. We pair passengers with an attendant who is intimately familiar with their culture and language, even down to their service preferences." Its fleet also features the fastest in-flight KuBand and KA Band Wi-Fi, allowing its passengers to make calls, text and surf the web anywhere in the world. "We're putting the best system available in every airplane," said Cassidy. "Thirteen hours without good, consistent connectivity is no longer an option for our customers."
Unlike the aircraft in other charter fleets, Zetta Jet offers passengers a mix of cabin configurations and varying interiors with their fleet to cater for their customers' needs, whether it's for a business meeting setting or a relaxed bedroom setting with double divans. "By design, we're taking delivery of different cabin configurations, different color schemes, different everything," said Matthew Walter, Director of Sales, Zetta Jet. "People like choice. Some customers want a double divan in the back; some want a huge bed."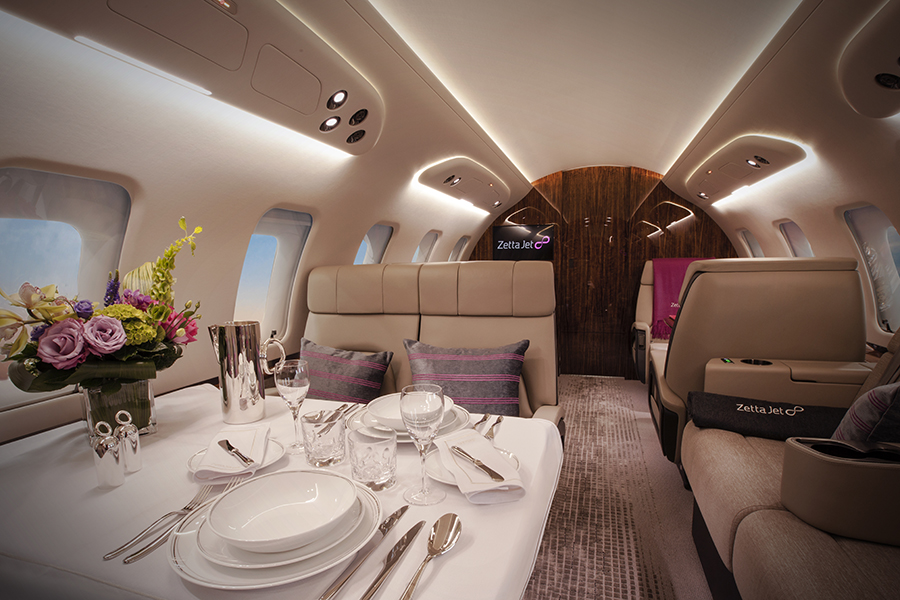 Adding the icing to the cake is the unique Zetta Jet experience which is a fusion of true attentiveness found only within Asian service philosophies, coupled with an American can-do attitude – all delivered within a 'European Chic' aesthetic that pervades the cabin. "It is our unique blend of reliability, quality of service, superior product offering and top-of-the-range equipment that sets us apart from other charter companies."
Operating on a floating fleet model where the aircraft have no home base, Zetta Jet offers its clients with a choice between block hour programs and on-demand charter including one-way trans-Pacific charters. Zetta Jet is also the first and only Part 135 operator authorized by the FAA to conduct polar flights, allowing Zetta Jet to fly nonstop to many destinations that most other providers require refueling to reach. "Our operations are flexible, fast acting and able to react to the ever-changing environment in which we operate. Linking key cities across the globe, from Moscow to Los Angeles, and New York to Beijing, makes Zetta Jet a first for North American Business Aviation," said James Seagrim, Director of Operations, Zetta Jet.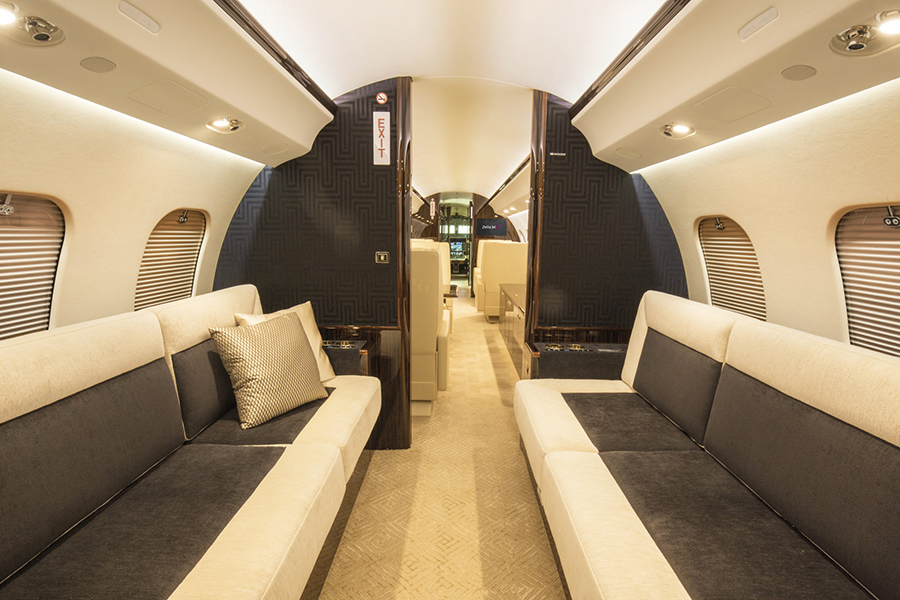 Zetta Jet is also dedicated to upholding its history of excellence in all areas related to safety, security, and privacy, maintaining ARG/US Platinum and Wyvern Wingman safety ratings, and Air Charter Safety Foundation and International Business Aviation Council (IBAC) memberships. Staff and crew are committed to continuous education and re-certification by all relevant safety and regulatory bodies worldwide and goes through ongoing culinary and service training. Zetta Jet – the world's first truly personalized private airline.
Contact the concierge desk at  888.995.7908 or +65 6483 8870 or email [email protected]
For more information, please visit www.zettajet.com