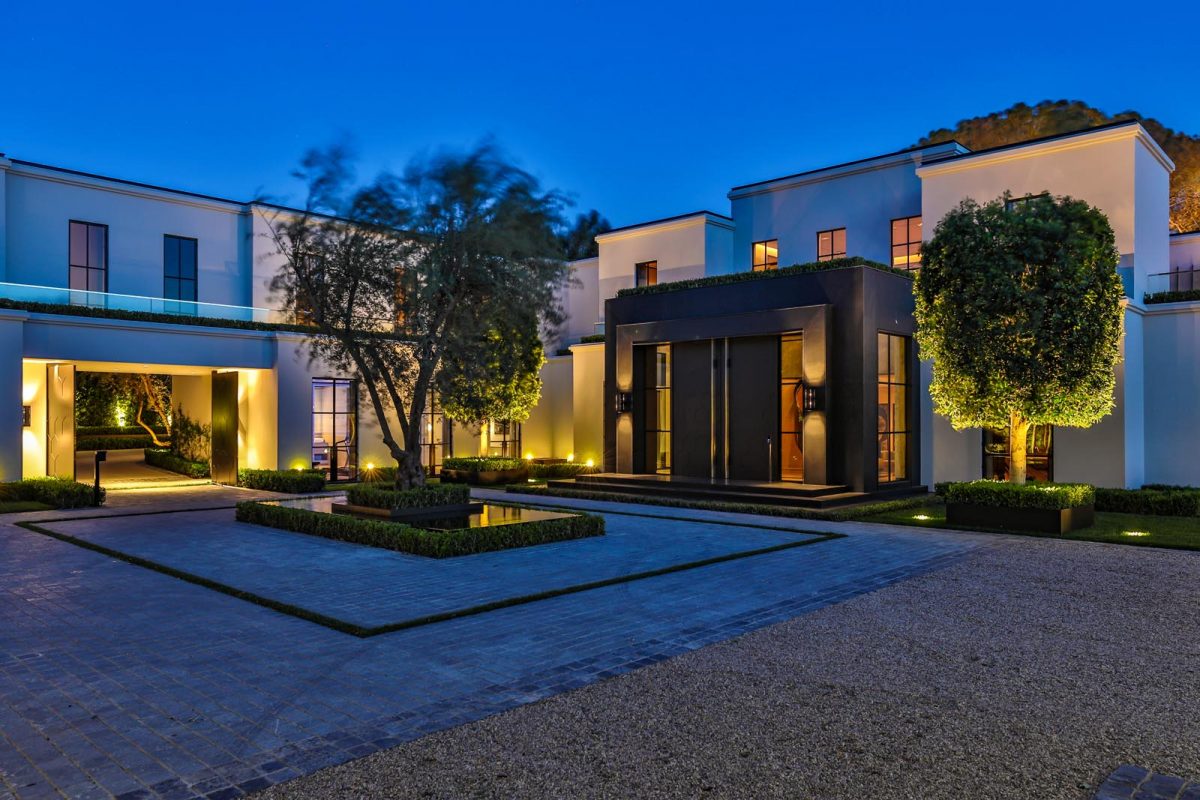 Exclusive and luxurious, Angelo Drive in the Benedict Canyon region of Beverly Hills is home to a slew of gorgeous estates and high-profile celebrities, including Sandra Bullock, Ricky Martin and Tony Pritzker. Houses on this famous road have appeared in big-budget Hollywood films like The Fast and the Furious and boast top-of-the-line amenities and sky-high price tags.
Recently two new residents, German investor Ekkehart Hassels-Weiler and his newlywed husband Omar Romero, have snatched up one of the street's costliest and most eye-popping estates for an astounding 42 million dollars—a massive sale even for this coveted neighborhood. The 8-bedroom, 11 bath mansion on 1155 Angelo Drive stuns and amazes with its architectural ingenuity and enviable features; it is Beverly Hills at its iconic best, and both the interior and exterior raise the bar for opulence and extravagance.
Posh and Elegant Interiors
Gray marble slabs adorn the entryway walls of this lavish home, and the ceilings stretch to an impressive 30 feet, welcoming guests with an open, airy atmosphere. A winding grand staircase leads to the upper levels, while the wooden floors guide residents through hallway after hallway filled with original artwork and towering windows. The aesthetic throughout this estate is modern and minimalistic, with neutral color schemes and sparse furniture furnishing each room, instilling a feeling of calm, quietude and sophistication.
Bars accompany several of the living spaces, as well as fireplaces, and the bedrooms are cozy, with windows overlooking the estate's impressive yard space. The home also has quaint and comfortable libraries and a wine cellar. There is even a guesthouse and living quarters for staff, screening rooms and a fully decked-out gym to round it out. Private and elegant, this home is a world unto itself, a perfect haven for a well-to-do mogul in search of serenity and seclusion.
Extravagant Exteriors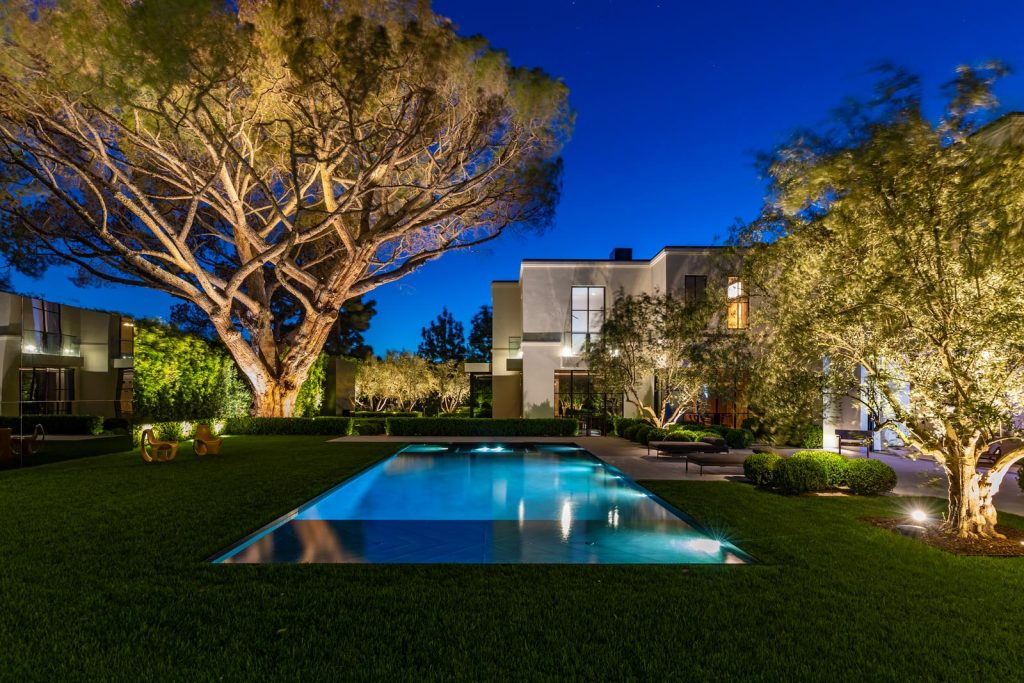 The yard space of this sanctuary is lush and luxurious, containing topiaries, a spacious car port, fountains, a sprawling and stately courtyard, and a walled-off entrance for maximum solitude. The backyard houses a pristine ozone pool and patio/lounge area, perfect for indoor/outdoor living, and the entire outdoor space is well-maintained and well-lit for late-night parties or gatherings. Both the back and front yards possess paved road and walkways, and the architect even included a bocce court. The outdoor living spaces offer gorgeous, uninhibited views of the night sky, and the surrounding areas are tranquil and restorative.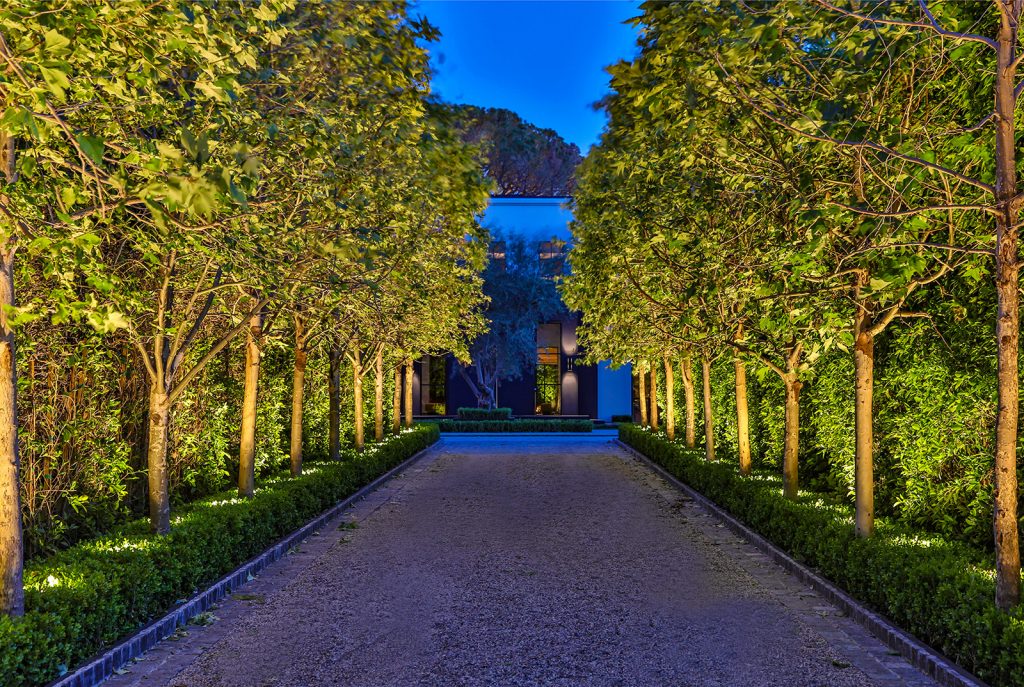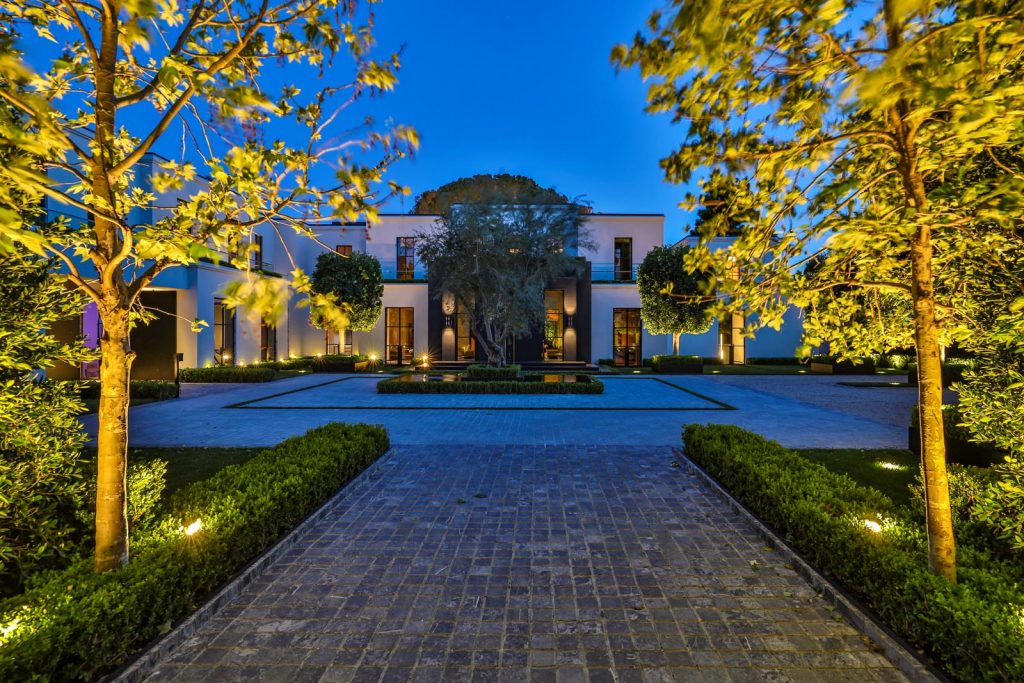 At a staggering $42M, this mansion/paradise sold by British property developers Ian and Richard Livingston is a masterpiece of elegant design and high-end flair.