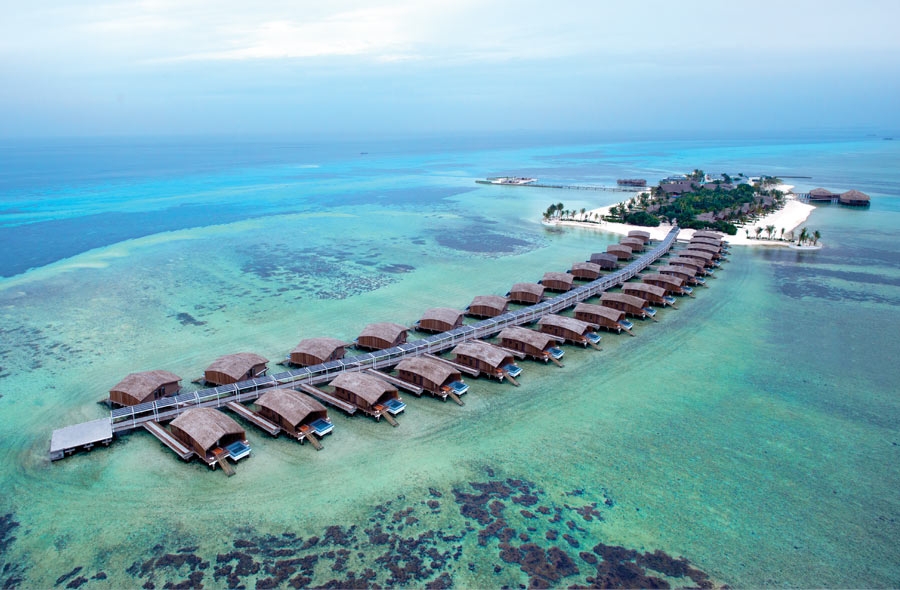 We always search the world to bring Jetset readers the very best luxury travel destinations. So to help you finalize your summer travel plans, we've put together four sensational options that span the globe from Canada to the U.S. to Mexico to the Maldives.
Whether your ideal summer getaway involves pristine beaches, private plunge pools, personal butler service, gourmet cuisine or thrilling outdoor adventures of every kind, you'll find a choice here that is sure to have you packing your bags. We invite you to discover a magical coastal retreat on Mexico's Riviera Maya, an island paradise in the Indian Ocean, the ideal vacation home setting in Utah's spectacular Wasatch Mountains and an island lodge surrounded by the rugged beauty of the Canadian landscape. The choice is yours, and you just might want to choose more than one.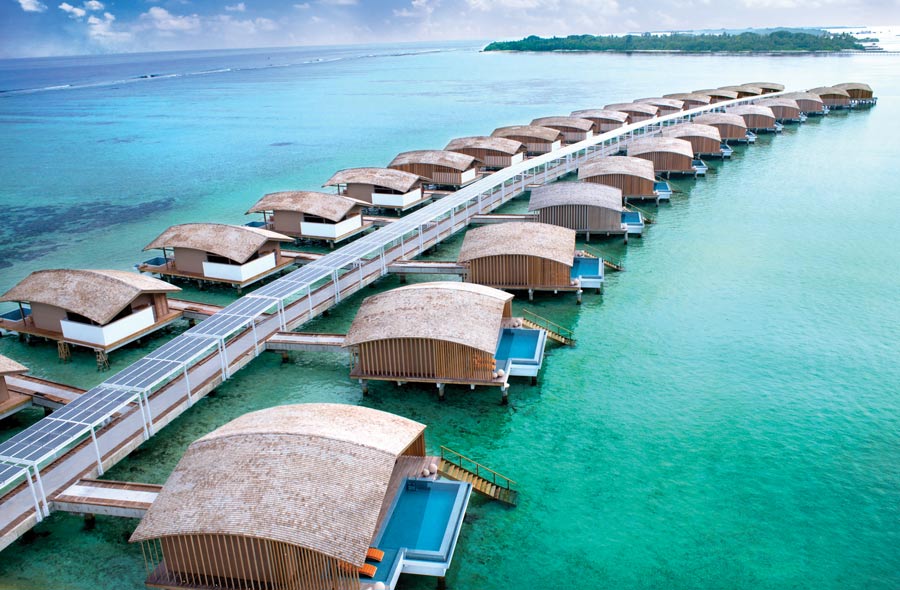 Club Med Finolhu Villas
Gasfinolhu Island, The Maldives
Imagine the beauty of a country made up of nearly 1,200 coral islands arrayed in the turquoise waters of the Indian Ocean. In ancient times, the Maldives served as an oasis for lost travelers, but today, travelers actively seek out this island paradise to lose themselves in a spectacular setting that offers the peace and tranquility they crave. So it's no surprise that Club Med chose the Maldives as the site of the newest addition to its collection of villas and chalets, Finolhu Villas.
This private island resort is secluded, yet easy to reach. Upon arrival at Malé International Airport, guests are whisked away via speedboat for a quick, 40-minute ride to Gasfinolhu Island where they'll find a luxurious villa awaiting them. Finolhu Villas, which is set on a 3,000-foot white sand beach, offers just 52 of these exquisitely designed villas, each one ideally positioned over the water or on the beach to deliver perfect sunrise or sunset views. The villas, which meet the highest ecological standards, all feature private pools and are surrounded by crystal-clear waters.
Bespoke service is a hallmark of the all-inclusive Finolhu Villas. Guests are assigned a personal butler who will unpack their luggage upon arrival and tend to their every whim thereafter, including serving them breakfast and afternoon tea on the villa's private terrace.
The resort's fine dining restaurant, Motu, specializes in international cuisine that balances European and Asian specialties with the essence of the Maldives. For a more romantic experience, couples can dine privately as they watch the sun set over the Indian Ocean.
Naturally, a destination made up of so many coral islands is an ideal place for ocean adventures both above and below the water. The resort offers scuba diving lessons that cater to every level of experience as well as instruction in snorkeling, jet skiing, kayaking, water skiing and aqua fitness. Guests can also choose from many other activities and adventures, including parasailing, deep sea fishing, sunset dining cruises, seaplane tours and lobster picnics. As an added perk, guestsm of Finolhu Villas have complimentary access to the facilities at Club Med's Kani resort which is just a five-minute boat ride away.
This is a resort custom made for relaxation, and guests at Finolhu Villas can indulge in their choice of treatments at the resort's Club Med Spa by ILA, a luxury British brand. The company goes beyond organic by using only the finest plant and mineral ingredients that have been harvested in the wild. The spa offers a full menu of treatments that focus on beauty and wellness, as well as in-villa massages. One of the spa's signature treatments, the ILA Blessing, includes one two-hour ritual per day over a three-day period.
With its combination of luxurious waterfront villas, mesmerizing ocean views, endless activities and personalized service, it's easy to see why travelers come to Finolhu Villas to lose themselves in the natural beauty of the Maldives, only to find even more to enjoy and experience than they ever imagined.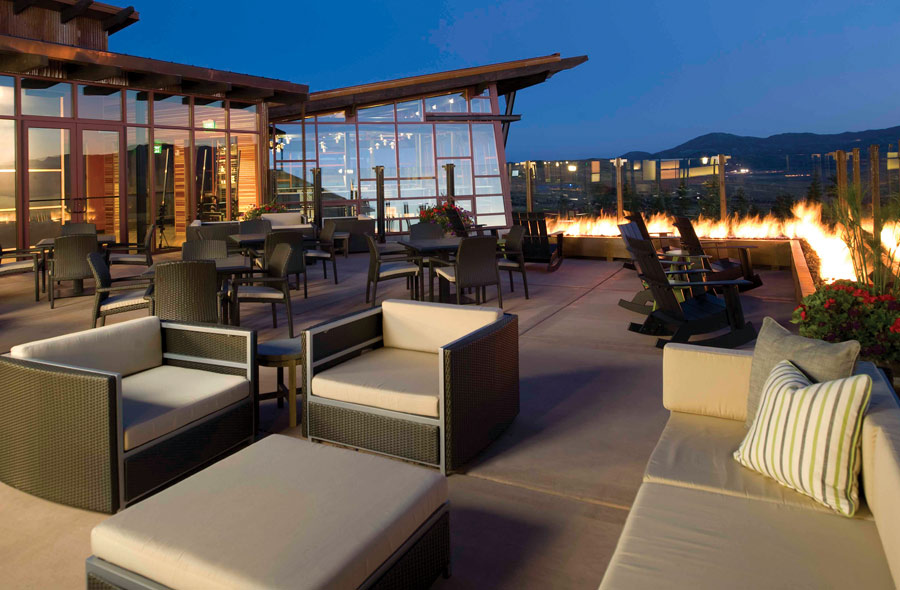 Promontory
Park City, Utah
While it's always great to find the perfect family-friendly summer getaway, it's even better when you can return to that very same place year after year. When you own a vacation home at the private mountain playground of Promontory in Park City, you can do just that and create a legacy your family will enjoy for many years to come.
If the words "Park City" get you dreaming about winter sports, it's time to shift your thinking for a few months. Park City is actually a year-round destination that offers plenty of outdoor activities in the summertime. And it's always fun to take a stroll down Park City's charming Main Street to explore its shops and restaurants.
Located just 30 minutes from Salt Lake International Airport, Promontory occupies over 10 square miles of spectacular mountain terrain. An impressive amount of this land, 70 percent, is preserved as open space for nature lovers and includes over 30 miles of natural, private trails. Built to fulfill a legacy of becoming "America's Mountain Club," Promontory offers its homeowners a full range of amenities, including golf courses designed by Jack Nicklaus and Pete Dye, a golf academy and multiple clubhouses, including one just for kids.
That's just the beginning of the activities you and your family can enjoy. You can saddle up at The Stables and go on a trail ride or board your own horses at the world-class Equestrian Center. The Outfitter's Cabin is the place to go to head out on all types of outdoor adventures, including hiking, camping, mountain biking and fishing. Promontory also offers pools, a Zen-inspired spa, a tennis center, fitness classes, members' events and even a summer concert series, so there's never "nothing to do." And there's a wide array of dining venues that specialize in healthy farm-to-table fare.
Offering a choice of home sites as well as luxury cabins, Promontory can provide the ideal getaway for the young and the young at heart, a place where families can gather and build a tradition of togetherness and an appreciation for Utah's spectacular mountain landscape for generations to come.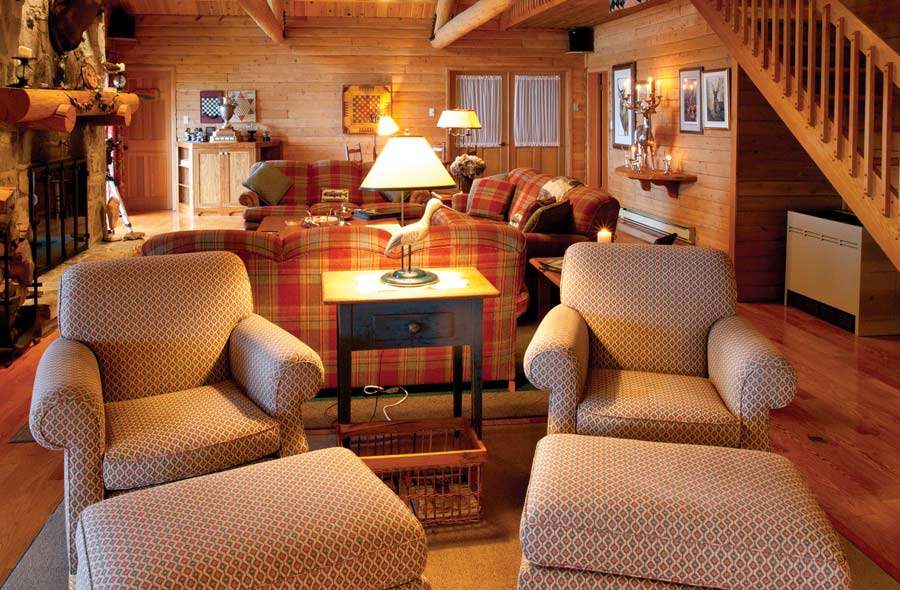 Safari Anticosti Resort
Anticosti Island, Quebec, Canada
When the King of France grants an island to a famous explorer like Louis Jolliet as a reward for discovering the Mississippi River, you just know it's got to be an extraordinary place. That's exactly what Louis XIV did back in 1680 and today, Anticosti Island welcomes another kind of explorer — the luxury traveler — to an all-inclusive retreat called Safari Lodge.
Anticosti Island is expansive, measuring 135 miles long and 30 miles wide, and is set at the point where the St. Lawrence River flows into the majestic Gulf of St. Lawrence. Safari Lodge occupies a private domain of over 800 square miles on the island and is easily accessible by private jet, thanks to the lodge's 5,600 foot paved runway equipped with lights for nighttime flights.
Upon arrival, guests find an incredible landscape filled with forests of black spruce and pine, crystal-clear lakes, a rugged coastline and towering limestone cliffs. The intimate lodge, which includes just 10 luxurious rooms as well as a separate cottage, offers first-class service and French cuisine along with such amenities as a massive central stone fireplace, pool room and a state-of-the-art meeting facility (just in case there's a need to mix business with pleasure).
For activities, Safari Lodge offers everything adventurers could wish for in a pristine coastal environment, including sea kayaking, boating, fly fishing for Atlantic salmon and guided tours of natural attractions such as Vaureal Falls and Lobster Bay. Indulging in one of the lodge's renowned lobster picnics is highly recommended, and guests may also want to grab a camera and "hunt" for some of the island's spectacular wildlife which includes spruce grouse, elk,
caribou, moose, hares, foxes, white-tailed deer and more than 130 species of birds, including majestic bald eagles.
Anticosti Island's colorful past reads like a seafarer's journal with its tales of shipwrecks, piracy and greed. But today, travelers who visit this magnificent island and stay at Safari Lodge can write entire new chapters filled with outdoor adventures, incredible experiences, and, most of all, the peace and tranquility that comes with enjoying the awe-inspiring beauty of nature.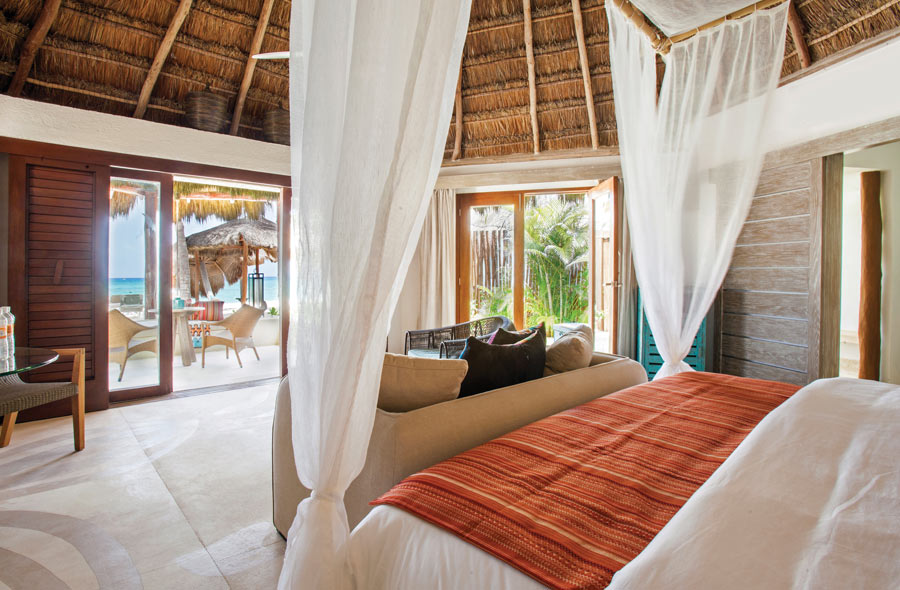 Mahekal Beach Resort
Playa Del Carmen, Mexico
Like a perfectly blended Margarita, Mahekal Beach Resort offers every ingredient you could possibly need for a relaxing beach getaway. Fresh from a $10 million re-imagination, this oceanfront retreat offers an appealing blend of authentic Mexican ambiance, stellar service and endless views of the turquoise waters of the Caribbean from its prime setting on the longest stretch of pristine beach in Playa Del Carmen.
There's a lot to be said for a resort that offers its guests a true sense of place. Accommodations at Mahekal come in the form of bungalows with thatched palapa-style roofs and are surrounded by lush vegetation. Each bungalow has a private terrace equipped with a hard-to-resist hammock, and the interiors, which feature vaulted ceilings and a "moon shower" with river rock flooring, are decorated in soothing neutrals accented with fresh pops of color thanks to the use of vividly colored Mexican textiles. When you book one of Mahekal's Ocean Front bungalows, you'll be just 10 steps from the beach and have your own refreshing plunge pool to take a dip in. That is, when you're not on the beach enjoying an oceanfront massage. Or, you may simply want to stake out a lounge chair at one of the resort's two new pools or bask in the seaside Jacuzzi. Decisions, decisions.
Of course, a resort is nothing without excellent service, and here's some insight into the kind of service you can expect. Mahekal's long-time concierge, the always-smiling Boli, is so beloved by guests who return to the resort year after year, that one of the resort's three new bars has been named in his honor. Here's another fun twist. When you're waiting for your room service order to be delivered, you won't hear the typical cart rumbling down the path to your bungalow. Your meals will be delivered by a staff member riding a vintage bicycle carrying a rattan basket. Mahekal also has a talented pottery artist, so don't be surprised to arrive at your bungalow to find a hand-painted plate bearing your name and room number hanging by your door. In the spirit of helping guests get away from it all, Mahekal keeps TVs out of the bungalows, but don't worry, you'll still be able to stay in touch with the world when you need to, thanks to a new, state-of-theart Wi-Fi system in place throughout the resort.
For dining, Mahekal offers everything from traditional Mexican and Latin American fare to gourmet dishes that blend the best of the land and sea. Also, unlike many other resorts in the area, Mahekal has the distinct advantage of being located literally just steps away from Playa Del Carmen's popular 5th Avenue district (known locally as La Quinta), a lively pedestrian area filled with sidewalk cafes, shops, boutiques and nightspots.
Playa Del Carmen is set in the heart of Mexico's beautiful Riviera Maya, so there's plenty to do when you're ready to venture outside of the resort. Riviera Maya is home to the second longest barrier reef in the world, so the snorkeling and diving are excellent. The ancient Mayan ruins at Tulum are a "must see," and there are many other outdoor adventures to choose from in this ecological paradise, including the rare experience of swimming in underground caves.
Given its prime location, luxurious oceanfront accommodations, excellent cuisine and welcoming, attentive service, it's easy to see why so many families make it a tradition to return to experience the magic of Mahekal year after year.