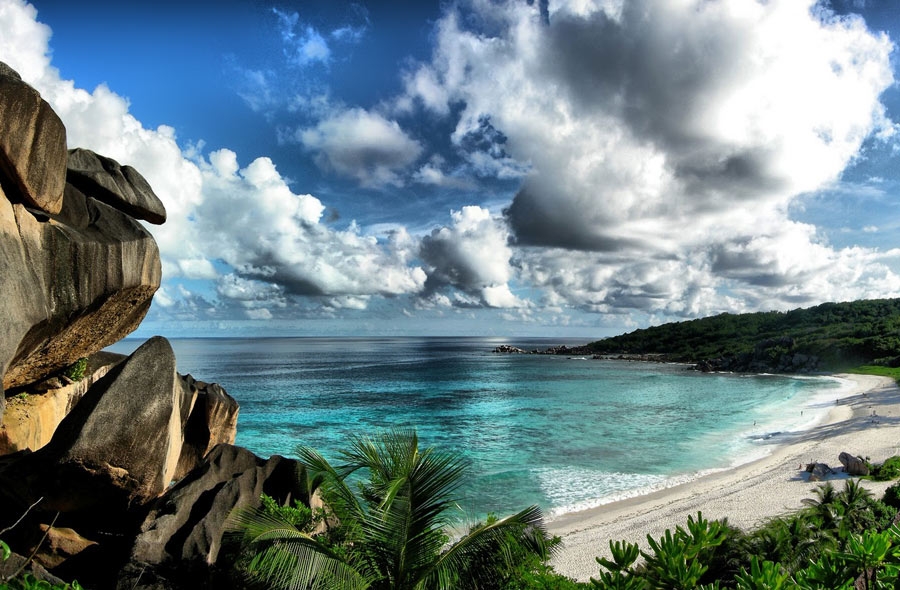 Any time is a great time to charter a yacht and get out to explore. Many destinations offer wonderful temperature year round, welcoming you to play on the sand or the sea.
These locals are perfect, whether you prefer world-class resorts and dining or the more natural environs that harken to a less hurried time. Of course, you can always mix it up with a little of both! No matter where you head this year for your yachting adventure, you're sure to create memories for a lifetime.
Caribbean
Looking for an escape that welcomes you with temperate year-round weather and 2,000 miles of coastline along clear-blue ocean water? Then look no farther than the Caribbean islands, often referred to as a yacht vacation paradise. More than 7,000 land masses including islands, islets, reefs, and cays await your exploration, and when you're ready for some time on land, the natural wonders of volcanoes, waterfalls, and underwater hot springs are the perfect location for hikes, sunbathing, and sightseeing. And, of course, don't forget all of the local shopping!
No matter what yacht suits you, you'll find the perfect charter in the Caribbean. Considering manning your own sailboat or catamaran? Or does a luxurious, fully staffed mega yacht sound more to your liking? Regardless, numerous companies are available to create a getaway that introduces you to one of the most beautiful parts of the planet, with the clear blue sea and sky as an unmatched backdrop.
The Itinerary
If you choose to include the Bahamas in your excursion, one option is to fly into Miami and charter your yacht from there to North Cat Cay, a private island just 50 nautical miles from the Florida port. Although membership in the Cat Cay Yacht Club is required to stay, the island serves as an official port of entry for visiting yachts. From there, you can check out other Bahamian destinations, including Marsh Harbor on Abaco Island, offering gentle trade winds to guide you through the coral reefs teeming with underwater sea life. Another stop in the Bahamas may include Nassau, where you can dive with the sharks, catch a round of golf, or try your odds at one of the island's casinos.
Down in the Caribbean, start in the Virgin Islands, which include the US islands of St. Thomas, St. Croix, and St. Johns, plus the British isles of Tortola, Virgin Gorda, Jost Van Dyke, and Anegada. Gorgeous beaches, luxurious hotels, snorkeling and diving, shipwrecks, fabulous restaurants, and engaging nightlife welcome you to the islands and provide endless opportunities.
Your journey continues in Antigua and Barbuda. Historically the most important Caribbean base, Antigua remains a strong draw for tourists, especially during sailing week. Barbuda offers treasures to explore from all of the shipwrecks in the area as well as one of the region's most significant bird sanctuaries.
Switch languages to French with your next stop in Martinique, where the capital of Fort de France will surprise you with its sights, sounds, and smells. Shop in the markets for fresh fruits and vegetables, spices, and flowers to accompany your fresh catch—whether you reel it in yourself or purchase it from one of the local fishermen.
South Pacific
The South Pacific offers a wealth of destinations for the yachter who's looking to get away from it all. From Hawaii to Guinea, Fiji, Samoa, and Tahiti, you'll experience varying cultures, languages, and culinary delights. Originally explored by residents of Southeast Asia, Sir Francis Drake led the first English circumnavigation of the globe from 1577 to 1580, opening the region to Europeans, who began immigrating to find wealth in the form of gold, silver, and spices.
The Pacific Islands, or Oceania, are subdivided into Melanesia, Micronesia, and Polynesia and classified as either high or low islands. The area covers 11 million square miles and offers limitless opportunities for divers to get up close and personal with the abundant sea life. On land, play some golf, hike around live volcanoes, or visit the local markets. Of course, luxuries are not found only in the natural world, as many of the islands offer fabulous five-star resorts and restaurants.
The Itinerary
You'll probably begin your journey in French Polynesia, taking a flight from Singapore, Sydney, or Los Angeles into Tahiti, the best-known island of the group. On the descent, you'll notice the sharp contrast between the clear-blue ocean and lush green rainforests. The capital of Papeete is a wonderful place to explore before heading to the harbor to board your chartered yacht. Take the short trip over to nearby Moorea, where Cooks Bay will draw you back to the mid 1700s when Cpt. Cook first set shore in the area. Bora Bora is the farthest west of the islands and is a popular honeymoon favorite due to its dreamlike setting.
Cook Islands are the next stop on your journey. Beautiful coral reefs and breath-taking lagoons make way for white-sand beaches lined with palm trees that herald your arrival from sea. The 15 islands that make up the chain rank among the best waters in the world for scuba diving. Explore myriad sea life along with a host of shipwrecks below the tranquil waters. With underwater visibility up to 200 feet, this locale provides ample opportunities for both advanced and novice scuba and snorkeling aficionados. When you head ashore, you'll find that tourism hasn't infiltrated the islands in the way it has other parts of the South Pacific, making your experience that much more enjoyable.
After exploring Cook Islands, make your way to Fiji, one of the favorite destinations for travelers to the South Pacific. The epicenter of the region, this is where cultures collide, creating a unique mix of Melanesia, Polynesia, India, and the Pacific—all tinged with both ancient and modern traditions. Of the 322 inhabitable isles, only 106 have residents, leaving more than 200 untouched. Guide your yacht to one of these and enjoy all the benefits of your own private island. You may even run across a hot spring, a remnant of the islands' inactive volcanoes. And, if the island is all yours, leave the swimsuit on the yacht and enjoy some natural wonder up close and personal.