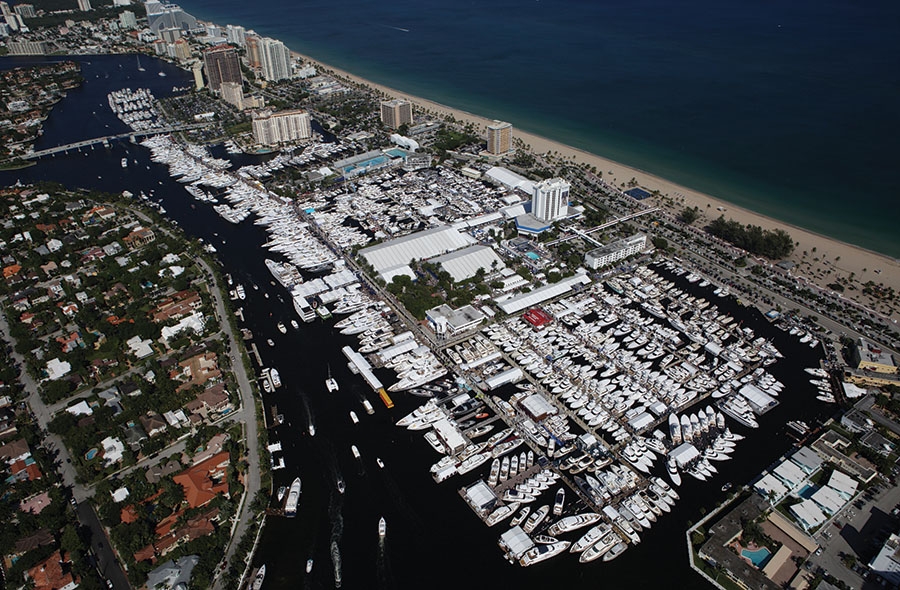 As the Fort Lauderdale International Boat Show marks its 56th year, its numbers have become staggering. The world's largest in-water event of its kind now has more than 1,000 exhibitors from 30 countries displaying some $4 billion worth of seaworthy boats, technology, and accessories.
It is South Florida's greatest spectacle since Lebron James left town, with 100,000 people set to visit November 5-9 across 3 million square-feet of exhibit space on land and sea.
As the event approaches, the expansion continues, and we've found a customized program that caters to our readers who live the true Jetset lifestyle. It's called VIP Boat Show Experiences (www.VIPBoatShowExperiences.com), and it's a turnkey, hassle free, A-to-Z offering of valet parking, all-day access to the exhibits and posh hospitality areas with gourmet food and beverage, plus concierge services to organize private tours of super yachts and other top-tier attractions. One of the featured VIP venues is the Windward Club, an air-conditioned, ritzy lounge located inside Ft. Lauderdale's historic International Swimming Hall of Fame.
"This is an exciting year for the Fort Lauderdale International Boat Show as we roll-out enhancements designed to make this the best show ever for our exhibitors and attendees," says Brett Brett Keating, vice president of consumer marketing for Show Management, the organization that annually produces the event. "We're elevating the overall experience in many different ways and this VIP package will no doubt be a huge hit with our fans that are looking to enhance their boat show experience."
VIP venues aside, the boat show is a boatload of activity. Attractions include floating cocktail lounges, live music, fishing and boating seminars for adults and children, fashion shows, and fireworks. The action is non-stop with experts delivering live paddleboard, kayak, hovercraft, and freedive demonstrations. The stream of attractions is endless with over 1,400 exhibits heralding the latest and greatest in boats and accessories.
"The Fort Lauderdale International Boat Show is one of the world's signature events and is the leading showcase for an entire industry," Brian Learst, C.E.O. of QuintEvents, the Official Hospitality Provider for the show explained to us. "We will start this year with the Windward Club, a VIP hospitality experience, and add complete travel, hospitality, and entertainment components for the 2016 show."
As the extravaganza gets off the ground this year, one-day passes are priced at $399 and a three-day offering is set at $1099, with all the details readily available online or live via (866) 834-8663. Packages are marketed by QuintEvents (www.QuintEvents.com), the Charlotte, NC, company that provides similar high-end VIP services for The Kentucky Derby, Super Bowl, the NBA All-Star Game, and other high-profile events.