Behind every exceptional event lies a team with the vision and passion for bringing the extraordinary to life. The Best Of, a collective of hospitality, media, entertainment and event experts, seamlessly unite the worlds of Michelin cuisine, Grammy & Emmy-winning artists, alongside sports legends. With a relentless pursuit of excellence, The Best Of creates a platform that transcends boundaries, immersing guests in a symphony of culinary and artistic brilliance.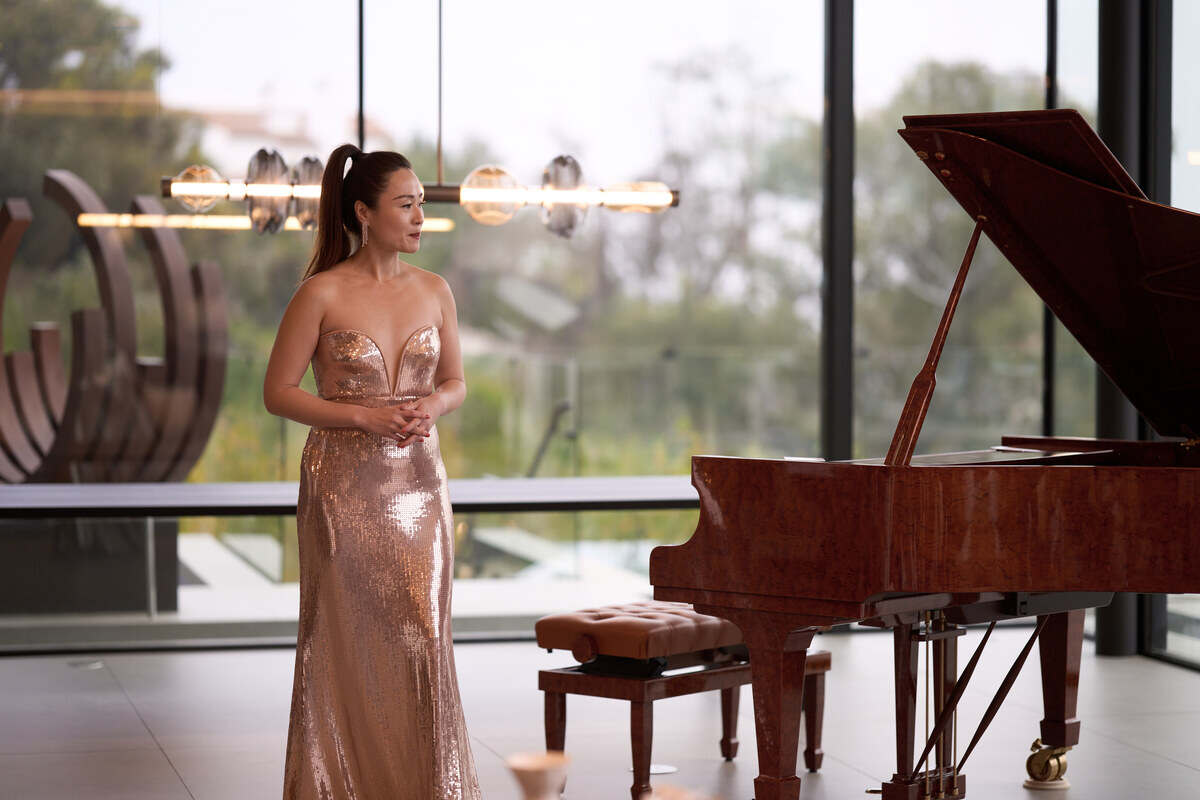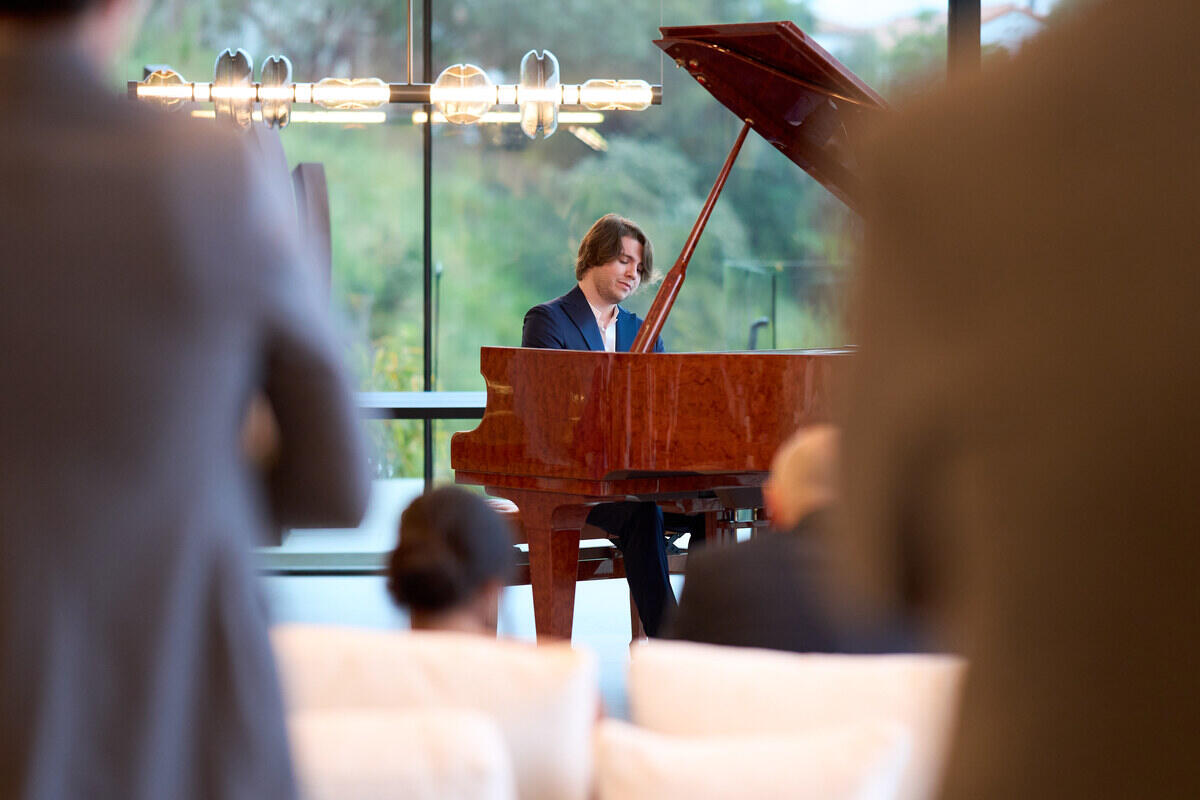 In an age where bespoke luxury experiences are a reigning symbol of prestige, The Best Of California event series presents the Golden State's Three Michelin Starred Chef Kyle Connaughton alongside Master Sommelier Vincent Morrow (Michelin Guide California Sommelier of the Year), who together will present a multi-course tasting menu and fine beverage pairings never seen before.
With a legendary chef and sommelier duo in place, The Best Of sets to work on integrating the iconic talents of other native Californians. Notably, Grammy Lifetime Achievement Award winners, The Beach Boys and Rock n' Roll Hall of Famer Robby Krieger of The Doors will perform musical sets to the intimate group of attendees. This highly coveted gala takes place in Toronto on September 6, 2023, with a lineup that also includes superstar violinist Lindsey Stirling, Emmy award-winning comedian/actor Tiffany Haddish, and Grammy-award winner Marcus Miller. Tony Hawk, as synonymous with California as surfboards, steps into the role of Master of Ceremonies.
The Best Of has partnered with Shangri-La Hotels & Soho House, setting the stage for a multi-day experience of fascination and opulence in Toronto. Kyle and Katina Connaughton, Chef and Farmer respectively, are the owners of Sonoma's SingleThread—the highest rated California restaurant on World's 50 Best, Three Michelin Stars, Green Star, and Relais & Chateaux. Kyle and Katina are truly the gold standard when it comes to The Best Of California and will curate canapés and a seven course tasting menu to creatively engage with performing artists and guests.
Jetset was on the scene this past spring for the inaugural launch of The Best Of. Winding our way up to Bel Air's most impressive new build private estate, 1859 Bel Air Road, was an adventure in itself. Capturing millions of global views on LuxuryListings, this monolithic masterpiece has to be walked in person to be fully appreciated. Architect Tag Front's sleek curvature of the residence's exterior drew us in, while world-renowned interior designer Cesar Giraldo's stewardship of over 20,000 square feet is a masterclass in artful abundance. The reveal of this magnificent architectural magnum opus—listed at $68 Million—set the stage for Two Michelin Star Chef Josiah Citrin's sublime cuisine, paired with a symphony of fine wines & Champagne as orchestrated by Vincent Morrow.
The Best Of team seems unfazed by the media moguls, diplomats and pastry chefs swirling around us in the sprawling living room—the size of which would rival a hotel lobby. And like a five-star hotel with a grand piano, for tonight only, 1859 Bel Air has been graced with the Fazioli Bubinga F228 piano, courtesy of Pierre's Fine Pianos, authorized dealer of the esteemed Italian marque. The delicate nature of this exotic African rosewood requires a highly sophisticated production process. Since Fazioli produced this one-of-a-kind piano, Bubinga became one of the world's most protected wood species. As the only Bubinga veneer produced in Fazioli history, this is one of the most expensive prestige pianos in the world.
Tonight, we're in for a more visceral feast, far beyond mere bites. We savor delectable plates in a rarefied setting that redefines "exclusivity". As Citrin's tasting menu crescendos, revered pianist Frederico Gad Crema put the residence's acoustics to the test with a riveting performance. His emotionally charged flourishes showcase a sensitivity and technical touch beyond his years. The prodigy may have already commanded the prestigious Carnegie Hall and Teatro alla Scala in Milan, but he's quick to tell us how special this evening feels to him, his boyish grin giving it away. Flown in from Milan exclusively for this evening, Crema enjoys mingling with guests the likes of Bill Walshe, CEO of Viceroy Hotels, Alexandra Hall of Selling The OC, David Guç, President at Vanguard Management Group, Zaib Shaikh, Canada's Consul General in Los Angeles, Jennifer Stroup, Rolls-Royce Brand Manager at O'Gara Coach Beverly Hills, and LuxuryListings co-founders Sina Saadat, Kambiz Ahmadi, and Matthew Kan.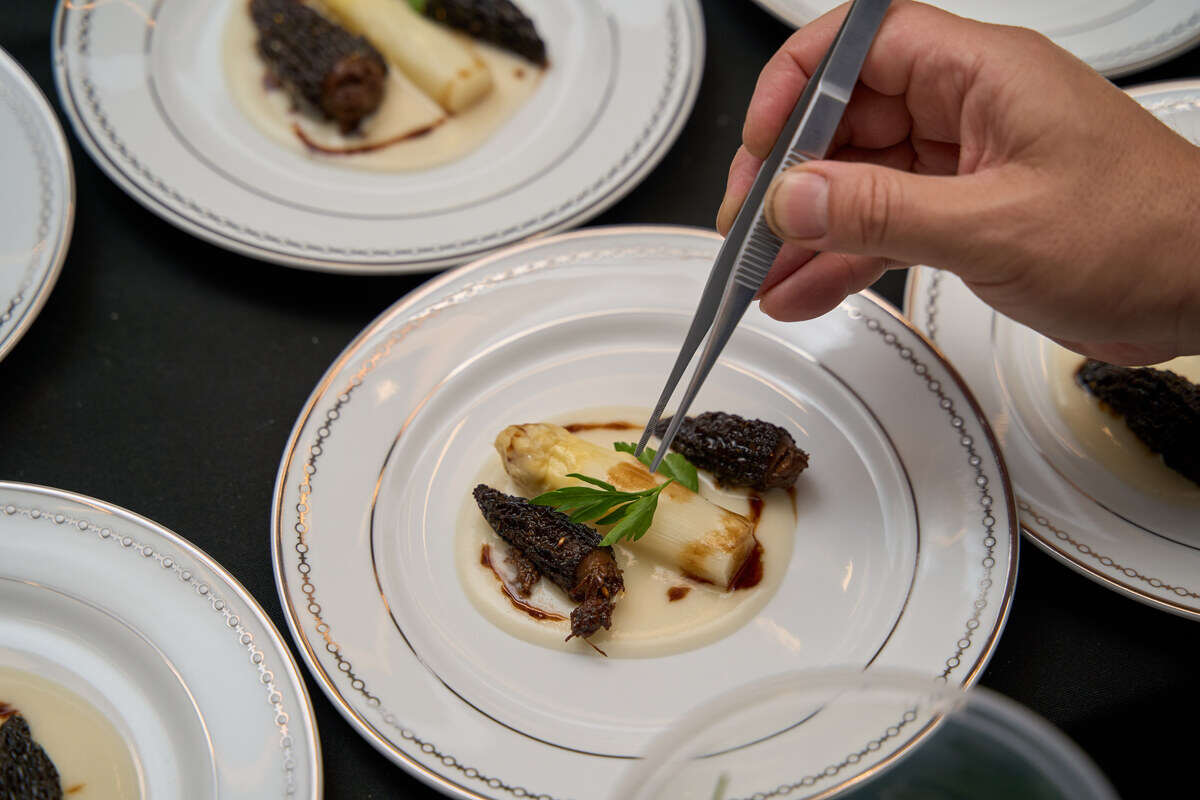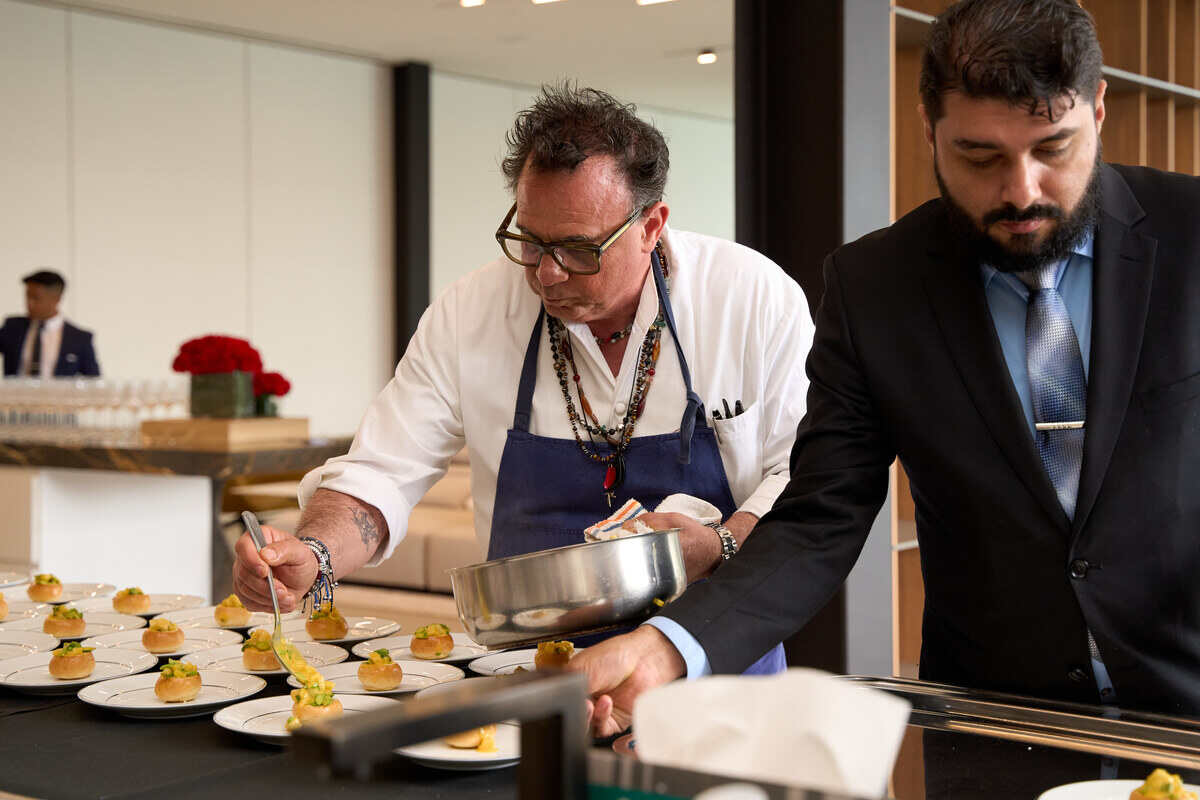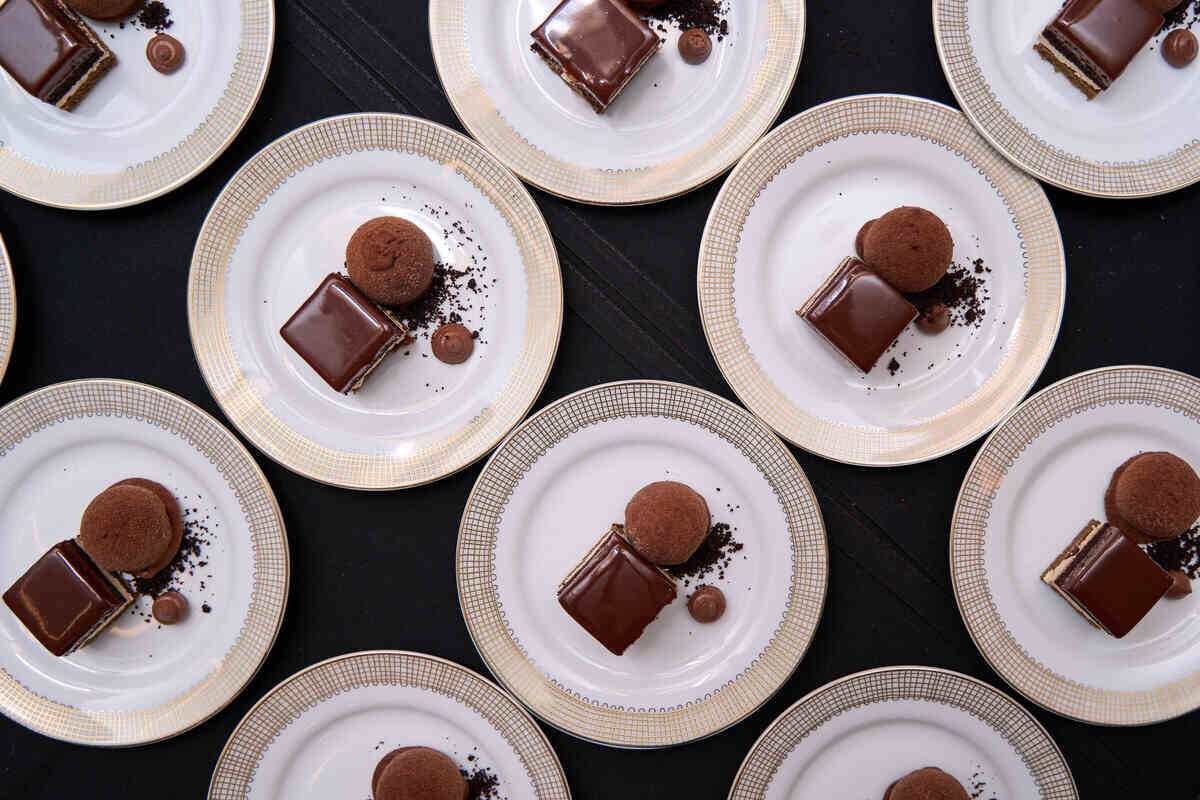 Speaking of serendipity, 1859 Bel Air's infinity pool perches over the canyon like something out of a Jetset "Mansion Monday" fantasy. The spectacular view stretches over the ocean to Catalina Island. Seemingly out of nowhere, a trio of Olympians from the USA Artistic Swim Team swan into the party and proceed to slip into the pool for a spot of synchronized swimming. A sweet surprise for the intimate gathering of 50 guests, many of whom quickly put down flutes of 2013 Dom Pérignon to set their iPhones to sport mode. Sculpted by years of training, clad in shimmering costumes, the athletes move like liquid, gliding through the water with astonishing grace. Effortlessly twirling in unison, their spellbinding, synchronized patterns hold the audience in awe.
The Best Of's choice of Zero Foodprint (ZFP) as the philanthropic partner, brings the mission full circle. ZFP is a nonprofit mobilizing the food world around agricultural climate solutions, through regenerative farming. Named "Humanitarian of the Year" by the James Beard Foundation, ZFP members crowd-fund grants for farmers to switch to renewable farming practices—considered to be the most impactful initiative yet toward climate change.
Sean Balakhani, the developer behind 1859 Bel Air, gave Jetset a personal tour of his passion project. Charismatic and convivial, Balakhani seems particularly tickled at seeing Josiah Citrin taking the pristine Poliform chef's kitchen for a test drive—which we suppose is the real estate equivalent to building a new spec car and having Max Verstappen slide in for a spin. The hidden caterer's preparation galley is proving itself a hero, hiding magnums and mountains of prep from spilling into the polished event space. One of the premiere tri-level estates in Bel Air, a first and last of its kind, the 9-bedroom, 10-bath residence features a cinema, wellness spa suite, 1,200-bottle wine cellar, and its own custom Parisian fragrance via specialized scent diffusers worth 25K alone. The central showpiece is an steel spiral staircase that was designed to appear suspended and took two and a half years to build. Needless to say, The Best Of certainly christened 1859 Bel Air in consummate style—from the taste of Citrin's Hamachi Rose Tarts to the sweet, round, dark, and rich sound of Crema's arpeggios.
1859 Bel Air Road is listed by Sotheby's International Realty Beverly Hills Agent Chantel Mehrabanian, Compass Agents Tomer Fridman, Sally Forster Jones, Levik Stephan and Anita Stephan. Listed at $68,000,000. belair1859.com [email protected]