Gearing up for big time brainstorming and teambuilding? Executive travel is heating up as Fortune 500 companies reinvent retreats in luxury villa locations.
Upscale offsites have evolved into a more mindful, golden age of C-level bonding rituals. We've paired a handful of top notch options below with themes to inspire a retreat planner's wildest itinerary yet.
For the Epicurean Team
Wickaninnish Inn, Tofino, British Columbia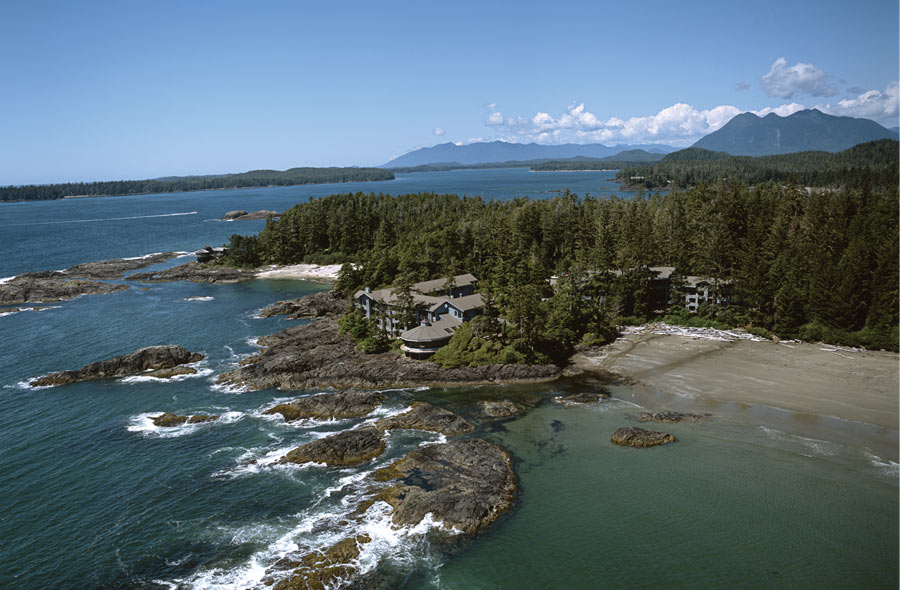 Corporate retreats at the Wickaninnish Inn feel anything but corporate. This is a world-class haven for handcrafted holistic lifestyles — welcome to life in the sweet, slow lane. Nestled in Tofino on Vancouver Island's west coast, the Inn stands serenely on the westernmost point of Chesterman Beach. It has hosted many illustrious CEOs on family vacations, so it is no wonder captains of industry return to treat senior staff to this once-in-a-lifetime experience. Helmed by the intrepid and impressive Charles McDiarmid, this Relais & Château gem is perennially named among the world's top resorts in Condé Nast Traveller awards. A consummate pro, McDiarmid inspires such adoration from staff that they carry out his directive with monastic discipline. If your leadership style is more Elon Musk than Larry Ellison, this is the venue for you.
Sun-kissed meeting spaces breathe oxygen and energy, inspiring transformative group dynamics. Groups of up to 150 may book exclusive use of the Inn, while a high-functioning conference room accommodates up to 50 people theatre-style. The Swordfern Boardroom seats 10 around a dramatic driftwood table. The Inn is affectionately known as "The Wick," and its locallyinspired cuisine and service culture have generated well-deserved worldwide buzz. We can't recommend this hotel more highly. Wickinn.com
For the Sporty Team
Big Bear Lake, California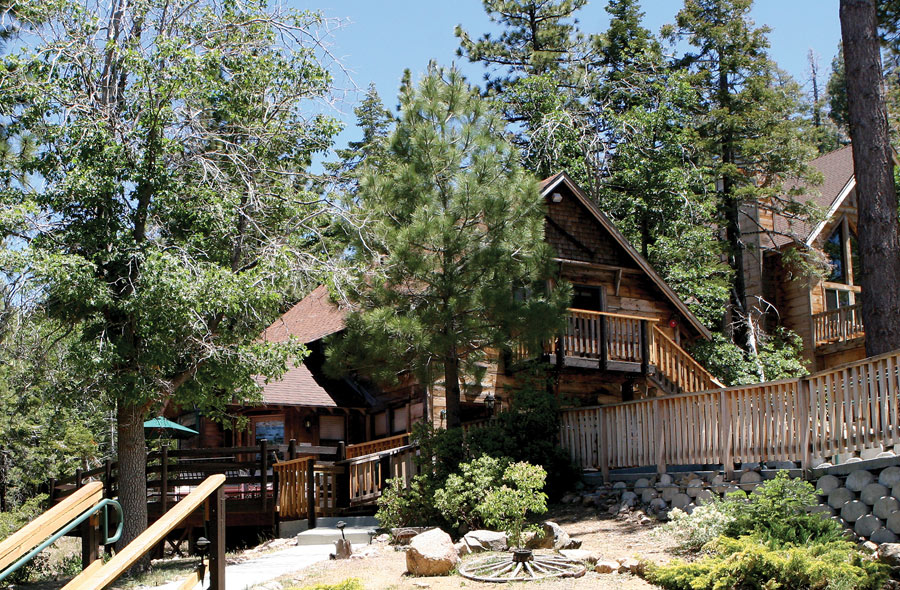 Nothing unites a tribe like playful competition. Big Bear plays host to LA headquarters' offsites all year long; it's a zippy two-hour drive to this unpretentious resort town. Cradled high in the towering pine forests of the San Bernardino Mountains, Big Bear Lake — a shimmering haven of fresh alpine water — is a far cry from the smog of Tinseltown.
For a full hotel buyout, I recommend Knickerbocker Mansion. With 12 guest rooms, it's an ideal size for takeovers. Top assets here are Ed and Vickie Harris, doting new owners of this historic Big Bear icon. This warm, amiable couple are simply extraordinary hosts. The 2.5 acre property boasts a new "Workshop" facility — the second floor of a new building with large windows, a gas log fireplace, high-speed Internet, multi-line telephones and a projection system. With occupancy of up to 49 people, the space is secluded, private and yet steps from the main lodge. Chef Robert Velasquez is the town's preeminent fine dining talent, crafting memorable menus from seasonal ingredients.
If your group prefers to kick back and self-cater, your best bet is Big Bear Luxury Properties (BBLP) — a portfolio of spectacular, over-the-top homes within a quick jaunt of every leisure activity you could imagine. As a professional property management firm, BBLP prides itself on offering more for less than you'd think. The superbly appointed Grand Views chalet is a seven-bedroom masterpiece that will not disappoint — think panoramic views — you can see all the way from the Arctic Circle to Baldwin Lake. The architect positioned multiple master suites of epic proportions into a square footage that could sleep 50 as a small hotel. From the wraparound terrace I spotted a woodpecker, black bear cub, fox and a bald eagle! Who knew soaking in an eight-person Jacuzzi could be wilder than the Discovery Channel? Bigbearlp.com, Knickerbockermansion.com
For the Thrill-Seeking Team
Whare Kea Lodge & Chalet, Wanaka, New Zealand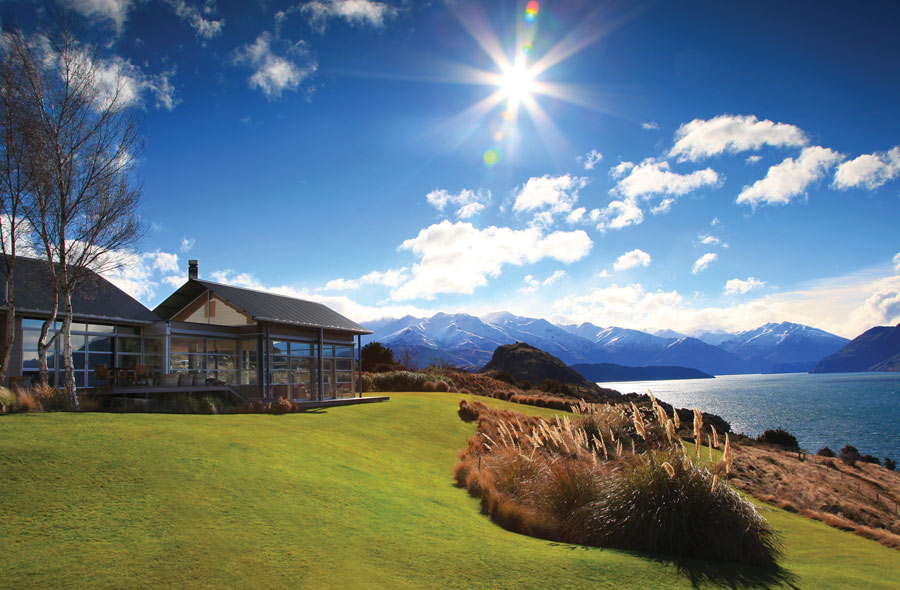 For over two decades, Whare Kea has been lavished with accolades most hoteliers only dream of, hosting unshaven and tousled billionaires sporting inconspicuous Patagonia fleece. In autumn 2015, the boutique hotel returned to its roots for exclusive group use only, making this an ideal time to book an executive retreat. Owners Martyn and Louise Myer, of the prominent Myer Melbourne retail family, first enjoyed the beauty of Lake Wanaka while holidaying in New Zealand. Hypnotized by the vast mirror of clear blue waters reflecting the Southern Alps, the couple built a hospitality beacon for the region.
For added thrills, head up 5,700 feet in the Albert Burn Saddle to the Whare Kea Chalet, a 20-minute helicopter flight from the lodge. Perched dramatically on the edge of Mount Aspiring National Park with astounding glacier views of Mount Cook, it's a truly heartpounding base from which you can enjoy scenic hiking or heli-skiing. This is one trump card only Whare Kea can play; climbing to this vantage point would take several days using ropes and crampons. Imagine the adrenaline rush of an alpine picnic here, complete with a choice of craft ciders or champagne! Wharekealodge.com
For the Traditional Team
Fairmont Empress, Victoria, British Columbia, Canada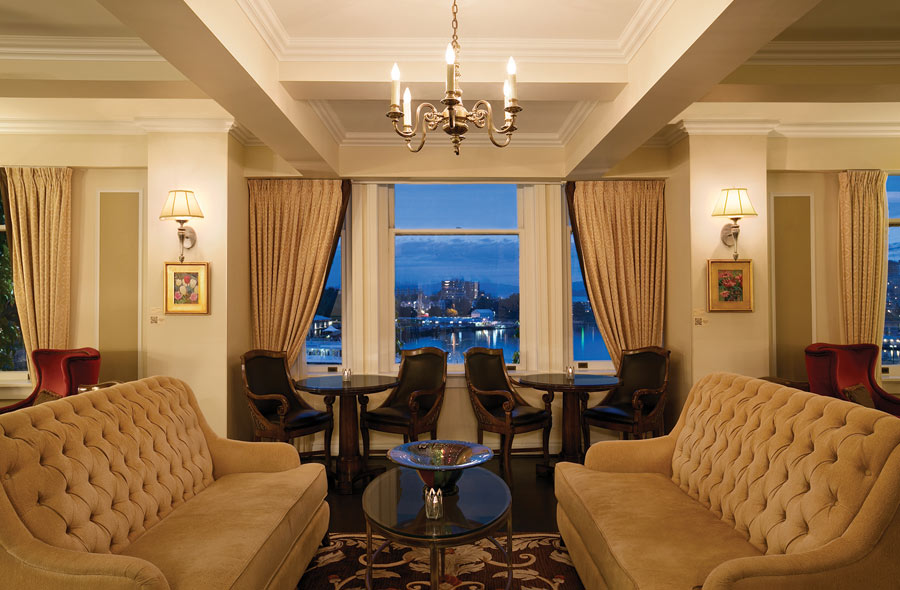 For a more buttoned up affair, the Fairmont Empress offers professional meeting facilities supported by top-of-the-line tech. Home to Victoria's two largest ballrooms, the hotel boasts 22 versatile meeting rooms and a dedicated boardroom, and can cater to top brass gatherings or meetings of up to 1,200 shareholders. Book exclusive use of the Gold Floor and your attendees will buzz with bright energy after a healthy breakfast.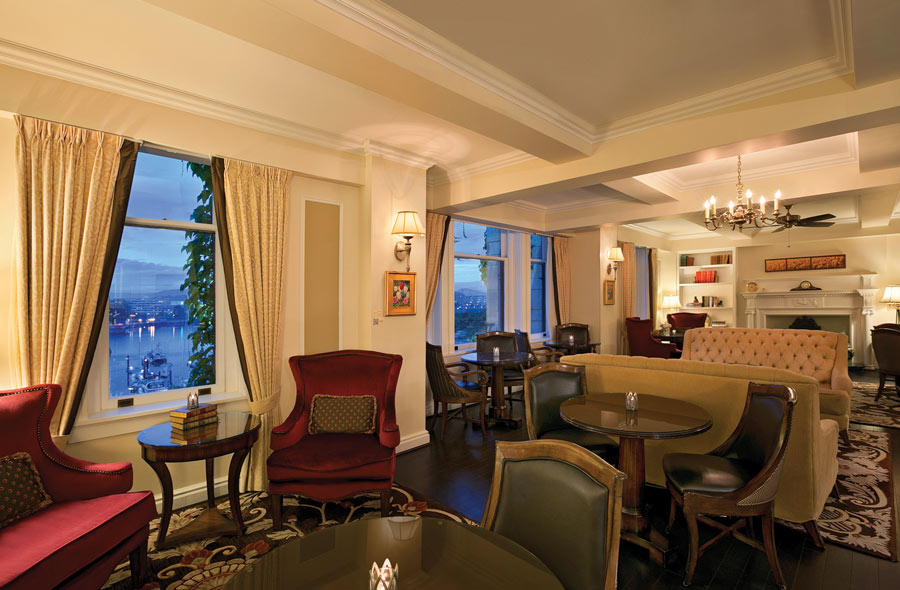 The Empress not only gives you a regal setting, it also delivers intangible delights. Fairmont Signature Events can help with an inventive party theme or a can't-miss outing with The Pedaler's guided bike tour featuring a rolling feast of Victoria's greatest culinary hits. Fairmont.com/Empress
For the 9 Iron Team
Champions Retreat, Augusta, Georgia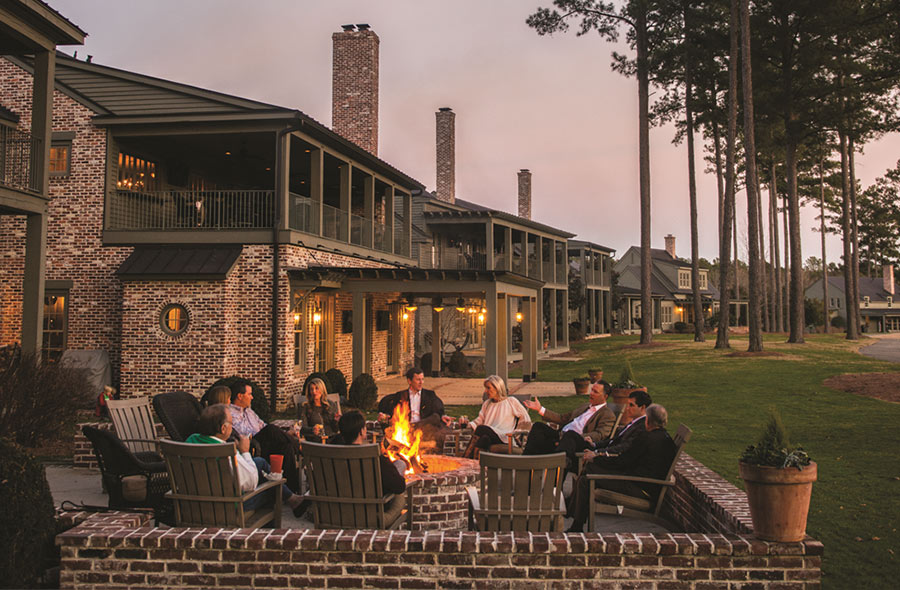 We're so convinced readers will swoon over the prestige golf at Champions Retreat, we've detailed top highlights from it on page 50. As a corporate retreat, we can't think of a more alluring, motivating destination for an incentive trip. Imagine treating your top 10 performers to a trip-of-a-lifetime at this championship course founded by three of the greatest names in the game: Jack Nicklaus, Arnold Palmer, and Gary Player. What Green Jacket-obsessed executive wouldn't pull out all the stops to cinch a spot? Immaculate Arcadianstyle cottages offer front porch views of sweeping fairways, majestic Georgia pines, and wetlands banking the great Savannah River. Book after April 10th and you can be among the first groups to christen the Party Barn, an impressive new venue to raise a glass to teamwork, slated for completion in time for The 2016 Masters Tournament.
From helipad access to an elite BMW program to private chefs whipping up a fireside oyster roast, Champions spoils guest in every way imaginable. The retreat even boasts their very own Pit Master in Hal Rowland, who smokes his own specialty Andouille Sausage. While Augusta National has an elitist reputation for exclusion, Champions' top asset is its warm, Southern hospitality grace and generosity. Once you join as an individual or a corporate member, you have the power to green-light unaccompanied guests — a massive game changer for business networking. This also demonstrates the level of kinship and camaraderie here; Champions trusts you'll only send those worthy of the "best kept secret" in Georgia. Championsretreat.net
For the Sophisticated
Team St. Anthony Hotel, San Antonio, Texas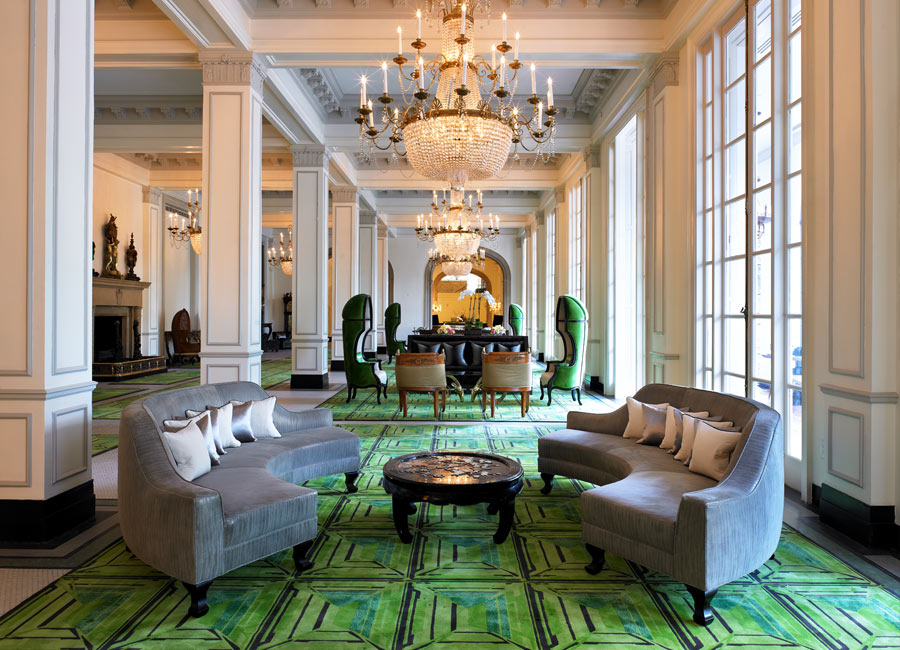 The St. Anthony has been a lightning rod for good fortune. A legendary 1967 meeting here led to one of Texas' most iconic corporations, Southwest Airlines, built on a cocktail napkin and a handshake. This is also where the deal that brought the NBA Champion Spurs to San Antonio was struck. After a smashing $24 million renovation, the hotel is more than ready to host your next big think session. The leaders behind the revival, Brandon Raney and Clyde Johnson IV of BC LYND Hospitality, are an inspiration all their own. Their tenacity and staunch commitment to team unity led to an emotional ribbon cutting ceremony this past November. Johnson is sixth-generation Texan; Raney, a fourth-generation with deep roots in San Antonio; they both grew up on St Anthony legend, so the renovation was akin to starring in their own version of Night at the Museum.
From soaring ceilings to walnut paneling, 15 distinct meeting spaces retain illustrious character while offering AV connectivity. 31,527 square-feet of indoor and outdoor space lets you get creative with cocktail hour, while the Anacacho Ballroom is ideal for intimate awards ceremonies. Where meeting spaces have been restored to their original splendor, 277 new guest rooms are sleek and chic, with contemporary lines and high-tech functionality.
The city's landmark hotel for more than a century, Hollywood certainly made the St. Anthony home — St Anthony legend — from Princess Grace, Cary Grant, Ginger Rogers, to Judy Garland, John Wayne, and George Clooney. The restored Peacock Alley, in all its burl wood glory, glittering chandeliers, and historic Steinway piano, heralds the hotel's entry to The Luxury Collection. General Manager Kevin Thorstenson leads a top notch staff with aplomb; rest assured your staff will be spoiled by the hotel's six dining and drinking venues. And the property's signature restaurant, ReBelle, is not to be missed. Marriott.com