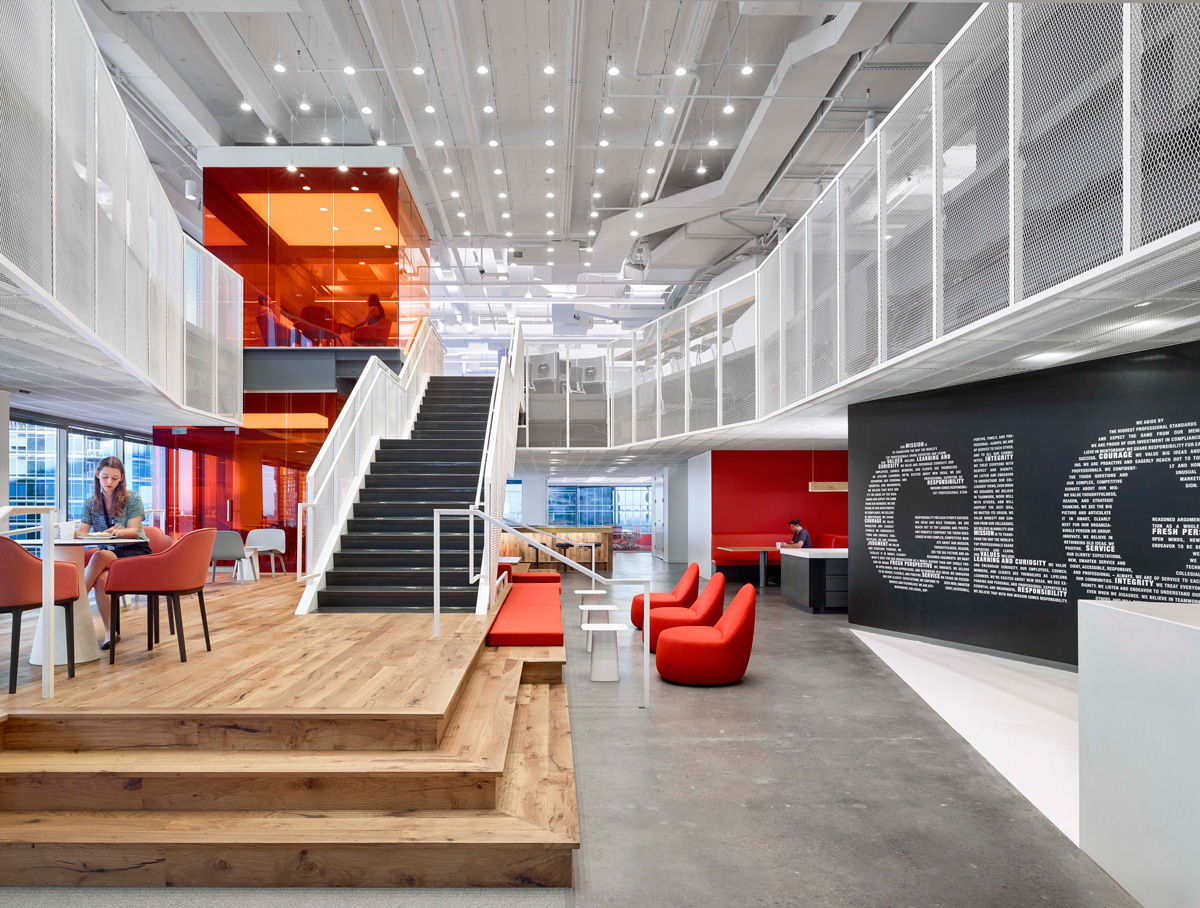 Collaboration can significantly enhance creativity, but it isn't something that always comes naturally. The environment we're surrounded by every day can be a significant factor in how much we collaborate with colleagues. That's why some of the most creative companies in the world — Apple, Google, and Pixar, for example — have designed their headquarters to promote teamwork, literally around every corner. The work environment has the potential to foster collaboration and creativity (just as it has for these highly innovative companies), or it can do the exact opposite.
One of the newest and most talked about headquarters to open is Apple Park. It's been years in the making and is yet another brainchild of Steve Jobs who guided its design until the end of his life. He envisioned the 175-acre campus as a center for creativity and collaboration. The main building is in the shape of a ring and is comprised of the world's largest panels of curved glass. The open interior is organized into pods for office work, teamwork, and socializing. And from the specially designed door handles to the custom-made, timber-veneered recycled wood office walls, the attention to detail throughout the campus is intended to inspire higher levels of quality from Apple employees.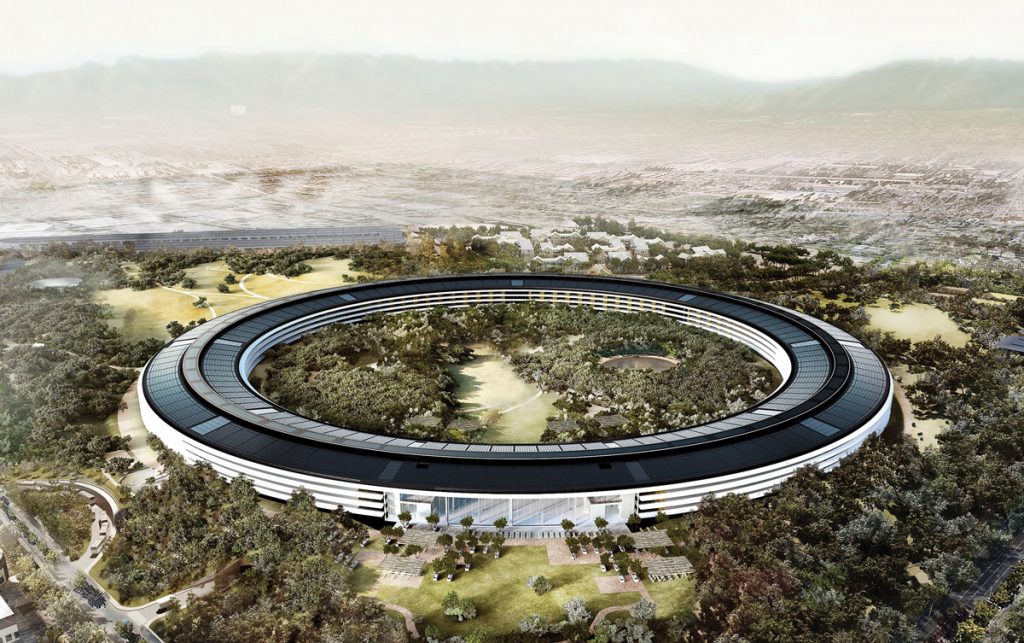 Before Apple Park, Jobs helped design Pixar's headquarters with the same goal, to foster collaboration and creativity. He was so committed to its design that the headquarters is often referred to as "Steve's movie." In his biography, Jobs stated the headquarters was to be a place that "promoted encounters and unplanned collaborations." The building was designed to draw employees out of their offices and into the common areas where chance meetings and discussions could happen. Pixar's previous campus separated employees by discipline…animators, computer scientists, etc. Jobs ensured that would not be the case with his design, which purposely brought people together. If blockbusters like Toy Story and Finding Nemo are any indication, the idea of creating opportunities for chance encounters and collaboration is working.
Offering employees perks like free meals and haircuts, Google's headquarters, Googleplex, is another open-design headquarters. Multiple common areas, high-traffic staircases, and places to socialize encourage employees to leave their offices and interact with one another.
Amazon has taken a creative approach to providing spaces that encourage employee interactions. In addition to new high-rise buildings at its Seattle headquarters, a series of spheres are expected to open in 2018. The three intersecting glass and metal globes provide 65,000 square feet of space for employees to meet, chat, brainstorm, and so on, all while surrounded by plants and natural light, which have been shown to increase productivity.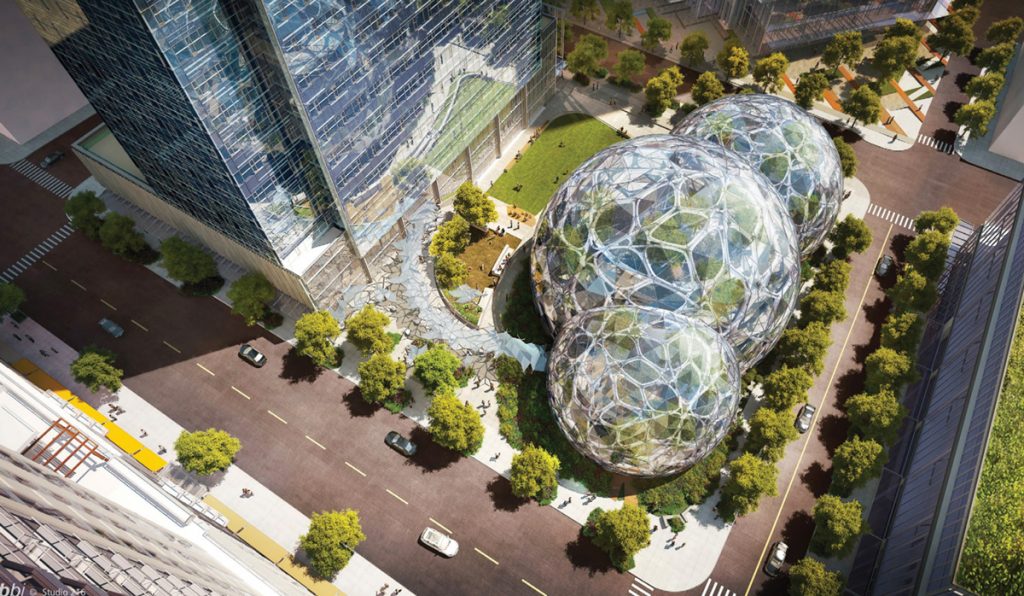 Unlike other mega-brands, Zappos didn't include many customarily added perks (like fitness facilities) at its headquarters. The company's theory is that its expertise isn't in running a gym, so instead, they worked with a passionate local entrepreneur to build and operate a fitness facility downtown near its headquarters. Additionally, the company created "inconveniences" throughout its office to create more interactions between employees. For example, they cut off a sky bridge that connected the building to the parking garage. Even though the bridge was convenient, by closing it, the company efficiently forced employees to walk through a central plaza, encouraging chance meetings, and yes, collaboration. And finally, to foster even more interactivity, the desks and walls at Zappos are easily moveable so that spaces can be altered as teams and needs change.
Automotive manufacturers are jumping in on the trend, with companies like Toyota and Volvo designing campuses that encourage interaction among employees. Those working at Volvo Car's North American headquarters don't even have assigned workspaces. Instead, employees have lockers for their personal belongings and can choose from workspaces throughout the building where they can set up their laptops and work each day. That includes the company's CEO Lex Kerssemakers who, just like other employees, does not have an assigned office. For those times when quiet or confidentiality is needed, there are meeting spaces and small, enclosed areas where private phone calls can be made. The open design has created cross-functionality where people from different departments are working together.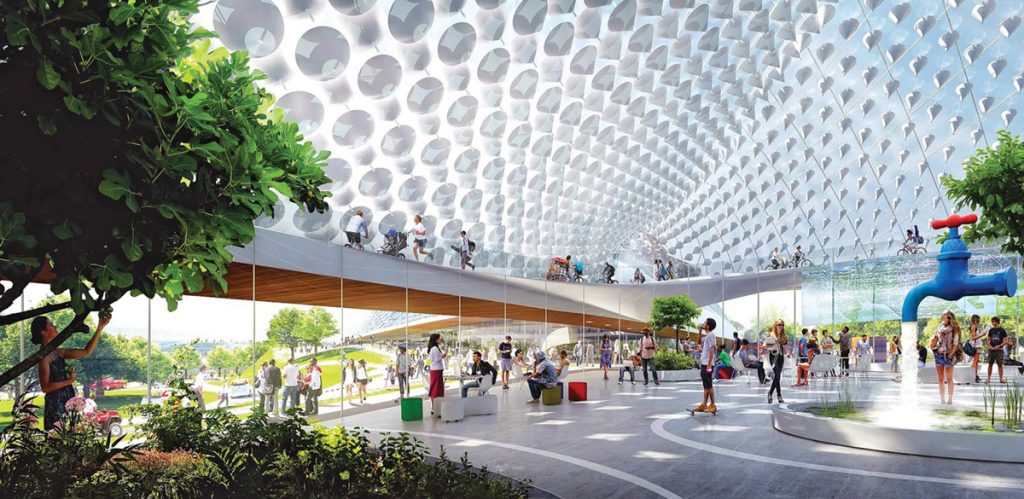 As the saying goes, two heads are better than one. Collaboration allows us to better solve problems, create original ideas, vet other's ideas, and learn from and be inspired by one another. Even with all its benefits, collaboration isn't always easy. That's why many corporations are creating work environments that deliberately put people together. A chance encounter or simply being in close proximity to someone you normally don't work with can spark collaboration, and as a result, increase creativity and innovation. In short, it pays to work together. Literally.