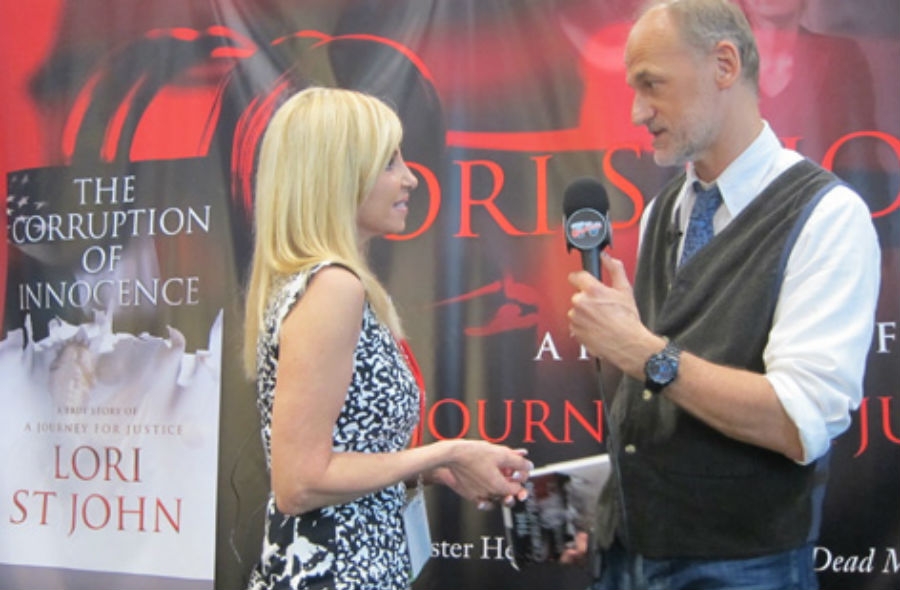 How did the wife of a prominent surgeon find herself at the death chamber battling the American justice system with the Pope and Mother Teresa in her corner?
Lori St. John's new book, The Corruption of Innocence, A Journey for Justice, tells you how she did just that. True, it is highly unlikely, even unfathomable, that an unknown death row inmate would become a cause célèbre in Italy, championed by the Italian and European Parliaments, Pope John Paul II and Mother Teresa. Joseph O'Dell was even made an honorary citizen in Palermo, Italy, where he was received after his execution in the United States.
"When You Are Authentic And Inspired By A Mission, There Is Nothing That Can Stop Your Momentum."
An Italian Air Force jet crossed international skies to retrieve his body from Virginia for burial in a country that fought for justice for over eight months. O'Dell's funeral was highly unusual. Secret service agents surrounded Mayor Leoluca Orlando of Palermo, as Parliamentarian dignitaries stood in solidarity for a man who was held up to the world as a symbol of American injustice. In Italy, Lori met privately with the Pope, accompanied by Sister Helen Prejean, author of Dead Man Walking.
In a dignified and historic white-gloved ceremony, O'Dell was received in a country where 95 percent of its citizens knew his name and 5 million people stayed up throughout the night to witness whether he would be spared execution, in light of strong evidence that he was possibly an innocent man.
"Learn To Know And Identify Your Successes, Even When They First Appear As Failures."
Mother Teresa was not to be left out. She personally phoned Lori St. John and invited her to stay with her in Calcutta just prior to her own passing in September, 1997. How does one accomplish such a feat one might ask?
When you are authentic and inspired by a mission, there is nothing that can stop your momentum. The principles of success are shared in each chapter of The Corruption of Innocence by example and are reflective of the qualities possessed by high achievers:
Knowledge – Gather all the facts and acquire as much information as you possibly can. Become an expert in your field. Knowledge is power.
Details – It's the details that will make your game and distinguish you from your competition.
Truth – It's a powerful tool when challenging your competition or adversary. Stay true to yourself and remain authentic. When challenged, your competition may resort to lies or fabrications to attack your credibility. Let it fuel you, not deter you.
Determination and Persistence – Stay focused on your end goal. Don't waver from your mission. Don't give up until you have reached your goal.
A Powerful Team of Experts – Select them as carefully as if you were selecting family. Do your homework on each one and be sure they support your mission fully, and are genuine, sincere and aligned with your vision or mission.
Strategy – After acquiring information, learning about your competition and assembling a strong team, you are ready to strategize to achieve maximum performance. Identify the strengths of each of your players and use them wisely. Know their weaknesses. Think ahead, have a long-term plan and evaluate your performance along the way.
Momentum – It is easy to lose momentum when you are violently opposed or criticized but use those challenges to become stronger and more effective and efficient at what you do. Gain strength and momentum from your challenges. Learn to be innovative and creative.
Identification of Successes – There are more ways of winning that just one. Learn to know and identify your successes, even when they first appear as failures.
Enjoyment – Enjoy the game and master it.
St. John is an attorney, CPA, author and entrepreneur. Currently, she consults with corporations, high income individuals and governmental entities, where she is called upon to: ensure highly effective and efficient operations; evaluate internal controls, managerial and employee performance and compliance with statutory, contractual and legislative rules and regulations; and evaluate the level of communication throughout the organization and the tone of management to ensure it is reflective of the company's vision and mission statement. These are just a few of the many tools Lori St. John offers to help you maintain or achieve jet set status.
Get your copy of The Corruption of Innocence now on
Amazon, Barnes & Noble or visit LoriStJohn.com.