Pacino. Few actors' surnames carry as much cachet as that of the 74 year-old cinematic titan from New York. The mere utterance of his name evokes some of the most memorable and iconic characters in the history of popular culture.
Michael Corleone. Tony Montana. Frank Serpico. His defining run of bravura performances in the early 70s (Godfather, Serpico, Godfather: Part II, Dog Day Afternoon…) is perhaps the single most impressive in movie history. He's been awarded ostensibly every award an actor can receive, having taken home at least one Oscar, Tony, Emmy and Golden Globe — not to mention myriad lifetime achievement awards — throughout the course of his prolific 50-year career. So as his 50th film, Danny Collins, hits theaters, one might wonder: just what is it that motivates Al Pacino after all these years?
When he was young, Pacino was simply motivated by survival. His father left when Al was just two years old. Despite her limited means, his mother managed to take him to movies which he would reenact within the confines of the cramped apartment they shared with Pacino's grandparents. The actor vividly recalls sleeping nestled between them and never having a space of his own. In many ways, he was drawn to acting out of necessity — it helped him to distinguish himself, communicate with people (like his two deaf aunts) and disarm bullies he encountered growing up in the post-war South Bronx.
Pacino soon found "bravery in his bravado," but unlike the callous toughs he's portrayed, he wasn't a particularly pugnacious adolescent. Although he did run with a crew, smoke, drink, chase girls and, inescapably, get into a few fights. Like most creative kids, he found the rigors of school suffocating. By 17, he had dropped out and left home for good. For years, he lived a nomadic existence, working remedial jobs and sometimes literally sleeping in the streets to further his acting career. But then he lost his mother — who'd been battling depression and barbiturate addiction — and his beloved grandfather in the same year. Pacino describes the ensuing epoch as his "darkest period." Thankfully, he kept acting, and (after multiple rejections) gained acceptance into the fabled Actors Studio.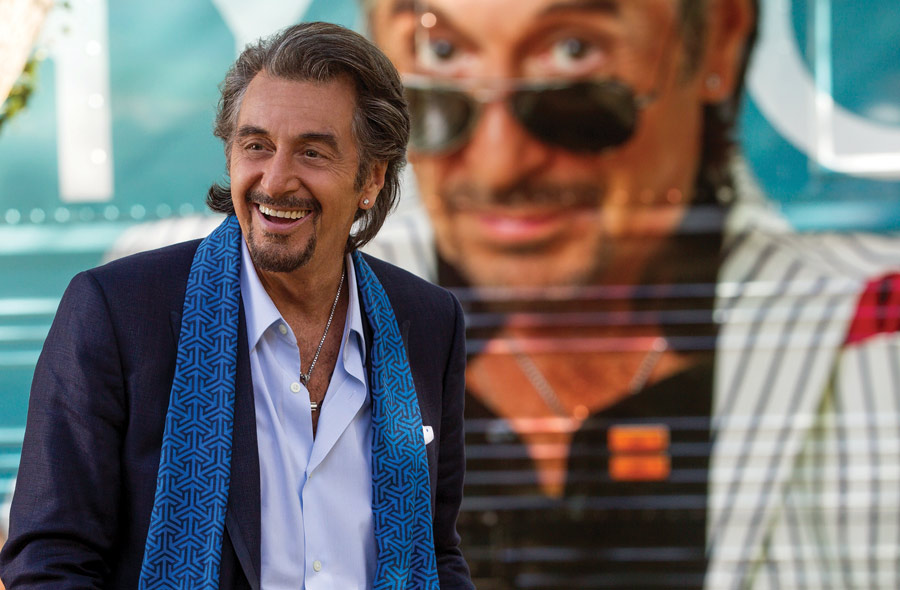 Actors Studio impresario and legendary acting coach Lee Strasberg once famously said that "some actors play characters — Al Pacino becomes them." Soon he was winning awards for his stage work and appearing in films. After landing his first lead movie role — as a heroin addict in Panic in Needle Park (1971) — Coppola cast him in The Godfather. But producers wanted a bigger name, and after a week of shooting, demanded that Pacino be fired. They couldn't grasp his nuanced take on young Michael. Luckily for him, the next scene they filmed was the classic moment when Michael guns down two of his father's betrayers in a quiet Bronx restaurant. Then they got it.
For Pacino, it's all about the arc — the many subtle changes a character undergoes throughout the course of a story. After The Godfather, Pacino's arc was rapidly ascending. He would earn Oscar nominations in each of the next four consecutive years. In a short span, he went from sleeping in the street to becoming the most respected actor on the planet. He would own the 70s, but save for Scarface (which would later become a cult phenomenon), the 80s were mostly filled with commercial disappointments. So Pacino took a sabbatical from cinema to focus on theater and directing before returning with a vengeance in the 90s, giving stellar performances films like Heat, The Insider, Carlito's Way, Glengarry Glen Ross and Scent of a Woman.
For decades, Pacino never let esurience interfere with his artistic decisions — this is a man who passed on Star Wars and Die Hard — but he does acknowledge that in recent years he's made some regrettable pictures (like Jack and Jill) for financial reasons. But today, he seems determined to rekindle some of that ineffable spark that defined his early output. Whether he's appearing on Broadway in The Merchant of Venice, or portraying complex figures like Jack Kevorkian and (soon) Joe Paterno, Pacino finds himself in the midst of a full-blown septuagenarian renaissance.
In Danny Collins, Pacino gives another winning performance as the titular rock star who long ago squandered both his artistic integrity and iconicity. It makes the second time in a year (after The Humbling) that Pacino has played an aging artist searching for some form of revivification, and the parallels are not exactly opaque. But Pacino adeptly brings Collins to life. For the first time in his film career, he sings, and in a cast that includes Annette Bening and Christopher Plummer, Pacino steals the show yet again.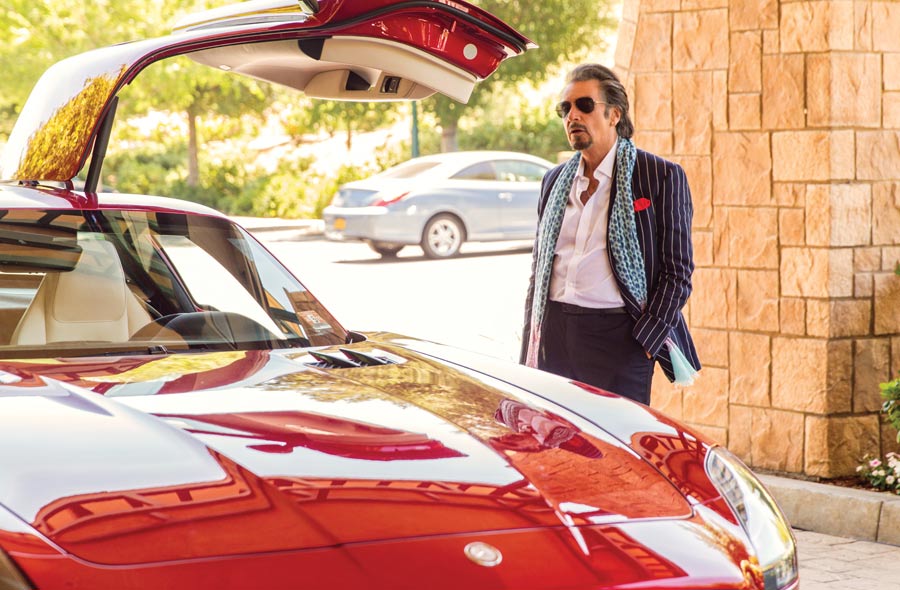 Jetset entertainment correspondent Tara Hitchcock was one of a few journalists invited to sit down with the star to discuss the film. Knowing that writer/director Dan Fogelman had Pacino in mind when he wrote the script for Danny Collins, she asked him if this happens frequently. "No, oddly enough," he says, smiling, although he did say that after Coppola saw him perform in a play, he wanted to use him in a movie and he thinks the famed director had him in mind when he wrote The Godfather with Mario Puzo.
Pacino then described his emotional reaction to his latest film. "I got caught up in Dan's script . . . and his story . . . and the idea of this thing about connecting, which is in all our lives and we're touched by that." There's a scene in the movie where Annette Bening asks Pacino's character if he's nervous, so Hitchcock asked Pacino if he ever is. "Oh, sure. Of course, who doesn't get nervous? Certainly when getting up there and doing a play or doing a movie, because you don't know where it's going to go. . . . you've got an empty canvas, a blank canvas, and what am I going to paint? It gets the adrenaline going, the energy going. It's exciting, really." Luckily for his fans, he's still motivated after all these years.

For more on Tara Hitchcock, go to taraontv.com. Also, be sure to catch Tara's weekly celebrity features on CBS 5 and Harkins.com/behind-screens.