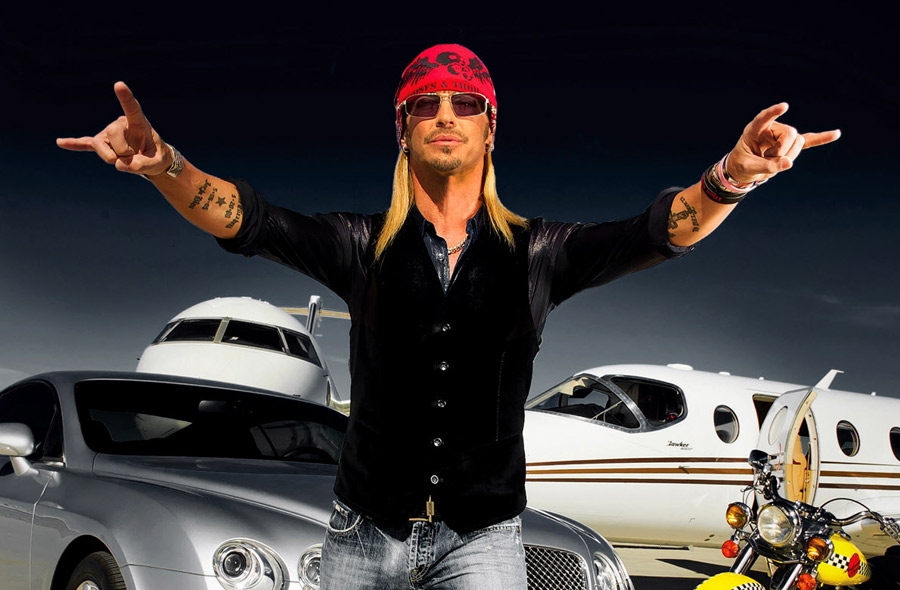 If you could ever tell a story of roses and thorns, Bret Michaels would be the perfect subject.
His life's journey is a rollercoaster ride with pivotal turns that include being diagnosed with Type I Diabetes at the age of six and catapulting to fame while riding the wave of the entertainment business – which he calls the most rewarding yet the most risky and sleaziest business in the world. A loveable bad boy with an edge, the Pittsburgh born native has time and again taken the lemons life has given him and made lemonade. As Bret says,
Continuous self-belief and continuous self-motivation are the keys to success in anything.
Let's set the record straight. My name is Christie Cook; several years ago I was hired by Bret to produce his video, All I Ever Needed and later to work on a country video Country So We Can. He and I over the years have had some conversations about the entertainment business and he knew I was somewhat cynical on the subject. Aside from producing videos, I write, so Bret called to ask me to write this article. The only condition he had was that I had to live it if I was going to write it. I had never traveled or been on the road with Bret, but I agreed and set out for this exciting experience.
Bret was kicking off his Get Your Rock On Tour at the Hard Rock Arena in Hollywood, Florida. The energy was contagious as fans ranging in age from tween to twilight filled the venue. When the lights lowered and the guitar riffs filled the space, Bret exploded onto the stage belting out his rock anthems as fans sang every word right along with him. After the encore Bret didn't retreat, he walked to the front of the stage. He stayed, shaking the hands of his fans, signing items for them doing what he does best, making them feel a part of what had just happened, as if he knew each one of them personally. Tonight wasn't a concert; it was a party, a celebration of life.
Walking off stage, he is soaked from head to toe but has a smile from ear to ear, he is thankful for the 26 years fans have given him. Tonight Bret is the rock star, the admiration of many, but as soon as he gets off stage he will switch gears and work long after the last fan has left, running what has become an enormously successful brand. That will happen only after he completes the Hard Rock's 30-person fan meet and greet and an additional 55 fans that bought the platinum fan package where Bret personally takes time with each one, speaking and taking a picture. He was having fun and getting it done.
An idealist, that is what Bret Michaels calls himself. He explains the term as being a dreamer who dreams big, but also a realist, which allows him to get the job done. Whatever he calls it, it seems to be working. Bret has not only sold a combined 32 million units between his Poison and solo careers and continues to sell out venues, setting attendance records, he has established himself as a marketable brand that continues to expand. From music to product endorsements, he runs a company the same way he treats his fans. Lead by example, Bret explains. Bret has many employees and as I watch his interaction with them it is clear they are a team. Bret Michaels is passionate and loyal, almost to a fault at times, says his VP of Operations, Janna Elias, He is the hardest working person in show business.
In a time when so many modern companies are downsizing, his company is growing and expanding, while still maintaining an intimate feel to the organization. He attributes part of this to surrounding yourself with great people, delegating properly and being willing to share both the successes and bumps along the way together. Between Medical, Dental and Workers Compensation Insurance to Pensions, Bret laughs, I just wanted to play music and meet beautiful women, maybe get a couple of free beers from the bar, that's how all of this started, thank God I have a quick learning curve.
We traveled between cities on his modern custom tour bus, outfitted with the conveniences of home, the ever-present diabetes supplies (syringes, blood tester, glucose) are a reminder of his daily struggle. I noticed with Bret, sleeping is optional and that makes sense given the wide range and variety of projects he has on his plate. I have always been somewhat skeptical when someone gives me a laundry list of projects they have coming up and I have to admit when I first heard Bret's I told myself that he had to be joking, or maybe embellishing. However over our few days together I was able to see first hand samples of the products.
Simon and Schuster will be releasing Bret's autobiography entitled Roses and Thorns, the Reality of My Rock and Roll Fantasy later this year. They will also release two other books; one will be a business-based book where Bret will share what has propelled him in business entitled How to Succeed at Anything Almost, subtitled Passion, Purpose, Product and Profit. A health and self motivation book entitled Life Rocks will focus on the subject of mentally and physically staying in the game as well as simple solutions to hurdling mega mental mountains. He allowed me to take a glance at a few chapters, one of the chapters focused on dieting and is entitled If you don't need it, don't eat it, a lighthearted yet helpful approach on the subject.
If you know much about the rock superstar, you know that he exercises a lot. He has expanded this part of his life into an exercise video to be released entitled Get Rocked. The DVD will include a set of what he has aptly titled Rock Bands. Being on a bus or a plane to the extent he is, Bret finds the bands a great solution and used them on the bus as we were traveling. In what I found to be true Bret fashion he tells me about not a movie but a 'rovie which I had some knowledge of as we had talked of working on the project together, but the 'rovie part was new to me. He explains, It's a rock movie so I decided to call it a 'rovie. This one brought a laugh from me; I was again reminded of what creative and imaginative ideas he has. Bret does not fit into a mold, he makes his own.
Add to this already long list of projects, two tours, both solo and with Poison as they head out with Def Leppard in the summer. Did I mention with Bret that sleeping was optional?
With so many projects on his plate, I was forced to question Bret on whether all of his projects made it to fruition. He simply said,
I never fear failure, I just don't like failing and to be honest the trying process normally gives me a lot of other great ideas. Just remember quitters never win and winners never quit.
As Bret takes an unusual moment to just sit down he continued, People always talk about that I have reinvented myself over and over again. To be honest, it's more like I re-invigorate, using new technology to get your art and brand out there. For example, years ago a Behind the Music special came out in which many bands of my genre were denounced, where they had come from and what they were about, and I remember saying, I love the music I play whether it's popular or not. Eventually this genre of music became popular again and those same bands wanted to run back and reclaim it. By this time they had unfortunately lost their core group of fans and the new fans didn't take to them. That is why I have three generations of fans. I have stayed true to myself.
I noticed Bret is very competitive and his love of sports is undeniable. Somewhere on our travels between cities Bret had his driver pull over at a truck stop so he could play football with the band and crew. On his 10 acre ranch in Scottsdale, Arizona it is like a sports court gone crazy. There is a basketball court, a baseball net, volleyball, go kart track, a motor cross track, a full gym, ATVs and other recreational items.
I have always said you have to believe in yourself before anyone else will believe in you. Bret comments while checking his blood sugar, something he has done ten times a day since he was six years old. His diagnosis and struggle with the disease has made him passionate about fundraising. A true philanthropist, lending his time, talents and fundraising skills to many charities, he's one of the leading fundraisers for the Diabetes Foundation, raising millions of dollars for the cause. Michaels has received many awards for his work including the first ever Chair Citation award from the American Diabetes Association, the Tom Crawford Power of One Award from the Juvenile Diabetes Research Foundation, as well as Father of the Year award from the ADA.
Taking it one step further, Michaels has established a Foundation entitled, Life Rocks, to support his many charities. The foundation has recently completely funded a music and hospitality room for patients families at St Joseph Barrows. The Life Rocks foundation makes a lot of money for JDRF and ADA, Bret explains, wanting to find a cure for this disease, hopefully in my lifetime, if not we have made great advances for the future. After taking a pause he adds, There is no doubt one day I may lose my battle with diabetes, but at least I will know I didn't go without a fight.
On the subject of being a father, Bret was adamant while at home about having time with his girls, Raine and Jorja. On the set of a photo shoot, he stopped the production, leaving us to wonder if something was wrong. Bret then explained it was almost time for the girls to get home from school and he wanted to take some quality time with them. Once home, Bret switched hats once again to be something very simple, a dad. Still struggling with some left over ramifications of his brain hemorrhage, including obvious problems with his left hand and some short-term memory loss, he continues the status quo. Watching him play basketball and ride on ATVs showed yet another side of this multi-faceted celebrity, he is still a kid at heart. You can see he is always searching for balance in his day, which doesn't always happen.
As far as believing in yourself, my philosophy going into Celebrity Apprentice was simple. I never knew for a fact I was going to win it, I just never thought I couldn't win it. Bret laughs, I think I was the first person that Mark Burnett Productions and NBC gave a to go bag to, no one else got one, I think they had very little confidence I was going to make it past the first day.
That simple determination is the type of thing that has enabled the multi-platinum, multi-generational and multi-talented star to achieve his goals, overcoming the many obstacles in his life. This attitude prompted Donald Trump to award him the title of Celebrity Apprentice, which was the most popular and highest rated season yet for NBC.
He's a great competitor and champion, quotes Trump, Bret is passionate but tenacious yet very loyal and doesn't throw people under the bus and I find that admirable.
The Apprentice wasn't Bret's first reality TV success – he was a judge on Nashville Star alongside LeAnn Rimes followed by VH1ís immensely popular show Rock of Love, which proved to be the networks highest rated show for three years in a row and garnered some of the highest ratings in their history. VH1 also aired Bret Michaels Life As I Know It, which was co-created by Bret and was the number one Monday night show.
Bret Michaels is a cultural touchdown for our network, quoted Judy McGrath, CEO of MTV Networks.
The Pittsburgh native never forgets where he comes from, yet always seems to know where he is going. In order to truly understand all that is Bret Michaels, I decided to travel with him to Los Angeles, where Bret was to headline the Grammy Foundation concert. That would be enough in one day for some people, but over those two days I watched as he multi-tasked six projects. It began in Phoenix, producing a 60 rocking video with the Fox/Speed Network for AMD Supercross, with friend Jon Schultz, which now appears as the weekly show opener. Bret, an avid sports enthusiast, has instated the Rock Hard, Ride Hard award, which will be given out at the season's end to the most tenacious rider. Just another of the many projects Bret is involved with.
Easily switching gears, Bret prepares for the first of three photo shoots of the day. The first was for the cover of Arizona Foothills magazine, where he received over 400,000 votes as the favorite local philanthropist. Always the outlaw, on this cover shoot Michaels chose to wear a blue jean jacket with a suit vest and dress shirt underneath with his trademark red bandana. He mentions, Donald Trump told me that blue signifies intelligence while red signifies confidence and success. Michaels laughs and says he hears Trump may be interested in this look.
The Rebel Magazine cover shoot follows the Foothills shoot, and then an extensive session of photos for Bret's new line of pet accessories entitled Pets Rock for PetSmart. The pet products ranging from leashes to fun toys will have a limited release in May and be in stores by June or July. All the while he is on the phone running Michaels Entertainment Group, Last Child Productions and Poor Boy Records.
They say necessity is the mother of all invention, and after a health domino effect that included an emergency appendectomy, brain hemorrhage, TIA warning stroke and heart surgery in January, Bret's body was pushed to its limits. Following his heart surgery the doctors diagnosed that he was suffering from severe dehydration and hyponatremia, both complicated by his diabetes.
My blood pressure and blood sugar fluctuated to the point I could hardly stand up, Bret recalls.
In that moment of necessity, Bret threw together a drink with items he found in his kitchen that he felt would hydrate him. He credits the drink to literally saving his life. After a mega successful run with his Diet Snapple beverage, Bret has decided to market and sell his drink. Named Bret Michaels Fuel, or BMF, Bret says the drink, tastes great, gets you right and just makes you want to do stuff. Working on this new product is another task that is on the stars To Do lists for today. The drink will be launched in early 2013.
In between photo shoots we chat about his career and music. The fact is I really love playing music, whether the song is a hit or not. Even if it's not a number one hit I still enjoyed my time playing the guitar and singing.
When asked what advice he would give to an upcoming artist or entrepreneur he quickly responds, First would be passion, second find a way to get it done and then you really have to decide what success you want, at what level and how much of your time you want to put into getting there and more importantly staying there. Remember there are three steps to this battle, getting there (tough) staying there (tougher) and eventually knowing when to exit (which will be the toughest of all).î
Bret stops me before moving on to add, Don't ever be afraid to make a profit, just don't screw anyone over doing it and that includes not letting them step on you.
Talking about how his career morphed into its current state, Bret tells me about how he lived in the back of a laundromat for three years in Los Angeles, living well below the poverty level (sleeping bags, cockroaches and top ramen) pursuing his dream. There are lots of stories but he wanted to set two rock-and-roll myths straight.
Myth Buster #1
Band members don't go broke by buying drugs and alcohol ..because it's all free once you make it. It's the idiotic decisions you make while on the substance that may lower your bank account.
Myth Buster #2
People sometimes think it is girls and egos that break bands up early in their career and that isn't what happens. They break up because they don't have enough gas money to get to rehearsal. Trust me it is a feast or famine business.
His 26-plus years in the music industry allows him to talk candidly about what it takes to contend with the ups and downs of the business.
My Dad always said the difference between try and triumph was a little umph. You have to roll with the punches without giving up ground. Bend don't break, you can bend sometimes just don't break.
Bret continues passionately, You have to have nerves of steel to be in this business. It is full of risks and toys with your soul both personally and professionally. You write a song about something very personal, go to release it and listen to a bunch of different people tell you it sucks and how they would never touch it.
He gives an example, Take the song Something to Believe In, I wrote it about a best friend passing away, our troops and our homeless. One critic said the song was too long, one said it was too somber, and refusing to allow myself to be stuck in my own box I pushed for the song to stay just the way it was. The song went on to become a mega hit and MTV's most played video.
Bret emphatically states, Music is my outlet, how could my fans believe in it if I don't. In my fighting spirit, I don't ask for apologies or pity but I do get fighting mad, which sometimes drives me to succeed even more by focusing and channeling that frustration to the right areas. I cannot thank the fans enough for saving my life, as that physical and emotional outlet on stage has saved me a hundred times over.
Bret talked about how he feels fortunate to make a living doing what he loves, playing rock and roll but mentions, There is no shame in an honest days work, in other words, there is nothing wrong with doing what you have to do in order to do what you want to do. Success is different for everyone. Succeed on your on terms. Don't ever measure your success by anyone else's.
His upcoming album, Get Your Rock On, is a subject that excites the superstar.
We are doing a remake of Every Rose Has Its Thorn with Loretta Lynn that is going to make music history. It's the damn best thing I've ever heard. Joe Perry of Aerosmith is also playing on the track.
Asking how the duo paired up he explains, It was simple Thanksgiving, good food and good folk, we got to talking and just decided to do it, Loretta suggested Every Rose.
The new album will be filled with an A-list of musical acts such as a live version of Margaritaville with Bret and Jimmy Buffet. Phil Collen (Def Leppard, ManRaze) and Sal Costa (My Darkest Days) play on the title track. The album will also feature a remake of Sweet Home Alabama with original members of Lynyrd Skynyrd and 38 Special. If that wasn't enough, he continues to list guest appearances on the album such as Ace Frehley (KISS), Michael Anthony (Van Halen), Jaret Reddick (Bowling for Soup) and Hugh McDonald (Bon Jovi) ñ all will take a part in what is sure to be an album fans will be anxiously awaiting. Bret further explains, These are not random choices for the album, they are all friends that mattered.
Listening to the variety of artists, I am struck once again by the creative reach that Bret has, and it is not confined to special appearances on his album. The rock icon this year alone has gone from playing a sold out New Years Eve show in Illinois to Mardi Gras where Harry Connick, Jr. joined him on stage, to the Fiesta Bowl with pop stars Ke$ha and LMFAO, to singing Every Rose Has Its Thorn on stage with country mega star Kenny Chesney, all without ever losing who and what he is. He just is who he is.
People should not underestimate Bret Michaels, he is a powerhouse. Not only does he have an extremely successful solo career and a reality TV career, but he continues to tour with Poison. He is quick to mention, One reason I can be seamlessly successful between both my solo career and Poison is because I didn't have to downplay one for the other. I can do them both, which is great because both of them are important to me.
Another thing that Bret is extremely passionate about is the U.S. Military. He is a faithful supporter of our troops, what they do and the freedom that they allow us. After bringing up the subject he tells me that almost every member of his family has served in some form of the military. Bret was not able to serve due to his diabetes, but has found other ways to support them. Bret was insistent on going to perform for the troops. He went to Iraq, Kuwait and Afghanistan and was humbled by the experience and the sacrifices our military men and women make. Bret explains, ìAt every one of my shows both solo and Poison, I take time and pay tribute to the military just before we perform Something to Believe In. He doesn't play into politics, but he is emphatic that we should do everything we can to respect and support the troops.
Bret is full of innovative ideas, a true marketing genius he is constantly asked by top brands for his input, which has allowed him to continue expanding his successful brand. He mentions, With all of my contracts with Ford, Snapple, Dean Guitars, PetSmart, the contracts have all gone beyond the original expectation. That being said, you don't get what you want – you get what you negotiate for.
Offers for partnerships with products and TV shows and speaking engagements come often for Bret but I noticed that he wasn't grasping at straws, when it would be easy to take the money and run. He is selective in who he partners with, knowing that some just aren't right for him, which wouldn't be right for them, forcing him to walk away.
For some of these offers there wouldn't be truth in the advertising so I politely say thanks but no thanks, the star explains as he goes over current partnership requests. Passion, Purpose, Product and Profit, those are the four P's.
One of his latest successful endeavors is what he terms DIG, Digital Instant Gratification, It is a digital greeting card. They can choose a generic one or give us a personal message and have it completely customized. Fans reacted quickly and have ordered thousands of these personal greetings.
Bret's busy lifestyle requires logging a lot of miles in the air and on his custom tour bus. Private flight is an absolute necessity in my business he adds as he explains his busy travel schedule. I started in the late 80s, early 90s splitting commercial and private flying, now it is easy 80/20 if not more, otherwise I would never see my house considering I spend 9-10 months of the year on the road. Today, he flies to Los Angeles on his Hawker 400XP, pictured on the cover with a Challenger jet pictured behind it. He has to laugh about the picture and share some more of his characteristic humor, It's like a quality mullet, business in the front, party in the rear. Meaning, the Hawker 400XP is a light jet that gets me anywhere I need to go and can land at almost any runway and is a lot less to operate, the Challenger is for longer hauls and more people. The Challenger is great but not cost effective for daily use and can't get me into some of the FBO's necessary in the touring world.
Later that night, Bret looks just as fresh as if it were the first thing he had done that day, as he walked the Red Carpet for the Grammy Foundation Concert. Along the way Neil Portnow, President of the Recording Academy, and Sharon Osbourne stop him for a photo opportunity before heading in.
hile visiting with friends backstage, in bounds The Voice runner up Beverly McClellan, who instantly gives Bret a big hug. He also spent time visiting with legendary gospel singer Mavis Staples, among others, and with each he is able to laugh and talk with them as if they were life long friends. A couple of the stagehands had some fun with Bret telling him how he was truly old school when it comes to performing. No pro tools, no samples and no click tracks just live, raw and real.
As he took the stage he rocked through his hits, thrilling the crowd once again. He announced to those in attendance, I am the Susan Lucci of rock n roll, never had a Grammy but they still invite me to the party.
You would have never known, but as Bret walked off stage, the struggles with his diabetes became evident. The insulin he took before going on stage reacted during his show and dramatically dropped his blood sugar. Openly asking for a minute to correct the problem, he searches in his bag for what are two of his constant companions, his blood sugar monitor and his glucose. Even in the moment he jokes, ìI am like a human pincushion.
Bret is many things. He is a performer, an entrepreneur, a father, a brand, philanthropist, friend, TV star, a rock legend. He has the simple charm of always having a Subway sandwich for everyone on the jet and can whip up a mean peanut butter quesadilla (don't ask) and is a genuinely good human being, whose sincerity for people instantly connects him to whomever he comes in contact with. From his fans to Donald Trump, he relates.
I have known Bret though our work on videos, but through this journey of the past few days I have been able to see the complexity of his world and he was correct in the fact that you can't understand it unless you live it. I am fortunate to have had that opportunity and must admit I am less skeptical than before.
It is clear that Bret is seamless. He can leave the stage of a sold out show at the Hard Rock Hotel, change clothes and attend a black tie affair to accept an award for his contributions to charity and never miss a beat. He can rock a crowd and in a moments notice be making another business deal. Bret is the real deal and it is easy to see why his fans are as loyal as they are and businesses are clamoring to have him join their brand. He works hard, plays harder and gets it done.