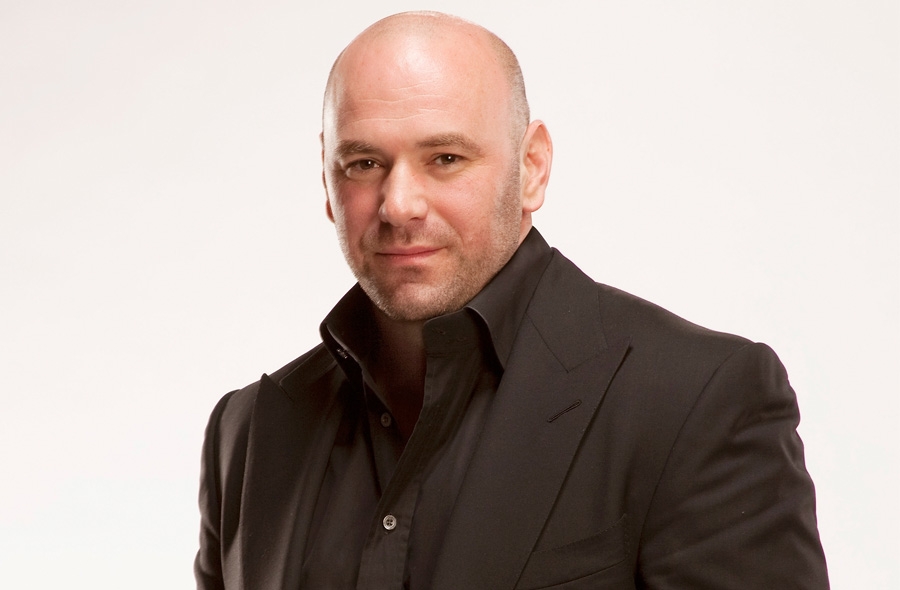 He's the president, part owner and undisputed face of the UFC. The dynamic and outspoken 24/7 force of nature and driving force of the world's fastest-growing sports organization.
When it comes to his opinions, Dana White is about as subtle as a stormtrooper. However, when you spend time with White, you're allowed to venture beyond the gruff-and-tough persona he exudes on camera and realize firsthand that this brash-and-slash personality is a charismatic powerhouse who first and foremost, at the heart of everything, just flat out loves the fight game. He also is keenly aware of how to precisely package his unique version of it for the tens of millions of fans of the Ultimate Fighting Championship around the world (and these numbers are growing), who then turn their impassioned loyalty and fever-pitched fervor into incredible revenue for the UFC and personal wealth for White.
He is also a man whose business acumen and personality are custom made to be in Las Vegas where the UFC is headquartered. Because another characteristic Dana told me he has, maybe above all of the others, is the need for action. He's a natural gambler, a risk taker of epic proportions who you get the impression from spending time with him, is too smart and savvy to allow the rush and swirl of everything going on around him to be anything but a natural fuel for his nonstop, never-dull life.
"It's the way I'm wired," White tells me in an exclusive interview for Jetset. "I love it. I like chaos. I like action. I have a place outside of Bangor, Maine, which is literally out in the sticks where I have every toy you could possibly have. It's a place I can go and truly relax. I love it up there so much and my family members all say I am a different person when I'm up there, but I could never live there. Vegas is a city of absolute chaos — it never shuts down— it never stops — and that's the type of person I am."
The spotlight seems to love Dana White almost as much as his fans do. Building the worldwide brand of a sport that has revenues in the half-billion dollar range, where people shed blood and get hurt, is almost as much of a full-contact endeavor as entering the Octagon for a fight. He's made enemies, ruffled feathers and rubbed some people the wrong way, but he's also the most affable, approachable, down-to-earth head of any sports organization you'll find anywhere. Though he won't say it, White is as big of a star as most of his fighters, and the difference between him and his combatants is that he doesn't fade in and out of the public's consciousness and attention span based on the results inside the Octagon. He's front and center at every major event, the one consistent voice promoting the sport and bringing it to new heights and into new countries and cultures.
While White may be bombastic and outspoken, with a personality as electrically charged as the blinking neon on the Las Vegas Strip, he also comes across as humble, warm, inviting and raw, characteristics that always have, and always will, attract people and lure them in. "The minute you start thinking of yourself as a star, you already blew it," he says. "The love you get from the fans is something you should appreciate — that they love what I do as much as I do. That's a cool thing to appreciate, and I do. Every fan I come across, I appreciate them. We do these meet and greets at all of our shows with a lot of hard core fans, and anybody who stops me on the street, even if I'm eating dinner — I don't care — I'll get up and talk to anybody who talks to me. They are people who love the UFC as much as I do, and you shouldn't take them for granted and never think of yourself as a star."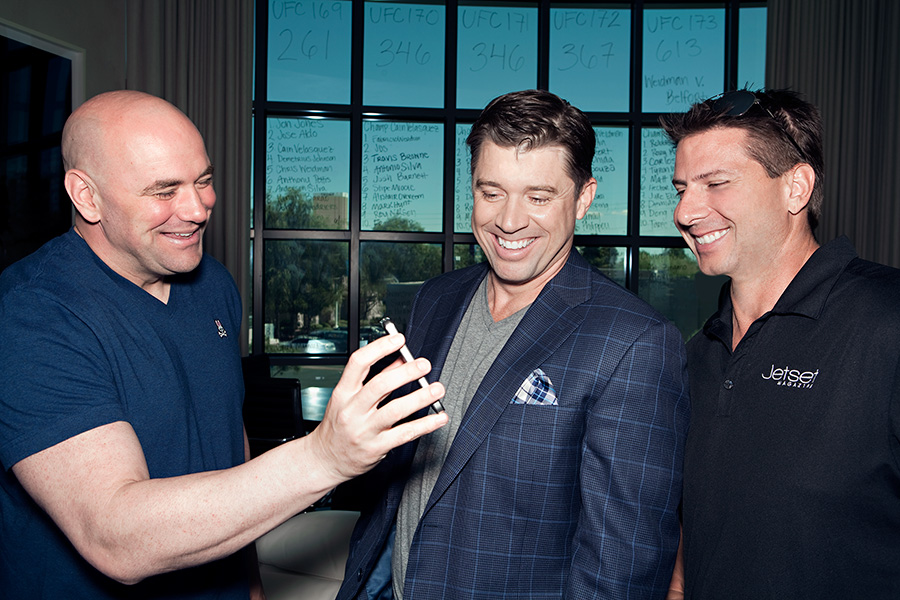 White knows his value with the UFC, and what his presence means in terms of past success and future growth of the company, but he's also keenly aware, like most Jetset readers are, that great success doesn't happen because of the abilities of one person. And that success, and the subsequent worldwide fame and wealth generated for future generations that was built from scratch, doesn't come easy for anybody. There are challenges, crises and disasters to sometimes meet and hopefully avoid. And in the earlier days of the UFC, things were far from how they are now. In fact, at one point, the entire UFC business model was injured, literally bleeding on the Octagon floor. They were stuck in the kind of financial arm bar that probably would have made a lot of executives and business owners do one thing White would never consider in that situation — tap out.
"We bought the UFC for $2 million — and we ended up $44 million in the hole," White told me in our exclusive Jetset interview. "We got to the point where my partners were saying 'we can't keep bleeding like this.' They told me 'go out and see what you can sell this for.' By the end of the day, I called them back and said, 'we're $44 million in the hole and we can probably sell this thing for $6 million, tops.' We thought about it and basically said 'F it. Let's stay in.' And we kept doing it. We kept plugging. As I look back, there are a lot of things we did that were right, and obviously there were things we did that we did wrong, and we learned from our mistakes. And honestly, I wouldn't change anything we did, good or bad, because I believe everything we did got us to where we are today."
Where they are today is in some pretty good air space, figuratively, with the success of the UFC, and literally. White travels the world on a Gulfstream IV, and his schedule absolutely requires private air travel, almost exclusively. He's constantly promoting upcoming events or shows, dealing with sponsors, partners and fighters' needs and strategizing with his associates on ways to expand the reach of the UFC.
At the time of our interview, White had just returned from an up-and-back trip to New York City with Mike Tyson in the G4. A few days before that, he flew back from Vancouver, the site of UFC 174, and less than 48 hours after we finished, White had to take his first commercial flight in over seven years, traveling from Las Vegas to Macau, then on to Tokyo before returning back to the U.S. He was hoping it would go better than the last time he flew commercial, when he ventured from Japan to Australia, then back to LAX, where he ended up spending several hours cuffed and detained in an airport jail cell, courtesy of some overzealous U.S. customs officials and a large amount of cash White was bringing back into the country. It's a long story, told with White's very personable dramatic flair, and, of course, laced with a fair amount of words that are more appropriate inside an MMA cage as opposed to the pages of the nation's number one affluent lifestyle magazine.
Where is Dana White going next? Wherever he needs to in order to keep the UFC as the trendsetting, ultra-popular and profitable kings of the fight game. "We know exactly where it's going. We're the ones that built this industry and we're the ones that continue to build this industry. We're working on things that are going to happen in 2017 and 2018 right now. The stuff that happened now — we set this up, in some cases, five years ago."