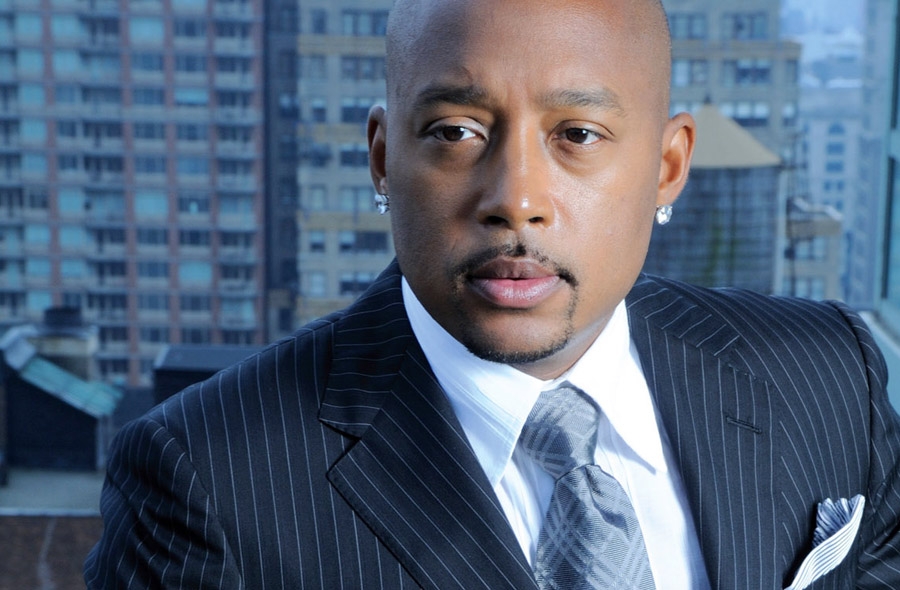 Complex formulas, equations, and properly sequenced series of letters, digits and symbols have made a lot of brilliant people some staggering fortunes over the past three decades or so.
But not every roadmap to constructing a company that becomes an iconic global brand, ringing up billions of dollars in sales per year, is paved by computer code and mathematical magic. This story is about another visionary builder and dreamer, with equal amounts of off-the-charts ambition and desire to make the world a better place as any of the household name high-tech all stars we all know so much about. The difference with Daymond John, founder of fashion label FUBU, best-selling author, and one of the entrepreneur judges on ABC's hit show The Shark Tank, is that Daymond has his internal navigation set at a frequency of cool instead of geek. His formula for building a world-class brand, and turning a street corner hat-stitching hobby into a world-wide empire known and loved by A-list celebrity hotshots and everyday people alike, can be summed up in a very un-complex equation, and it goes like this:
Substance + Style = Success.
It sounds simple, but this equation has allowed an only child from a tight-knit family to build FUBU from scratch and become a trendsetting, widely respected multimillionaire and high profile personal brand in the process.
"I always felt that I was going to be successful, and my parents reinforced that," Daymond explained to me from Orlando during NBA All Star weekend. "They never told me to stop. I had a lot of businesses. I started working at about 10 years old, and by the time I was 20 I thought I'd be rich, and I was as poor as any man could be, because I wasn't realistic. I was doing it for money and not for love. I don't believe that you can be successful if you're doing it just for money, because first of all, you may end up in the wrong place, doing it just for money. And second of all, even if you get the money, it doesn't mean that you're going to have success. I know some very miserable, very lonely people with more money than God. So, success to me is not a monetary gauge."
What Daymond does believe in is hard work. And in being prepared. Oh, and in looking good. Watch the opening pan of the panel of Sharks on the show, and you'll see all those traits captured and reflected on Daymond in a matter of seconds. He's the most serious-minded, multimillionaire Shark on the cast, and, without question, the most fashion-forward. He's always in a dark suit that cost more than most people's first car, a stylish tie, a pocket square with a straighter edge than Ritchie Cunningham, and shoes shined so crisply, his friend and fellow cast member Mark Cuban could realistically check to see if he had anything stuck in his teeth before the cameras rolled. Self-confidence and assuredness radiate from his body like sex appeal oozed from Raquel Welch in her prime. It's part of the package. But Daymond also believes fate, good fortune, and humility are as integral as anything physical. And he should know, since he actually turned down Mark Burnett, the most accomplished man in reality show production, twice before fate stepped in and forced her will.
"Mark Burnett and the producers are really smart, and they hand-picked who they wanted on the show. I did not audition. I got a call on my office phone, and the person on the phone said Mark Burnett wanted to talk to me. I said, 'Yeah, right, whatever.' Then they told me they wanted me to do this show and I agreed, until they informed me I'd have to spend my own money investing in the companies. I said, 'Nice talking to you. Goodbye.' So, I was out. But I realized the show was already a hit called Dragons in London and in Japan, and it's like the number two show in Canadian history, so I knew it would be a great property. Then when the contract came over, at that time nobody knew that the Kardashians and I had already signed a contract for me to be a mentor on their show when they came to New York. So I declined the show again, because I had given my word to the Kardashians and I wouldn't be able to do both. Then the Kardashians found out and said to me, 'Are you crazy?' They really encouraged me to do the show and it's all worked out. The funny thing is, I've probably checked my messages personally maybe ten times total in three years, so I know it was fate I did it that time. I'm going to start answering the phone more often now."
At this stage in his career, the celebrities and TV show offers are on incoming calls. He got to this point due to a lot of factors, none being bigger than his ability to uniquely promote his brand. Few people understand the value of and utilize celebrity endorsers more than Daymond. The difference, and advantage for him, is that he was fortunate enough to not have to pay the celebrities to wear his clothing. It was that marketing strategy that changed the trajectory of the growth of his company and altered his personal history in the process.
"You know, I'm a thinker, and the way I basically thought of it as a kid, was, 'You know what, these guys, nobody's paying attention to them, they're rappers. Everybody is believing rap music will be nothing more than a fad.' This is back in the late '80s. I always figured that the popularity of rap was hard to measure anyway, because where I grew up there were no Nielson boxes. I had never seen one, so whenever I heard projections of viewers being at one million, I thought it was probably closer to ten million people watching. I knew it was an untapped market, so I took ten shirts and for three years, I put those same exact shirts on every rapper I could. People started to think that FUBU was this huge company, meanwhile I was a waiter at Red Lobster and had the shirts stored in my basement."
Daymond did all of the things most people are forced to do when building a dream from scratch. He and his mother mortgaged the home they collectively owned for the $100,000 in start up capital they needed. Daymond learned how to sew, putting the company logo on hockey jerseys, sweatshirts and t-shirts himself. The tide turned when he asked an old neighborhood friend, L.L. Cool J, to wear a t-shirt in a Gap ad he was filming. "At the very end of that Gap ad, where he was wearing a FUBU hat, he said, 'For Us, By Us,' and the Gap spent $30 million dollars airing that advertisement, which was really a FUBU ad."
Over the years, Daymond has aggressively tapped into the power of celebrity endorsers to garner, by his estimation, hundreds of millions in essentially free advertising. And he's using his hip hop and mainstream musical connections right now, working with rap sensation Pitbull and Cee Lo Green, as well as Mark Cuban in a new initiative to bring his experience, connections, friendships, marketing skills and understanding to Silicon Valley, with a goal of opening new doors for the African American and Latino communities in social media and technology. Spend any amount of time with Daymond and you're left with this impression:
He's a man with a plan. Now that plan comes with two decades of experience from building a billion dollar company, a Rolodex that could be an exhibit at the Smithsonian, and the power of recognition from being on a hit network television show. It opens doors. It knocks down walls. And it breaks down stereotypes.
"You know, everybody has a perception of people, and I think that the perception of me as the FUBU guy was a guy who wore gold teeth and starts break dancing as soon as he walks in a room, because you see the product out there and you don't realize that fashion is fashion. I think a lot of people didn't realize that I'm a businessman, and I'm a student of life, so I keep learning. A lot of people didn't know the FUBU story, so I get a lot of opportunity to speak and inspire people, as well as advise and help big corporations understand that FUBU is a product, and that we all have a product and a brand, and you can use a lot of the same sensibility for whatever your brand is."
Part of what millions of viewers have learned about Daymond's brand through the The Shark Tank is that at the core, he is someone that understands and loves business. He's also someone that understands television. And that to turn an average show into a hit show, you need a healthy dose of conflict and drama, as well as a fair amount of cruelty, coldness and reality woven in with caring and dignity. Watch the crushed looks on the faces of the people looking for seed money when Daymond or another judge give them the two words they dread: "I'm out." It's all there. Every Friday. And remember, it's the judge's personal money that's on the line, and they did not become rich by handing it out foolishly.
"You've got to understand the emotion we're evoking is because it's our own money. Those negotiations take from 45 minutes to an hour each, and you're only seeing five to eight minutes of it on the show. The producers do a good job of tapping into the emotion, but a lot of times they aren't showing what really happened. The parts when we're cursing the guy out cause we lose our temper, that drama is real. At the end of the day, if someone is asking you for $200K, and they're basically telling you that you don't know anything about the business they are in, and we've already lost half a million dollars by our third season on these people, you get ticked."
But the anger subsides pretty quickly for Daymond. He's too busy to let anything linger. He recently had to hire a staff just to manage all the new investments in companies from The Shark Tank, and as one of the most sought-after branding experts and keynote speakers in fashion and business, his life right now is all about choices. And opportunities. And choosing what opportunities he's going to get involved in.
Private air travel is a necessity in Daymond's world, and he's been flying private for the past 15 years. I asked Daymond if one ride stood out over the past decade and a half.
"One of my favorite stories was the night that Titanic won "Best Picture" at the Oscars. Puffy (P-Diddy) and I were in New York, and we said 'Let's go out to LA and hang out with Matt Damon.' So we flew out and hit all the parties, and I remember it distinctly because I wore my FUBU chain because I wanted everyone to know who I was. I remember looking around and seeing Arnold Schwarzenegger at one end of the room. Then I'd look around and see DeNiro, and Pacino. I was about to start taking everybody drinks and cocktails because I felt so small in the room with my little FUBU chain on, thinking I was important. Then I remember Puff and I got back to the hotel at 2:00 AM. He had just started dating Jennifer Lopez at the time. Heavy D was with us as well, and Puffy said we have to get back on the jet at 4:00 AM. I wasn't sure why, but we ended up flying to Boston so he could do a concert, and when we landed we got a police escort to the arena, and Puffy just jumped on stage and did the show. It was an incredible performance, and I remember being so impressed by what a hard worker he was. I ended up getting my own jet and headed back to New York."
In Daymond John's world, it's good to keep that jet fueled and ready for takeoff, because right now it could be heading in any direction. He's built a personal brand. A company. A fortune and a big following on a hit TV show. Someone that wasn't grounded and deeply rooted in reality, knowing anything you get in this world you have to earn, and that luck, fate and good fortune play just as big a role in determining success as talent, work ethic and determination might be satisfied and ready to call it a career. For Daymond, what's happened so far seems to be what he might call a first chapter. It's an American success story as authentic and exciting as they come, with basic fundamental values being the fuel that can turn talent into a force of nature. Because in this case, when style meets substance, you get success that's a pretty safe investment.
Follow Daymond on Twitter @TheSharkDaymond
Become a Fan on Facebook!
---
Daymond John is an entrepreneur, empire builder, fashion mogul, philanthropist, author and shark. Currently Daymond is engaged in building brands such as Shopify and Edison Nation.