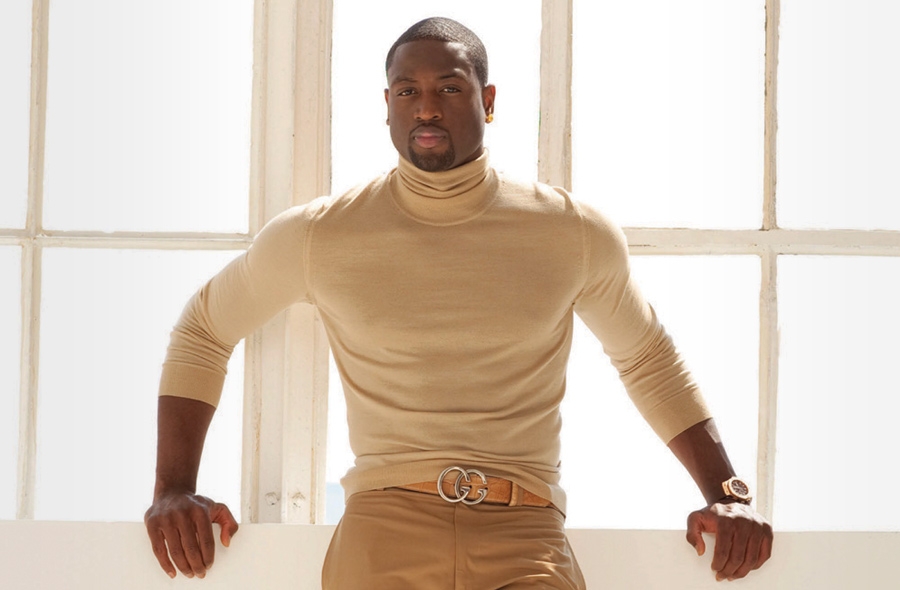 Simply put, when it comes to class, Dwyane Wade is in a class by himself.
Any conceivable category it takes to excel in to be considered a global icon and bona fide A-List, top shelf, gold standard VIP MVP, Dwayne Wade excels in it. His basketball talent is off the charts, good enough to have two NBA championship rings on his fingers, and it's very likely he'll add more before he's done playing. He's appealing to corporate America, middle America, urban America, and heck, since he's the biggest star in Miami, South America and Latin America, too. He's as dapper and articulate as he is humble and handsome. His off the court endeavors are as spectacular as what he does on the court, and since he's only going to be 31 in February, he's got a lot more time to allow his legend to grow even larger.
Since we're celebrating the city of Miami in this issue of Jetset, we thought it was only fitting to go to the most admired, respected and famous citizen of this great city, and make him the subject of our Jetset cover story. Of course, Dwayne Wade didn't disappoint, as he offered us exclusive access into his life one recent afternoon after practice, where we set out to learn what life is like for a bona fide larger-than-life superstar. So enjoy our exclusive conversation with one of the sports world's biggest stars, as we talk about private jets, developing his personal style and brand, and how long it's taken for Miami to become his new hometown.
Jetset: You grew up in Chicago, but for the last 10 years you have called Miami your home. What was the transition like for you, because culturally, and climate-wise, these are two very different cities.
Dwyane Wade (DW): Oh my God, yes I was, when I got drafted I was just like, 'Oh, wait.' The only thing I thought about Miami was palm trees and hot weather. I didn't know anything about the city. It was just a place I had dreamed of going to. But I've kind of made my way to adjusting pretty well in 10 years.
Jetset: Would you say that Miami is your official home now?
DW: Yes, this is my home. This will always be my home because I grew up here, in a sense. From the age of 21 when I first came here to now at the age of 30, I've been through so much in my life here. I have a lot of history here. About four years ago, I really felt that Miami was home for me. I had a contract situation come up and had to decide where I was going to play, and I just thought, I really became a man here. Since the day I got drafted, this city has opened their arms for me and anything that I've been through, they've been supportive of. It doesn't hurt that it's always sunny and it feels warm always down here. I can't do the cold.
Jetset: It is so rare that a sports star like yourself can have the opportunity to call one place home for their career. Peyton Manning didn't do it. Shaq didn't do it. Michael Jordan couldn't do it. Magic Johnson did, and Kobe Bryant probably will, but how does it feel that you had the opportunity to put the Miami Heat on the map and make them a legitimate and championship sports franchise?
DW: Well, knock on wood on that one. It has been a select few guys who've been with one city their whole career. Hopefully, I get added to that list. I've been through the ebb and flow of this organization, seen the highs and the lows, and it's great to know where you started from and where it is now.
Jetset: Let's talk about your style and your personal brand. Unlike a lot of professional athletes, fashion seems very important to you, and when you aren't in uniform you always are put together in such an elegant way. How important is style and do you pick your own wardrobe and do your own shopping?
DW: I'm not a shopper at all. I've got a great team. I have a great stylist, who really gets me, and not only does she push me, but she also truly gets my personal style. We have a great relationship where I'm able to tell her the kind of things I want. I'm not a shopper, I'm not one of those guys that can go in there and can pick and put all these things together, that's not me. I know what I like. I know what looks good and what feels good on me, even though other people may have their different things to say, but I know what I like on myself and when I put it on I automatically know this is something I want and that I need.
Jetset: Is it a priority of yours to make sure you're always photographed and seen looking stylish?
DW: It's important to me to look good. I'm a role model to my sons, more so than I am to anyone else. It's just like my Dad. He got up every morning, even though he drove a delivery truck, and every day growing up I would see him dress up for work. That made me look at him and say, 'That's how you go to work. That's how you present yourself.' So when I got older, I understood that the way I leave the house is the impression I leave on my kids.
Jetset: You grew up in Chicago during the height of Michael Jordan's fame. Was he your idol?
DW: Yes. Everything that Michael Jordan did, my brothers and I did in our backyard. The Chicago Bulls were in our blood. Michael Jordan was a big role model for me on and off the court. He was such a sharp-dressed person. He handled himself so well in front of the camera. I always looked at certain things like that and thought that was how I want to present myself.
Jetset: The 1990s Chicago Bulls were a traveling circus. They were so popular on the road. I'm wondering if you are seeing that now with the Heat team with you and LeBron James?
DW: I don't know, because I wasn't there, but I know we're like certain teams like the Bulls in the 90s, or the Lakers, where people can say they bring excitement to every arena. There's certain teams that when they show up, no matter what, they bring excitement, the crowd's gonna give them the ooh's and aah's, the boos and the cheers, as well, and it's fun. It's fun going to other arenas and knowing that as much as they're going to look at their team, they're going to take a peek at you guys, as well, to see what you got.
Jetset: What is your favorite NBA city to visit, if you were to say which one it is?
DW: New York. I would say New York. I love playing in the Garden. I love what the history stands for. There's just something about when you get to New York because when they turn off the lights and the court goes dark, it's going to be like a movie. It's like a show, a showcase, where you know this is where so many greats have been, on this stage. There's nothing like playing in New York.
Jetset: Are there some places in South Florida you can go where people leave you alone and you can have a nice dinner without distractions?
DW: I've been here 10 years, so I've been to most places and people always treat me with an incredible amount of respect, but I'm at the time in my life where I like to be home a lot. I like to eat at home with my personal chef and take care of my body.
Jetset: You are one of the most socially responsible pro athletes. You have your foundation Wade's World, which has been doing great things. How important is this to you?
DW: I'm blessed to be able to do many things outside of basketball. Basketball has opened so many doors for me and I just try to use whatever I have to help others. Sometimes it's financially, and sometimes it's with time, which is the most important thing that you can give someone. Wade's World Foundation is something that I always wanted to do. I got the name from Wayne's World. When I was a kid, I knew that I was going to be something big with Wade's World. I didn't know what it was, but I always knew. And once I got the opportunity to start my foundation, I said, it's got to be Wade's World because it's something that's bigger than me, it's bigger than us, this is something that can hopefully change the world. One kid at a time.
Jetset: How hands-on are you with everything in your life, such as your appearances, endorsement deals and charity?
DW: I have a great team. You cannot succeed in life by yourself and that's why I play a team sport. I have a great team around me, from my agent Henry, my business manager Lisa, there's just so many people down the line that really help me. I think when I turned 26 or 27, that's when I really wanted to be involved in everything.
Jetset: You are one of the biggest stars on the planet, so private jet travel has to factor into you being able to accomplish what you need to do. Do you have a favorite aircraft?
DW: I like many. I'm not against any of them. My favorite private jet to fly on is the 300 Challenger. That's kind of like bling for me. The Challenger is my favorite plane.
//
//