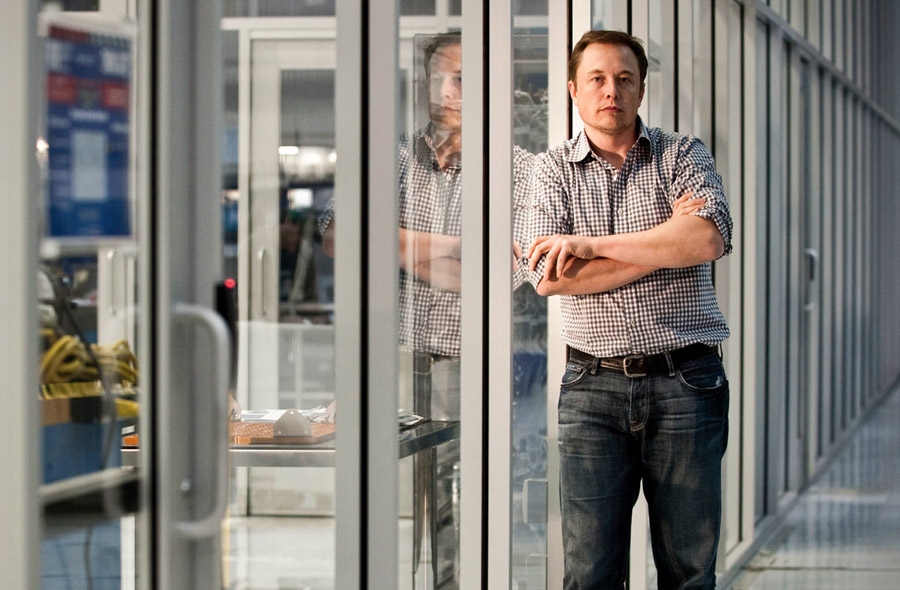 At just 42 years of age, Elon Musk might be the most enviable, admired, and influential CEO on the planet. Granted, there are plenty of others with larger salaries who are helming companies with far grander bottom lines, but few are making a greater impact on the world – and visibly having as much fun doing it – as Elon Musk. Far more than a mere entrepreneur, the man is an innovator, an engineer and a visionary.
Before he reached the age of 30, Elon had helped form PayPal and revolutionized the way we make purchases online. With his launch of Space Exploration Technologies (or SpaceX for short), he is setting his sights on traveling through the galaxy. He also founded Tesla Motors, the first successful new American car company since Chrysler. The Tesla team has attained a feat that until recently was thought to be impossible: creating an electric luxury sports sedan that is both environmentally-friendly and something that affluent people actually want to drive.
Musk just made Time's list of the "100 Most Influential People in the World" (again) and was one of a handful selected to grace their own cover (like such luminaries as Jay-Z and Oscar-winner Jennifer Lawrence). And none other than Virgin CEO Sir Richard Branson penned Musk's effusive profile. But Musk is more than simply a self-made billionaire four-and-a-half times over and a resolute CEO who is willing to publicly take on his critics and invest nearly a hundred hours a week overseeing his two primary enterprises. He is more than just a philanthropist who – like industry titans Bill Gates and Warren Buffet – signed the Giving Pledge to give a majority of his net worth to charity. And he is more than merely the inspiration behind Tony Stark, Robert Downey Jr.'s beloved alter ego in the Iron Man series. No, Elon Musk is the kind of man who routinely draws comparisons to some of the greatest minds of all time – brilliant inventors like Thomas Edison and Nikola Tesla (whom he named his radically innovative car brand after) – and his accomplishments, life story and vision make him even more than just the most intrepid interplanetary jetsetter.
His legend begins in Pretoria, South Africa, where Elon, a technological prodigy, taught himself how to program on a computer at a very young age. By 12, he had sold his first piece of software, a game he created, for about $500 bucks – a pretty decent chunk of change for a pre-teen. Elon always had an adventurous spirit and a strong desire to see the world; he would leave South Africa at age 17 and attend school in both Canada and the U.S. It was around this time that he claims he was inspired by the most prominent American inventors – men he is now likened to, such as Edison, Henry Ford, and Steve Jobs – and Musk vowed to dedicate his life to the three areas he felt would "most affect the future of humanity: the Internet, sustainable energy, and space."
In '95, with two B.A. degrees under his belt, Elon dropped out of a Stanford graduate program to focus on the first of those three goals. Along with his brother Kimbal, he created Zip2 – a company that provided online publishing content to news organizations. The idea was a hit, and in '99 they sold the company to Compaq for $300 million. Elon was barely 28 and a multimillionaire. At that point, a man of lesser ambitions may have cashed in his chips and lived comfortably for the rest of his life. Instead, Elon doubled down and founded the online payment company that would become PayPal.
In '02, he sold PayPal to eBay for $1.5 billion and invested over $100 million of his own capital in launching SpaceX to reshape the field of space travel as we know it. Even though his Virgin Galactic is ostensibly a competitor, Branson has proclaimed that "today, teams like Elon Musk's SpaceX are reopening space for exploration." In 2008, SpaceX landed a $1.6 billion NASA contract for 12 flights to the International Space Station, and in 2009 they became the first privately-funded corporation to successfully launch a satellite into Earth's orbit. When NASA retired the space shuttle in 2011, it was announced that SpaceX's Dragon spacecraft would take its place.
Musk has frequently spoken about the need to settle on Mars and believes that interplanetary colonization is integral to the survival of our species: "Sooner or later we must expand beyond this green and blue ball – or go extinct," he warns. Musk envisions a day in the not-too-distant future when we construct our dream homes – not in Malibu or the Hamptons – but on the red planet. He even jokes that he'd "like to die on Mars; just not on impact." All kidding aside, Musk sees that dream as attainable, as is his goal to reduce the cost of space transportation to one-tenth of what it is today.
Back here on Earth, the sizeable investment that Elon staked on the Tesla startup is finally starting to pay off. The company just had its first profitable quarter and shares of Tesla stock are surging. The company is on track to repay its federal loan five years early – an example of our government actually making a savvy investment. But if you don't think that Tesla was a gamble for Musk, you needn't look any further than to Fisker, the other luxury electric car startup Mitt Romney name-checked in that debate. That company just announced that it is suspending operations after moving a dismal 2,000 cars.
Although Tesla's sexy Model S only costs about half as much as its predecessor, it was dubbed "Car of the Year" by numerous outlets (including Motor Trend), with Consumer Reports bestowing it with the highest rating of any vehicle in over six years. Both avid gearheads and affluent car aficionados alike have fallen for the four-door sedan, marveling at its EPA-estimated 265 mile range on a single charge and supercar 0-to-60 time of fewer than four seconds.
When we at Jetset hopped in the cockpit of the Model S that Elon was gracious enough to lend us, we quickly discovered what all of the fuss was about. With its ultra modern styling and iPad-esque controls, you feel as though you are sitting in the future. With a gentle tap on the "gas" pedal, the car thrusts forward with incredible torque – a sensation only exacerbated by the fact that the car makes no noise. It is then that you grasp the true scope of Musk's vision – and why there is such a long waiting list at Tesla dealerships to own this elegant piece of the future. The car's success has already paved the way for future models like the Model X – a striking SUV/crossover to begin production in 2014. Meanwhile, Tesla charging stations are popping up left and right (making travel distance limitations less of an issue), and the company continues to lower its costs while Musk licenses his cutting-edge technology to more car manufacturers.
And as for his other area of change, sustainable energy, it is no mere afterthought to mention that Elon founded Solar City – the largest provider of solar power in the U.S. So yeah, if you are keeping score at home, he did tackle everything he pledged to by the age of 40, but he is far from finished. He founded the Musk Foundation – which is devoted to science education, pediatric health, and clean energy – and he sits on the board of far too many other charitable organizations to name.
"It is important to remember that being a good global citizen and a good businessman are not mutually exclusive," Musk says. As Branson writes in Time, "Whatever skeptics said can't be done, Elon has gone out and made real." Elon Musk is the epitome of the American dream; he's a made a fortune, and is now working to better the lives of future generations on this planet…and quite possibly, the next.
Images Courtesy of Tesla Motors, Inc. & SpaceX