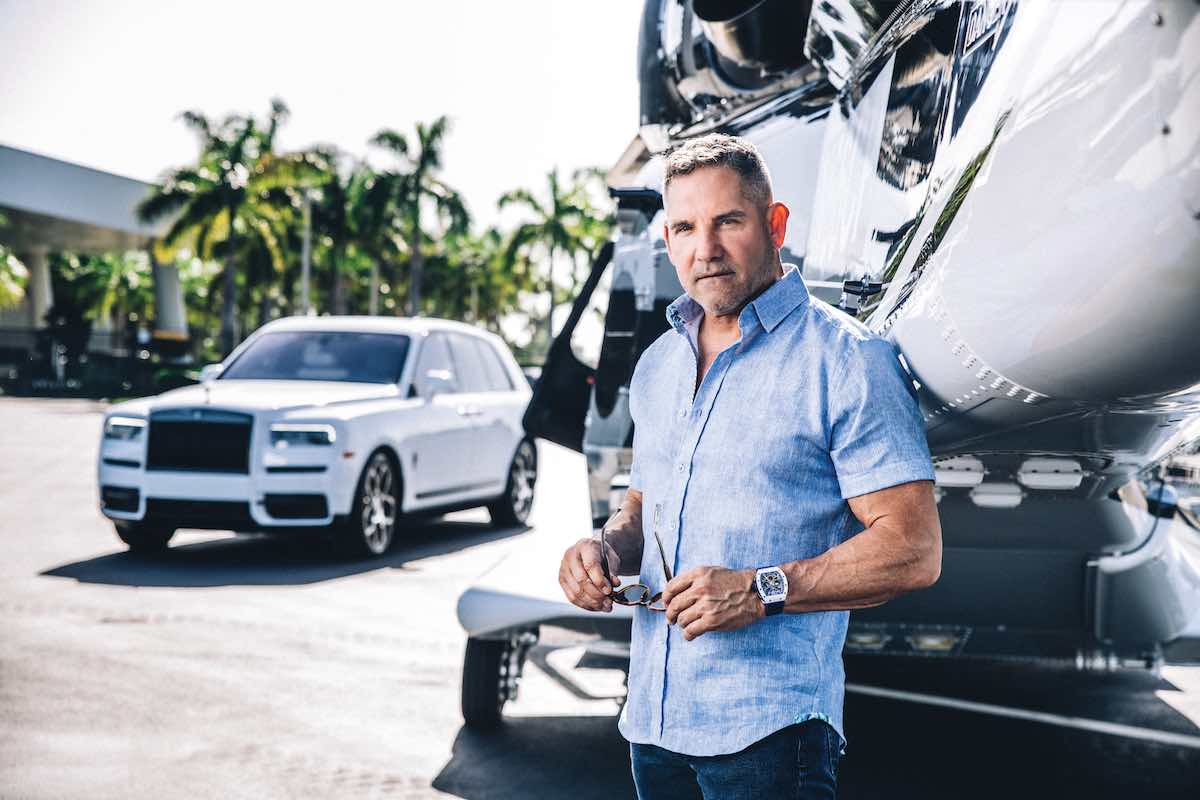 The path to financial success is often built upon a strong foundation of real estate investments. Ask any billionaire how they acquired their wealth and the answer will almost always include an early-stage venture into the sector. For the most successful, those titans of industry whose unmatched financial savvy and influence shape the world around them, the value of a deep understanding of real estate investing cannot be overstated. Visionary entrepreneur and social media icon Grant Cardone, one of the most prominent real estate moguls in modern history, is raising the bar by inspiring millions of devoted followers to join him on his journey and follow his unconventional approach to building financial security.
You've almost certainly heard of Cardone. The charismatic investor is globally recognized for his business-building leadership and the massively popular 10X business concept that's helped fuel his meteoric rise on the world stage. With a portfolio of real estate investments worth north of four billion dollars, the innovative influencer has used his knowledge and experience to teach others how to build substantial wealth, all while also building his empire of successful businesses. CEO, entrepreneur, real estate investor, NY Times bestselling author, expert sales trainer, social media guru, and motivational public speaker barely scratch the surface of what makes Grant Cardone a genuine success story. We sat down with the jetsetting businessman to learn more about how he built his fortune and what it takes to become one of the most recognized names on the world wide web.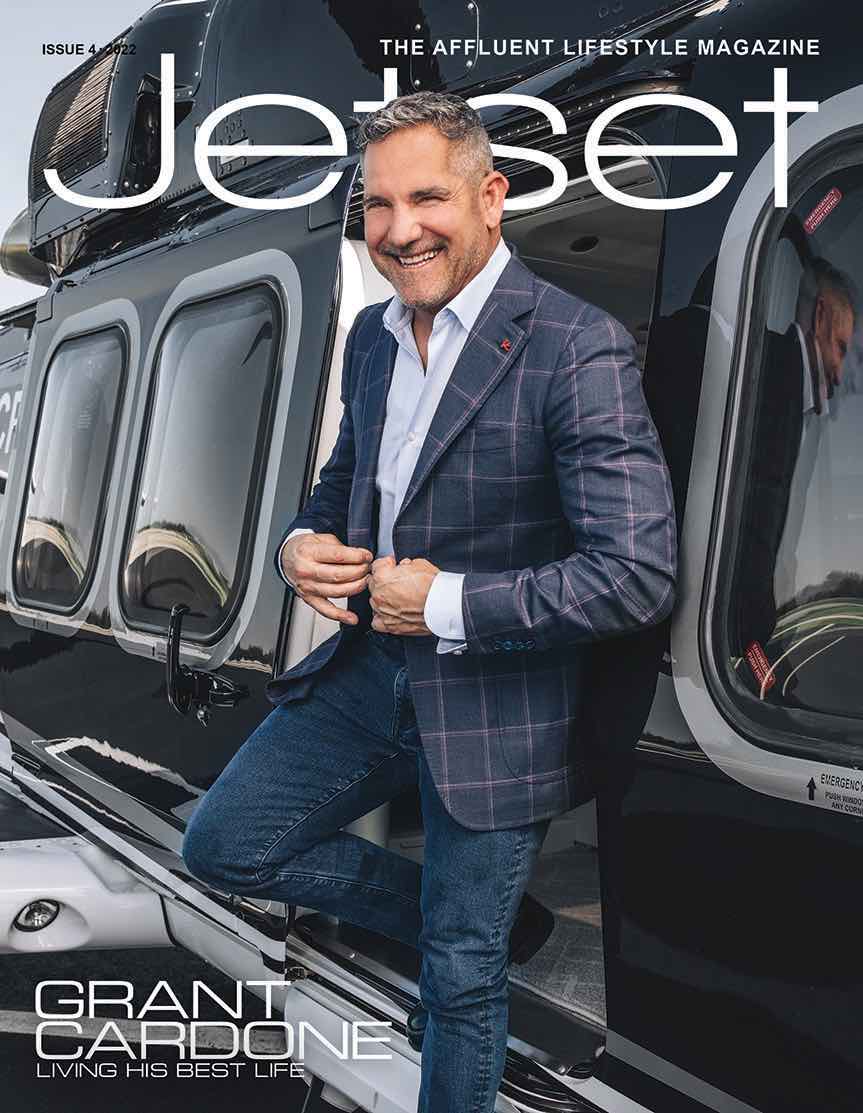 Grant Cardone wasn't born with a silver spoon in his mouth, unlike many of his billionaire colleagues. Originating from humble beginnings, the larger-than-life personality tells us his upbringing was significantly impacted by the death of his father when he was only ten. Cardone's dad was the son of two Italian immigrants, and he worked feverishly to support his family. Having lived through the Great Depression, his father was the first in his family to get a formal education.
"My dad grinded to get our family into the middle class, and even though I was a very young boy, I knew he was proud of his achievements. He died only a short year after he had finally confirmed our family's position in the middle class: home and car paid for and a little life insurance," he states as we delve into what inspired the savvy entrepreneur to break the mold. "My dad didn't work hard because he wanted fancy stuff. He did so because he thought it was his responsibility to provide for his wife and kids. He approached work as his duty to provide for his family. He instilled this work ethic in me by how he lived his life."
According to Cardone, his mother was a stay-at-home mom prior to his father's passing, without any meaningful training or employable skills, who spent much of her time clipping coupons out of fear that there wouldn't be enough money to pay the bills. Cardone expresses how he could feel her fear and the stress the financial insecurity imposed. In his teenage years, the grief and resentment over losing his father took Cardone down a path that ultimately led to drug and alcohol use. By the time he was 18, he was using drugs almost every day, and at age 20 he experienced yet another major loss when his older brother died suddenly from an accident. The trauma only accelerated his substance abuse problems, leading him to feel like a disappointment to both himself and his family.
A few years later, at the age of 23, Cardone ended up in the hospital after nearly being killed by some unsavory people he was mixed up with. That was when he realized he had hit rock bottom and made the decision to completely change his life. As he says, "It was that day I decided success is not an option. I have to have it and turn myself around. It's all about me now." Quitting all drugs, alcohol, and anything else that was holding him back, Cardone committed to becoming the best version of himself. That journey was not without significant hurdles, though, as the economy was in a slump and with record unemployment, he had no option but to take a job in car sales.
Speaking of that time, he tells us, "I decided to make the best of it. I learned everything I could about selling cars. I spent the next two years developing my sales skills and saving my money. From there, I used that money to buy my first piece of real estate." As the story goes, Cardone was eventually fired from that auto sales job for something he didn't do. "This pissed me off. I swore that I would never depend on anyone else for a job again. And I put all of my effort and energy into starting and growing my own business."
"I had become very good as a salesperson and so I started consulting with businesses, teaching them how to increase their sales using customer retention and customer satisfaction strategies I had created. That business kept me busy traveling the country, logging 3 million air miles on United, Delta and Continental." He further confesses, "I have never been a stock guy and I hated saving money at the bank, so I started buying apartment buildings in my free time."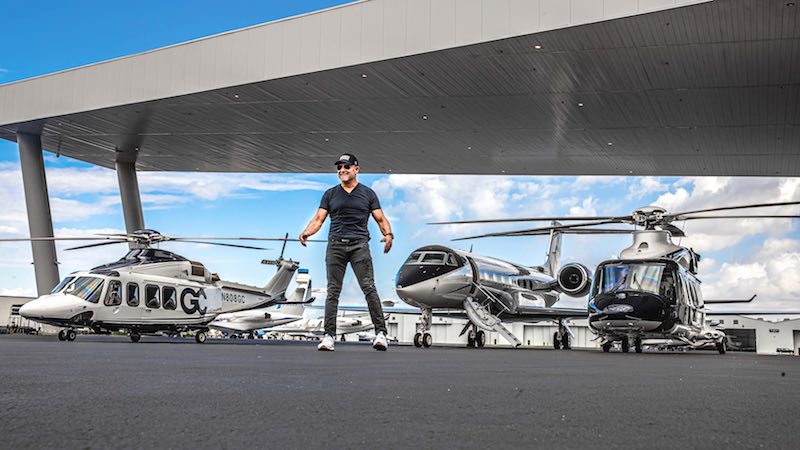 Grant Cardone amassed significant wealth from his initial investments, but the real estate business was not without woes of its own. The recession of 2008 put Cardone's resiliency to the test, as each of his businesses were all but obliterated in the wake of the financial downturn. He and his wife had a new baby on the way at the time and, as he explains, "The Great Recession Wake Up Call forced me to understand a few million dollars of net worth, two businesses, and a couple of hundred apartments was NOT enough to ensure my future. I had to go 10 TIMES (10X) bigger, ten times more customers, 10X more verticals (industries), 10X the income, 10X the properties, 10X the employees, 10X everything."
Cardone's outrageously successful 10X concept was born.
"Just 12 years ago, I only had three employees and two businesses and 260 apartment units. I was flying commercial everywhere and all my business combined probably did $2M per year. Today, I run eight different businesses, gross income is $155M in revenue from the businesses, another $350M from the 12,440 apartment units, I fly private on a 2020 Gulfstream 650ER, an Augusta 139 Helicopter, and my partner at Cardone Ventures operates a Falcon 900. Rather than having a couple of hundred customers, today I have almost four million who do business with me in 160 countries."
The visionary entrepreneur has since gone on to inspire millions of people across the globe by sharing his story and the secrets of his success as an investor and real estate expert. Combined with his years of sales consulting experience, Cardone's bestselling book, The 10X Rule, led the international magnate to launch the 10X Growth Conference, 10X Global Movement, and a number of Cardone-branded companies, all with a mission to "help others improve their businesses, careers, finances and relationships."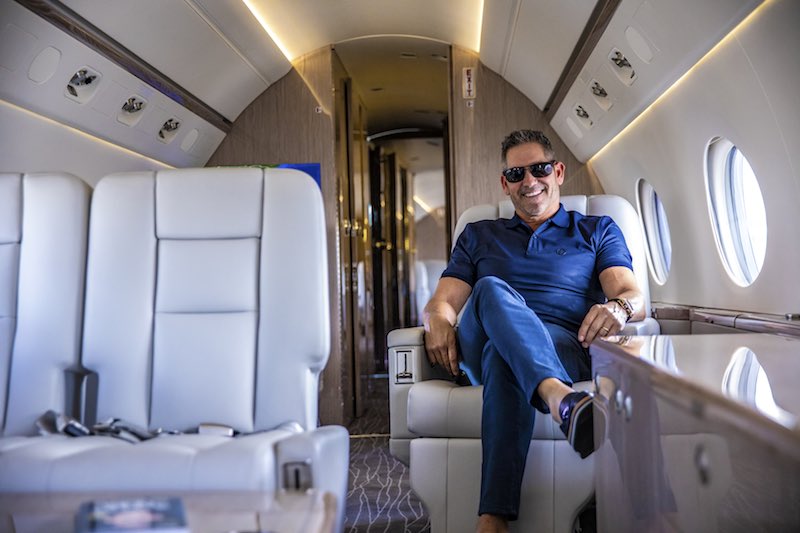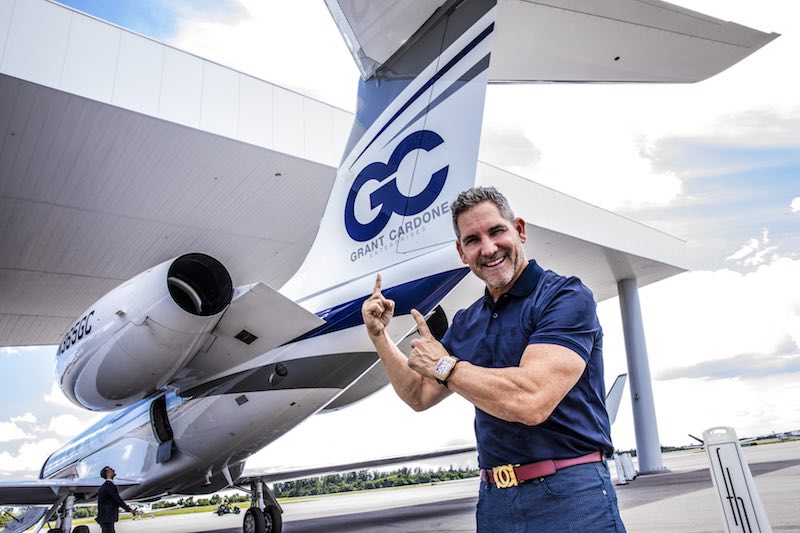 There's no disputing his phenomenal success as an author, business luminary, and CEO of multiple subsidiaries including Cardone Capital, Cardone Ventures, Cardone Training Technologies, and The Grant Cardone Foundation. We asked the colorful castle-builder to share some insights with our readers about what it takes to master the dynamics of real estate, become a highly respected social media influencer, and use his reach to create multi-million-dollar crowdfunding campaigns.
Cardone tells us the three things people struggle with most in real estate are discipline, patience, and not thinking big enough. (Thinking big is his own personal mantra and the fuel behind his meteoric rise). As he wisely states, "In real estate, it's not if you make money; the question is when. Real wealth is created over time, not quarters – much less, minutes. And one of the reasons I love real estate so much is I am able to invest in an asset and be paid to wait (passive income monthly) and as rents increase over time, so will the value of the property."
While he candidly admits that the best time to invest in real estate was 20 years ago, Cardone firmly believes in the future of the sector, predicting that "investors, not homeowners, will continue to represent a larger majority of those purchasing single family homes in America. [The US] is becoming a nation of renters and nothing can change that. Inflation will only make [home ownership] less possible."
Always thinking 10X bigger, Grant Cardone employs a similar approach to social media. "People make social media success harder than it needs to be. Frequency and quantity beat production and quality," he tells Jetset. "I am never trying to go viral or be popular, and I never worry about how much I post. I don't use filters or much editing, and I know quantity is senior to quality – or at least it has been for me. I share everything with [my followers]: the jet, helicopters, the real estate purchases, our victories, setbacks, the travel, and I do this on good hair days and bad. My policy is promote, promote, promote. @grantcardone"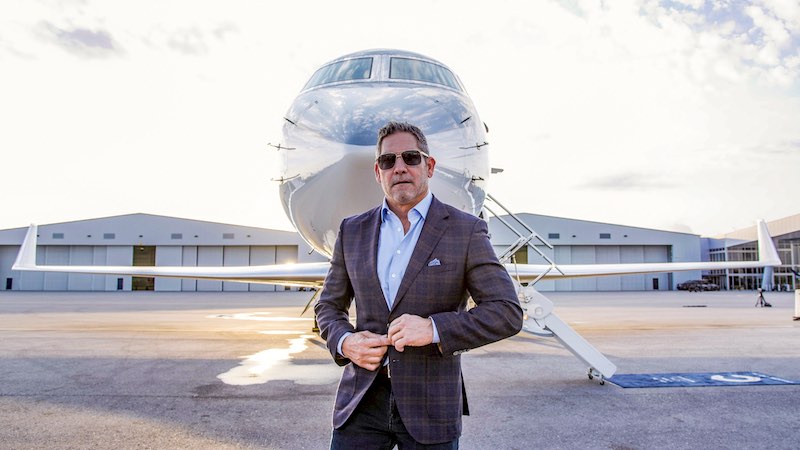 Remarkably, Cardone says he's raised almost $1B in cash without using brokers and banks, instead allowing anyone to invest in his business ventures through crowdfunding. His proven track record of success has empowered millions of followers to watch for his next investment and have the chance to earn passive income every month, along with tax benefits from any remaining depreciation. He proudly professes, "While many people raise money for real estate, no one has ever done what I am doing."
The crowdsourcing concept carries over into Cardone's philanthropic efforts as well, leveraging his massive following to help others in need. In addition to his 10X Health initiative (focused on wellness and positive energy), The Grant Cardone Foundation is designed specifically to help children without fathers. The charity's mission statement is "To provide mentoring and financial literacy education to adolescents in underserved and at-risk populations, especially those without a father figure."
He proudly declares, "I can't think of a more worthwhile goal – especially because I grew up poor and without a father figure myself. Every single person will have a different story, but where you start has nothing to do with where you end up. With the right information and a dedication to success, anyone can become a millionaire. My greatest passion is helping people do just that."
Grant Cardone is an impressively fit 64-year-old. When asked how he maintains his vigorous health as a busy jetsetting entrepreneur, he notes how a commitment to his personal well-being led to the purchase of another business now known as 10X Health. "I start each day and follow what we call our 10X Health System Super Human Protocols with my exercise, recovery, managing any joint pain, and boosting my immune system. Business is about creativity, energy, passion, leadership and being a good example. How can you do any of this if you are in pain, don't have the energy and don't feel good about yourself?" While a strict diet is not a major component of his regime, he says he tries to eat healthy, nutritious food and always leaves a little on his plate.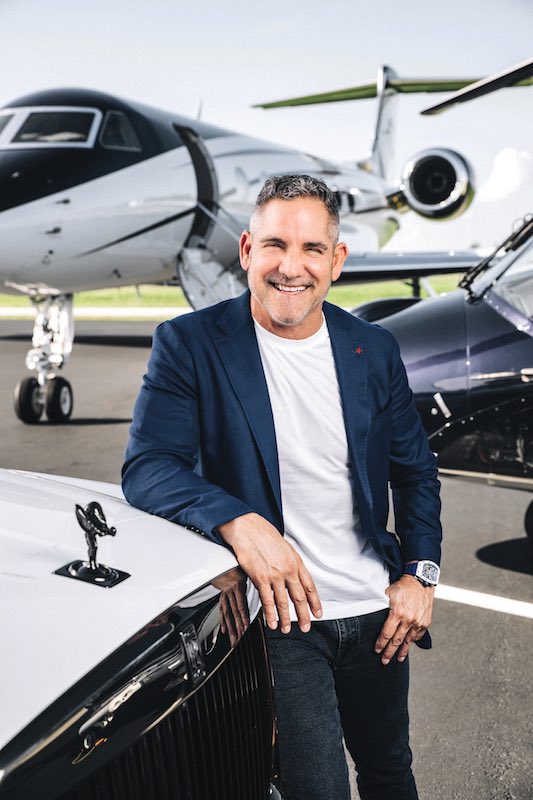 Cardone shows no sign of slowing down anytime soon. Asked what our readers can expect from the Cardone brand over the next few years, he says, "You can always expect me to 10X everything I have already done." From growing his real estate holdings and expanding his wellness business to more than 1,000 10X Health Centers, to shooting seven entrepreneur television shows and continuing to sell out events like the 2023 10X Growth Conference (10xgrowthcon.com), Cardone reiterates, "We are teaching people that the only way to protect themselves is through expansion. If you aren't expanding, you're contracting."
We couldn't wrap up our conversation with Cardone before asking him about his passion for private jets and fast cars. While he happily admits that the time savings and convenience of flying private are noteworthy benefits, he highlights another great perk: "I get to take my family with me everywhere and they all work with me in the business. So I get the best of all worlds, watching my kids grow up and having an influence on them while being on a business trip. We homeschool the girls, just at 51,000 feet and 700 mph."
In terms of high-end supercars and luxury sedans, Cardone reiterates, "One of the smartest things I did in my life was that I didn't go and buy exotic cars like so many of my friends the first time they got a little bit of money." He suggests that people who want to create wealth should wait to spend their money on watches and cars until their investments can pay for them. "People should convert earned income to assets and wait for the assets to produce passive income that buys the Rolls-Royce or the Gulfstream. That's what I did. I didn't buy the stupid stuff (including the jet) until I could follow my When to Buy Stupid Stuff Rules: (1) Able to buy two of them, (2) from passive Income, (3) with cash, not debt, and (4) admit it is still stupid."
Finally, we asked Mr. Cardone to share one piece of advice he would give his younger self. His response perfectly encapsulates the man behind the marketing machine: "I would think much BIGGER. I would give myself permission to be completely obsessed. I would not do what I am good at, I would do what I could get super rich at. I would GO all in and stay broke (as I have done in my life and still do today). I would run from the middle-class, giving anything that suggests comfort the middle finger and bet on my real true potential. And lastly, the most important thing is to help others become all you become and more."
We couldn't have said it better.
Find and follow Grant Cardone on social media @grantcardone, that is unless you already do.