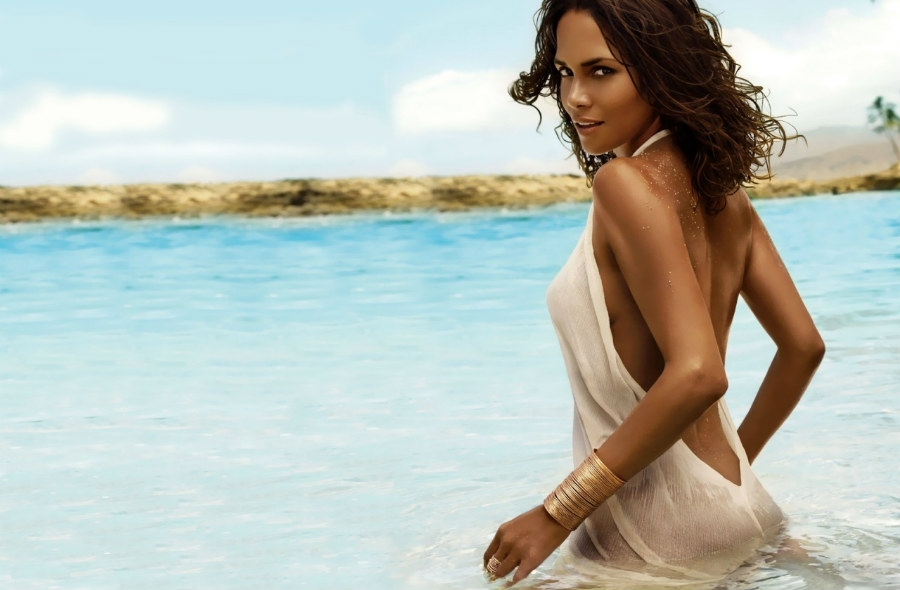 Jetset set out to see if Halle Berry is as mesmerizingly beautiful and down to earth as we imagined. Well, we're happy to say, she isn't!
In order to properly put into perspective the magnitude of the exposure to beauty that I am about to describe, do this: imagine the words stunning and spectacular on steroids, then take every synonym for the word phenomenal that's been coined in the English language and add the phrase "jaw-dropping" before it, and it would still be an understatement as to what Jetset Magazine witnessed directly on a recent Sunday morning in Beverly Hills, California.
It takes a lot of superlatives to describe what it's like to see Halle Berry in person. It's kind of like the first time you experience the Grand Canyon up close, or when you take your first step into the cabin of a recently refurbished or brand-new Hawker 800XP or an ocean-front villa of a five-star resort. Your blood pressure subtly rises, along with your body temperature, as you let out a faintly audible gasp because you just witnessed something you had heard and read about being incredibly spectacular, but it all pales in comparison to what it's like when you're actually breathing the same airspace.
If you don't believe me or think I'm exaggerating, I urge you to try it yourself sometime. See what your reaction might be. If you do, to make things fair, make sure she's decked out in something similar to what she was when Jetset Magazine met up with her – a mushroom Gucci cutout sheath, taupe-colored Christian Louboutin pumps, and perfectly accessorized gold bracelet and necklace that made this goddess-on-earth absolutely live up to anything you could have imagined, or in the case of most red-blooded American males at some point in the last 20 years or so, fantasize about.
Okay, for now, that's enough superlatives about her stunning, God-given gift of physical beauty. But here's the deal: there are basically two people on the planet who would generate this type of reaction based on their appearance and fame, so for all you ladies reading this story thinking I might be going a little overboard, for one thing, I'm not, and for another, the description I laid out and my subsequent reaction is probably more subdued than what yours would be if you saw Brad Pitt!
Which takes us to the next part of this story, and what Jetset learned about Halle on this sun-kissed Sunday morning at the Jenesse Center, where we were invited to be part of a fund-raising gala for the Center that helps women and children in need.
Halle Berry could have made a lucrative, successful, long-term career out of doing one single thing – being beautiful. She could have skated to worldwide fame and obscene fortune on that single trait alone, because let's face it, it's a route that's been traveled by plenty of others and it's gone right through the heart of Hollywood and Madison Avenue on most occasions.
But the 43-year-old, (yes, you read that right, she is 43 now) Cleveland, Ohio native (who was named for a department store, Halle's, a landmark in Cleveland) was blessed with another trait on top of extreme exterior beauty that, to put it simply, doesn't allow her to be just another pretty face: ambition. This is a trait she received in bulk, delivered in industrial-sized drums. This is the type of ambition it takes to overcome what she herself described as a difficult-at-times childhood and made her dream of the day when it would not be a big deal if she was one of the biggest deals in the world.
Oh, there's incredible acting talent in there, too – boatloads of it – because the last time I checked, they don't hand out Oscars for mediocre acting chops and they sure as heck don't put $15 million in your bank account for not being able to open a movie. It's that inner drive she possesses that's been on display for the world to see since she was competing in (and winning) beauty pageants in Ohio during the 1980s. Now she's known as a fashion icon; world-class beauty; Emmy, Golden Globe, and the very first African-American Academy Award winner; and oh yeah, one more thing: great mom.
But there's one thing about maturity that affects everyone, from the jet-setting business mogul reading this magazine story before boarding his Citation Sovereign to the anonymous group of travelers on a commercial flight with whom may have just shared airspace at 38,000 feet above sea level to an inter-galactically famous pop-culture icon: while you never fully lose the drive that defined you and brought you the success you have been seeking, looking down at a miniature version of yourself makes priorities shift, goals re-adjust, and thinking and acting for one being doubled. Halle told Jetset that was the case with her as well.
"You don't have to constantly prove yourself when you become a woman of maturity. I am not so ambitious any longer where I spend every waking moment trying to be something I'm not. I did that when I was younger. At this point in life, I feel more of a freedom to do and say what I want without making excuses – and it feels good."
Beauty, charisma, and ambition can create an awful lot of opportunities and open a multitude of doors, but true greatness and legendary status in your field come from being asked to stay and invited back again in the future. Whether it's Halle's Midwestern values or just the natural compassion she has for others – particularly women and children in need – which is what we witnessed firsthand at the Jenesse Center event, her style, grace, and beauty blend together to draw people to her.
She's absolutely magnetic. If you want to compare this ability to something, it's similar to the reaction Lebron James, Kobe Bryant, or Michael Jordan would get walking into a basketball arena or through a hotel lobby. Neck cartilage gets pushed to usually unseen and obscene limits when Halle is in the room. Other celebrities drop what they are doing and act like they were shot out of a cannon to be by her side. Unfortunately for Jamie Fox, standing to the side of Halle, they are exactly the same height, which I guess is why Halle can play the roles of superheroes in movies and get away with it – she's actually taller than some of her male counterparts. As if she isn't already intimidating enough!
Are you going to see a mellower version of Halle in the coming years? She told me that's a possibility. "If there's one thing I've learned recently, it's that I've got to be happy with myself in order to be a good parent. I express myself by making movies, so I believe it's critical to find a way to balance the two, and I know I will be able to do that."
She has focused with laser-like intensity on building her career, and in the process, Halle Berry has built an entertainment brand that is as well known as any Fortune 500 company. And there's no greater requisite for long-term success than the ability to grow, expand, and reinvent yourself, yet always stand for the same core principles on which you constructed your reputation and developed public trust. For Halle, she is quality, so she represents quality.
But there's also a wildcard in play that any parent can fully understand – being a parent trumps everything. Slowing down sometimes just naturally happens. As Halle told Jetset, for her that's an okay thing. "I'm like anyone else in the sense my priorities have shifted and right now for me it's about motherhood. It's no longer all about me; it's all about Nahia. I thought I knew what love was until that child helped me discover that unconditional mother love, which is an amazing gift."
So, as you can see, life changes for everyone when there's an addition to the family. For beauty-queens-turned-A-list-superstars who've morphed into cultural phenomena like Halle Berry, it means an extra nanny when she's on a movie set or more kid-friendly private jet transportation when she flies off for an acting role, appearance, vacation, or photo shoot.
After being married twice, she's in no hurry to try it again. She's in a very good place with her partner Gabriel Aubry and has still made it clear there's "no reason to get married." Attention all male humans between the ages of 18 and 80: do not interpret that above quote by Halle Berry to mean you still have a legitimate shot. I'm sorry. You don't. However, Jetset was thinking about you when I asked her what is always in her carry-on bag when she hops onto a private jet. "Comfortable shoes and my new perfume," she said.
She's talking about Halle, the women's fragrance she launched last year, so in some regard it is possible for you to travel the world with Halle Berry, but it will come in a 1.7 ounce glass bottle and not in the flesh! Ultimately, that's okay because what we at Jetset discovered and can confirm is this: Halle Berry is a national treasure, staying true to her talents and gifts, constantly pushing herself to achieve more, yet still being able to be humbled by the simplest and most important things in life and never shying away from the fact that she's got human frailties just like everyone else.
Then there's that other little characteristic about her that makes her stand out from the other 4+ billion people who call planet earth home – traffic-stopping, mind-blowing, retina-expanding, 100% pure beauty that originates from the inside and manifests on the outside into something we hope we can all admire for a long time to come.