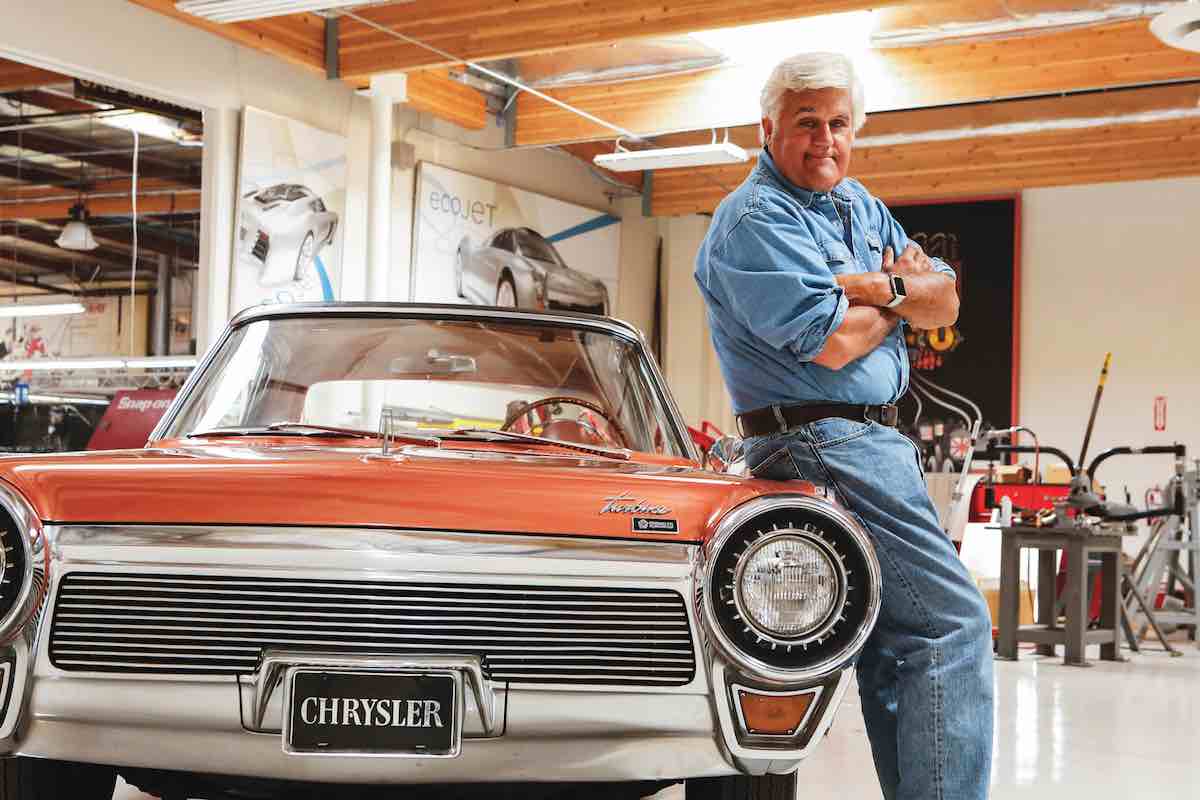 I first met Jay Leno in 2007, when he was doubling down on his passion for all things automotive. Around the same time, a well-known Harley-Davidson dealership gifted him the Elvis 30th Anniversary Limited Edition motorcycle, one of only 30 replicas of Elvis' 1957 motorcycle. Leno was still in his iconic days of The Tonight Show and was the same easy going, humble person as he is today. As time passed, he transcended into the ultimate "car guy" through the lens of Jay Leno's Garage, which recently concluded their 7th season on CNBC.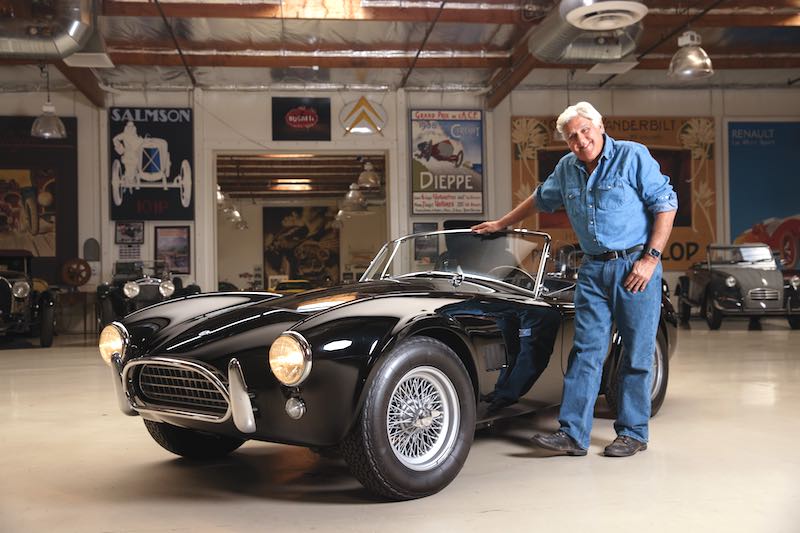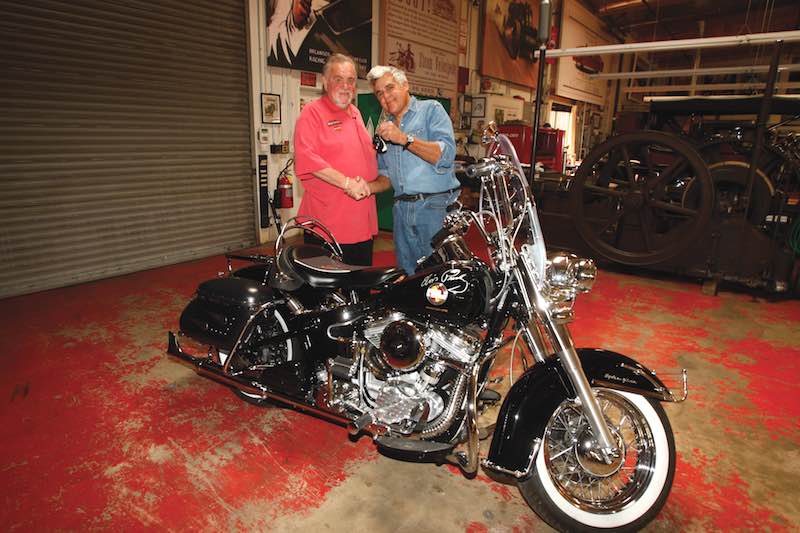 You'll often find Jay Leno in his button-down denim shirts and jeans, his go-to uniform while working on his 204 cars and 168 motorcycles—amid his 140,000 sq. ft. private Big Dog Garage which is nestled away in Burbank, CA. "NBC gave me 52 denim shirts… and all my guests on the show seem to give me denim shirts. Currently, I have 518 in my closet right now," he confides candidly. Aside from filming Jay Leno's Garage, the former late night czar hosts 150 stand-up comedy performances around the country for social, corporate and non-profit events. Of course, he travels exclusively by private jet.
"The trouble with flying commercial is you can't get anywhere. I was the third most frequent traveler in the 80's," Leno recalls. He emphasizes further, "They can't guarantee you'd get there the same day and I can't afford to leave 2,500 people stranded."
While Leno doesn't own a jet, he feels it's more optimal to lease them for travel. "Pilots must have 12 hours between flights. So, I lease planes. Otherwise I would need two planes," Leno explains. His favorites are a Lear 45, Challenger and a Hawker. The comedic kingpin chuffs, "As long as there's a bathroom and room to stand up… that's a good jet."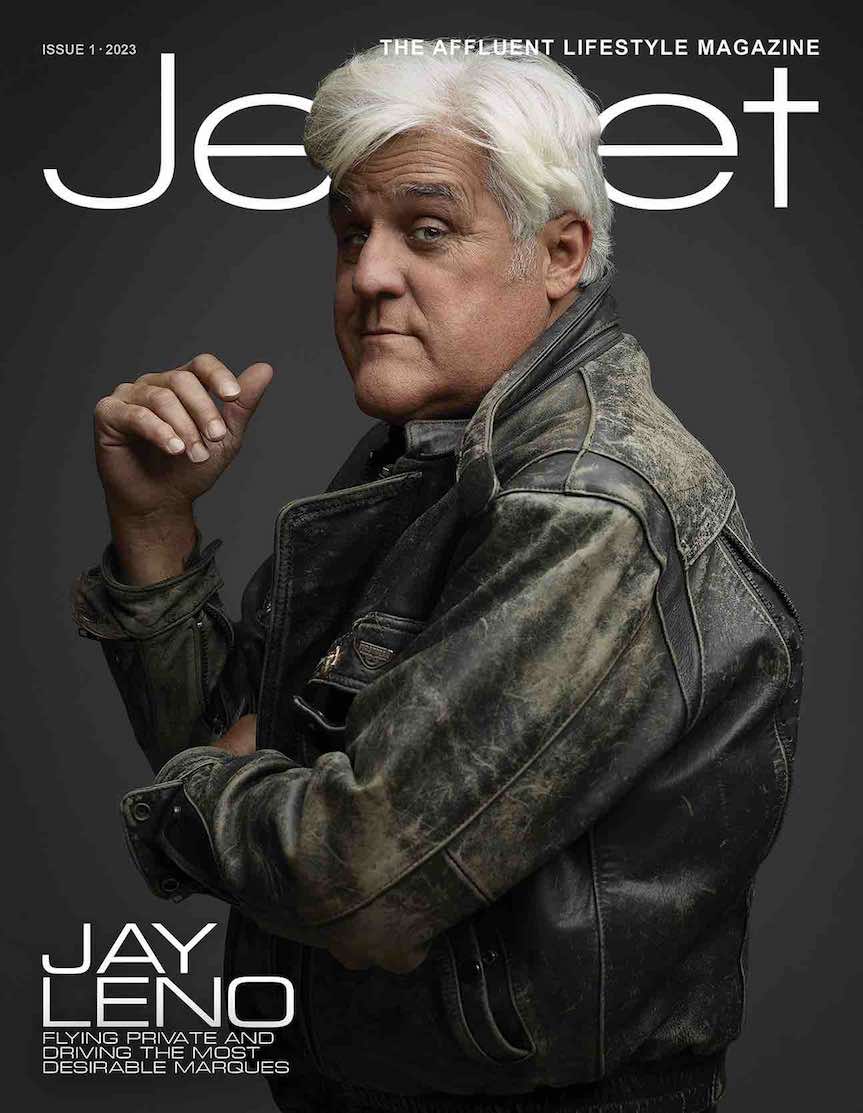 Leno handles his own ground transportation in his Tesla Model S Plaid. He values the Tesla because it requires no maintenance and beats the $7 per gallon signs he sees while driving throughout Los Angeles. When traveling, he doesn't bring an entourage and also enjoys traveling solo. "I always deal with things myself. I carry my own bags. Funny things always happen before you're famous," he grins slyly. "It just goes downhill from there. When you do the things yourself. It makes things funnier. That's what real life is."
Traveling isn't something he does for relaxing vacations. Anytime he can, he would rather just go home. "Paying for a hotel makes no sense," he surmises. "When you do this for a living, my life is already like a vacation. Taking a week off makes me want to get back to work." While there are no vacations in the traditional sense, Leno does visit his second home in Rhode Island that he purchased in 2017 with his wife of over 40 years, Mavis. When in residence there, he enjoys popping into local faves Joe's and Nikolas Pizza.
When at home in Los Angeles, Leno drives a few different cars. "I usually take something different from what I'm working on. Something like a Model T. They can't steal it or figure out how to drive it," he chuckles. If he had to choose only a few cars to keep—now that's a tough question for this avid collector. "I like everything I have and some are way more valuable than others," he offers jovially. "I would keep the Tesla because it's practical. Also, I like the cars from the 1920's and the F1 McLaren."
Through it all, Leno wouldn't exactly classify what he does as work. Leno says, "It's not work if you like your hobby. Jay's Garage is a rolling version of The Tonight Show. It's more about the story… it's beyond the car on Jay's Garage." He goes on to elaborate, "When you were a kid, we lead with the example of 'what did your dad drive?'… so we go find a '62 Chevy and pick up ice cream. It's a story. Everyone has a connection to a car. They lost their virginity in a car… they had their first experience in a car, and it has a hold on people."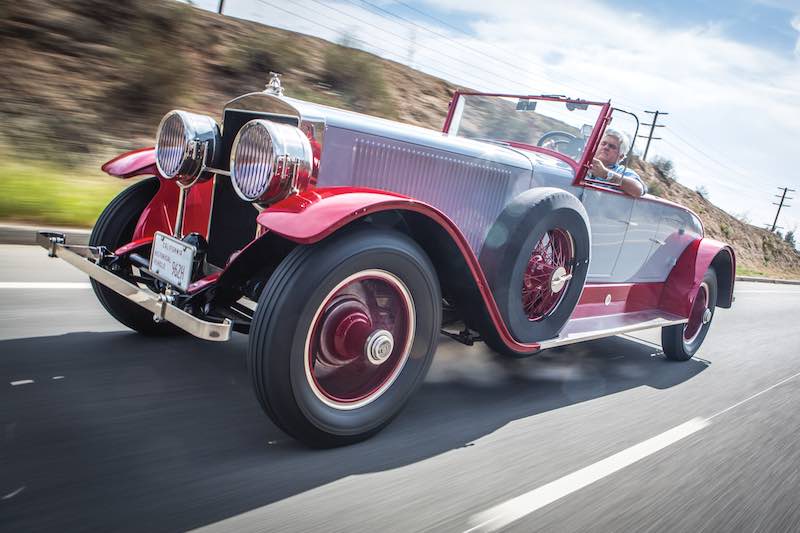 Reminiscing on a particularly poignant encounter, Leno shares, "One time I had a 94-year-old lady that called me about a Hudson Hornet and asked me to come look at the car. Her husband had passed away. It was a worn out car… so I decided to purchase the car and fix it up." Two years later, he calls her and takes her for a ride with her kids, aged 72 and 74. He recalls, "The two kids have her blindfolded for the surprise. So, she is touching the car and starts crying with her blindfold on. Shortly after we get into the car, she starts scolding her kids saying, 'I told you two to behave' and screams at them for misbehaving. The kids talk about being ashamed that their dad was driving a car from the 50's while they were in high school. Every time I take the car out, I think of her smacking the kids around. It was a lot of fun and laughs."
Some stories unfortunately veer into misadventure. In November, Leno had an emergency unfold at the garage when his face caught fire while working on a clogged fuel line in the undercarriage of a 1907 White Steam Car. Leno was quickly pulled out from under the car by his longtime friend, Dave Killackey and was treated for burns and underwent extensive surgery on his face, neck, chest, hands and left arm.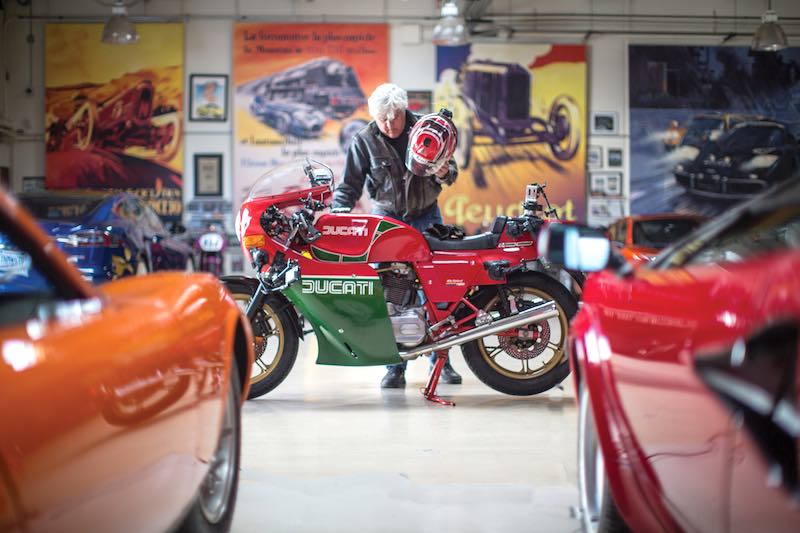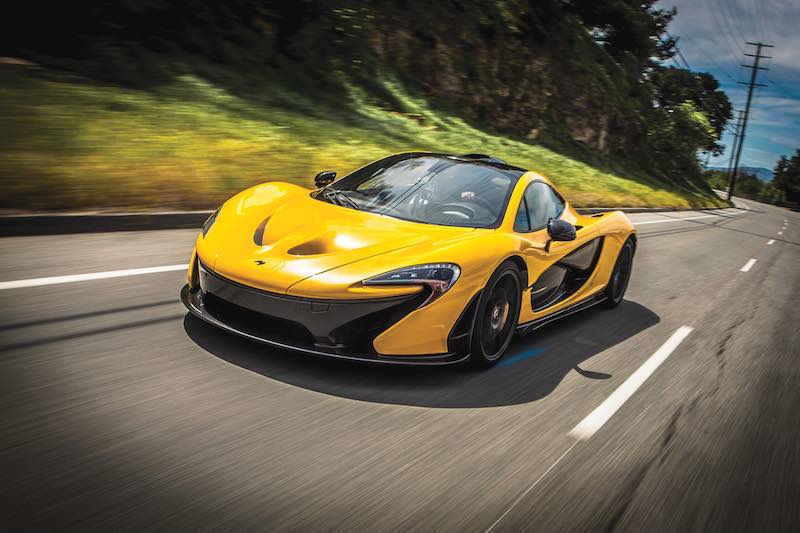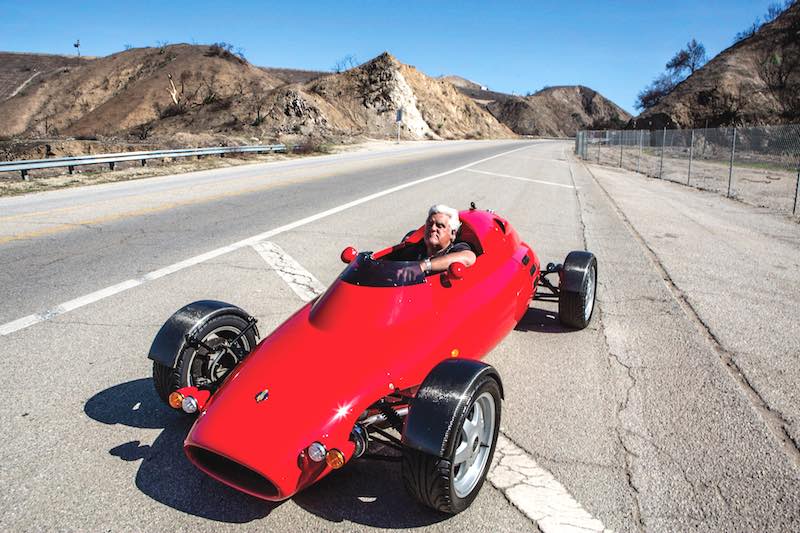 As usual, Leno makes light of the situation and doesn't complain. "People seem to enjoy rich people on fire," he quips. "When I grew up in New England, we weren't rich. I always said if I had an extra 50K, I would be well off. It's hard to watch people complain on TV. I never want to be the whining celebrity."
Though Leno says he's trying to do less these days, he quickly becomes energized when talking up Jay Leno's Garage and his line of car care products which debuted a few years ago, sold on Amazon and in Walmart stores. The products are affordable and easy to use, that any car owner—regardless of skill-level—can use on their vehicle. "We developed the products in the garage and it all started from the metal polish that we needed," says Leno. "So, we used chemists to make the product work well and now it's available for sale."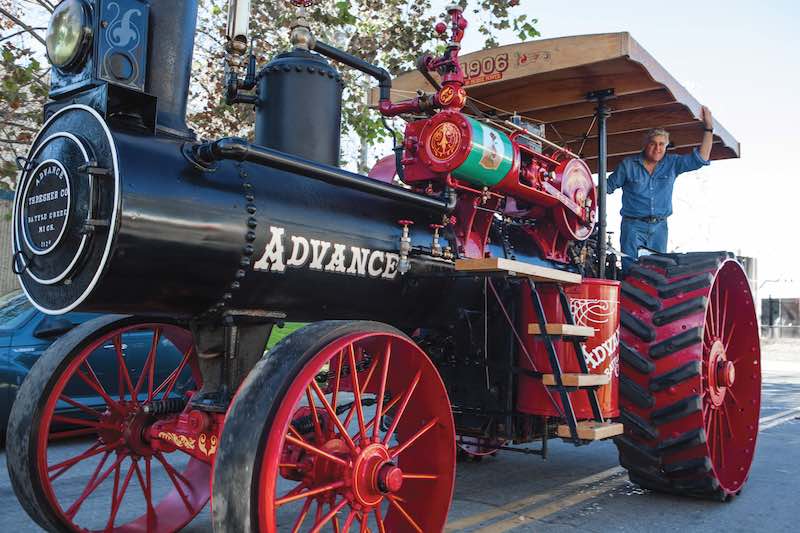 Leno attributes his success to something playfully unique. "I'm a huge believer in low self-esteem. I try not to believe the bad stuff. I need the genius in this business… since most people can't do anything. I'm good at just one thing. I hire the best people I can and just let them do their job." An ethos that has certainly served this legendary impresario well indeed.