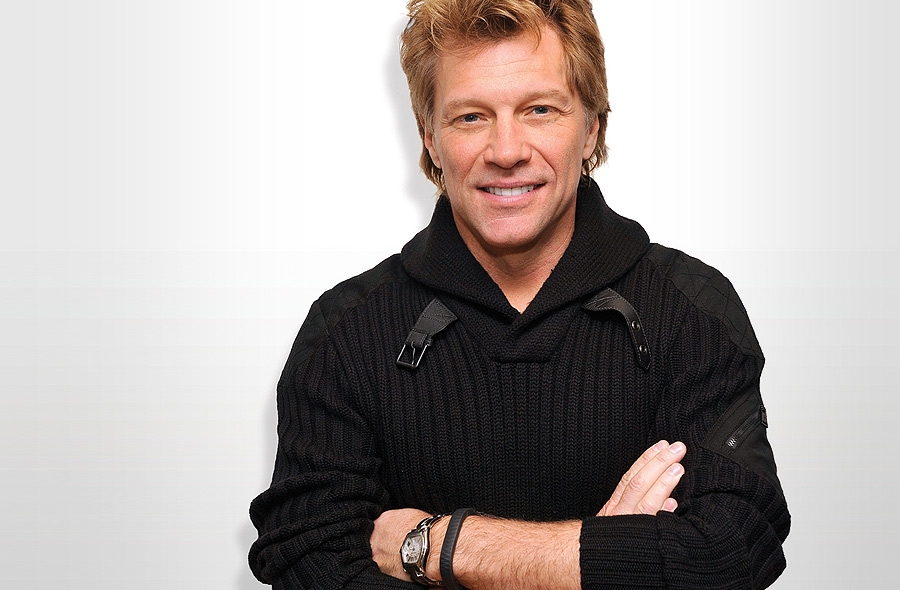 When it comes to selecting the most staggering accomplishment/factoid in the career and life of a culturally iconic, hit-making, rock-and-roll living legend named Jon Bon Jovi, ask yourself this: do you really remember a time when he wasn't relevant on the world entertainment stage?
Can you recall going more than a month without singing along to a song of his on the radio? Are you capable of naming even one small scandal he's been part of in the past 30 years? While it's easy to track – but hard to comprehend – the almost unfathomable number of record sales he has racked up with his band or by himself during the past 30 years, (over 130 million) and you can read in disbelief the tally of tours and shows he's performed in three decades, either by himself or with his band mates (over 2,700), one thing you can't keep score of or assign a number to is his ability to be cool to several generations of fans. And despite being recognized around the globe, he's found a way to be basically ignored by paparazzi, gossip rags, an increasing waistline or a receding hairline. Simply put – Jon Bon Jovi looks good, but what he's much more interested in now is doing good, and the New Jersey native is passionately involved in numerous projects near and dear to his heart. For instance, after being personally affected by Hurricane Sandy, he was front and center, helping the region recover both spiritually and physically. He not only toured the damage and devastation; he helped raise $74.5 million in relief funds through all star benefit concerts.
There's even substantial depth and meaning in the title of his new world concert tour called We Can. The title is a perfectly crafted example of a socially-conscious superstar who not only wants the world to be better, but who is someone who rolls up his sleeves and does, in most cases, more than his part in trying to make it that way.
"We Can is the name of the first single on our new album, and in that song I pose a question as things move forward in this country, incrementally, mind you, but nonetheless moving forward. We collectively realized that there is no savior in government, no savior in the private sector, but the collaboration of both is what's going to make the nation go forward," he explains.
He's always willing to do more than his fair share to help make sure things continue to move forward. In 2010, President Obama appointed him to the White House Council for Community Solutions, where his role and focus is on helping underprivileged young people find jobs. In that capacity he became a jetsetter in the truest and largest sense, as he was invited to fly with the President on Air Force One from Washington to New York.
Given his involvement on the national stage (in addition to the entertainment kind), the question came up if he would ever consider running for anything. "Yeah, running from this interview right now if you bring up any more politics. Never happen. Never. I have no desire. I'm a singer in a rock band. I'm not politically motivated, and I'm not using any of this as a political statement. This record is not political. It's socially conscious, very aware of the world in which we live. I'm not politically motivated and I'm not using any of this as a political statement. Enough of this partisan bickering. Enough of this nonsense. Enough of it's us and them. It's we."
Other than being asked about his political aspirations, another Jon Bon Jovi pet peeve is people who do nothing but complain about a socioeconomic issue or topic. "When someone says, 'look, I tried,' it doesn't work for me. People say they are flustered, frustrated, mad at Washington blah blah blah, then they ask 'why should I (do anything)'? I say, 'because we can.' That's the idea. That's what it's going to take to move the nation from here on out. That's just the world in which we live. When people ask 'When are you going to do it?' my response is 'What About Now,' which is the name of the new record. What About Now."
More than a title, it's a mantra for a social activist whose sincerity and passion is one of the big reasons he's been so popular and successful for so long. Finding an A-list superstar who will literally tell you how they are feeling is tougher than finding a hot meal in coach class, which is why attending a Bon Jovi concert is an experience you share with the man who has the spotlight on him. You leave the arena feeling like you were part of something special, not just someone who saw a show or performance. His unbridled passion and love for his audience emanates from the stage and explodes on top of every adoring fan in arenas and stadiums around the world. There's a physical pull that takes you out of your seat and demands that you scream, cheer, dance and sing along to almost every hit on the song list. He's done so many shows that he no longer gets nervous before the lights come up, but that doesn't mean he doesn't want to make each one more memorable than the last.
"You come on stage and it's like a prize fight. This is your corner; this is where you come out when the bell rings," he says. "So when the house lights are out and the intro of the show starts, I'll be in the dressing room in this curtained off area, and on the wall hangs a picture of Frank Sinatra. I touch the picture of Frank and come out. That is a true story," he assures us, and we had no problem believing him, because for a New Jersey boy through and through, it's easy to understand how a fellow Garden State legend like The Chairman of the Board would be a huge influence in his life. It would also be easy to understand that with the biggest show in the world coming to his backyard in February of 2014, he just might want to be part of it. The next Super Bowl will be played in East Rutherford, New Jersey, and the halftime act has not been named officially. Yet. "I'm not saying yes. I'm not saying no. It depends where we are next year. I'm going to be there as a fan, for sure."
That potential Super Bowl moment is about 60 sold out shows from now. There are a lot of old fans to satisfy and new fans to make between now and then. One thing you can count on, for sure, is that every time Jon Bon Jovi takes the stage, he will leave his heart and soul on it. His music is literally part of the soundtrack of America since the early 1980s. He's personally responsible for millions of people never being disappointed with a concert experience if he's rockin' the mic, and as you read this story he will be jetsetting the globe, yet again, making stops in North America, Europe, Africa, the Far East, Australia and Latin America. And we end this story there, on the title of the tour prophetically named We Can. While it's no doubt accurate and succinct, you also realize that when you add up the contributions to society Jon Bon Jovi has made and consider their magnitude, maybe an even more appropriate title of a tour could easily be this. He Did!