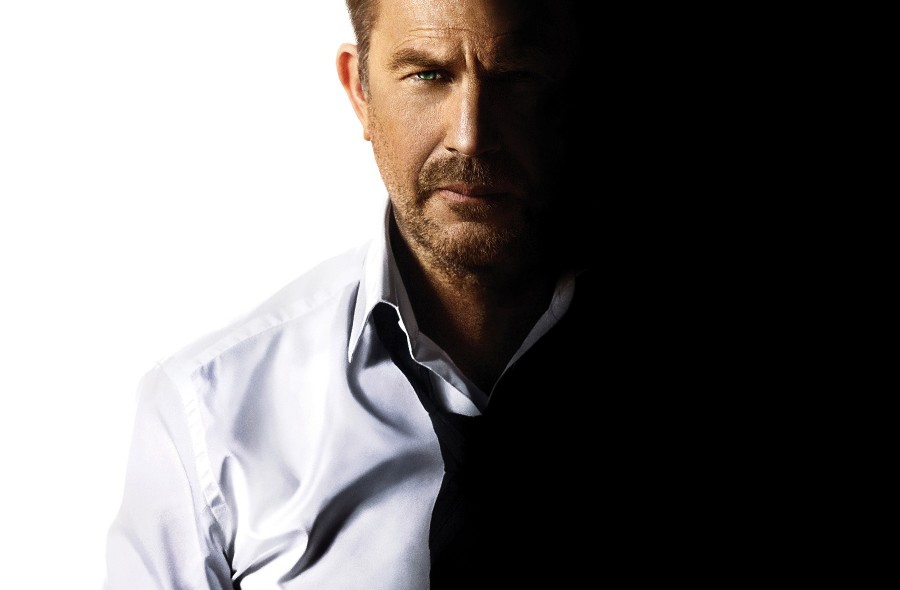 In this digitally-enhanced, computer-generated, overly-animated, hyper-kinetic filmmaking world we live in, it is sure nice to see an actual movie star appear on screen every now and then.
Whether you would refer to this as being a positive development when it comes to enjoying the modern-day movie experience is a personal preference, and open to interpretation and debate, but you can't deny the fact that it's enjoyable to watch an actor who is a movie star in the truly classic sense. Someone who not only seamlessly morphs into a role because of acting talent, but captivates and commands the screen with a combustible combination of charisma, charm, good looks and swagger. Or, to put it another way, what Kevin Costner has been doing to make a living the last three decades.
"Whether it was a three-hour movie or a three-minute song, I'm a storyteller if you boil me down."
While many of his peers would be satisfied at this stage in life taking an easy seven or eight figure paycheck and mailing in a performance, Costner's work ethic resembles the drive and focus of a typical reader of Jetset — a driven, self-made man who puts his heart and soul into a venture and enjoys the fruits of his success. And, as he told us, his fans are going to see plenty of the two-time Oscar winner throughout 2014 in Jack Ryan: Shadow Recruit, 3 Days to Kill and Draft Day.
"Yes, I worked a lot last year and a half, and it seems like they are all starting to come out. I didn't normally do it that way. When the kids were growing up the last four or five years, I took about two or three years off, not completely, but I worked very little. Then I came out and did Hatfields & McCoys and I followed that by doing four movies in a row and now here they come. Hopefully, people will enjoy them. They are all different."
Costner has kept audiences enthralled, entertained, paying to watch him and guessing since he burst on the scene in the mid-80s with career-defining roles in The Untouchables, and then a truly great drama he starred in with Gene Hackman and Sean Young called No Way Out. It was a movie that launched Costner into a new stratosphere and, as he told us, was actually a film that almost didn't get made. "That one wasn't going to be made by anyone, and I was at Orion Studios and they wanted to make a movie with me, so I said I read this pretty interesting script over at Warner Brothers. It was actually called Finished with Engines, a nautical term, meaning shutting down the engines of a boat. They said, 'let us read it,' and liked it, they knew I really liked it so that's why it was made."
Bull Durham and Field of Dreams followed, and just like that, Costner was on top of the A-List as an actor, and then he started showcasing his incredible range and abilities as a filmmaker as he directed and produced the classic Dancing with Wolves. His two Oscars are for directing and best picture, and it put him in the rarified air of being not only a bankable cinematic superstar actor, but also a truly respected filmmaker with the golden hardware to prove it.
Not counting his three new releases this year, the 32 films Costner has starred in have earned almost $3 billion worldwide. The seven films he's directed and produced have brought in almost $2 billion more. Those are staggering numbers for a kid who wanted to play baseball in college and tried out for the team at Cal State Fullerton before being cut, which when you look back at his unbelievable career which is still going strong, might go down as one of his very rare rejections.
His success gives him the ability to do something he's always done in his career — make his interests come alive and foster his passions in other areas. His love for baseball is why he starred in baseball movies, and he's a big sports fan in general, which is one of the reasons he was attracted to play the role of the Cleveland Browns General Manager in Draft Day. "I play a lot of sports and have watched sports all my life. I like to think that I am a fan, not a fanatic."
He'll turn 60 this year, but physically defies that number and looks much younger, thanks in part to a healthy and active lifestyle, and the fact he has a self-motivating presence in his own home. "I play pretty hard with my kids. I live right on the water, so I am out in the water a lot, and I have a really beautiful wife and I want to stay relevant to her."
When he's not spending time with his family or making movies, Costner spends a lot of time making music. He's also a musician, and, in fact, you can hear him on the new album for country star Trace Adkins. "I've always liked performing," Costner tells us. "Whether it was a three-hour movie or a three-minute song, I'm a storyteller if you boil me down."
He's been entertaining a worldwide audience for almost 30 years, jetsetting the globe, creating stories, sharing stories and making characters come alive in a magical, authentic and extremely profitable way.