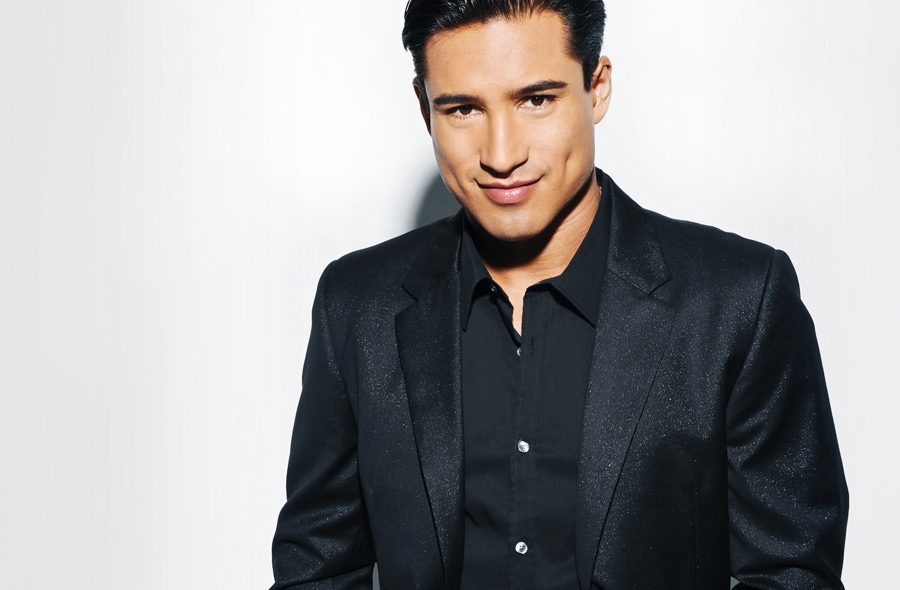 It's a non-descript, ordinary, overcast Thursday morning at The Grove, the upscale outdoor shopping plaza at the farmers market in Los Angeles.
Weaving through pedestrian traffic with an ultra-smooth, well-coiffed, confident gate, flanked by a loyal legion of stage hands, personal assistants, and stylists, is a man with a plan, a sculpted physique, a hit TV show, an upcoming bestseller, and a noticeable sparkle in his eye as if he knows something that you don't. Mario Lopez, the host and star of the syndicated entertainment show Extra, rumored possible replacement to legendary host Regis Philbin, author of a new healthy cookbook that follows a previous bestseller, and inspiration to a large and growing fan base that crosses genders, ethnicities, and demographics, is in on a little secret and it's this: he knows where he's been, he knows where he's going, and he knows there's not a pothole deep enough or speed bump big enough to slow him down, get in his way, or taper the trajectory of a show-business career that is rising faster than gas prices at your neighborhood filling station.
There's no doubt he is well aware a little good fortune has been blended with the talent, looks, work ethic, and perseverance with which he's been amply blessed. The reason he's as popular, successful, busy, dynamic, in demand, and determined as he is is because there's a blueprint that seems to have no red lights and has made his personal, high-profile brand white hot while heading down the yellow brick road he's traveling.
"I think about my long-term plan for my career every day. I'm planning on things three, five, and 15 years down the road," he told Jetset in the middle of another manic day of taping, hosting, promoting, producing, and whatever else can be crammed into 24 hours of a Hollywood star's life. "I love the show and what I'm doing on Extra, but for me, the next phase is to do even more creating, not just shows, but creating opportunities for Latinos and my family and friends."
With acting credits dating back to the mid '80s, on iconic shows such as The Golden Girls, Mario's show-biz career is far from brand new, but the sign of a successful person in any field is knowing when it's time to give yourself a new brand. If not new, then a little polishing or tweaking at times is certainly in order for anyone ultra-serious about his career. Something Mario learned growing up in San Diego was to take what he does seriously, while at the same time trying not to take himself too seriously. It's a mantra that's a good idea for everyone who wants to be—or is—on top of his game, and it's set a foundation for Mario to pivot when there are opportunities and force himself to evolve. Constantly.
"My parents have always had a strong work ethic. They were first generation here in the US, and they were blue collar. My dad worked for the city, and my mom worked for the phone company. They were just all about not taking shortcuts. My dad was very hyper too, so maybe that's where my energy comes from. I have always been a multitasker and wanted to do a bunch of different things, and I always have guarded optimism, which allows me to constantly push myself."
The difference for someone like Mario Lopez adapting to new challenges and bringing on risk and change is that it plays out in front of millions of people. The results can be disastrous if they don't work out. But look at his long list of television, film, hosting, and producing credits, the hundreds of them that range from the Miss America Pageant to finishing as a runner-up on Dancing with the Stars in 2006. There's a true consistency in the packaging of Mario. He told Jetset it's important to always know what you stand for, and with him, he truly does know, and the result radiates across the screen.
"Anything I take on, I really want to make sure it fits in with my brand. And that's being All-American, while at the same time embracing my culture without beating people over the head with a tortilla. I just add a little flavor to what I'm doing. It's also about health and fitness, family and pop culture. And positivity, and embracing that role-model position and not doing things that don't fit in and make sense."
And what's making sense to Team Mario right now is pushing the envelope on the creative side. Look at our cover photo and the shots in this spread; this isn't some teen heartthrob only concerned with making female fans swoon. He's recently entered a new stage in his life as a father; his daughter Gia turns two in September. With those added responsibilities comes a different type of focus and seriousness. Any new parent knows that. The difference is that most new parents don't have a smile that can make cash registers ring, lines part, and doors open. Yeah, there are perks to major-league celebrity status.
One great perk is having the opportunity to fly private when he needs to get to an event, interview, or appearance fast. It's important for Mario to be able to zip from coast to coast, and he's grateful any time he can do it with a Hawker, Gulfstream, or Cessna.
"Any time you get to fly private, it's unbelievable. You get spoiled real quick," he told us. "I love everything about flying private, and in my life and with my career, it's a true advantage."
He's not kidding. Case in point, the most recent Super Bowl in Dallas this past February, when he was stuck sitting on a runway on a private airfield in the Big D, knowing that he had an interview with Jennifer Aniston the following day that would be impossible to re-schedule. "The line of private jets trying to get out after the game was unbelievable," he told Jetset. "There was a huge backup and just a lot of congestion as we just sat there on the runway. Plus the weather was bad, so everything was slowed down. Basically, I was stuck, and I was a little panicked because I had to get back to do a live show. Luckily, we had a very clever pilot who finagled his way literally to the front, and we got off on time."
Style and substance. They make a darn good combo if you can keep things in perspective and use them to your advantage, like Mario clearly does. His success has not been handed to him, which keeps his foot on the gas pedal and allows him to know it could all end some day. But let's be real; it probably won't. The hot rumors in Hollywood and New York are that, with Regis retiring, his replacement might be the Latino host with no middle name who overslept the day he was supposed to interview future President Barack Obama in 1998 and almost missed the interview. Mario hears the rumors, doesn't dispute them, and would love if they became reality. "I'm certainly flattered that I am mentioned. It's a pleasure to be talked about, and I love Kelley and get along with her great."
While ABC decides what they're going to do with Regis' chair, Mario will keep motoring along. Now in his late 30s, he really aspires to become a legend, as much as he'd like to replace one. He's found a successful niche as an author, with his new book Extra Lean Family out in stores now. It's a true passion for Mario, teaching kids the art of healthy eating while at the same time trying to restore a lost tradition in this country: the sit-down family meal, complete with actual ingredients and actual conversation. It's a follow up to his bestseller Extra Lean, and he feels he's taken it to a whole new level.
"I think this book turned out better. It has over 50 recipes you can make in 20 minutes or less, and believe me, I'm no Bobby Flay, so if I can do it, anyone can do it. I want to get families back to the dinner table together—having conversation and eating healthy and enjoying that. I want kids to learn it's important to know what they eat and give them the chance to eat well. The more kids get invested in this—by washing vegetables, helping prepare the meal, or whatever—they are going to learn and enjoy it a lot more."
It is not a bad time to be Mario Lopez. His business and brand are booming, his professional flight plan is meticulously plotted, and there's not a lot of turbulence being reported. And he's easy to root for because, along the way to becoming a superstar celebrity, he lost the part of the playbook that says you need to be distant, aloof, cold, and conceited. We witnessed first-hand during an hour-long photo shoot that the nice-guy persona is not an act for the one-time child actor. It's legit. You'd have better luck finding a dollar rack at Neiman Marcus than finding someone who works closely with Mario who doesn't like him. He truly appreciated being on the cover of Jetset, and after watching him in action in front of the camera and behind the scenes, it's very clear that Mario Lopez is a living embodiment of the Jetset lifestyle and the American Dream.