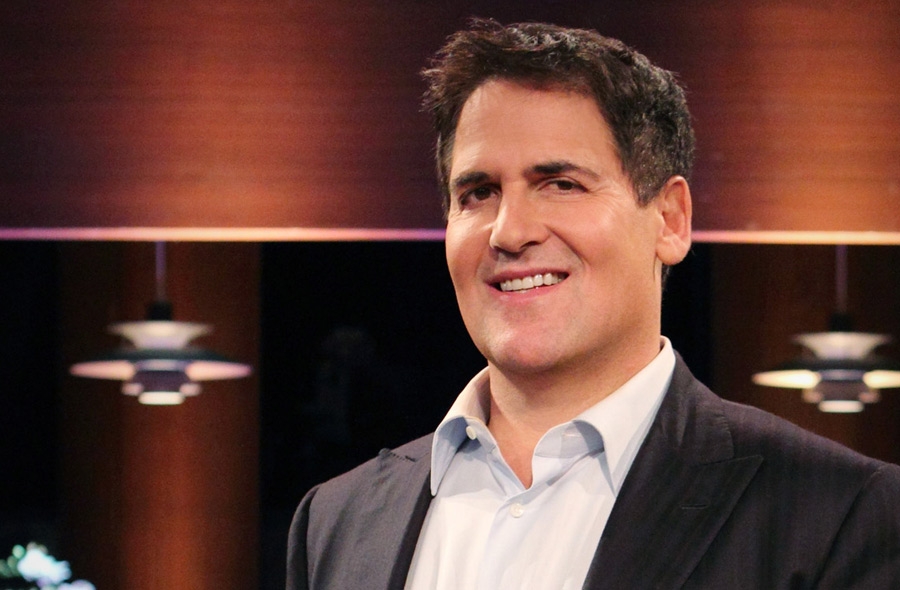 Mark Cuban is a billionaire. OK, now that we've addressed the most predictable, obvious and publicized aspect of his well-documented bio, lets peel the onion back a little bit. Let's get to know a simple yet complex personality who began life modestly in Pittsburgh but has morphed into a living legend with a 10-figure fortune and not only the ability — but the mantra — to have as much fun as he possibly can, at all times.
"I get my approach to life from my dad," Cuban explains. "I guess I have two rules: The first is that I don't want to be 95 years old and look back and wonder why I didn't try something that could have been fun. The second, is to always remember that today is the youngest I will ever be, and I need to live my life like it is."
And when Mark Cuban talks about something he is serious about, it's for real. Know this about Cuban: he takes having fun as seriously as he takes making money — and it's common knowledge that Mark Cuban isn't joking around when it comes to making money, or spending it. Not many people on the planet can pay $235 million dollars for an NBA team like Cuban did when he bought the Dallas Mavericks in 2000. And only one person can be in the Guinness Book of World Records for making the largest online purchase of all time, which Cuban did in 1999, when he bought his Gulfstream V off the Internet.
"Too often people tell themselves that they are too old to be doing something or that it's not age appropriate. Then 20 years later they realize just how young they were and they won't get another chance to try those things again. I don't want to make that mistake," Cuban says.
As spontaneous as he can be, screaming at referees and shooting from the hip as often as possible, there is a method to Cuban's Midas touch magic as it pertains to the formula for fun he's created. In fact, some of his best ideas are often the simplest. Case in point, his early strategy when he first bought the team. Simply put, the Mavs were a joke, on and off the court, and before the team could start winning games they would have to win over the fans. The way Cuban did it? Free booze. Cuban opened up the tab at the bar after games — All drinks were on him.
It took guts to get where Mark Cuban is. It takes some very large basketballs and a nuclear powered checkbook to keep him there. And where he is at right now is where he believed he'd always be: on top of the sports mountain, puffing a championship cigar, and living large while at the same time not allowing himself to slow down, rest, or get complacent, even for a single minute. "It actually feels better than I expected [winning an NBA Championship]." It is still somewhat surreal, but the level of satisfaction is indescribable," says Cuban.
What about Cuban's life isn't indescribable? From the 24,000-square-foot compound, which is his personal home that he shares with his wife and three children in Dallas, Cuban lives a daily life in the crosshairs of cameras that could probably only be drawn up by Hollywood scriptwriters, always doing things his own way and fast. He doesn't get ambushed by TMZ paparazzi photographers, because he brings the gossip to them, literally, with his championship trophy in tow, and hangs out with them in their Hollywood studios. Cuban is all about taking the message to the people, via twitter, TMZ or anything in between, which is why he puts his email address on the scoreboard of his team's games and answers almost every incoming message.
Being a billionaire is, in some part, the grandest detail when describing Cuban's life, but in many ways it's also the smallest. Take away the fortune and the fame, and what you have, at the core, is a fan; a very loud, often obnoxious, brilliant, driven, courageous, obscenely rich fan. It's the center of everything for Cuban. It's why there are literally hundreds of people around the country that can tell you a similar story of meeting Cuban one time in a bar or restaurant, posing for photo or getting an autograph from him, and then notice their bar tap or check has disappeared. It's why whenever there is a Major League baseball team up for sale or in trouble, whether it's the Texas Rangers, Chicago Cubs, New York Mets or LA Dodgers, the first name mentioned is Cuban's. Average fans want the ultimate fan to save them like he saved the Dallas Mavericks. Turning a joke of a franchise into a champion. Morphing a laughingstock and irrelevant team into something that matters and has value.
Being a fan is literally the basis of how Cuban built his empire in the first place. He was a huge follower of college sports — Indiana University Hoosier teams specifically — and Cuban launched his company Broadcast.com (originally named AudioNet) in 1995 with the idea that he and other fans around the country would be able to listen to radio broadcasts of their favorite teams on the Internet, anywhere in the world. Yahoo.com was apparently a fan of the idea, because they bought it for more than $5 billion in 1999. Good timing and having a good time, two qualities that have served Cuban well. And when you mix in one more quality he told us about, well, it's obvious how he's become and stayed successful through bubble bursts and recessions.
"I'm lucky as shit and thrilled that is the case."
So are the fans of teams and businesses he becomes part of. There's a feeling of hope that surrounds Cuban, kind of a vibe that says if he is involved, if his money flows into a project, it will be successful. It's very clear he wants to eventually own a baseball team, and he almost certainly will assuming the other owners let him. And when he does add one to his portfolio, the demands will be high on everyone, and the perks will be fabulous. No team lives a truer jetset existence than Cuban's, and any Dallas Mavericks player will be first in line to agree.
When Cuban built a new arena for his team he installed flat-screen TVs and Sony PlayStations in each locker, and that's just the beginning of the high-tech toys available to each player; from docking stations for iPads in their locker, to on-demand game film to study their opponent, to the very finest terrycloth fabrics for the towels and robes. To make sure the team is well rested after long road trips, he forked out about $46 million on a Boeing 757 team plane, completely tricked out with custom-made leather seats to accommodate the tallest of players. He's a bit shy on further specifics, however. "If I told you, I would have to kill you. That's a secret players and staff are sworn to keep," Cuban says. "Let's just say it's the only plane in the world designed for an NBA team."
In an ironic twist, the Taj Mahal of team planes the Mavericks use was actually damaged by hail this spring, so during the NBA Finals, the Mavs had to charter a different plane for their trips to Miami. But don't worry, it wasn't an extra puddle jumper Southwest Airlines had sitting around, there was still plenty of legroom and perks to keep the players happy. And no player on his team right now is taller, and no employee more important, than seven-foot superstar Dirk Nowitzki, the heart and soul of the Mavericks team that led them to the win over the Miami Heat that thrilled NBA fans and LeBron James' haters around the world.
We asked Cuban what it was that attracted people to him and he gave us a name, though it wasn't his.
"Dirk," he stated, referring to his star player. "It's that simple. When your star is your hardest worker, all we have to do is try to complement Dirk's skill set and find guys that get along with each other."
So the question now is, what's next? Cuban is 52 years old, has been front and center on the world stage for over a decade and has no interest in slowing down. He continues to be part of the ABC show Shark Tank, and his many diverse investments and business interests have made him a big player in media and entertainment. He is the owner and chairman of HDNet and its sister network HDNet Movies, and is co-owner of the Landmark Theater chain, Magnolia Pictures and Magnolia Home Video.
He's everywhere, and will continue to be, but remember this about Mark Cuban: being a billionaire has its privileges and it's one way to define him. But when we directly asked him what he wanted to do next, he flashed that familiar sideways smirk as his eyes brightened and he blindsided us with a response a lot of people might not have expected.
"I'm going to just love every minute of watching my kids grow up and hopefully win more titles."
That would be something you can't put a price tag on, though if you could, Mark Cuban is one person that could certainly afford it.