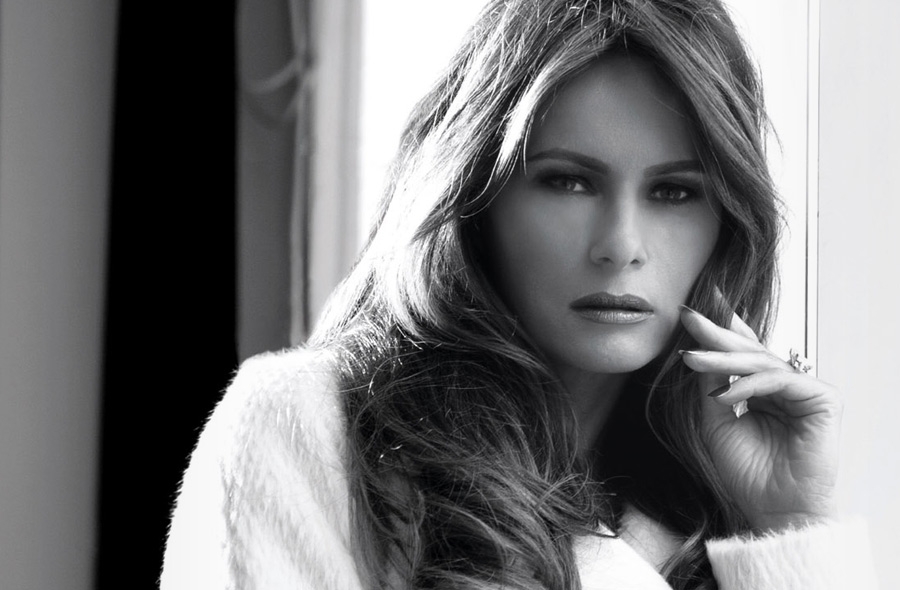 From an expansive 17th-floor floor suite, overlooking Central Park and the Upper West Side of the Manhattan skyline on a beautiful late summer day in Trump International Hotel, there was a million dollar view outside the window and a billion dollar view settling down in front of it.
And in an instant, when the camera was ready, the fashion stylist and makeup consultant were satisfied and we all agreed we were ready to roll, and one of the planet's most recognizable and respected figures, a wife/mother/socialite/jewelry designer/entrepreneur, sat down on a chair in classic white Dior and became a world class fashion model. Again.
It takes a unique skill to effortlessly, seamlessly, and flawlessly flip a switch and in the blink of an eye morph from doing a mundane activity into putting on display true God-given talent, but that is what Melania Trump did for her Jetset cover shoot, and it was a very cool thing to behold. Yes, a lot has changed for Melania since she was one of the best and busiest fashion models working in Milan and Paris and New York City, appearing on covers of magazines like Vogue, Harper's Bazaar, Ocean Drive, In Style, Allure, Glamour and Vanity Fair.
"Well now, my life, it's very different," she told Jetset in our exclusive interview. "I have a family, I have a six-and-a-half year-old boy I have to take care of and as I always say, and in one way I joke but it's really true, I have two boys to take care of, my husband and my son. So it's very different than when you are alone and you travel the world and shoot as a model and experience a completely different life all around the world. Seeing different cultures and meeting different people. It was all really exciting and I had a great career and loved every minute of it. So today, when I came back, with the hair team, makeup team and stylist, it reminded me of the days, many, many years ago."
Those were great times in Melania's life, but there's no mistaking the fact that these are a whole lot better. She loves being a mother to six-year-old Barron, and as she admitted, the 66-year old boy in her Fifth Avenue home keeps her hopping, as well. And it's not like she needed any more help staying busy, but as a successful entrepreneur herself, she has a jewelry line she has built from the ground up that is a thriving success and a big part of Melania's life. Melania Timepieces & Fashion Jewelry is her line of chic and affordable jewelry that she regularly appears on QVC to promote and sell.
"Well I always say you need to do whatever your passion is, whatever you love to do. I studied architecture and design, and it's always in me to design, to sketch, to bring ideas to life and that's what I did with my jewelry line," Melania says.
Her college degrees in design and architecture from the University of Ljubljana allow her to play an active and important role in the creation of every piece her line produces and sells. And the entire business appears to be a perfect extension to so many of her diverse and exciting life experiences. She combines the fashion world with her entrepreneurial spirit, and mixes it with the Midas touch business DNA that is in her famous family. For Melania, her creations and visions come from her heart, so all the effort that is needed in being the hands-on creator and chief promoter and salesperson for the brand is really not work. It's a passion of hers that she loves and is very good at.
"It's great fun. It's very creative for me. I'm involved from A to Z for every piece that I design, so I'm very involved in everything that I do. It's my name, it's my brand and I'm very, very picky about it and I know what I want. I want to achieve what I really want, so it's very important, so I am on top of it."
Her sparkling collection of chic and cosmopolitan timepieces and fashion jewelry came alive and dazzled when Melania rocked them on our photo shoot. And the concept behind the line of jewelry is a brilliant one. Who doesn't want to have a little taste of the glamorous Trump lifestyle? The problem for most people is funding it, which is why Melania prices everything in her line under $200. Everything, all the bracelets, earrings, necklaces, pendants, rings and watches are affordable for the masses. And each piece comes with an authentic slice of gold plated Trump cache that undoubtedly helps put an extra bound in the step of anyone that wears her jewelry.
"I want women to look chic when they're on the go," Melania told us. "When they play with their children, when they are wives at home, everywhere, so something they can really afford and they spoil themselves with is what I wanted to create. They don't need to ask anybody if they could buy it for themselves. They could go and buy something under $200 and have fun with the jewelry. So that's why I created that, to reach women across the world and spoil them and make them look beautiful and chic."
It's like the ultimate jetsetter making the sexy and glamorous lifestyle accessible for anyone that wants to live it without feeling guilty about it. And we all know how the Trumps roll in the air, on their very own custom-equipped 757, so that's an easy sell.
"A 757. Yes, it's beautiful, it's very comfortable. We are on the go all the time. Our schedule is very busy from business, from social, from charity work, everything, so we are always on the go," Melania explains.
What was special for us at Jetset is that we got to peel back the curtain and spend a little bit of time in Melania's glamorous galaxy. It was easy for us to see why someone of such great accomplishment and wealth and fame is so relatable and so easy to root for and emulate. There's such a high level of grace and authenticity that she emits, that you forget her family's fortune is measured in billions. Her desires are authentic; she remembers what it meant for her to wear a beautiful piece of jewelry and how special it was, and she's hoping to share that feeling of chic-ness so all women have access to it. Watch her next appearance on QVC as she promotes and sells her line, and you'll see exactly what I'm talking about.
With enough drive and determination to fuel the family's 757 on a cross-country trip, Melania has still been able to find the type of life balance that so many people are chasing. She's an incredibly smart individual. You don't rise to the level of success she did as a fashion model without an equal dose of beauty and brains, and Melania uses, to her advantage, all the celebrity trappings a lot of less-savvy famous people find tedious. Her name moves products. She knows that. Heck, her six-year-old son knows that, and Barron already has run a lemonade stand at their country house and is busy all the time, Melania told us. "He loves to work, he loves to build with magnets and Legos and has amazing ideas. He's a six-and-a-half-year-old boy with ideas that would be very exciting if they come true." she says.
Making dreams come true by force of will, talent and brains is in the young boy's DNA. It's also the family business, and he needs to look no further than his beautiful mother as an inspiration and testimony to that.