By the time New York finalist Elise Cuthbert called into Howard Stern's Sirius XM radio show to campaign for the title of Miss Jetset 2015 (sparking a lengthy repartee between Robin and Howard about the competition), the three-month-long search had become somewhat of a phenomenon.
On September 1st, the day the contest launched, the Miss Jetset website was viewed nearly 10 million times. The traffic almost crashed the servers. All in all, there were over 10,000 women of all ages, races, and body-types from across the world who competed for the title.
Of those 10,000 women, 5,000 were selected by our judges in the first round of the competition. A lengthy campaign for the title ensued. Millions of followers took to social media to voice their support for their favorite contestant. From Krisondra, a professional model representing the state of Hawaii to Santana Maynard, a young cosplay phenom from West Virginia to Rebecca Eger, a fitness guru grandmother from Pennsylvania, contestants were as exceedingly diverse. Some, like Sherika Key of North Carolina, campaigned so tirelessly that they became ubiquitous on social media. Soon the 5,000 became 51 finalists (all of whom can be seen on Page 92). But of those 51, Becca Tepper of Illinois was the one who prevailed in the end.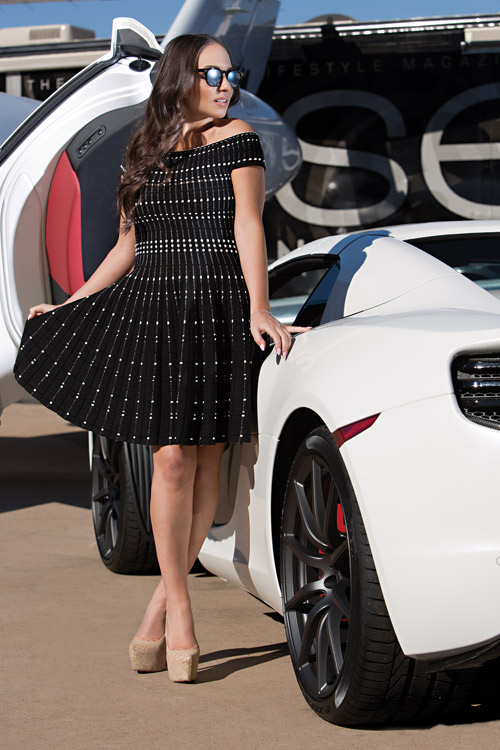 Tepper, 25, is an intrepid Brazilian-American entrepreneur and jewelry designer originally from San Diego. As a designer she is known for her unique, signature hand and body chains (as well as some pretty striking swimwear). You also may know Becca (and her boyfriend, Motivational Mogul impresario Justin Cooper) from their appearance on the hit realty show Millionaire Matchmaker. If not, there's a good chance that you know Becca from her massive social media following. In the end, it was her shrewd ability to galvanize supporters online that led to her victory.
In addition to the title of Miss Jetset, and the honor of gracing the cover of the very magazine you are holding (something no other non-mega celebrity or business titan can claim), Becca won over $100,000 in cash and prizes and will represent our brand for all of 2016.
As I fly on a private jet to San Diego to pick up Becca and bring her back to Scottsdale for a three-day photo shoot and an elaborate week of activities (including a Will Smith movie premiere and an exhilarating day of racing at Bondurant School of High Performance Driving), my expectations are admittedly low. I fear that a "reality-TV star/beauty contest winner" might be a bit of a diva. But shortly after I meet her, all my fears are allayed. I quickly find Becca to be a humble, caring, kind young woman with a tenacious work ethic and an erudite knowledge of social media marketing. It's easy to see how she cultivated a massive enough following to capture the crown.
Like most of the Miss Jetset contestants, Becca Tepper is not a professional model. She's never had a professional photo shoot. And now here she is surrounded by jets and McLarens and $150,000 custom motorcycles being photographed by James Tampone, who's shot for the likes of Maxim and Playboy. "It's been a little overwhelming," Becca admits to me during a break from shooting. But she handles it with aplomb, and by the end of the shoot, is working the camera like a natural.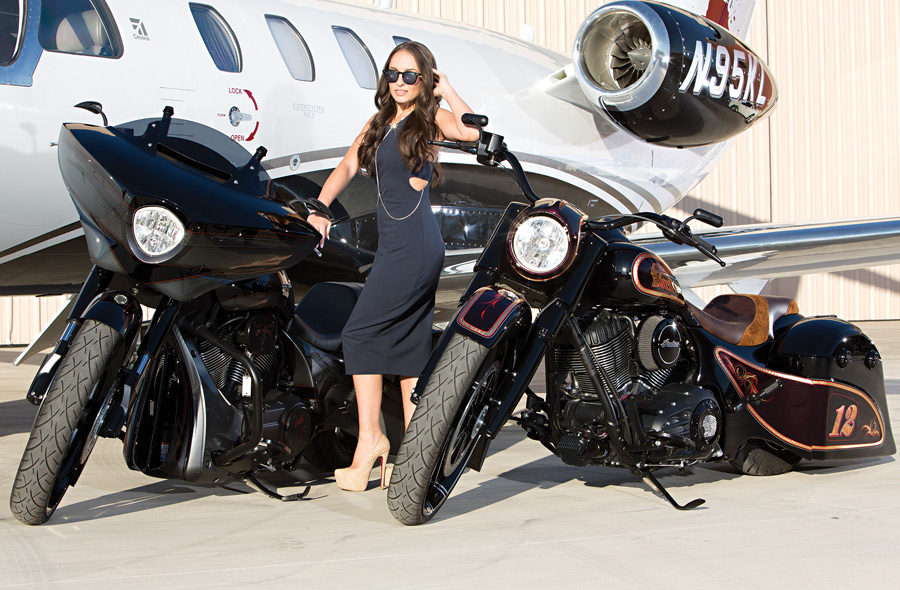 When I ask her about the inherent stress associated with earning the title of Miss Jetset, Becca brushes it off: "I am honored to have this title and represent this brand," she tells me, "but I'm not going to rest on my laurels. I want to build a platform to help young girls become entrepreneurs and encourage them to follow their dreams." Professional, philanthropic, and driven, Becca Tepper is the quintessential Miss Jetset.