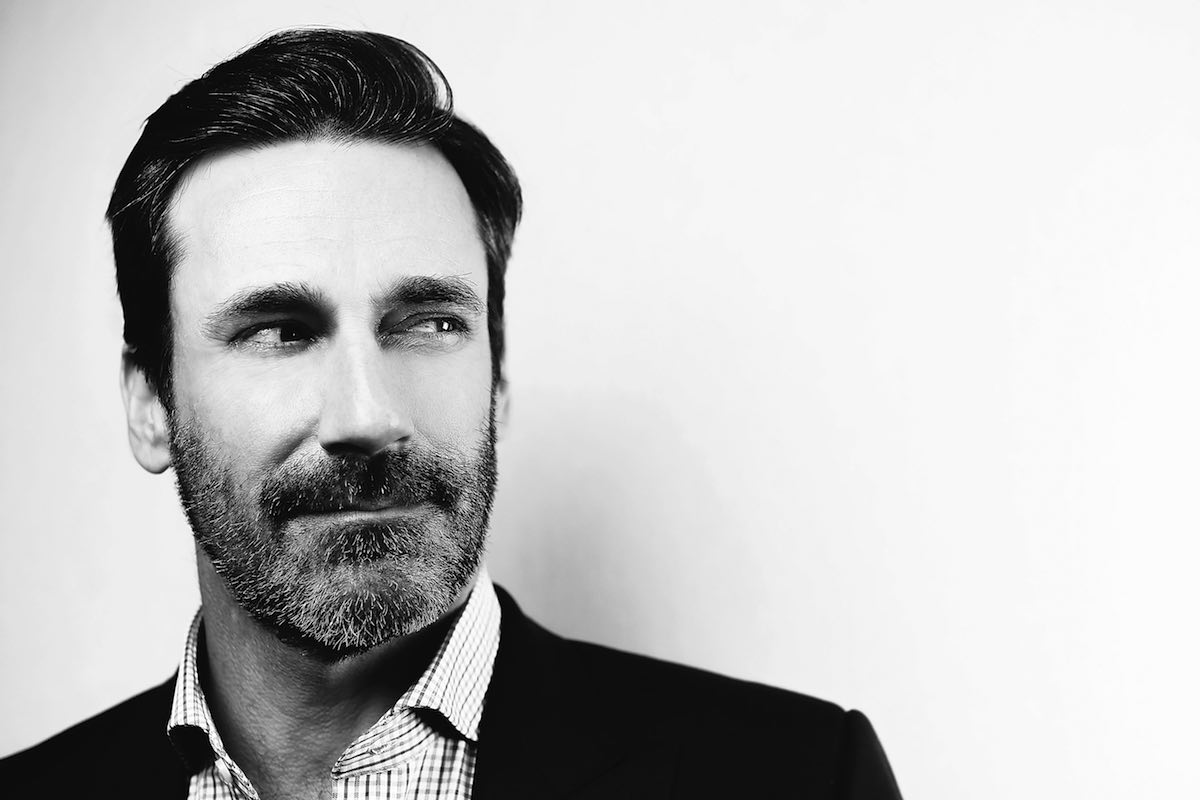 The last time we see Don Draper, he sits meditating at a wellness retreat in Big Sur, California. The idea that we leave him just as his Coke ad-inspiring epiphany strikes, resonates into the current Cameo and Clubhouse zeitgeist now more than ever. Jon Hamm rose to fame for his critically-acclaimed turn playing the whip-smart, dapper Draper in AMC's hit series Mad Men. It feels terribly banal to dub Hamm handsome, or invoke his enduring cultural relevance. The intelligencia touted the auspicious debut of the genre-defying series and its category-defying lead from the get go. His take on the philandering, amoral, martini-drinking antihero made him an international sex symbol, a perennial favorite on those sexiest-man-alive lists.
Since then, the rugged leading man has shuffled between dire drama to comedic roles with enviable ease. Quite a reversal of fortune from unemployed actor and sometime set dresser on adult film sets, to international celebrity starring alongside Tom Cruise in the hotly anticipated Top Gun: Maverick. After 35 years, the sequel to Top Gun will finally hit the big screen. Hamm co-stars in the Joseph Kosinski-directed film with Cruise, Val Kilmer, Miles Teller, Jennifer Connelly and Ed Harris. Cruise revives the role of limit-pushing naval aviator Captain Pete "Maverick" Mitchell. We see Maverick serving as a flight instructor to teach the next generation of Top Guns including Bradley "Rooster" Bradshaw (Teller), the son of his old sidekick Nick "Goose" Bradshaw.
The action flick will also see a lot of new actors playing the offspring of characters from the beloved original. Hamm will play Vice Admiral Cyclone, reputed to be the son of "Viper", Maverick's old mentor. In an interview with KSDK, Hamm shared his first upbeat impressions of the upcoming sequel. "It's going to leave a lot of people with their minds blown I think. I got the good fortune to see it over the summertime. They opened a theater for us and we all had to sit 15 feet apart and wear masks and everything, but we got to see it on the big screen, which is the right way to see it. It's really visually stunning. And I think people are going to be moved by the story as well," he said of the film's emotional core.
The sequel's commitment to capturing the most thrilling action by shooting real synchronized flight sequences instead of relying on CGI seems to have paid off in a big way. One of the blockbuster hopeful's hair-raising aerial stunts was so unprecedented and dangerous, Kosinski needed special permission from the United States Navy in order to film it. Cruise wanted the action to feel as visceral as possible, so yes, the actors are really in the cockpit.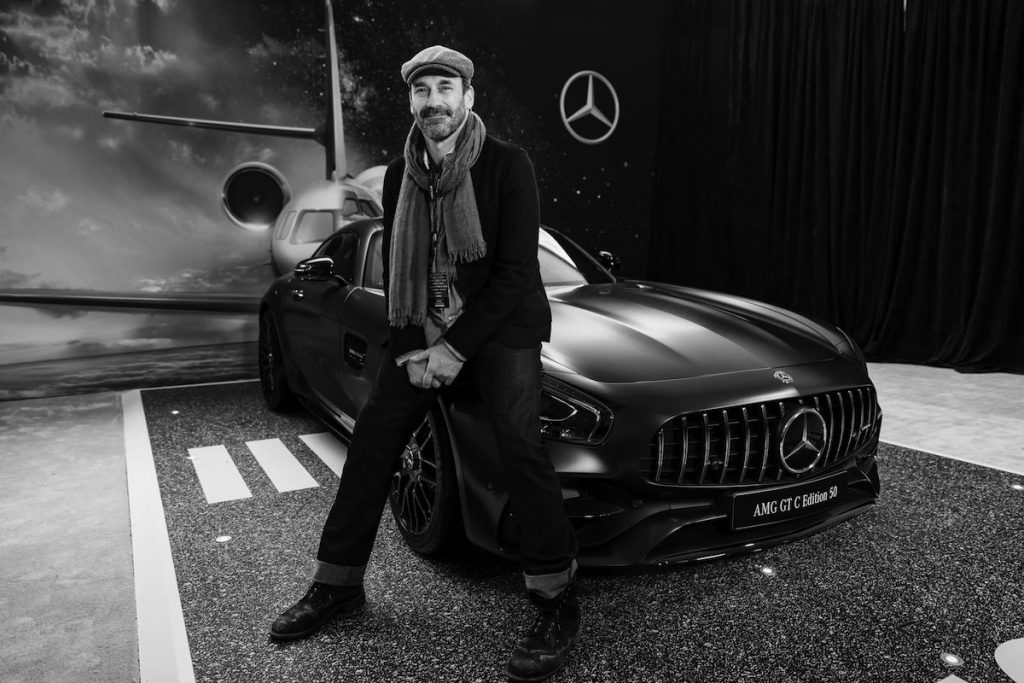 Instead of touring world capitals to talk up the release of Top Gun: Maverick—currently slated for a November 2021 release after two pandemic-related premiere pushes, Hamm has been keeping close to his Los Angeles home. A bonafide automotive aficionado, he's been enjoying taking long drives up the California coast. Hamm has been the voice of Mercedes-Benz since 2010, and his enthusiasm for the art of driving is boundless. He has lit up many a red carpet for the prestige German marque. I caught up with him at the Mercedes-Benz Annual Academy Viewing Party at the Four Seasons Los Angeles at Beverly Hills, where a spectacular gold wrapped Mercedes AMG GT turned heads in the circular driveway.
"Gold can be overkill, but not tonight, not when it comes to this beauty. If sheer joy has a shape and a scale, this would be it," Hamm mused off the cuff. "The way we drive, the way we handle a wheel, it's a reflection of what's directly on our mind. Driving while spent and cranky… or driving while falling in love with the person in the passenger seat, quite radically different sensations," and with that, he was off with a nod and a cheeky grin. The last time I had seen him was in Toronto at the premiere of Ben Affleck's directorial debut The Town, where he was considerably more demure, tucked in a corner booth tie undone, talking in hushed tones with Matt Damon and Edward Norton.
Fellow actors just seem to gravitate to Hamm at a party. He sports an affable, candid camaraderie that I witnessed in full force at The Hollywood Reporter's Women in Entertainment breakfast; Hamm presented Tina Fey with the Sherry Lansing Leadership Award, recognizing female pioneers in the industry. His speech alluded to what an enduring ally he is to female co-stars; his remarks hilarious and poignant all at once. Standing next to me at the mimosa bar that morning, Hamm reflected on the talented women he's worked with. "They eat me for breakfast, always keeping me on my toes," he told me playfully. "Part of being an evolved, grown man is treating women well, respecting their time and their work." After being nominated 16 times, it was Fey who had the honor of announcing Hamm had finally won the Emmy for Best Actor in a Drama Series in 2015, a fitting full circle.
Hollywood was not always rosy for the young Jon. In 2012, Hamm revealed to Men's Health that after his time at the University of Missouri, he packed up and moved from St. Louis to Los Angeles in 1995 with $150 he had saved. To add to the tinseltown rags-to-riches cliché, his car was repossessed after the city hit him with over $1,600 in unpaid parking tickets. After toiling in the trenches waiting tables — Hamm found work as a set dresser on adult films. As luck and legend has it, he met the woman he calls 'the love of his life', Jennifer Westfeldt, at a party and she asked him to audition for an unpaid part in her play. "Suffice to say, when Jen called with an actual acting opportunity, my days as a set dresser—all told, about a month—were over," he told the magazine. Hamm then spent six months living on a friend's couch while performing in the play. Westfeldt's play eventually turned into the 2001 independent romantic comedy Kissing Jessica Stein, which became Hamm's second film role.
Looking past his charmed second act and smoldering performances on the silver screen, he is above all a self-examined survivor — from coming to terms with the childhood loss of both his parents and the abrupt end of an 18-year relationship with Westfeldt. We could all take a page from Hamm's book on loss, love, the meaning and magnitude of revival at 50. The enigmatic Piscean reached a half-century this past March 10th, and he seems more philosophical and full of grace at the auspicious birthday. He's opening up more, his recent performances and Zoom appearances show us a raw effervescence that has won the admiration of his industry.
Hamm spoke to NewsRadio 1120 about his celebration alongside girlfriend Anna Osceola. "I remember when I turned 30. It was fun. I was just on my way to becoming an actor," he recalled. "I was surrounded by friends. 40, I had a big celebration with a lot of famous people. 50 was like, I was here, at home. I had friends come through. It was the middle of the pandemic." The actor continued, "I was with my girlfriend and her family. And I was like, 'this is perfect. This is exactly where I need to be. I couldn't be happier.' It was the best birthday I've ever had. Do I feel old? No. I feel comfortable and happy and it's a good feeling."
At the end of the day, the only thing you need to know about Hamm is that he recently adopted a rescue dog that was returned to the shelter twice for "an abundance of puppy energy." He's clearly willing to put the work in. We have a feeling Jon Hamm's third act may be his best yet.