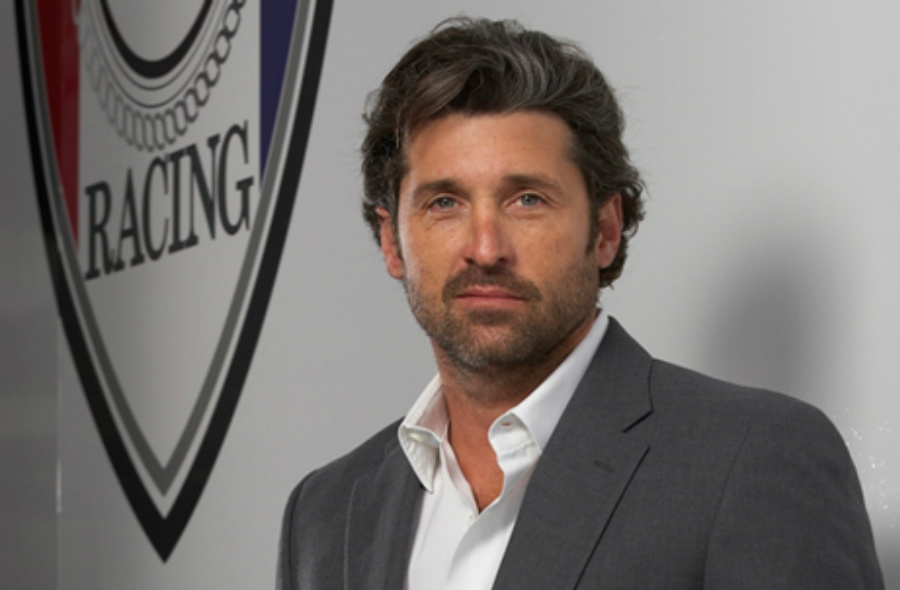 Patrick Dempsey has owned many titles over the years, including Broadway actor, vaudeville performer and even "McDreamy," the nickname he earned in his role as Dr. Derek Shepherd on ABC's popular drama Grey's Anatomy.
But recently, he's added another title to his resume, that of a professional race car driver. And believe it or not, he's actually pretty good.
But before we get into the nuances of his life behind the wheel, Dempsey's story prior to the racetrack deserves to be told.
Dempsey didn't start his life wanting to be an actor. As he was growing up in Maine, the plan was to become an Olympic long skier, so he focused most of his time and energy on the slopes. But in the off season, he would ride a unicycle just for a bit of fun. "I picked up the unicycle and I got involved in a vaudeville troop," Dempsey explains. "I started performing and got used to being in front of an audience, and then I started acting. One thing led to another, and all of these opportunities came up. I found myself in New York City, acting — quite by accident, actually."
It was the 1980s, and although he wasn't quite old enough to strike out on his own, he went ahead and did it anyways, running away to join the theatre in New York. The opportunities started to come after that, and he appeared in some pretty big movies of the era, culminating with the 1987 classic Can't Buy Me Love. Things looked pretty promising for the young actor with the striking good looks.
But then things started to stumble a little bit, with the roles becoming less prominent, and a lesser man might have given up on his dreams. But not Dempsey. "I had to kind of stick it out, and I'm glad I did, because it really taught me a lot going through that experience. I had a lot very early on, so I learned what that was like, and then I learned what it was like to be cold and not getting the roles," Dempsey recalls. "I was always working, but it was also a very difficult thing to get a job."
As a result, Dempsey is very humble — not the kind of stuck-up Hollywood actor that many others might be at his stage of the game. "I think it makes me appreciate everything I have now that much more," he says. "And it makes me work that much harder. Because I know that the door can be open one minute and then closed the next, so you have to constantly stay ahead and keep looking down the road."
This is part of his charm as an actor, and part of the reason why he was able to land the role of Dr. Derek Shepherd, the Grey's Anatomy character that really pushed him to the forefront again in 2005. But like most things in his career, it wasn't quite that easy. "Well, at the beginning, I didn't know it was going to get picked up after we did the pilot; I had no idea it was a mid-season replacement," Dempsey says. "ABC, at the time, didn't think too highly of [the show], we came on mid-season, and all of the shows, they had these great expectations. [But] they didn't do as well, and then we came mid-season, and the whole thing exploded."
That turned Dempsey into a sensation almost immediately, making him the subject of many crushes the world over. "I remember we had finished the first year, like the first 12 episodes, we did it in half a season," he explains. "That summer break, you couldn't go anywhere without someone stopping you. It was like 10 years to get the overnight success."
On the surface, Dempsey may seem like just another pretty face, but it turns out he's much more than that. He's a father, a husband, a charity worker, and — oh yeah — an actor. Grey's Anatomy is in its eighth season, and still going strong, but even if it happens to have a hiccup in the future, Dempsey has it all covered. After all, he is a professional race car driver.
Now that he was back in front of the camera and in a prominent role, more roles started coming down the line, including some for the silver screen. Most recently, Dempsey played the bad guy in the Michael Bay film Transformers: Dark of the Moon, which pulled in more than $97 million on opening day. Say what you will about Bay and the style of his film's, Dempsey's Transformers performance really was one of the high points, as the actor created a character worthy of the viewers' hatred.
Working on a big-budget explosion fest was quite different from playing his role as a doctor, but Dempsey says the Transformers role was one he relished. "The movie was so epic, and it was really phenomenal to be a part of something that big and that exciting. It was a different character than what I've been allowed to play, and I think that surprises people. It's made a big difference in making a step forward in my career."
Although nothing is cemented or even rumored yet, a potential project Dempsey has his eye on is the role of Doctor Strange, the famous Marvel comic book character apparently being brought to theaters in the foreseeable future. "It would be a nice fit as sort of a darker version, you know — the flip side of the character I play on Grey's Anatomy, Dr. Shepherd — and there's a side that I get to show that I haven't been able to show. And it's a great character, and I think the hardcore fans love it, but it is a very tricky character to bring to life."
So how did he get into racing? "I've always been a fan of racing, ever since I was a kid," Dempsey says. "My dad was a big fan, and we used to watch he Indy 500, Daytona, F1, all of that stuff. That was great, because [Speed Channel] used to show all of the old races, all of the live races. And my wife just got tired of me being a couch potato on Sunday, watching all of these races. So she said, 'Why don't you get out there and go do the Skip Barber program?'"
The Skip Barber Racing School has locations all across the country, including one at Laguna Seca raceway in California.
Once Dempsey took the course there, he moved on to multiple other schools, and just became hooked. "For me, it was a great escape — a really nice place to relax, to challenge yourself mentally and physically," he says. "I like the camaraderie a lot, and a lot of guys I started with I'm still racing with, which is good."
It does seem like a rather cliche thing for an actor to do, but in Dempsey's case, it makes more sense than most would think. "It reminds me of the ski racing," Dempsey says, recalling his childhood dream of becoming an Olympic skier. "I think there is a lot of similarities, so I think it allows me to kind of go back in time to that part of my childhood in many ways."
Although there have been many other celebrities who have tried their hand at racing, the list of those who have been successful in the field includes only two: Steve McQueen and Paul Newman. Both saw success at the legendary 24 Hours of LeMans, widely considered to be the highest level in the endurance racing circuit. And now Dempsey, too, can check the same success off his bucket list. "It's really nice when you set a goal for yourself and you achieve it," he says. "There's nothing like it. It came with a lot of hard work, but it was certainly a life-changing moment."
It's true that he has a passion for the sport, but what would he choose if he had to pick just one between racing and acting? "I like to race professionally and to be competitive and be on the podium," says Dempsey, and then he flashes that trademarked grin. "Although the lifestyle of being an actor isn't so bad after all."
As if he weren't already busy enough, Dempsey also finds time for his own foundation, The Patrick Dempsey Center for Cancer Hope & Healing (Dempseycenter.org). Healing people with cancer is a subject close to home, as his mother was diagnosed with the disease a few years ago. "Well, it's always so difficult, because you feel so helpless," Dempsey says of dealing with a loved one's illness. "You don't know if you're getting the right answers, or [if] you are not working hard enough to find the right answers for them. What is your role in your recovery in all of this?" These questions led Dempsey to establish the wellness centers, which serve as sources of hope for many families with members who are suffering from cancer. Creating the foundation, he says, enabled him to help others as well as himself, as he dealt with his own mother's illness.
On the surface, Dempsey may seem like just another pretty face, but it turns out he's much more than that. He's a father, a husband, a charity worker, and — oh yeah — an actor. Grey's Anatomy is in its eighth season, and still going strong, but even if it happens to have a hiccup in the future, Dempsey has it all covered. After all, he is a professional race car driver.