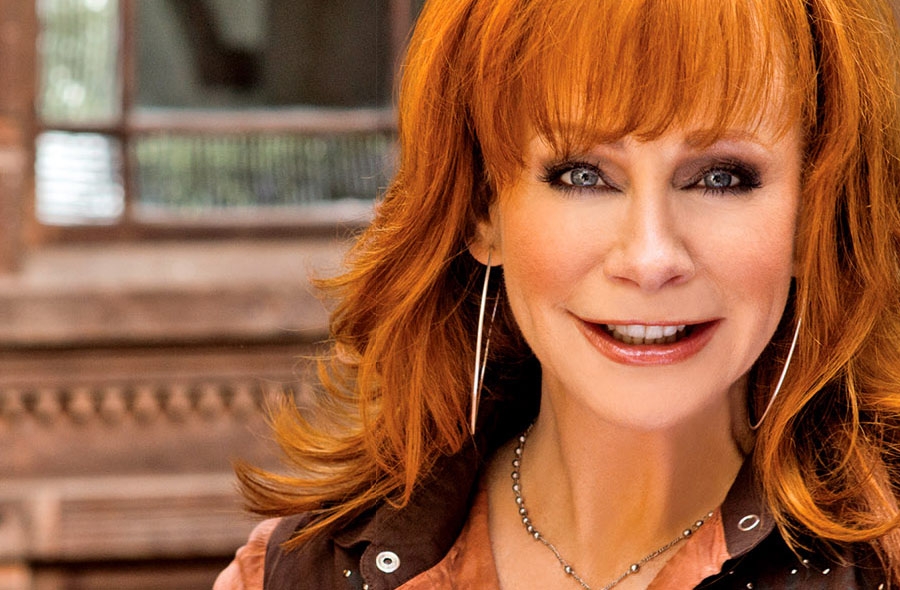 She's a caring and charismatic, ultra-talented, once-in-a-generation, one-woman wrecking crew full of stage presence, charm, business savvy and good fortune, who grew up in a tiny town in Oklahoma.
Since then, she has risen to take over the larger towns of Nashville, LA and New York and most points in between. And while traditional tracking apparatus exist that you could use to tabulate her success, like record sales, arenas filled, fortunes earned, and fans inspired, how about we keep it simple and measure it like this: she's known and admired worldwide by one name, Reba. Those four letters stand for a brand that has conquered every conceivable corner of the entertainment industry, and has kept her on an upward moving, four-decade trajectory that started at relevant and currently stands where it has for a long time: dominant.
Reba is a busy woman. But sandwiched between meetings relating to her own music and television career (she's the star of Malibu Country on ABC, and has numerous other projects in play and in discussion) as well as the management company she and her husband own and run, and numerous personal appearances and charitable endeavors that she's involved with, as well as some valuable family time and relaxation, Reba gave Jetset Magazine an exclusive tour into what makes her tick. We covered all aspects of her career and life, including that one moment when she knew her career crossover had become official and she was no longer just a country music sensation.
"I think that time might have been when I went to New York and played Annie Oakley in the Broadway play Annie Get Your Gun," she says. "I felt the songs were just like country songs and I played a character that was very close to the way I am, so it didn't feel any different to what I had always been doing. But when the reviews came out, they said I had won their hearts. I noticed people started acting differently towards me. I became a Broadway favorite. I loved it. I've always wanted to be loved and accepted and when it came from the Broadway world, wow! That was wonderful!"
When it comes to record sales, few performers have hit the magical 30 million mark that Reba has eclipsed in her career, and the commercial success is what opened the eyes of Hollywood and Madison Avenue and Broadway. Singing, dancing, acting, hosting, producing, writing – Reba does and has done it all. "I love to perform," she tells Jetset. "I love to entertain people and I love to be entertained. I love to act. I do this while I'm on stage singing and on the TV shows. Writing is a major accomplishment for me when I write a song! It's not very often that I do this and I accept it as a very special gift when it does happen. Producing, well, that's one thing I do love but I'm in the baby stages of it. I have so much to learn on that front. Mama always said I have the attention span of a gnat, so moving from one project to another keeps my attention and I promise you, I never get bored!"
One of the biggest career crushers for entertainers is an inability to adapt. Whether it's to new trends, new audiences, new wealth, new life experiences, new attention, new technology or new consumer habits, history is riddled with thousands of career-crushed corpses. In fact, it's the norm, and it's also the complete opposite of Reba's career. Literally, there are millions of people who know Reba only as an actress, a TV star or host of high-profile, glamorous A-list events like Muhammad Ali's Celebrity Fight Night or an awards show like the ACMs or CMAs, and she runs into new fans of hers on a regular basis that are younger than some of the stage outfits in her wardrobe. "I love it," she says. "The ages of my fans span quite a few decades, and what they like about me varies also, whether it's the TV shows or my music. I like that."
A career that's constantly on center stage and under the bright stage lights of performing means Reba constantly has opportunities to be around people that she's a fan of, as well, which isn't always as great as it might seem. "I've always been leery of meeting my heroes and people I admire, being afraid that they would turn out to be an asshole. There's nothing worse," she admits. "I'm a fan of big-hearted people. People who give of their time, their money and their love and are happier doing it. Bob Hope taught me early on that it's very important to give back. I emcee the annual Fight Night benefit for Muhammad and Lonnie Ali, and I know that they do that all year long. They're always giving back. I have met so many people through them that are the biggest-hearted people I know. Some you would recognize and some you wouldn't. But God does – stars in their crown!"
What's next for Reba to accomplish? Before you can answer that question, you have to ask yourself another. What makes you think someone with a Midas touch, records of gold, and an always-evolving sterling silver brand would ever even consider slowing down? "Like Dolly (Parton) said, "Then what would I do?" I love to go on vacations, but we're always scheming and plotting about what we're going to do next while we're on vacation," Reba told us while she was fittingly on a short vacation. "Narvel's (Blackstock, Reba's husband and long-time manager) favorite saying is, 'You know what you could do?' (When he says that) I always know it's gonna be a good idea."
Thankfully, most of those good ideas have become available for all of us to enjoy. When you check the internal wiring and circuitry of ultra-successful people like Reba and the readers of Jetset, the people that create and perform and build and dream and heal and make visions become reality, you'll find an internal drive that is well beyond rare. It's supernatural. It's all-encompassing, and it is something Reba knows she was blessed with and something she never takes for granted.
"God gave me a special talent that I know if I hadn't used it, He would have given it to someone else. I respect, adore and cherish my talent. I'm very thankful for it! I never take it for granted. I also have two very hard-working and determined parents that gave me a hard-work ethic and taught me to finish your project once you've started it. Curiosity plays a large part, too. I want to see what different projects would be like. I don't fear anything new. Well, except new shoes at an awards show."
Running Reba, Inc. means a lot of traveling, which is perfect for someone who told us she loves to fly. Her time now is primarily spent between Los Angeles where she tapes her TV show, and Nashville when she's touring. And as you might expect, being a living legend as much on top of her game now as 20 years ago brings some conveniences that are as much of a necessity as they are a perk.
"We own a plane," Reba tells Jetset. "We have a Phenom. But when we're going cross-country, it's more economical to fly commercial. Our plane works great when we're touring and need flexibility on our schedule. I haven't had a bus of my own since 1989. For years, we had a Hawker but sold it in 2000 because of Broadway and the TV show. I love a Hawker! It's probably my favorite plane for touring, the perfect size."
And it wasn't an exaggeration to imply that owning a plane is a necessity for Reba, especially when you face the demands she does and need to balance an explosive career and a family life, a fact Reba readily admits. "It's lengthened my career by a decade. Because of having a plane, I can do so many more things to promote my career in between the jobs I have. Plus, it allowed me to do my concerts and fly home after the show."
She's entertained so many people for so many years, and by sheer force of will and talent and wisdom has left an indelible mark on the entertainment world, doing it with grace, class and style, with no time or no use for scandal. And with the curtain not even close to being closed, expect another generation of fans to be born and entertained and marveled by an amazing performer who continues to reinvent herself, while at the same time staying true to herself.