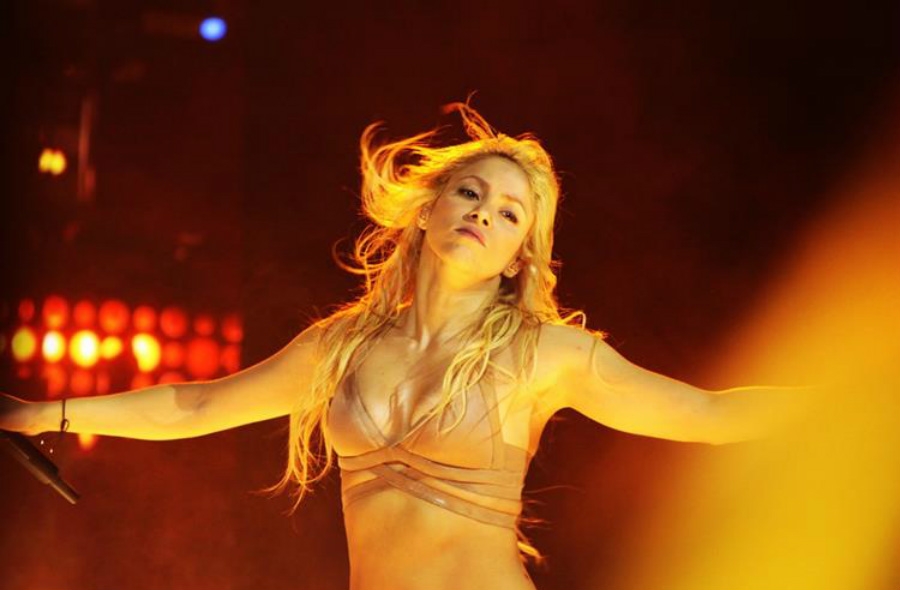 She speaks calmly and precisely. Her voice is unmistakably unique. "I must confess," the woman says before an audience of 400 attentive students, "I am somewhat mystified as to why you are here … I won't be singing." She pauses and surveys the young, erudite crowd. "And there won't be any hip shaking." If this last revelation disappoints the largely-British audience, they politely withhold their dissatisfaction. She continues: "So how do I, a girl from Barranquilla, Colombia, come to occupy the same stage as Newton and Churchill?" She clearly knows the size of the footsteps she's walking in. "Lord knows I'm no Mother Teresa, but here I am nonetheless."
The date is December 7th, 2009, and that "girl from Barranquilla" is none other than single-named international music superstar and UNICEF Goodwill Ambassador, Shakira. And just as so many historical icons have done before her, she is delivering a speech to the Oxford Union — a hallowed society within one of the world's most prestigious universities. Shakira is acutely self-aware, and fully-cognizant that to many, her presence behind the Oxford lectern might seem a bit odd. But if she's the least bit nervous she doesn't show it. Because while Shakira knows that it's her hips (or the hypnotic way in which she moves them) that she is most famous for, it is education — specifically, providing those across the globe with an opportunity to receive one — that she intends to be her lasting legacy.
Since she first rose to international superstardom over twenty years ago, Shakira has spent nearly as much time focusing on education as she has shaking her hips. That day at Oxford, you could hear the passion stirring in her voice as she broached the subject: "I was born in a country marked by civil conflict, social strife and inequality . . . growing up in the developing world, where education is perceived as a luxury, and not as a right, where children beg for an education and parents are desperate to provide it, where if one is born poor, one is destined to be poor …" As she continues, the crowd is just as engrossed as they are at her concerts; she is not shaking her hips, but nevertheless she has their full attention.
Back when she was "growing up in the developing world," Shakira's father would often take her to the park so she could witness how the local orphan children lived. Even at a young age, this had a profound impact on her, and she vowed to one day become a successful enough artist to help those forgotten children. You see, Shakira was not your average kid; she was exceptionally gifted and introspective. She wrote her first poem at age four, and her first song — a ballad about her father's grief over the tragic death of her brother — at age eight. She was always taking everything in, absorbing everything she saw. And those sights helped shape her worldview and mold her into the woman she is today.
If you've ever seen Shakira perform, then you know that she is in an elite class of entertainers. She can command the world's largest stages with absolute control, and she nurtures a strong bond with her audience while performing. This innate gift was evident from the very start, and between the ages of 10 and 13, Shakira would mesmerize crowds at various small events throughout Barranquilla.
Eventually this caught the attention of a local theater producer who convinced an executive from Sony to audition the young artist. She performed three songs and blew the Sony execs away. They signed her on the spot, and the rest is history. She would release her first album at the age of 14. The girl who was once told she had no place on the school choir because she "sounded like a goat," would go on to sell over 125 million records and become the most successful artist ever to emerge from her native Columbia.
But she never forgot the promise she made to help those children. Shakira founded her first charity, Pies Descalzos ("barefoot"), at just 18, and has never wavered in her commitment to build schools and provide every child with the tools to receive an education. "We have to keep working to build more centers, to train more teachers, and to involve more parents in their children's education," she pleads. "But we not only need more programs, we need better ones. We have to provide higher quality and innovative early childhood development programs all throughout Latin America."
Shakira has applied that same level of focused devotion to nearly every project she has been involved with throughout her illustrious career. Those whom she's collaborated with affectionately describe her as an ardent perfectionist — one who writes, produces and oversees nearly every element of a song's creation. In 2008, she signed a $300 million contract with Live Nation, and the new mother took a hiatus from coaching The Voice last year — not only to spend time with her son Milan and his father, FC Barcelona soccer star Gerard Pique, but to focus on her next album. "I've begun to explore in the studio whenever I have time in Barcelona and here in Miami," she says. "I'm working with different producers and DJs, and I try to feed off of that and find new sources of inspiration and musical motivation."
Shakira's music has always incorporated myriad genres and cultural styles (folk, electronic, Middle Eastern, Latin), and has a universal accessibility that has been an integral component of her success. It is also likely that her global magnanimity — as well as the international appeal of a song like "Hips Don't Lie" (the bestselling single of the last decade), or the 2010 FIFA World Cup anthem "Waka Waka" (which has been viewed over a half-billion times on YouTube), can be attributed to her own worldliness and diverse heritage. A self-described "mutt" with Lebanese, Spanish, and Italian ancestry, Shakira has traversed the world several times over and empathizes with all cultures and walks of life. She fluently speaks three languages (Spanish, English, Portuguese), and fully embodies the rapid globalization of the 21st century.
Shakira knows how some people feel about celebrities who vainly champion charitable causes. "I think that the most important thing I've learned is that people don't just believe in causes because someone tells them to, but because the motivation and passion needs to reach them in order for them to react," she says. "We are eager for a future without so much poverty and inequality, and we are fighting very hard to make it happen. That kind of determination and passion is what moves the needle on important social issues, whether it comes from a celebrity or not." So she will continue with that eager determination, fighting for those kids, and letting her voice — perhaps the most distinctive voice in all of popular music — be heard loud and clearly. She may not be Mother Teresa, but in today's world, Shakira might just be the next best thing.