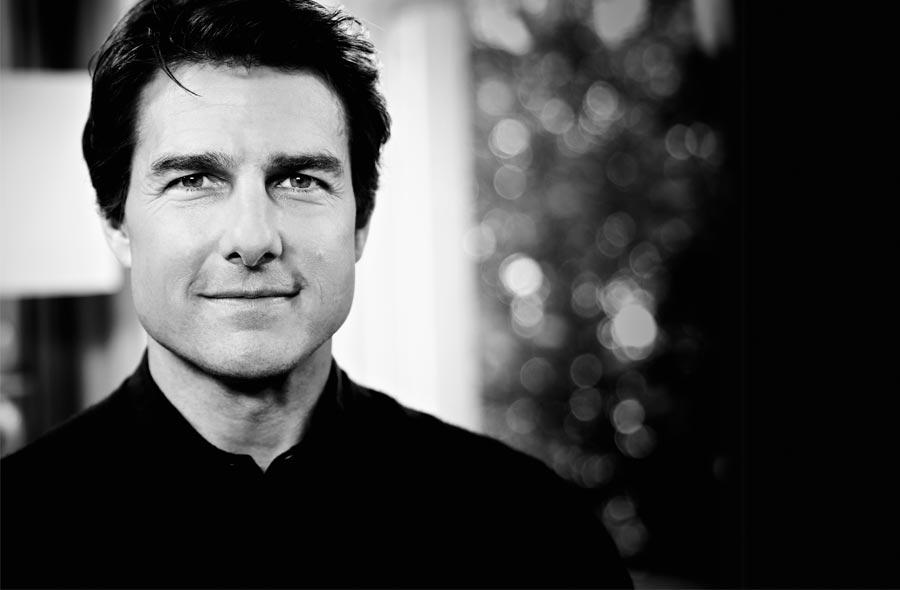 If you've caught the trailer for the new Mission: Impossible film, then you've surely seen Tom Cruise frantically clinging to the fuselage of an Airbus A400 as it takes off. If the sequence possesses a particularly striking air of visceral realism, that's because it really is Cruise strapped to the side of the ascending aircraft. Why a man who's arguably the most famous actor of the last three decades would attempt such a feat might be a little perplexing to some. Yet amid a summer of digital dinosaurs and animated Avengers, it is refreshing to watch good-old-fashioned, real-life stunts being performed on a movie screen. Tom Cruise knows that in an era where event films are becoming increasingly soulless, videogame-style spectacles, there is a nostalgic exuberance in seeing an actual movie star hang from an actual plane. Is he a little crazy? Perhaps. However, one cannot deny that few figures in the history of cinema have accomplished as much as Tom Cruise.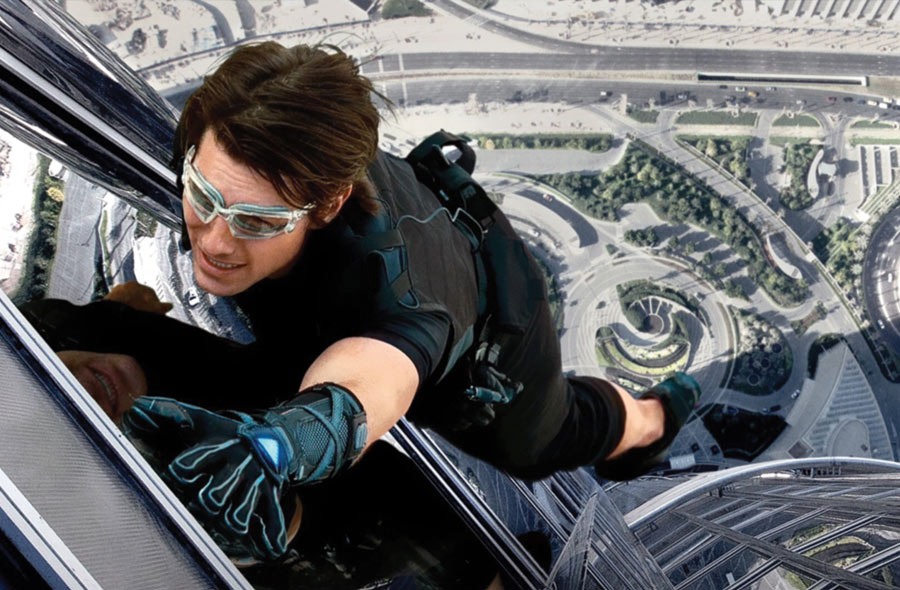 Cruise's films have amassed more than six billion dollars across the globe, and for over thirty years, he has remained one of Hollywood's highest-grossing — and highest-paid — stars. Everyone (even the haters) has a favorite Tom Cruise movie. Top Gun, Jerry Maguire, Risky Business, Rain Man… the list goes on. To many, it's Mission: Impossible. However, unlike other action stars, Cruise has showcased immense range throughout his career. Look at the icy, sociopathic hit man in Collateral or the disillusioned, paraplegic Vietnam vet in Born on the Fourth of July. Look at the misogynistic self-help guru in Magnolia or the truculent, avaricious studio head in Tropic Thunder. The three-time Golden Globe winner's filmography is rife with disparate characters animated with arduous dedication.
If Cruise's characters all possess one unifying characteristic, it's intensity. From an arty drama like Magnolia to something as blithely irreverent as Tropic Thunder, the actor brings the same impassioned intensity to every film he makes. "I am an all-or-nothing kind of person," Cruise says. He trains incessantly (he spent an entire year working six hours a day, seven days a week with a sword for The Last Samurai), he prepares fastidiously; he is a consummate professional who never gives less than one hundred percent. "I train, I go without sleep … I just go hard," he says.
Cruise's fervent dedication dates back to his tumultuous adolescence. His family moved constantly, and Cruise recalls attending 15 schools in 14 years. He describes his father as a "merchant of chaos" who used to unload his frustrations and feelings of inadequacy on his son. After his parents divorced, Cruise's mother was forced to work three jobs. The actor quickly learned to fend for himself, and help provide for his mother and three sisters as they bounced from one town to the next. "I learned that even in times that were challenging, you have a choice whether to let problems overwhelm you," he says. "And mine was to learn to handle it."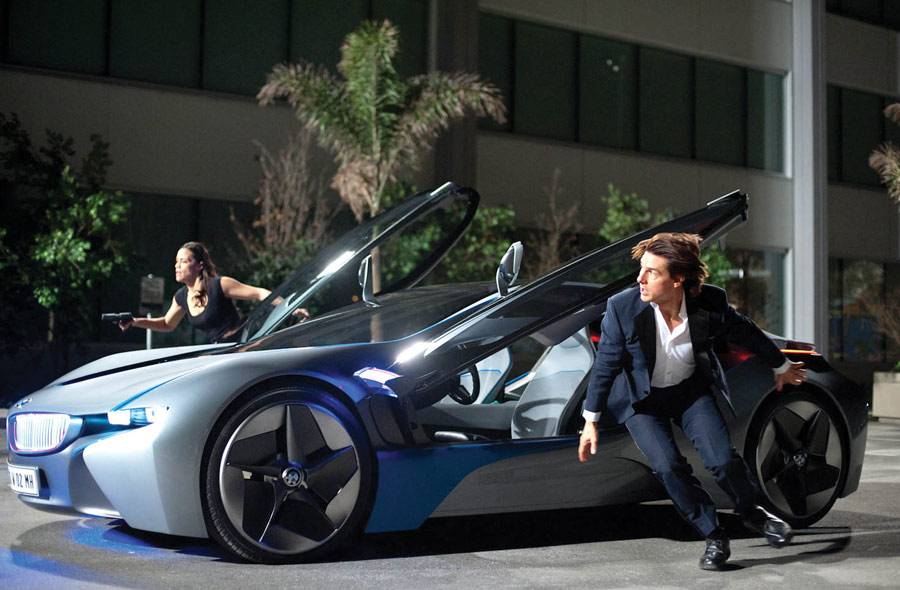 Cruise also exhibited early signs of that trademark daredevil spirit — the kind of spirit that drives a man to cling to airborne aircraft and run up the side of the world's tallest building. "From as early as I can remember, I wanted to ride motorcycles and race cars. I wanted to do jumps and stunts," Cruise says. By the time he was twelve, he had saved up enough money to purchase his own motorcycle. Countless crashes and broken bones ensued. Meanwhile, at school, he battled with dyslexia and admits that he "couldn't stick to one thing" for more than a few weeks without losing interest. But when he discovered acting, it was a revelation; he finally had an outlet for both his restless ambition and his adventurous spirit. Soon, he was pouring his unwavering energy into becoming the biggest movie star on the planet.
Cruise's subsequent rise was meteoric. In just one year, he went from acting in school plays to playing a distraught military student in Taps. Two years later, Risky Business anointed him as both a sex symbol and Gen-X idol. Three years after that, Top Gun made him a household name. He went on to work with the best directors (Scorsese, Spielberg, Kubrick, Scott), and the next two decades were filled with such classics as Rain Man, A Few Good Men, Jerry Maguire and Minority Report. In addition, Cruise became a producing powerhouse, negotiating some of the most lucrative deals in movie history.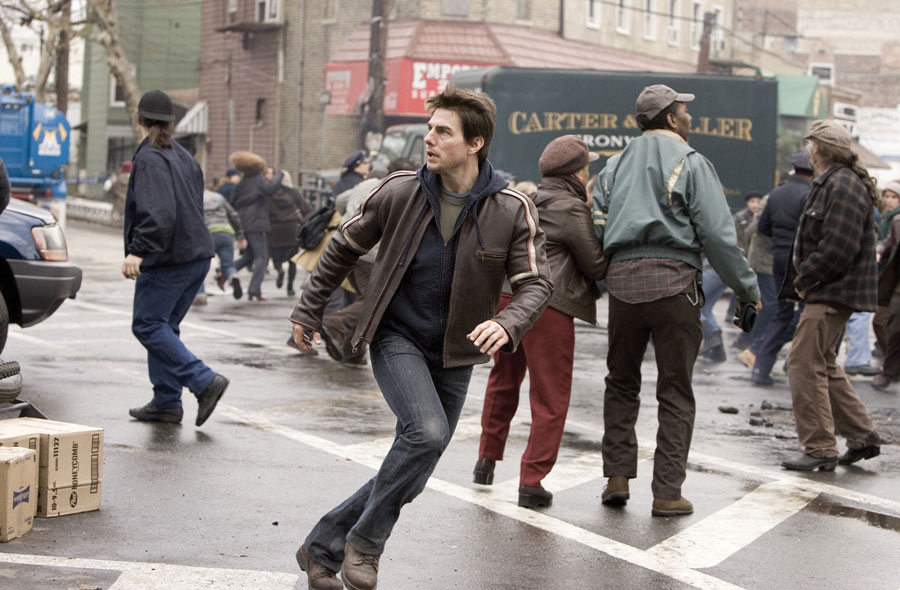 But it was during a press tour for 2005's War of the Worlds that Cruise went a little off-message. The details of which have become so highly-publicized that it feels trite to rehash them, but let's just say that a couch was jumped on and significant PR damage was wreaked. Although countless stars had endured exceedingly more salacious scandals relatively unharmed, Cruise quickly found himself the victim of mass parody and late-night talk show shadenfreude. He underwent multiple publicist changes and Paramount decided to end their fourtneen-year partnership with the actor. After an historic run, Hollywood's Golden Boy had finally cooled off.
"I learned that even in times that were  challenging, you have a choice whether to let  problems overwhelm you. And mine was to learn to  handle it."
Or at least that was the narrative. Audiences still flocked to see his films (2006's riveting M:I III did nearly $400 million worldwide), yet Cruise's public image had taken a beating. Then Tropic Thunder (2008) marked a significant turning point for the actor. The satirical film proved to audiences that Cruise could be both funny and self-effacing. Three years later, his fourth Mission film, subtitled Ghost Protocol, became the biggest hit of his career, and Cruise was back with a vengeance. Now, after a unique trio of successful action films — Jack Reacher, Oblivion, and Edge of Tomorrow — Cruise has returned once more in his most famous role with M:I – Rogue Nation, out July 31st.
Directed by Christopher McQuarrie — who won an Oscar for writing one of the greatest thrillers of all time, The Usual Suspects — Rogue Nation is filled with the type of old-school explosions and fistfights that are sorely missing at the multiplex nowadays. Perhaps more astounding than the fuselage-clinging moment is an awe-inspiring sequence in which Cruise swims underwater devoid of breathing apparatus. Shot in one continuous take, the scene was made possible because Cruise reportedly held his breath for six minutes — while moving — by implementing an advanced breathing technique known as dynamic apnea. To execute the perilous stunt, the actor underwent months of rigorous underwater training. According to experts, it should take years of training and meditation for a human being to accomplish such a feat. But Tom Cruise is not a normal human being.