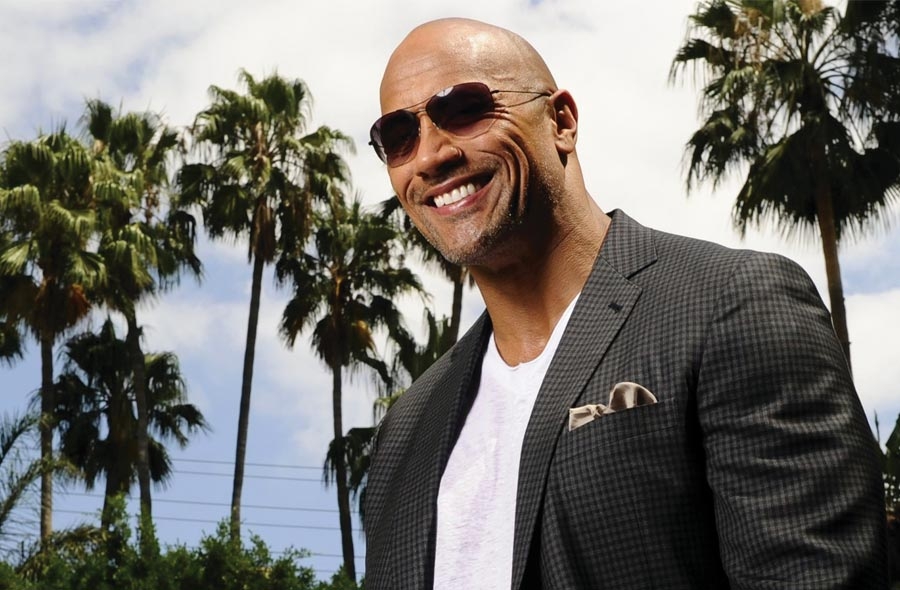 Who is Dwayne Johnson?
Well for one, he's a star. With over 1.3 billion in global box office receipts in 2013, the films made by the 6′ 4″, Johnson grossed more than those of any other actor that year. Through sheer willpower and staggering work ethic, the man formerly known as "The Rock" has cemented his place as one of the most bankable stars on the planet.
His transitions — from defensive tackle at the University of Miami to World Wrestling champion to international superstar — have been swift and impressive. His physique — the product of a fitness regimen that mirrors his acting output in its fastidious toiling — is nothing short of godlike. Actor, wrestler, producer, author: Dwayne Johnson is many things, but if you still think you don't know the man, here's all the pertinent information….
He's resilient. Johnson was raised as an only child in a family that was close knit but frequently displaced. As he became a teenager, he "struggled to stay on the right path… getting arrested when [he] was thirteen," Johnson says. But a fateful awakening came the following year: "When I was fourteen, we got evicted. We came home to a padlock… I looked up at my mom and she was crying, and there was nothing I could do. I remember thinking, 'this can never happen again.' " Determined to never relive the anguish of that day, Johnson channeled his pain into the will to forge a lasting career.
He's a tireless worker. "The men I idolized built their bodies and became somebody — like Sylvester Stallone and Arnold Schwarzenegger — and I thought, 'that could be me,' " Johnson says. "So I started working out… I didn't realize back then that I was having a defining moment." After years of slaving away in dank weight rooms (between football, wrestling and running track), Johnson was fielding scholarships from several top schools. Miami seemed like a natural fit, and soon he was winning a national championship with the team. Everything was going as planned until one day he was sidelined by an injury. He was supposed to only miss a few weeks; unfortunately for Johnson, the man who replaced him was future Hall-of-Famer Warren Sapp.
He's determined. Far from deterred, Johnson made the most of his scholarship, graduating in 1995 with a B.A. in Criminology and Psychology. He had always dreamt of playing in the NFL, but unlike the All-Pro who supplanted him, Johnson failed to make the Combine. "If something stands between you and your success, move it — never be denied," he says. And with that doughty determination, Johnson turned to the country of his father's birth, making it into the Canadian Football League later that year. But after just two months, he was cut by the Calgary Stampeders. Beaten but not broken, he set his sights on his ostensible birthright.
He's a gladiator. You see, wrestling is in Dwayne Johnson's blood. His father, "Rocky" Johnson, was a wrestler. His grandfather, "High Chief" Peter Maivia, as a wrestler. Two of his uncles and five of his cousins were wrestlers. So after his brief tenure in the CFL, Johnson stopped fighting the inevitable. Under the name "Rocky Maivia" (an homage to his forefathers), and with his father's tutelage, Johnson fought his way into what was then the WWF. He quickly discovered that in wrestling, the relationship with the audience was far more visceral than when he was simply one of four rushing the quarterback. In the ring, he was the center of attention — he commanded it — and the sport allowed him to tap into an entire reservoir of latent talent. Eighteen years and 17 world championships later, Johnson is beloved by wrestling enthusiasts (and even those who detest the sport) for his magnetic charisma.
He's an actor. That charisma was far too radiant to be confined to the ring, so in the late Nineties, Dwayne Johnson began to pursue acting. In 2000, he hosted Saturday Night Live, and in 2002 he netted a Guinness-record $5.5 million paycheck for his first lead role — as the eponymous Scorpion King. Since then, he really hasn't looked back, starring in over 15 films, including the colossal Fast and Furious and G.I. Joe franchises. Over the years, Johnson has garnered widespread praise for his massive presence (both literally and figuratively) and raw magnetism on screen — as well as his expert comedic timing (he killed as "The Rock Obama" on SNL) and willingness to brave diverse roles (like a gay bodyguard in Be Cool).
Dwayne Johnson's latest movie role is in the seventh Fast film, the highly-anticipated Furious 7, which hits theaters on April 3rd. The film's production had to be delayed due to the untimely passing of Johnson's co-star, Paul Walker, in 2013. The world was shocked by Walker's death, with many taking to social media and Twitter in remembrance of the young star. Few eulogies were as poignant as the piece Johnson penned for Entertainment Weekly; it was a moving and heartfelt tribute to Walker — one that also demonstrated the emotional depth and sense of loss felt by its author. Anyone who may have held preconceptions about Johnson (or who needs a reminder of what a tragic loss Walker's death was) would be well-served to read the tribute.
He's an altruist. Giving back has always been extremely important to Johnson, as evidenced by his current television project, Wake Up Call. On the show, Johnson helps struggling people seize control of their lives. A big Malcolm Gladwell fan, Johnson wholly understands the importance of opportunities in people's lives, even if his were minuscule. "I grew up where, when a door closed, a window didn't open," he says. "The only thing I had was cracks. I'd do anything to get through those cracks." And now he'll do anything to provide others with cracks of their own in which to break through.
He's an inspiration. To young black, biracial and Samoan kids, Johnson stands as a shining example of the heights which can be attained through persistent dedication. To those of all backgrounds, he embodies the levels of success (physical, financial, philanthropic) that are possible when you work hard and ardently devote yourself to whatever you do. And it seems as if Johnson is fully aware that his success can be primarily attributed to his tireless work ethic. His edge has always derived not from his good looks, impressive physique or innate talent, but rather from his persistent willingness to consistently outwork the next man — and to never allow anyone else to define him.
Aside from Furious 7, Dwayne Johnson has several projects on the horizon, including the big-budget films San Andreas and Baywatch; a follow-up to his bestselling book The Rock Says; and an Entourage-style, sports-themed show for HBO entitled Ballers. Johnson clearly knows that the amount of opportunity that comes with eight-figure movie offers and nearly eight million Twitter followers is not something to be squandered. He's a man who has labored for decades to get where he is and he's determined to not get complacent: "Now it's more strategic… you align yourself smarter so you can achieve what you want to achieve… in my case that's a little thing called world domination." If you remember just one thing about Dwayne Johnson, please know that he's ambitious.