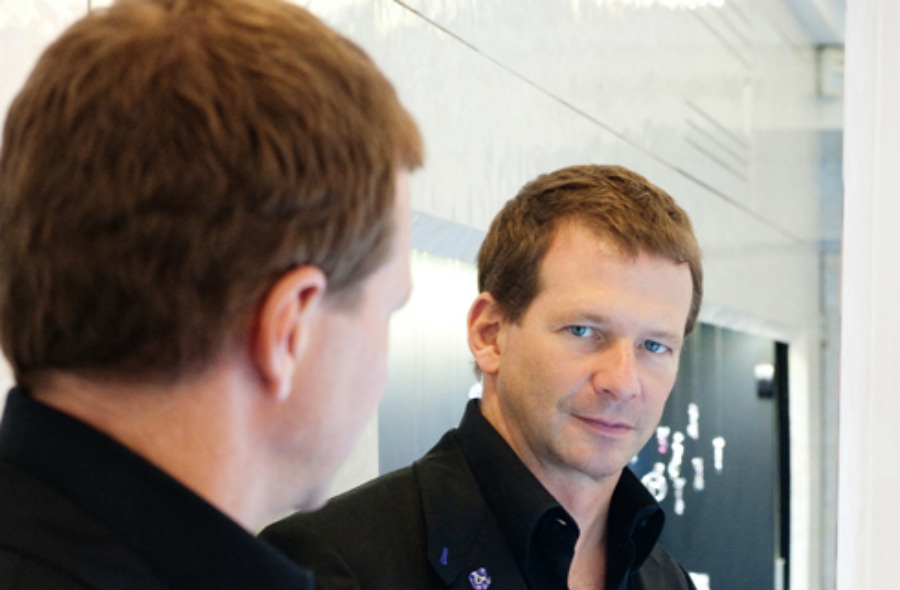 "I would love to be seen as an artist who creates sculptures to be worn," states Lorenz Bäumer, the creator behind Louis Vuitton fine jewelry.
In fact, he has been the creator of many fine jewelry pieces for other eminent names such as Chanel, Guerlain and Baccarat. These most reputable houses would only enlist a most proficient jeweler to uphold their reputation, bien sûr! But Lorenz Bäumer has his own great name and salon also, where he describes to me in a recent interview the commonality he shares with Louis Vuitton as well as his most poetically expressed inspirations, and the one "erotic object" he finds amusing.
Located on the prestigious Place Vendôme, Paris, Bäumer chose this location for his jewelry salon "because Paris is one of the only cities where exceptional jewelry can be made." He elaborates, "here are the greatest artisans, whose savoir faire is transmitted from generation to generation, and the latest techniques are the fruit of an ancestral culture." Bäumer is a worldly man, a well-traveled and charismatic gentleman, who poetically speaks as if in serenade. "I have always loved jewelry," he begins, "it is the heart of life, at the crossroads of art and technique, of desire and pleasure." Go on, I tell him so as not to deter him from thought. "All the elements, even those that are hardly visible or deliberately hidden, are worked to the point of obsession."
His jewelry is so beautifully crafted and creatively perceived that words alone do not do it justice, as these exceptional rings, necklaces and timepieces are a treasure. Ironically, Bäumer is educated in engineering yet chose this profession immediately upon graduation because of the passion he had for jewelry. "I was able to master the many techniques in fine jewelry making because of the very strenuous and unrelenting work, efforts that were nourished by the energy that comes from realizing my dreams." Lucky man, yet luckier I would say is his wife. "Geraldine, my wife is my muse," he adds.
Colorful gold and gemstones, intricate design, and a delicate femininity encompass my favorite Bäumer designs for Louis Vuitton. "As Art Director with Louis Vuitton, I became soaked with the identity of the brand while bringing it my personal sensibility," he describes. "We share the same love of the beautiful, the mix of past, present and future, and the need to take risks to surpass ourselves in excellence."
But how is this achieved, I ask? "To be an Art Director of the jewelry for Louis Vuitton is a very stimulating challenge." This is where my heart started to pound a bit harder. "My driving force is passion. Passion is essential. Without it, nothing is possible; one does not have the courage to learn, or the courage to dare."
Bäumer classifies his own fine jewelry line under the two universes of poet and architect. "In fact, I have sources of inspiration in very different domains because for me, the important thing is to fall in love with an idea." He continues, "You also find my passion for nature and for indulgence in my creations." His life aside from his career is what still influences his work. Bäumer enjoys art exhibits, fine wine, surfing and "a sunset," and admits, "I like everything that makes me dream."
His passion for nature and adventure lies partially in his love of the ocean and surfing. Of the sea, Bäumer describes, "This liquid material, carried along by its unending waves, adorns itself of colors in perpetual movement." In fact, he claims this was a bond he shared with Princess Charlene of Monaco when he created for her the Foam of Diamonds tiara as a wedding gift. "This tiara is one of the most beautiful pieces I've created. With it, I realized that Charlene and I had something in common: the water," he says of the former Olympic swimmer. "Through this tiara, I represent what unites us and what I prefer: the breaking wave." This one piece required "incredible know-how on which the best craftsmen worked during thousands of hours." This stunning tiara truly fit for a princess is created "in grey gold, paved by round and calibrated diamonds, and sublimated by eleven pear-shaped diamonds."
Pushing the envelope for unique creativity is a constant for the designer/artist, whose pieces can take anywhere from a couple of months to a few years to complete. Bäumer explains that while some designs quickly come to mind, the intricate production of some piece, or stone sourcing, for instance, can take several years. "Spontaneity is primordial. I design by instinct, almost without thinking." Bäumer's use of non-conventional elements in fine jewelry is innovative. "With this desire to always break away from codes, I like mixing materials while breathing some humor, stories or surprises into my creations," he says of some pieces. "That's why I like to use tiger's eye, meteorites or even pebbles taken from a sandy beach, for example." When it comes to the custom pieces commissioned for a specific client, Bäumer says that they request something very individualized for the person it is intended for. "I choose to design a piece of jewelry that will eternally express the essence of that individual." The reaction he often receives from his international clients, Bäumer states, is that they all want, "to be blown away."
I, too, was blown away by many pieces, including a brooch designed in a way to emit the perfume of your choice. The colorful Scarab Brooch "has bejeweled wings that open to reveal a porous black aluminum body that can absorb and release perfume." And then there is the watch he created for himself with the utmost personal touch of the image of his own skull as part of the design.
Another original piece Bäumer created is also a bit humorous, he admits. "Representational, abstract, or symbolic, the erotic object amuses me," he laughs of the engraved condom container he created for a charity event for AIDS awareness. Oui, oui, tis an elegant way of protecting the family jewels, and the perfect compliment to the Louis Vuitton condoms. The elegant case ensures you can be fashionable from head to head. Ok, I'll stop slipping in the phallic commentary.
Bäumer concludes by explaining how "having a jewel can be a symbol of a love for life." His new salon will still be at Place Vendôme, yet he would not divulge any more information than that stating, "it will be a surprise."