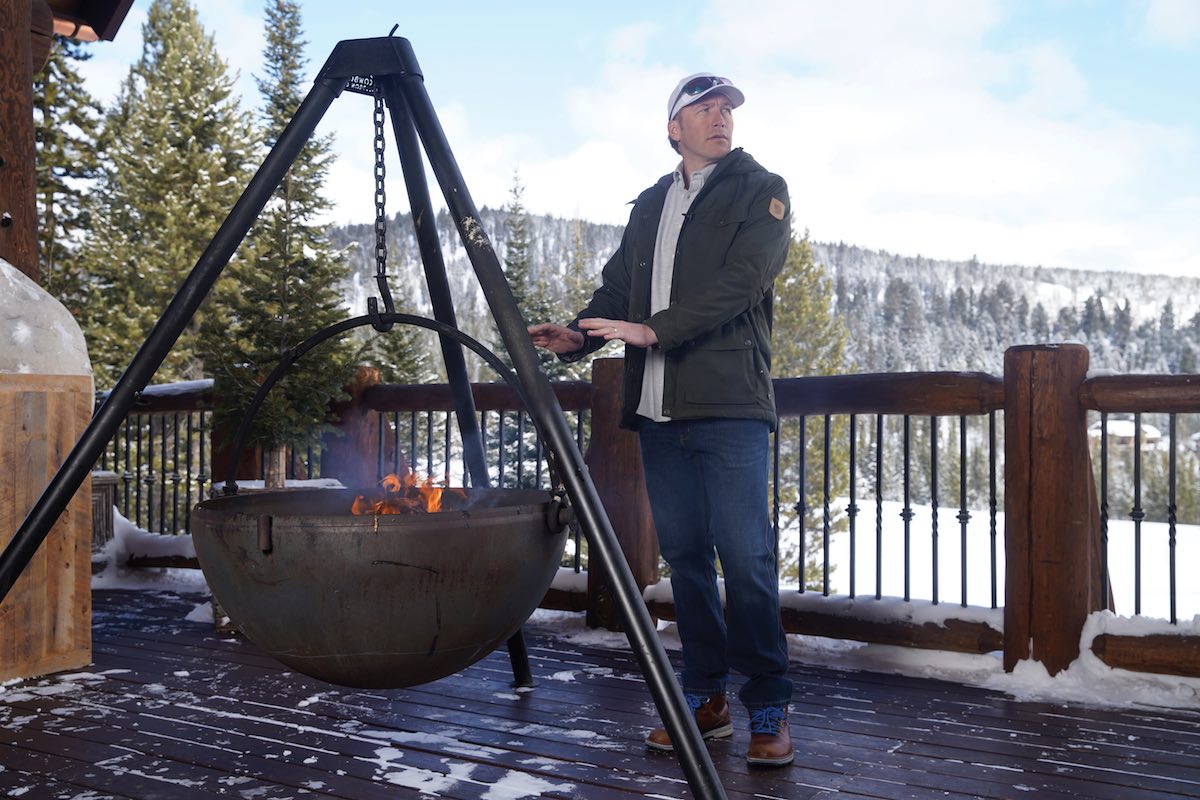 Bode Miller is a new kind of mountain man. He's way beyond bombing down black diamonds in the blink of an eye, and onto enjoying slower, immeasurably beautiful pleasures. Living his best life as a family man at Spanish Peaks Mountain Club in Big Sky, Montana, he's evolved beyond "champion" into the most meaningful version of himself. A present, mindful father, a winter sports educator; meet the man who relishes angling Montana's rivers and can always spare a quarter cord of firewood for a neighbor.
Any alpine community from Chamonix to Courchevel would be thrilled to welcome the Millers. The clan exudes robust energy and boundless love. The kids are sweet natured; the toddlers, rosy cheeked dollops of giggling, fluffy meringue. Here in Big Sky, he's just Bode, patriarch of a sporty bunch, a diplomat for fresh alpine air. Renowned for his sentient snow literacy, Miller has fallen hard for life in Big Sky, Montana.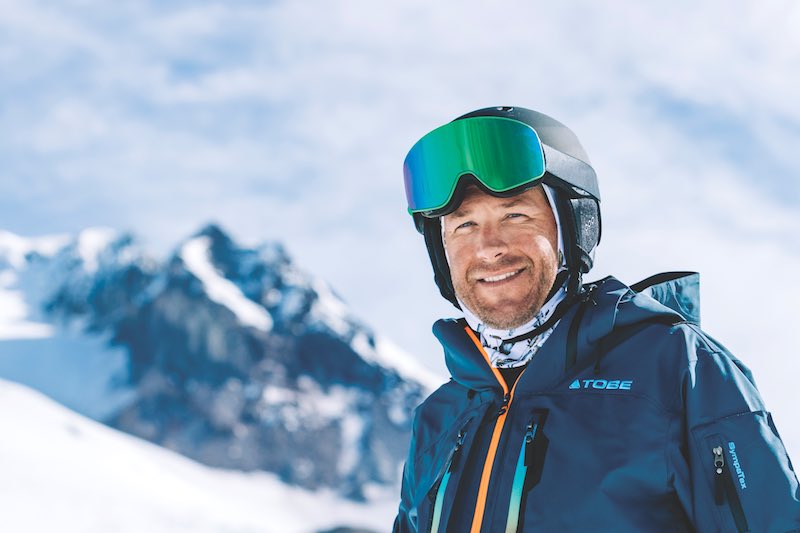 On our exceedingly deep dive of a call, Bode opened up about what building a life in Montana has meant to his family. "I knew this was my happy place; but could it be for them? After the first three days, I had my answer. The kids were out climbing boulders, coming home with twigs in their hair," he recalls, a fond warmth in his voice. "It was like watching bear cubs find their way in their element, not even knowing this was their element." After 35 years of self-oriented sacrifice to succeed in his sport, now it's all about family. "My wife, Morgan can kick back and exhale up here; the kids get to see us relaxed. As a result, they're exploring self-reliance, a critical part of child development," Miller observes.
The combined ski areas of Big Sky Resort and Moonlight Basin created one of the largest ski areas in the United States, with more than 5,800 acres of skiable terrain and nearly 28,000 acres of resort development in Montana's Big Sky region. The jewel of the region, Spanish Peaks Mountain Club, is a 5,700-acre, membership-based ski and golf community. Nestled alongside Big Sky Resort, this private club offers a living coffee table book of beauty and adventure. Every acre thrives in balance, what needs tending is meticulously maintained; what is rugged is left wild and free. Spanish Peaks' luxury mountain homes are what property dreams are made of; sensitive stewardship of this coveted alpine setting inspires the architectural design process. A seamless blend of site and design emerge euphoric, innovative living spaces to inspire generations of alpine enthusiasts.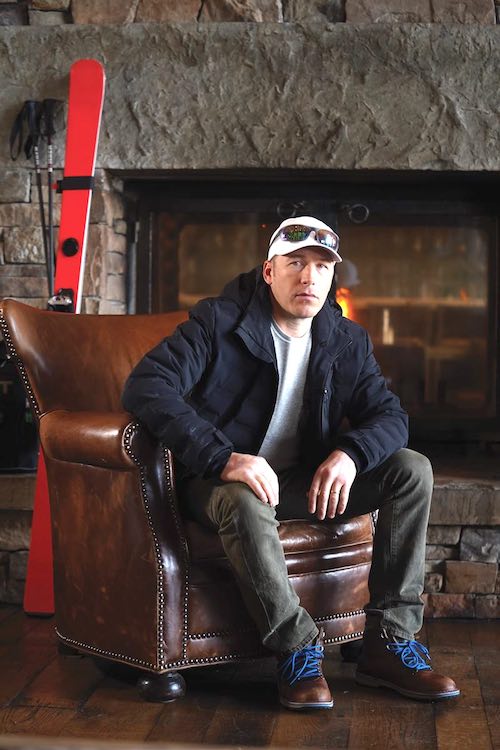 Graced by a Tom Weiskopf 18-hole championship golf course, Spanish Peaks members also enjoy access to 5800 acres of skiing at Big Sky Resort, with a private base located at the Clubhouse. Such Bode Miller-inspired amenities feel right at home in Big Sky, a fresh slate in comparison to Aspen and Telluride, both of which are repurposed mining towns. Soon, there will be a billion dollars worth of infrastructure in Big Sky. "Big Sky has solid backing, debt-free developers determined to make this a 21st Century ski town," Miller says.
As a Giant Slalom junkie, seeing Bode compete over the years never failed to release feel-good endorphins, my eyes riveted to the screen. I knew he would flirt with the fringe of sanity—riding a catastrophically cathartic edge—blazing a trail of emotional fire and technical fury. With sheer grit and steely gravitas, Miller was a champion to call our own. To a generation of young skiers, he was the achingly cool big brother they wished they'd had growing up. Rising from humble beginnings in rural New Hampshire, he had a relatable origin story.
Miller knew when he stood at the start gate, a hush falling over Kitzbuhel, that sustaining sovereignty in the face of immeasurable variables was key. "You need something that is yours, that you own, complete authorship and accountability," he confides. "Everything I did from a young age was in line with this element of independence. The psychological act of standing on my own against fierce competition, knowing what I had done was enough."
Even the most successful male American alpine ski racer of all time panics. Racing against the top rivals on the planet, there was no ceiling. "I saw a picture of Hermann Maier that put me in the tank for a year and a half," chuckles Miller. "He's on a physiotherapy table, electrodes attached to his quads, with muscles that don't belong on a human being. He's technically better, better equipment, and his quads had obscene muscles. I'm like, super, that's my next 34 races."
In retrospect, Miller feels the majority of what he accomplished was mind over matter. "It became about empowering myself. The one thing I could get Hermann on was that. He's too tactically sound to risk crashing, he believes in his ability; I didn't believe in my ability then, so I had to take risks tactically. I'm from New Hampshire, a gritty New England boy. I knew I could master the psychological side—be gnarlier, be tougher mentally; that was my ace in the hole," he reflects philosophically. "It boiled down to what I was willing to do mentally, and how I managed my inspiration and arousal level come World Cup time."
Bode belongs to an exalted caliber of athletic heroes who transcend sport itself. He exudes that elusive "clutch" (way before the concept emerged as a pop culture phenomenon), something rivals with far more finesse could never seem to achieve. By exposing his flaws unflinchingly, when the virtuoso won, finish line spectators erupted beyond applause—veering wildly toward collective deliverance.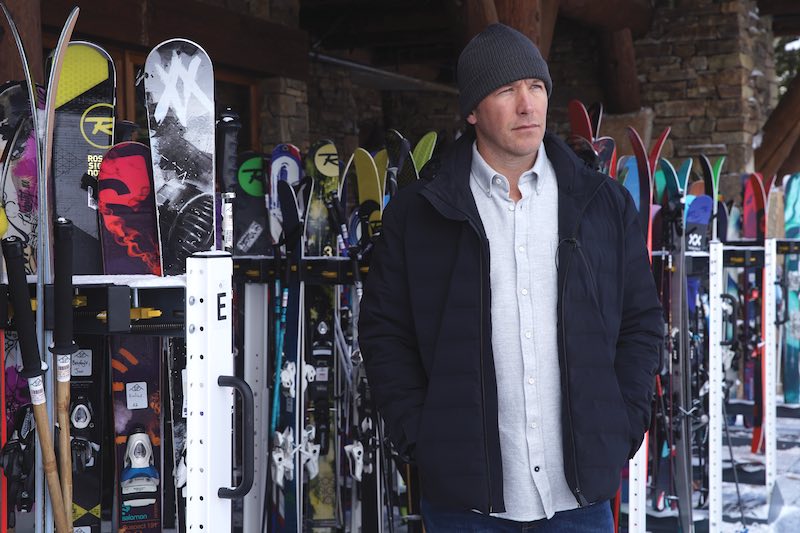 Shaped by the backcountry, both athletically and constitutionally, his early training was more lumberjack camp than elite regimen. He's come a long way from the kid born to loving, hippie parents, in a cabin in the woods without electricity or running water. Ever the gear aficionado, I get saber-toothed butterflies when Miller starts to talk Crosson, the ski brand he's been involved with since spring. "It's a dichotomy in our minds; science versus art. Crosson lives at the intersection of inspiration and skiing; this reflects how I approached the sport from the beginning," he muses. "The artistic component is the only part, more or less, that's immortal, or is limitless. If you race for physical validation, you reach your quota. There is no quota for art; the exploration is limitless."