The awe-inspiring trek to Everest Base Camp in Nepal stands as the pinnacle of bucket list experiences. Amid towering peaks and snow-capped wonders, every step unveils a testament to human resilience and the indomitable spirit of exploration. Join me as I recount the extraordinary tale of my personal odyssey, where the thin cool air echoed with dreams, and the Himalayas revealed their majestic secrets, leaving an indelible mark on my soul.
Climbing the Seven Summits The Everest Base Camp (EBC) trek is an attainable must-do for all possessing some athletic ability and an adventurous spirit. With the right combination of training, desire and fortitude, this trip is within reach, even for those non-mountaineers among us. Of course, it can't be done alone. The magnitude of logistical coordination required for a journey to Everest Base Camp, let alone summiting Everest, is rather daunting. Choosing the right company, the right partner, for an EBC trek is crucial. Climbing the Seven Summits (CTSS) hits the mark with their deep understanding of the physical nature of the trek, the importance of climber health and number one objective of making this the trip of a lifetime for their clients. The CTSS difference allows trekkers to focus on not merely enjoying the experience, but thriving while their team takes care of every conceivable detail. Rugged Luxury Executive Trek is their aptly named EBC package. Whether one is newer to a trek this physically challenging, as I was, or an experienced climber on a life path to conquer each of the seven summits, arriving at base camp in good health and with high energy is critical but by no means guaranteed.
CTSS selects the best available tea houses and lodges along the route. Each lodge is vetted for food quality, cleanliness and service. The cumulative effect of waking up properly rested, well fed and healthy each day makes a huge difference in climber morale over the course of a long and strenuous trek. Incremental benefits each day add up to a big difference at the end.
The Rugged Luxury approach appeals to a broad range of adventure travelers, from the weekend warrior fulfilling a bucket list dream trip, to a seasoned climber seeking an advantage while attempting an Everest summit. For those of us whose final destination is Everest Base Camp at 17,600 feet of elevation and not the summit, the bonus experience is exposure to climbers on route to the summit, which measures more than 29,000 feet. I was afforded a front row seat to an Everest expedition and got to meet the climbers and learn what makes them tick, while sitting at the foot of the Khumbu ice fall soaking in climbing culture.
My adventure started upon arrival to Kathmandu. The city's bustling streets are filled with a delightful chaos, where ancient temples coexist with modern architecture. We stayed in the Kathmandu Hyatt Regency in the heart of the city and connected to the vibrant culture. Built in the traditional Newari style of Nepalese architecture, the Hyatt Regency is a great introduction to Nepal and Kathmandu.
The excitement grew as I finally met the rest of my fellow trekkers and CTSS team during an informal dinner. My fellow trekkers were a diverse group bound together by the common love of adventure.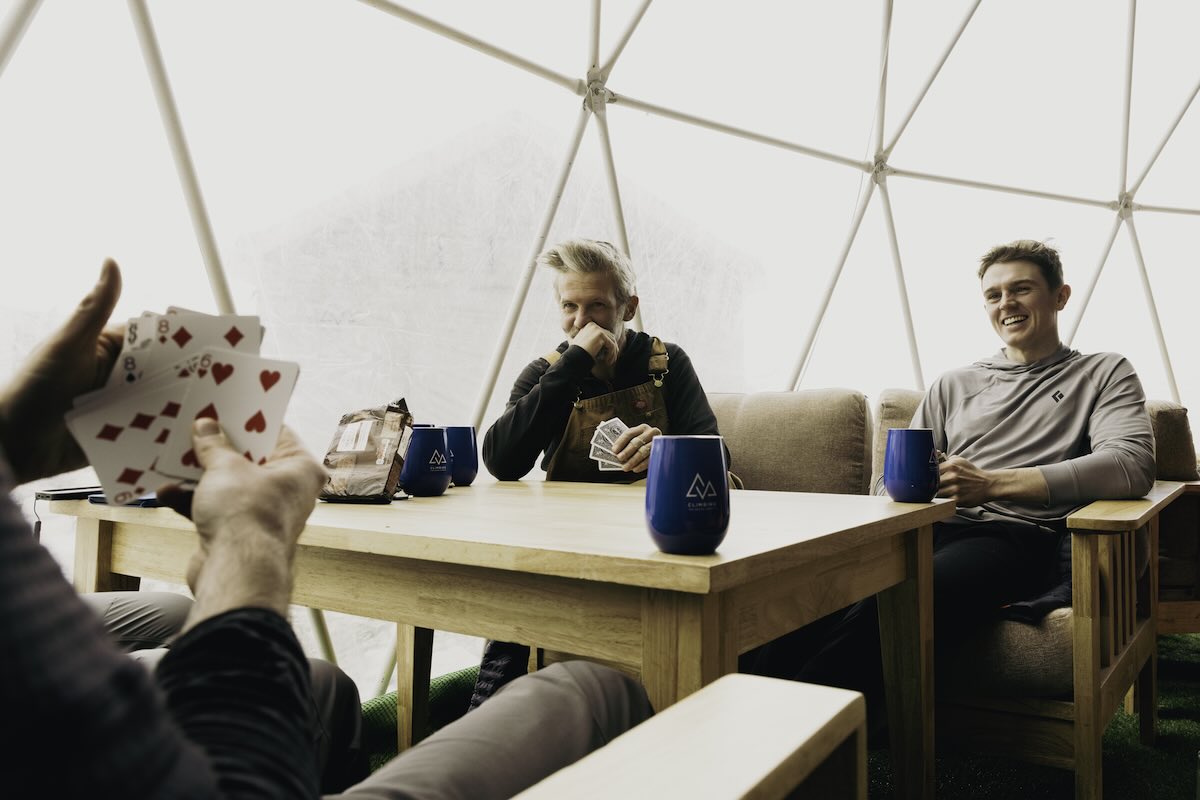 The journey starts in earnest with a jaw-dropping helicopter ride from Kathmandu to the small mountain village of Lukla, the official starting point of the trek to EBC. I quickly ran out of superlatives as the scenery goes from amazing to astounding to surreal. As the flight progressed, I was treated to ever more dazzling panoramic views of some of the world's highest and most majestic mountains. The Himalayan range stretches as far as the eye can see, with peaks like Lhotse, Nuptse, Ama Dablam and, of course, Everest dominating the horizon.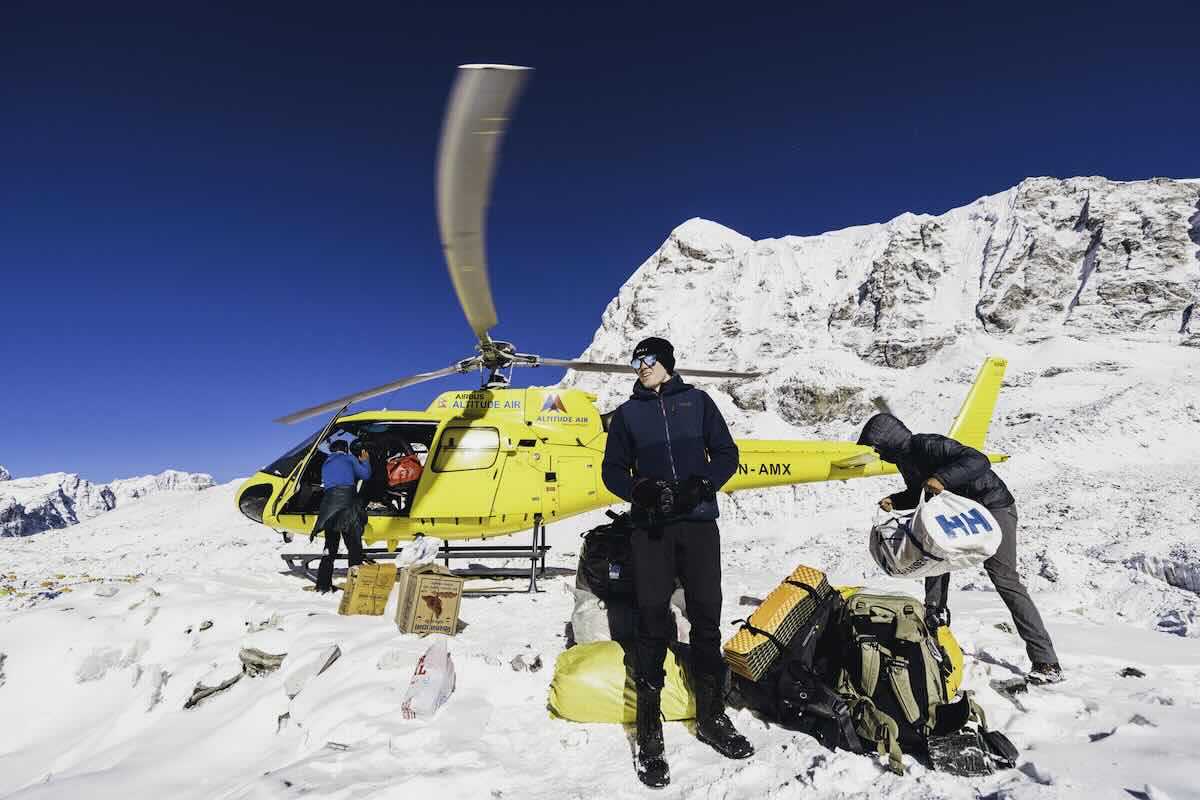 After landing in Lukla, our trek commenced through the stunning Khumbu Valley with a short but energetic hike to a tea house called the Yeti Mountain Home. Dinner was a traditional Nepalese dish of lentil soup and steamed rice called dal bhat. While Nepalese tea houses are a staple on the trek, offering basic lodging and meals, prices and quality vary greatly, so booking through a company like CTSS, which vets each one carefully, is one of the most important decisions you'll make.The next day brought an exhilarating hike to the bustling mountain village of Namche Bazaar. The seven-mile hike is highlighted by unobstructed views of the Khumbu Valley and its multiple suspension bridges, including the famous 200-meter-long Hillary Bridge. While the bridges may not be for the faint of heart, the vistas are certainly worth the effort.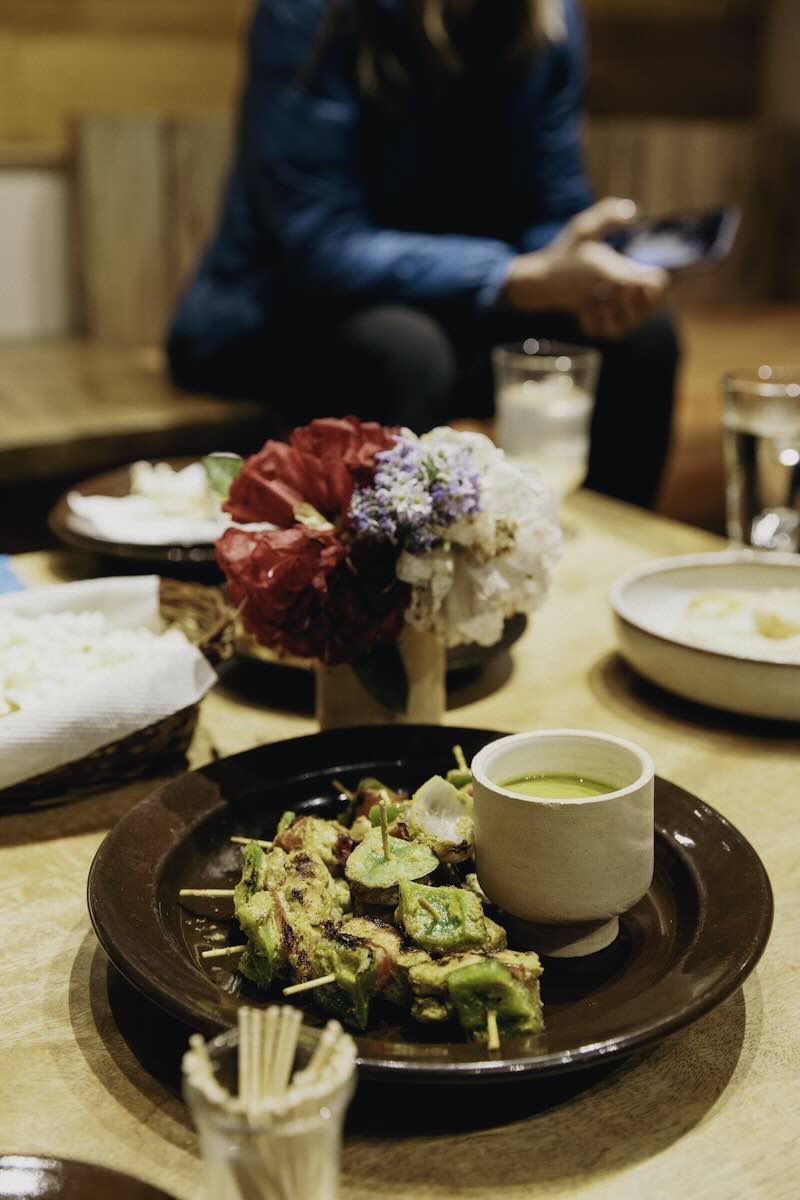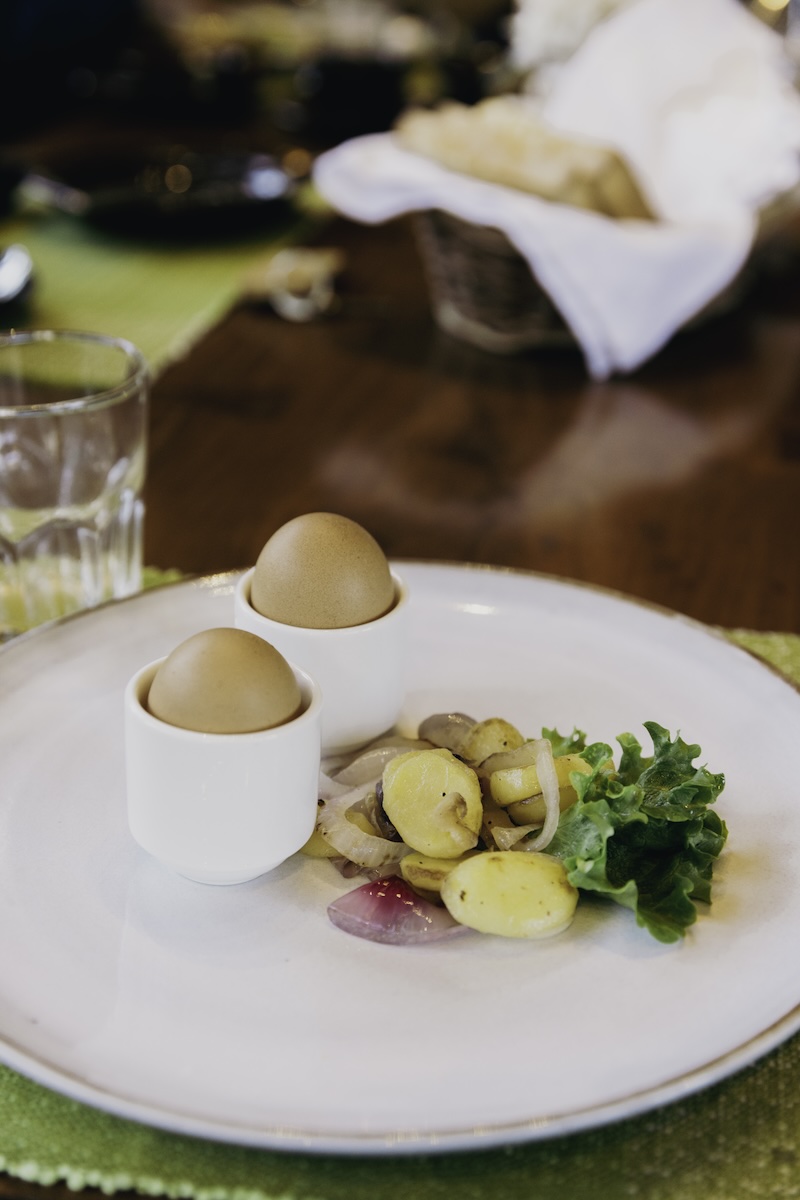 Evolving from a small farming village some forty years ago to an energetic hiker town with its own hydro power generation system, Namche Bazaar is a sight to behold. If you forgot any gear or supplies, this is the place to pick them up.
The daily hiking itinerary follows a pre-determined rhythm that pushes us hard one day to gain elevation and distance then follows with an easier day hike and a second-night stay in the same tea house. The rhythm of a difficult day followed by an easier day is tried and true and I grew to appreciate the process. Our day hike from Namche Bazaar was eight miles out and back to the scenic Thamo Monastery.
The next morning was filled with anticipation as we departed Namche Bazaar and headed towards Debouche and our first views of Everest. Mornings were nicely predictable in that we started each day with a hearty breakfast of eggs, porridge, toast and as much coffee as we could drink. Critically, water bottles were topped off and day packs were readied with the gear we'd need based on the weather. On our way, we saw the awe-inspiring double peak of Ama Dablam. As if this imposing peak isn't enough, Everest is right around the bend. This is what every hiker came to see and anyone not stopping for pictures needs to have their pulse checked. We were blessed with crystal clear skies and limitless views.
Along this trek through the Khumbu Valley, we constantly gained altitude only to cede it back, then reclaimed it later in the hike. On this day we tackled the famed Tengboche Hill—a heart-thumping 2,000-foot vertical climb—up to the Tengboche Monastery at Tengboche. A true highlight of the trip, the Tengboche Monastery was built in the 1600s and has panoramic views of the Himalayan peaks of Tawache, Everest, Nubtse, Lhotse, Ama Dablam and Thamserku.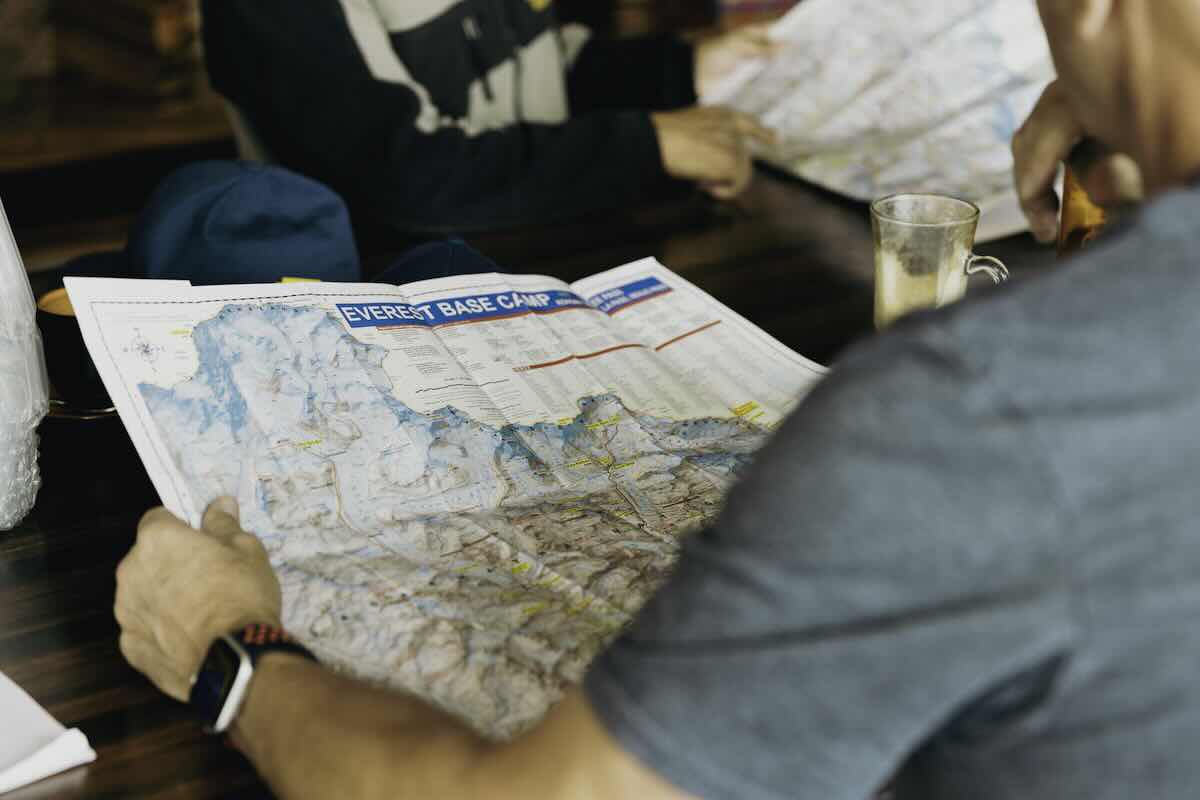 The Sherpa, with their almost mystical reputation, lead the way for CTSS. My trek was led by Big Tendi, who has summited Everest five times over the course of his epic career. In addition to being a seasoned climber and leader, Big Tendi explained the historical significance and cultural importance of the monastery and other destinations. Whether or not you consider yourself to be a spiritual person, you can't help but feel the serenity and inspiration of Buddhism are aiding your effort and keeping a safe watch over your trek.
One of the most fascinating and educational aspects of the trek was learning from the Sherpa about climbing history and the majesty of the Himalayas. From stories about George Mallory's ill-fated attempt in 1924 to Tenzing Norgay and Sir Edmund Hillary's conquest in 1953, the stories alone are riveting and worth the price of admission.
As someone who has been hiking casually his entire life, I was quite surprised to learn that my hiking technique needed work. Big Tendi pointed out that my plodding hiking technique was inefficient and would lead to unnecessary fatigue over the course of the trek. His tips included taking smaller steps whenever possible, slowing my pace and even breathing more evenly. I'll never forget Big Tendi's voice in my ear whispering Bastari, which translates in English to "slowly."
Finally, we arrived at the Rivendell Lodge, nestled in the heart of the Khumbu Valley. I was captivated by a breathtaking sight that transcended mere beauty. As I gazed upon the majestic landscape, my eyes were drawn towards the ethereal silhouette of Mount Everest, the pinnacle of human endeavor and the embodiment of our boundless spirit. In that moment, I felt a surge of inspiration coursing through my veins. It reminded me that the greatest achievements lie beyond the realm of imagination, waiting to be conquered by those with the audacity to dream and the courage to pursue those dreams relentlessly.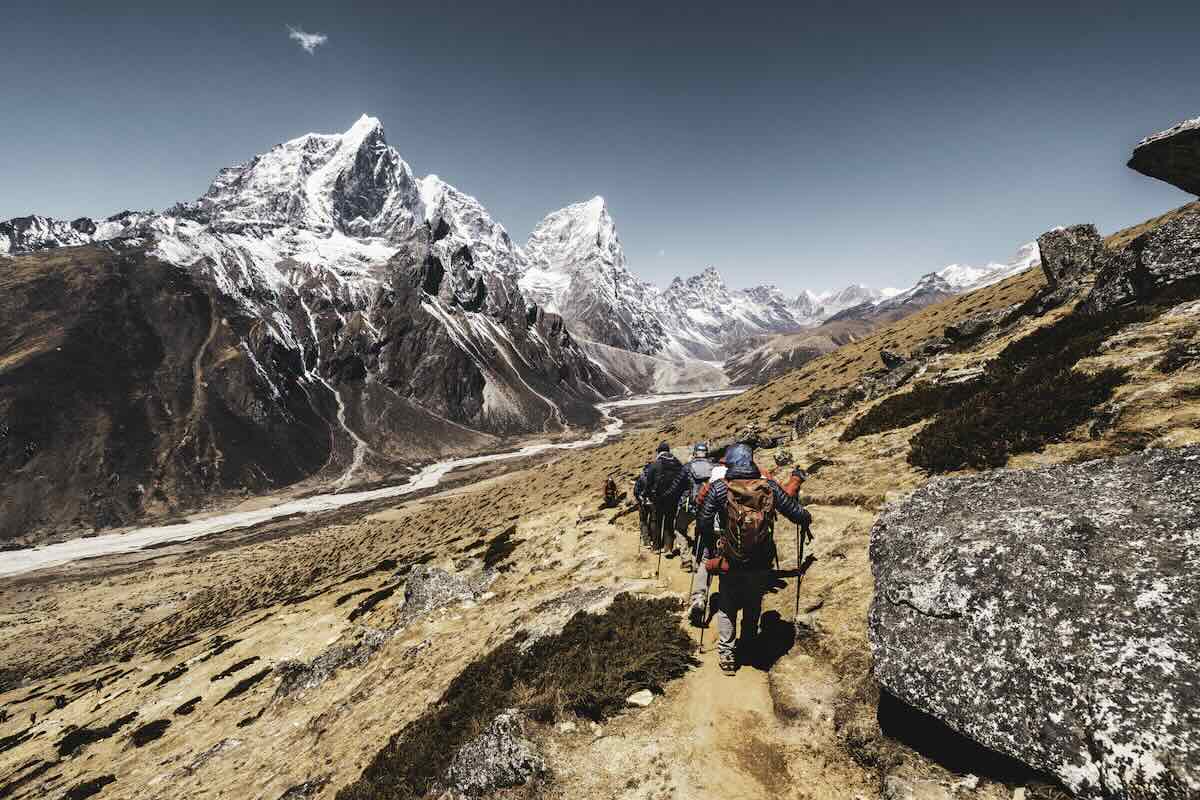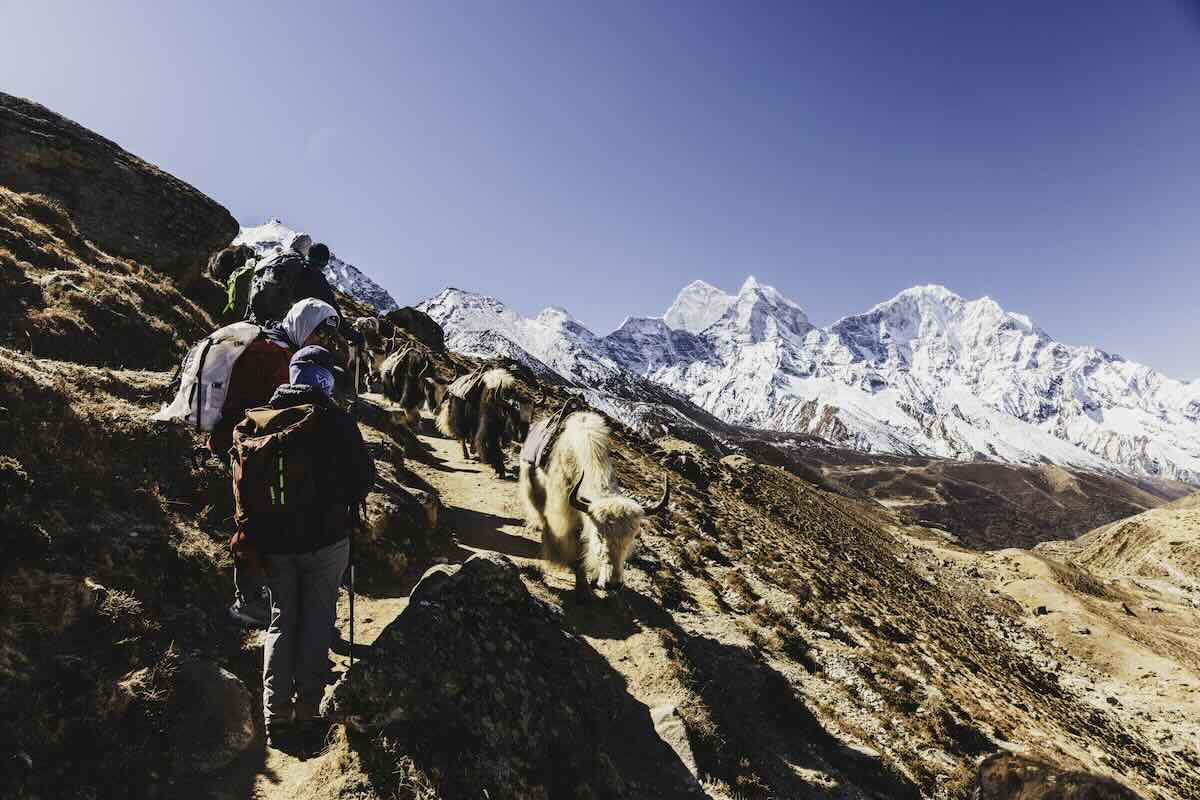 From Rivendell Lodge we embarked on a six-mile hike to Pheriche, at 14,340 feet. It's during this phase that we leave behind the forest and enter the alpine zone. The altitude gain is well worth it as we are paid off with even more stunning views. It was along this portion of the trek that the three summits of Island Peak, Lobuche and Poklade came into view.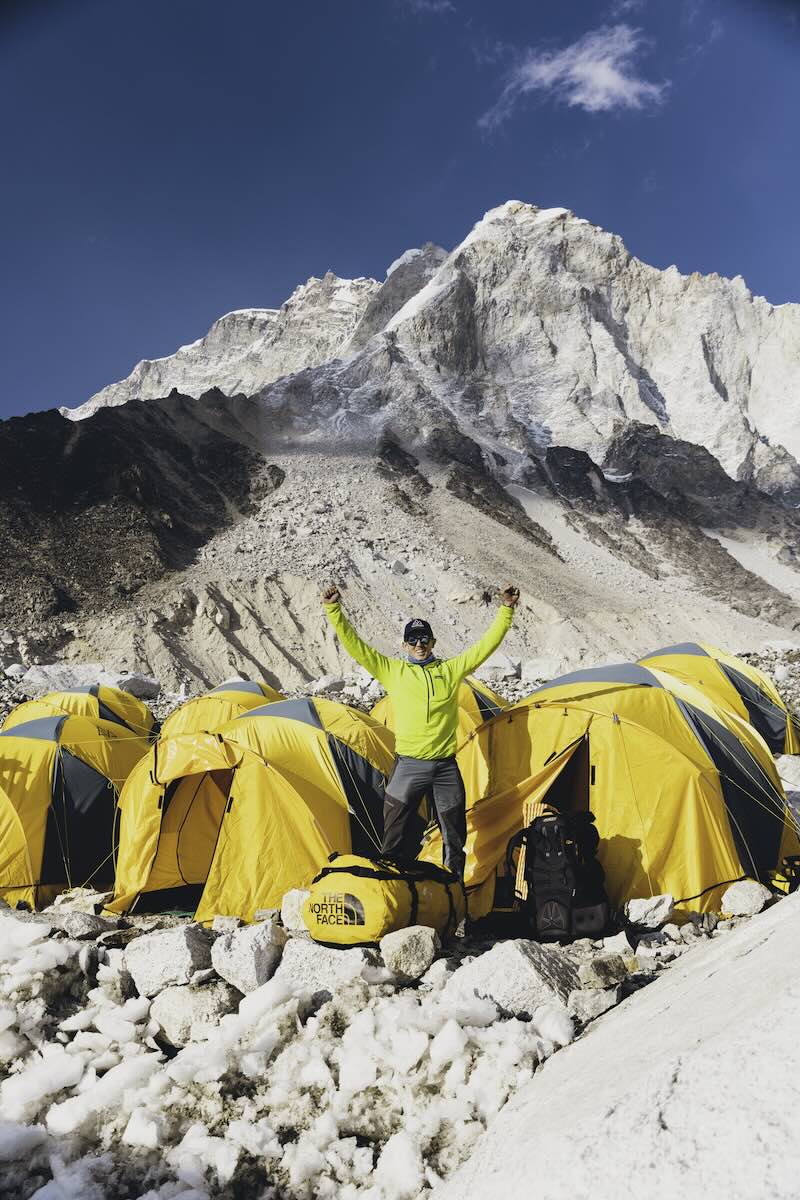 Pheriche is a fascinating outpost on the trail and for my group represented our last night staying in a tea house.From this point on, we'll be housed in tents in Lobuche Base Camp and Everest Base Camp. We're heading higher, the air is getting colder and thinner, steps are a little slower and the biggest peaks that were once just distant images are now within reach. The accommodations and food options in Pheriche were top-notch. Our challenging acclimatization hike out of Pheriche up Narjung Hill gained 2,000 feet of elevation and was necessary to continue to get our bodies ready for even higher altitudes.
The excitement of the group became palpable as we left behind our final tea house in Pheriche and headed to tent camping in Lobuche Base Camp. Generally speaking, the hike from Pheriche to Lobuche was an easy day. At this altitude, this is a emarkable statement and a testament to the way CTSS designs the trip. Legs and lungs are feeling good. The air is cold and crisp. It is along this portion of the trek you pass through the Everest Memorial, a tribute to those that have lost their lives to Everest. It is both touching and somber.
The setup at Lobuche Base Camp consists of several sleeping tents and a main larger dining and gathering tent. Coffee is hot and plentiful and stories from the day are shared. Fatigue quickly sets in at the end of the day and sleep in the cold thin air comes quickly. For those in the Rugged Luxury package, the sleeping tents are larger and big enough to stand up in and have an elevated sleeping platform and thick warm blankets.
My acclimatization hike out of Lobuche was nothing short of spectacular and one of the highlights of my adventure. Big Tendi took a small group to Awi Peak at roughly 17,424 feet. The skies were bright blue, and the panoramic views of the Khumbu Valley and peaks were beyond stunning. My heart was thumping and my breathing was labored at the higher elevations for the first time.
We woke up to sub-zero temperatures but warm coffee and a delicious breakfast. It was time to say an emotional goodbye to many of our fellow trekkers and begin the final ascent to Everest Base Camp. The final trek is probably the longest and most challenging of the entire trip. We gained several thousand feet of elevation over the course of about nine miles. For most of the day, Everest is obscured behind other peaks and it's not until the final miles of the day's trek that Everest comes boldly into view once again. We stop for a long break at a high ridge line and soak up the panoramic views of Base Camp, Mount Everest and the vaunted Khumbu ice fall. It's a surreal feeling knowing base camp is just another mile or so ahead.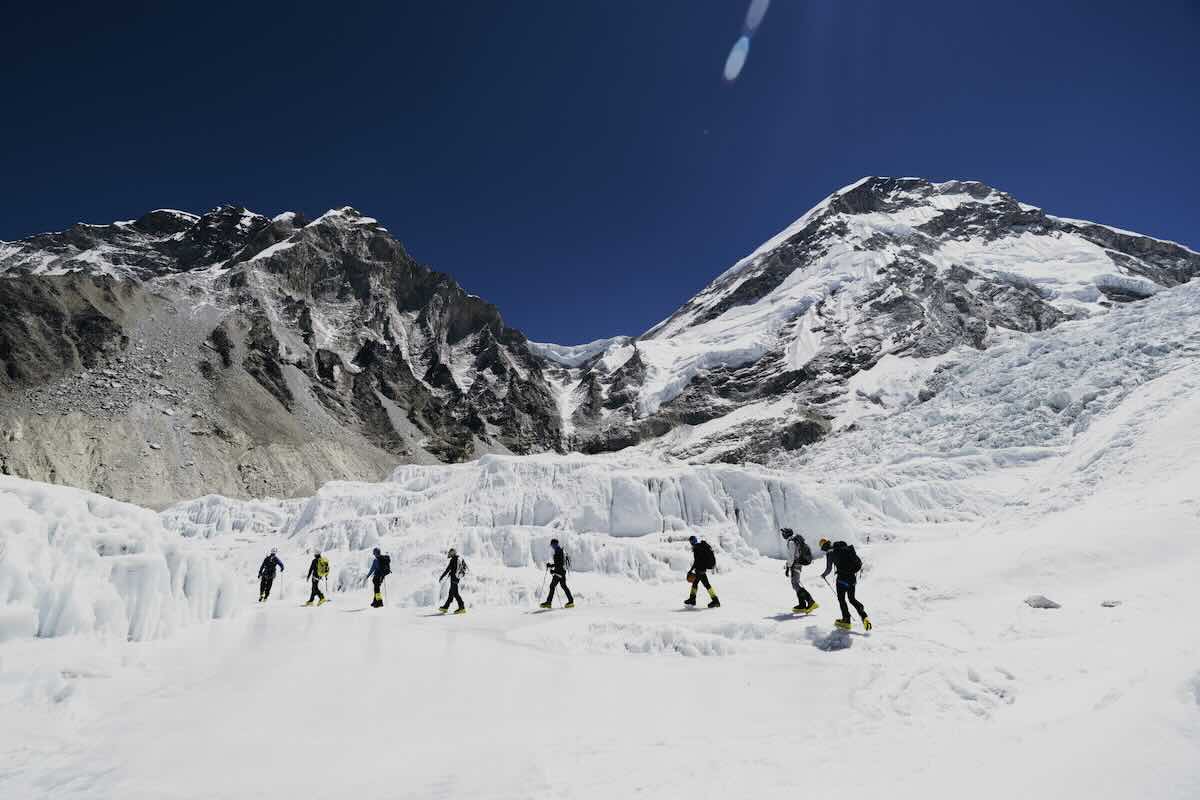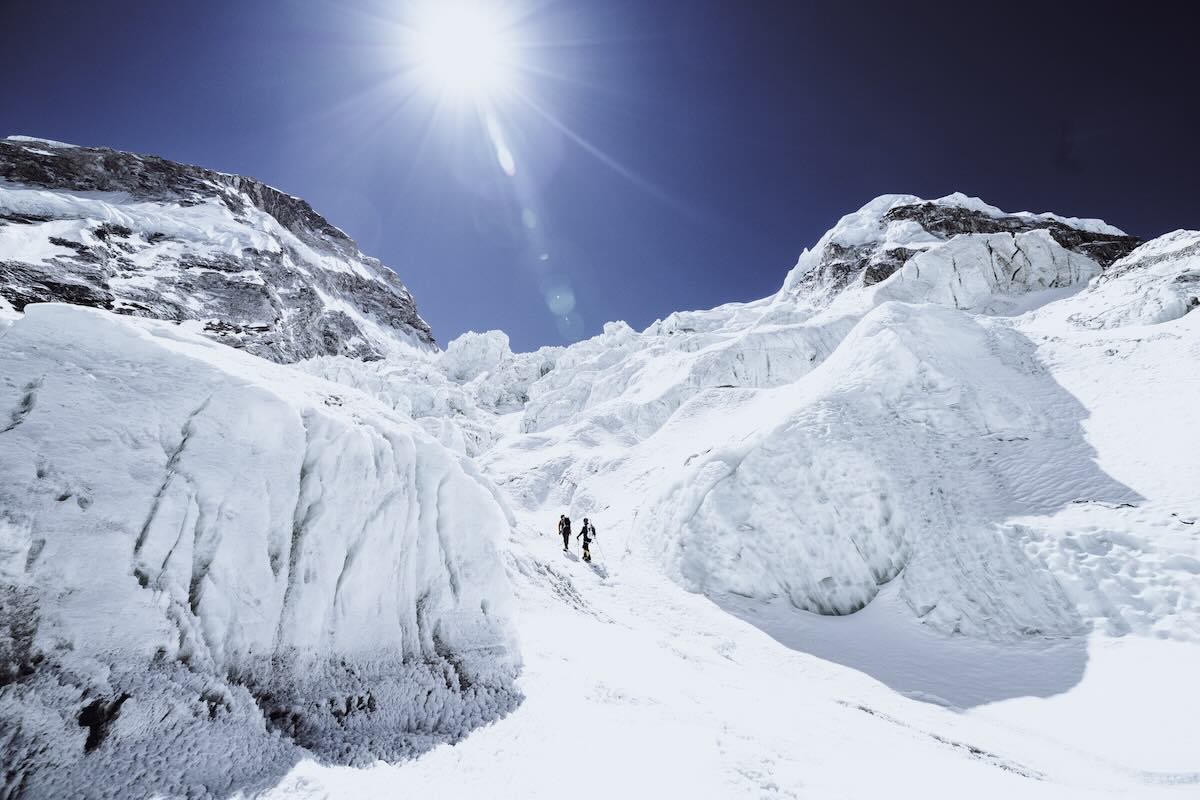 Finally, the moment we had all been waiting for arrived. After days of trekking, we set foot on the hallowed ground of Everest Base Camp. The air was filled with a sense of accomplishment and awe as we gazed upon the majestic peaks towering above us. The feeling of standing at the footsteps of the world's highest peak was indescribable and the CTSS setup at Base Camp is nothing short of an engineering marvel. Its scope and scale are much larger than any photo or video would ever imply. The camp includes sleeping tents, dining tents, bathroom facilities and even a geodesic dome tent with a coffee bar and barista, along with a dazzling view of the peaks surrounding you. Simply astounding.
My first meal in Base Camp was artfully prepared by chef Marc Minella and consisted of pan-seared chicken, mashed potatoes and broccoli. A five-star meal prepared at 17,500 feet by an award-winning chef. Unbelievable!
Sleep that night in my geodesic dome tent would come quickly. CTSS has a solar array set up in base camp that provides enough electricity to power electric blankets in each tent. Since temperatures drop below minus ten degrees, this is an incredible benefit.
Waking up in base camp is about as unique and surreal experience as one can possibly encounter. We're surrounded by the biggest peaks in the world, the Khumbu ice fall is at our feet and we can hear the echo of ice cracking in the distance. The sound of splintering ice can be disconcerting at times, especially in the middle of the night. I woke up several times each night but eventually got used to it. The seasoned trekkers and guides seemed to take it in stride, though.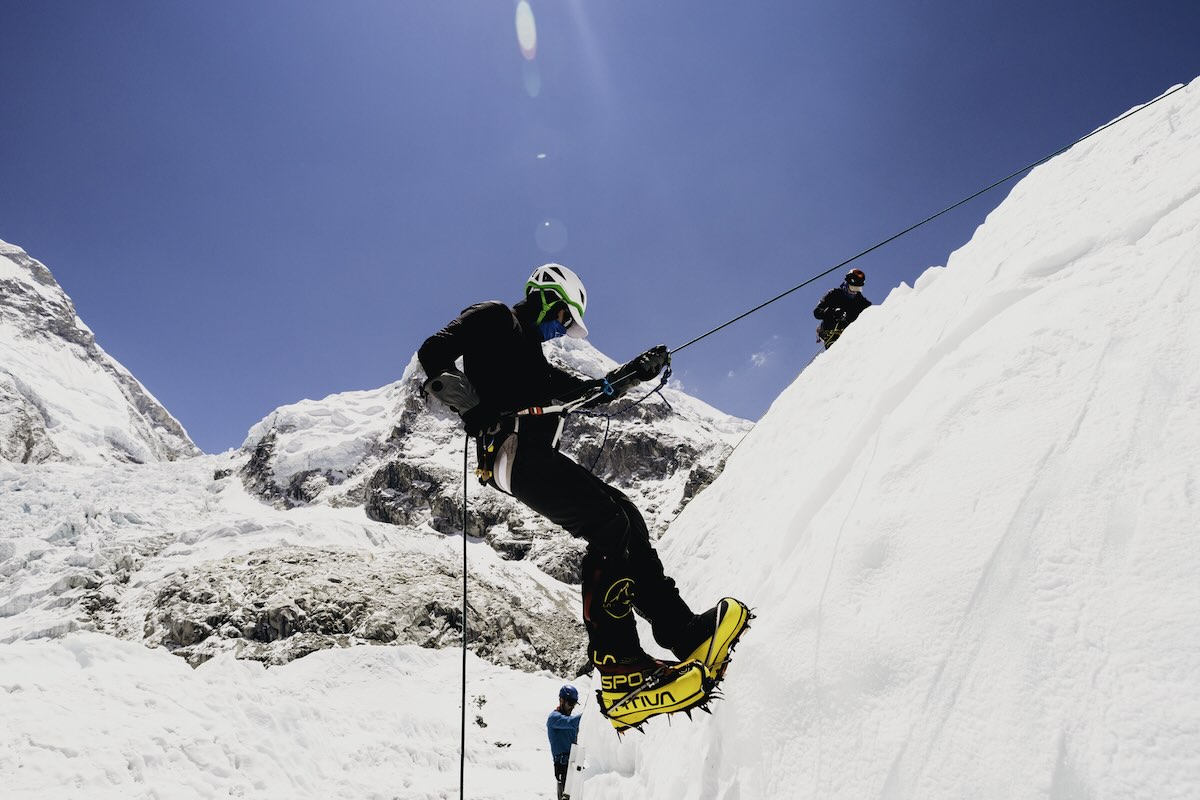 Part of the experience includes spending a full day at base camp and taking a hike into the formidable Khumbu ice fall. The enormity of this natural wonder and its role as the dangerous next step for those on the climb to the summit of Mount Everest is difficult to put into words or even capture in pictures. Truck-sized ice boulders, shifting ice flows and huge crevasses are just a few of the dangers climbers must contend with.
We traversed about half a mile into the ice fall and it was stunning. Those summiting Everest cross crevasses of various lengths on aluminum ladders tethered together by climbing rope and continue to ascend on ropes fixed by an advance team of Sherpas.
Rather than trek back down to Lukla, the Rugged Luxury package includes a helicopter ride—yet another amazing facet of the trip with jaw-dropping views beyond comprehension.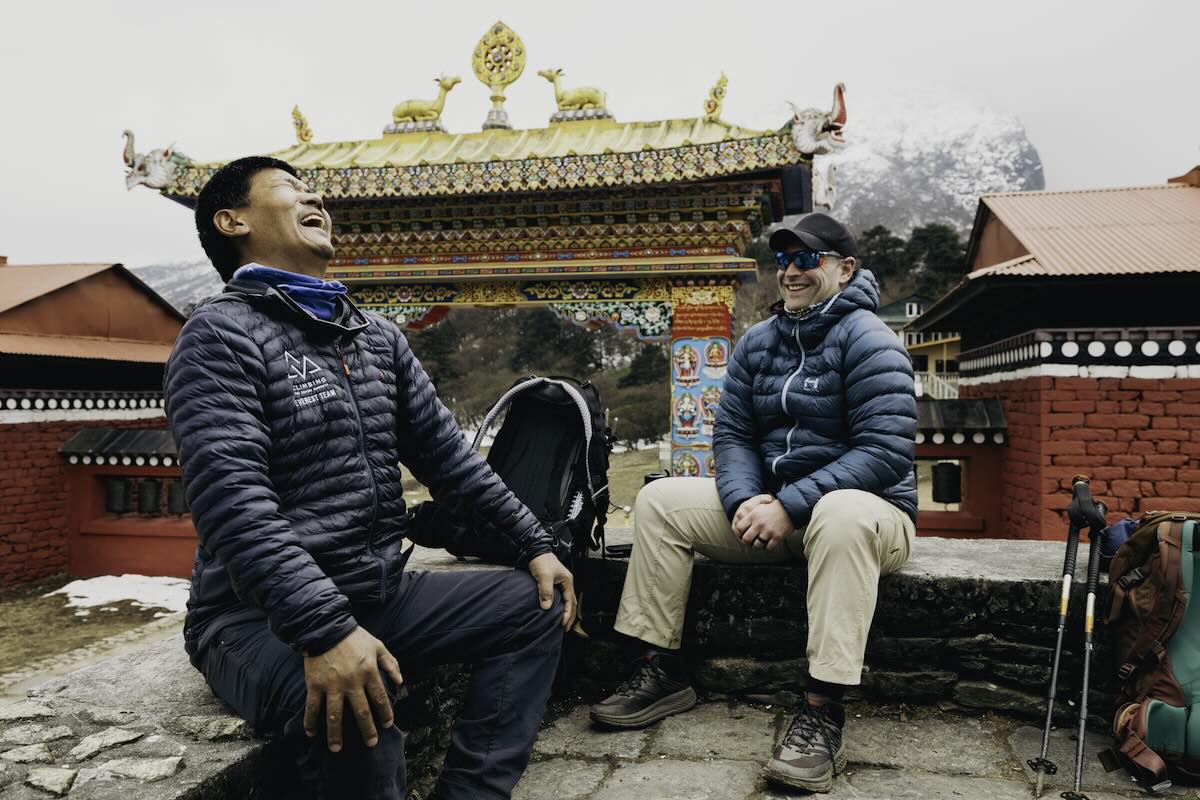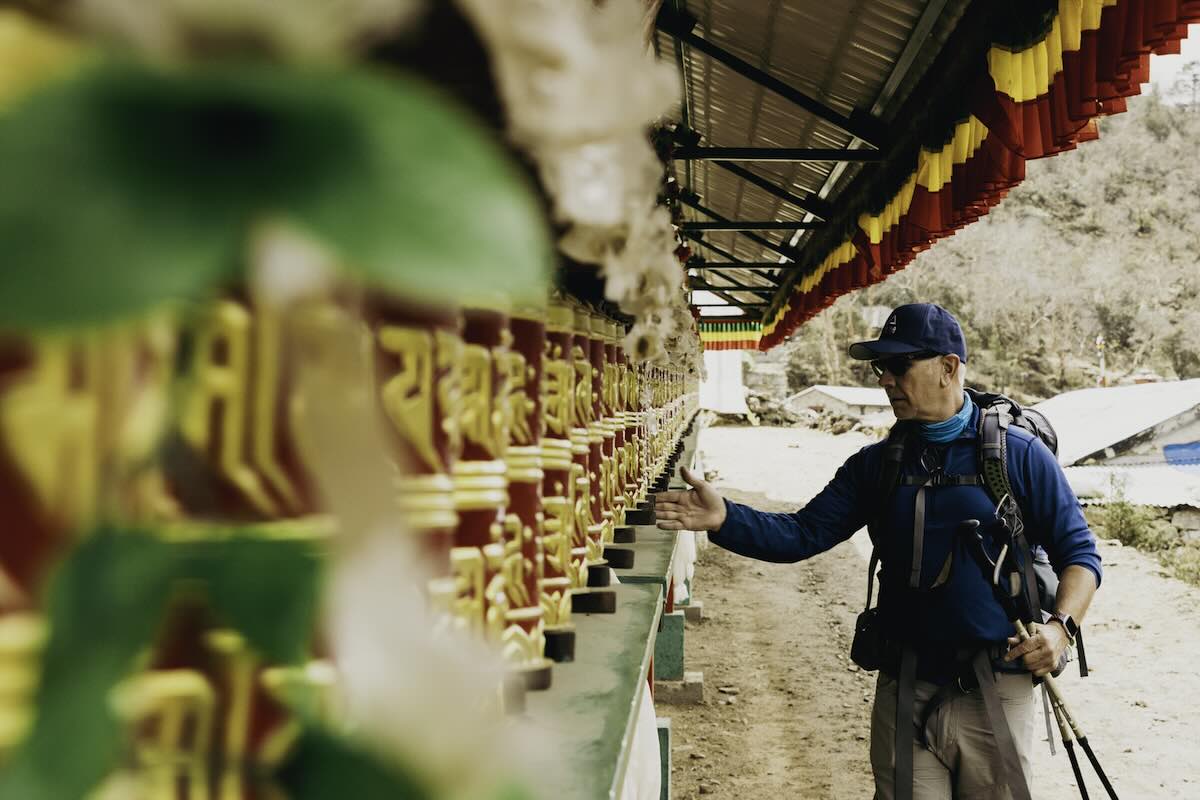 My journey to Everest Base Camp in Nepal was a remarkable experience that pushed the boundaries of my physical and mental endurance. Trekking through the picturesque villages, witnessing the indomitable spirit of the Sherpa people and soaring above the clouds on the flight to Lukla were moments that will forever be etched in my memory. The unique and thrilling atmosphere of Kathmandu added an extra layer of excitement to the overall adventure. Nepal, with its majestic peaks and vibrant culture, truly captured my heart. As I stood at Everest Base Camp, gazing at the world's highest peak, I realized that this journey was not only about conquering mountains but also about discovering the strength within myself and the beauty that exists in every step of the way.