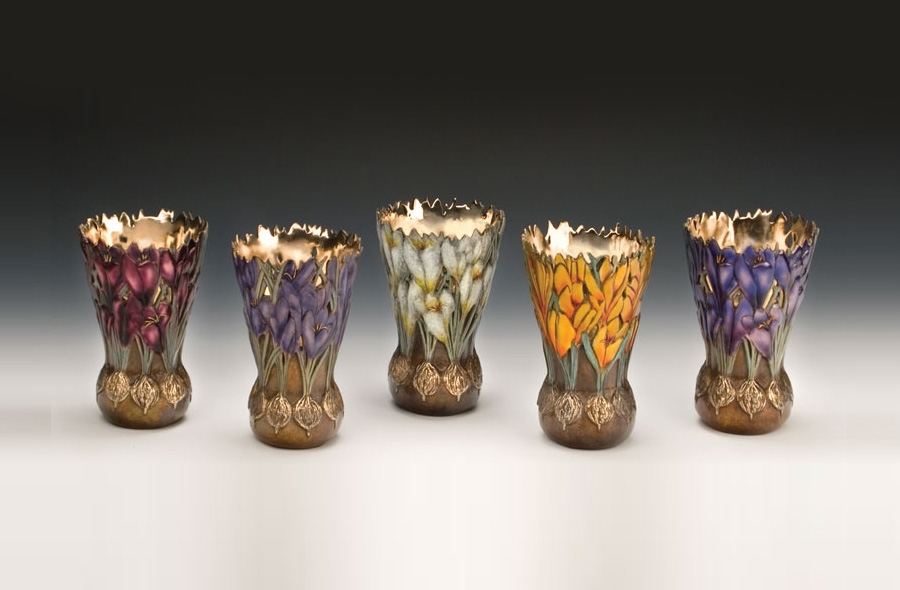 If you seek an exquisitely crafted work of art with a rich and symbolic underlying spirit, a limited edition bronze vessel created by artist Carol Alleman may be precisely what you are searching for.
As a self-described "gardener of the soul," and growing conservation artist, Alleman is continuously inspired by the mystical voice of nature and the human spirit in all its colors.
"I believe exceptional art is essentially about truly arousing the soul in an enduring and profound manner," she states. "At best, it awakens and empowers – delightfully nourishing an unspoken, perhaps even unknown, deep and vital hunger."
Alleman's choice of bronze for her work was not accidental, as bronze is a material that endures for generations, not unlike the woodland settings she honors through her work. Also, as an artistic medium, bronze offers a rich patina that changes over time, much like nature itself.
She has chosen to work primarily within the vessel form because it reflects the essence of both longevity and change. "Ancient and feminine in quality, its circular form is neverending, as it stands infinitely open to receive and share its contents," she describes. Her vessels, with vast cut-out areas, allow for a dramatic play on light, mirroring the ever changing light patterns of nature. Her uniquely intricate and often vibrant patinas, within the cut-out vessel form, have become a highly recognized Alleman signature.
"I believe exceptional art is essentially about truly arousing the soul in an enduring and profound manner."
To gain inspiration for her work, Alleman personally photographs and sketches plants and trees in their natural habitat, often bringing a leaf, a fallen piece of bark or seed pod back to her studio to use as a reference and inspiration. To begin the creative process, she spends many hours conducting detailed research of her subject matter before creating sketches that are ultimately transformed into stunning, museum quality works of art. The process of creating the original vessel typically requires several months of research and sculpting followed by the lenghty process of lost wax casting, requiring an additional eight to twelve weeks at minimum.
We are given visible reminders that every season holds its own ripe purpose – So it is with the crocus bloom pushing through the crusted snow – a welcome reminder of the Garden of Promises in which we live. – Carol Alleman
Alleman's growing bronze forest is richly punctuated with vast elements of nature, while drawing on diverse threads of mystical wisdom and symbolism. Her companion writings and poetry have grown to become as cherished as her exquisite works of art themselves, as they empower a sense of authentic connection, hope and joy.
There is a reason Alleman's vessels are rarely found on the secondary market or at auction – collectors deeply cherish them and rarely ever part with them.