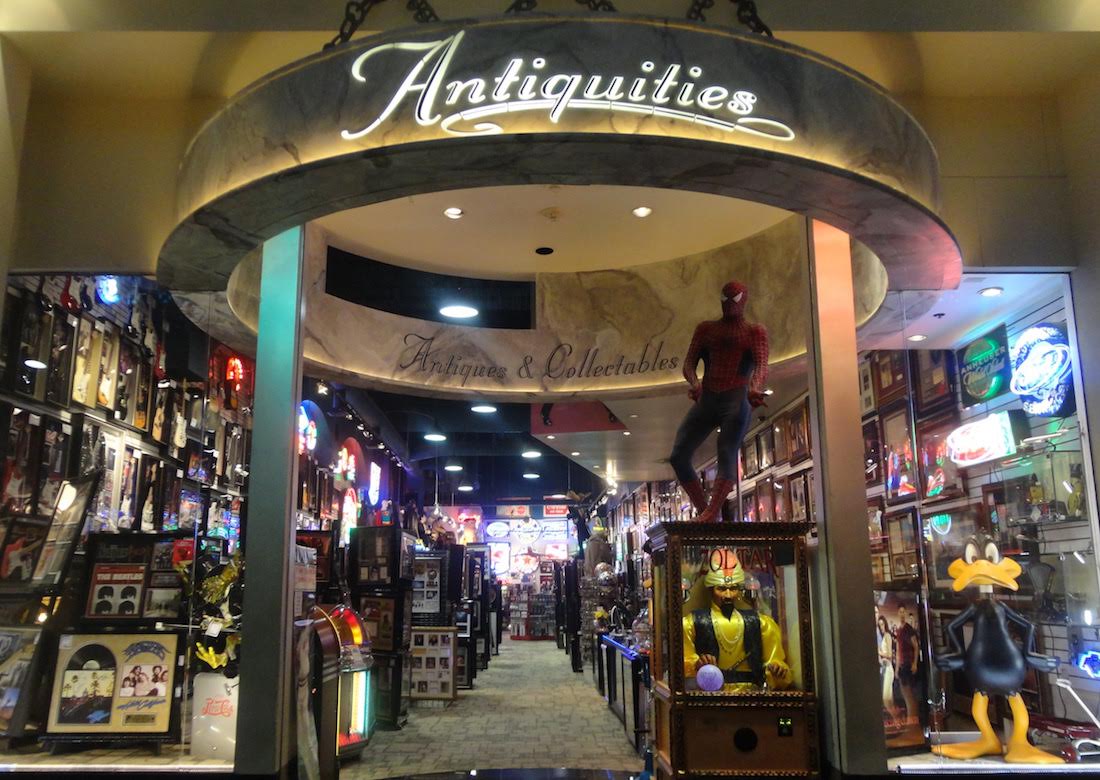 A leading name in the field of celebrity memorabilia and historical documents, Antiquities International has been in operation for over 30 years. Antiquities was founded in Arizona by Toby Stoffa originally as a 10,000 square foot two level gallery, specializing in architectural antiques, country collectibles, art glass and things of beauty from the past. Restored vintage jukeboxes, Coca Cola machines, and rock 'n roll treasures soon followed. Now located in Las Vegas, the business has grown into an internationally active gallery with wonderfully framed displays of authentic autographs in all areas of collecting along with those "Happy Days" items of the past.
Antiquities was hand chosen by the owners of the Forum Shops at Caesars Palace in Las Vegas, Nevada for occupancy when America's richest mall opened in 1992. Antiquities has been a "go-to" destination in the Forum Shops ever since.
We offer a diverse range of collectibles and memorabilia from movies, historical events, and music, as well as novelty gifts such as art prints and framed gold records. Autographs are displayed in museum-quality presentations, providing a distinctive, high-class appearance.
Antiquities International is also active in the community. The business supports several organizations that perform charitable work, including the Make-A-Wish Foundation, the March of Dimes, and the Children's Cancer Society.
Antiquities is a proud member of the Better Business Bureau, the Las Vegas Chamber Of Commerce and The Manuscript Society.
See below for items available for purchase:
Abraham Lincoln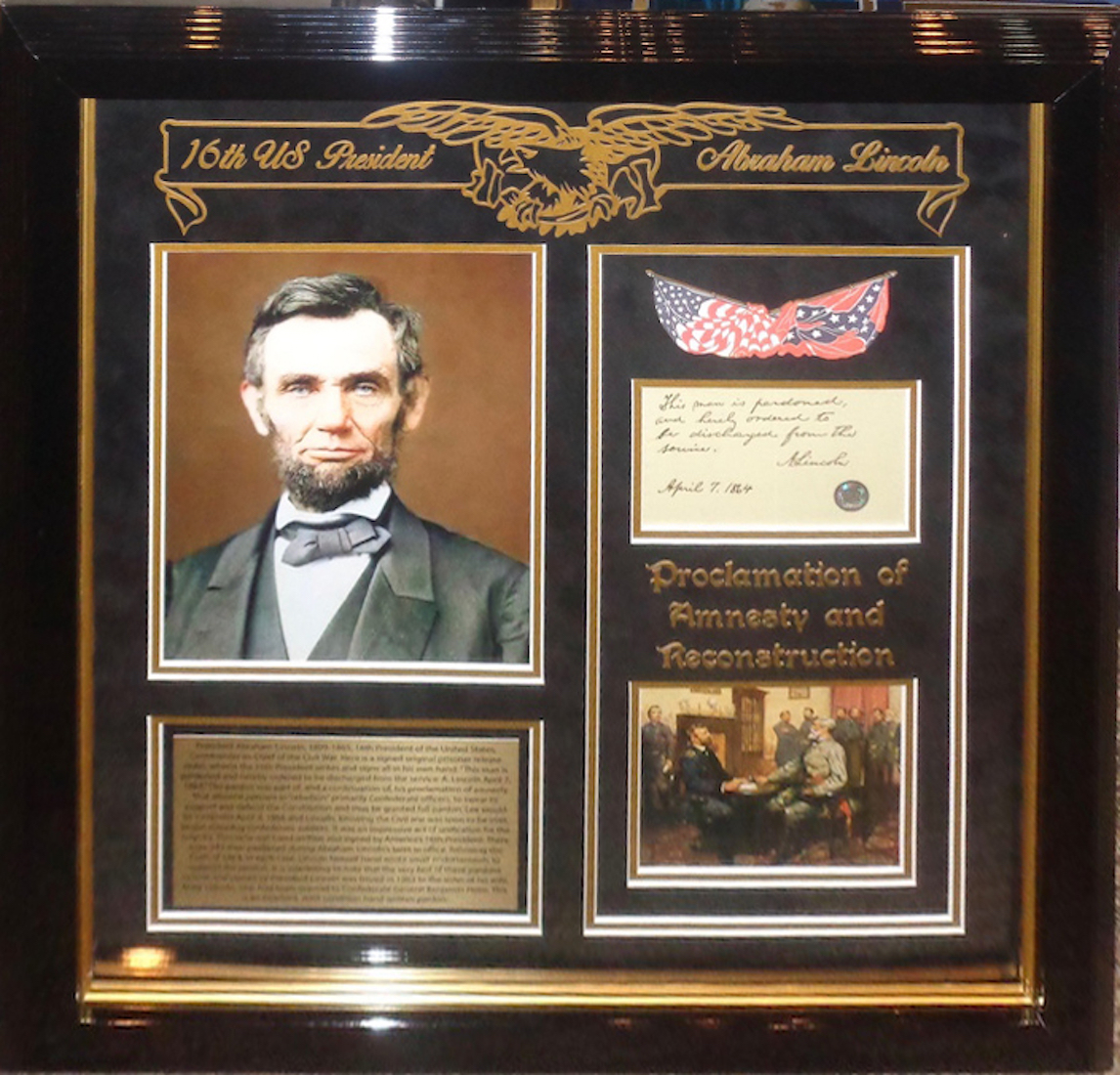 President Abraham Lincoln signed original prisoner release order, wherein the 16th President writes and signs all in his own hand: "This man is pardoned and hereby ordered to be discharged from the service. A. Lincoln April 7, 1864." The pardon was part of and a continuation of his proclamation of amnesty and reconstruction that allowed persons "in rebellion", primarily Confederate officers, with certain exceptions, to swear to support and defend the Constitution and thus be granted full pardon. Lee would surrender April 9, 1865 and Lincoln, knowing the Civil war was soon to be over, began releasing confederate soldiers. It was an impressive act of unification for the country. This was hand written and signed by America's 16th President. The note is 4-3/4″ wide x 4″ tall.
Price:$12,995
Apollo XI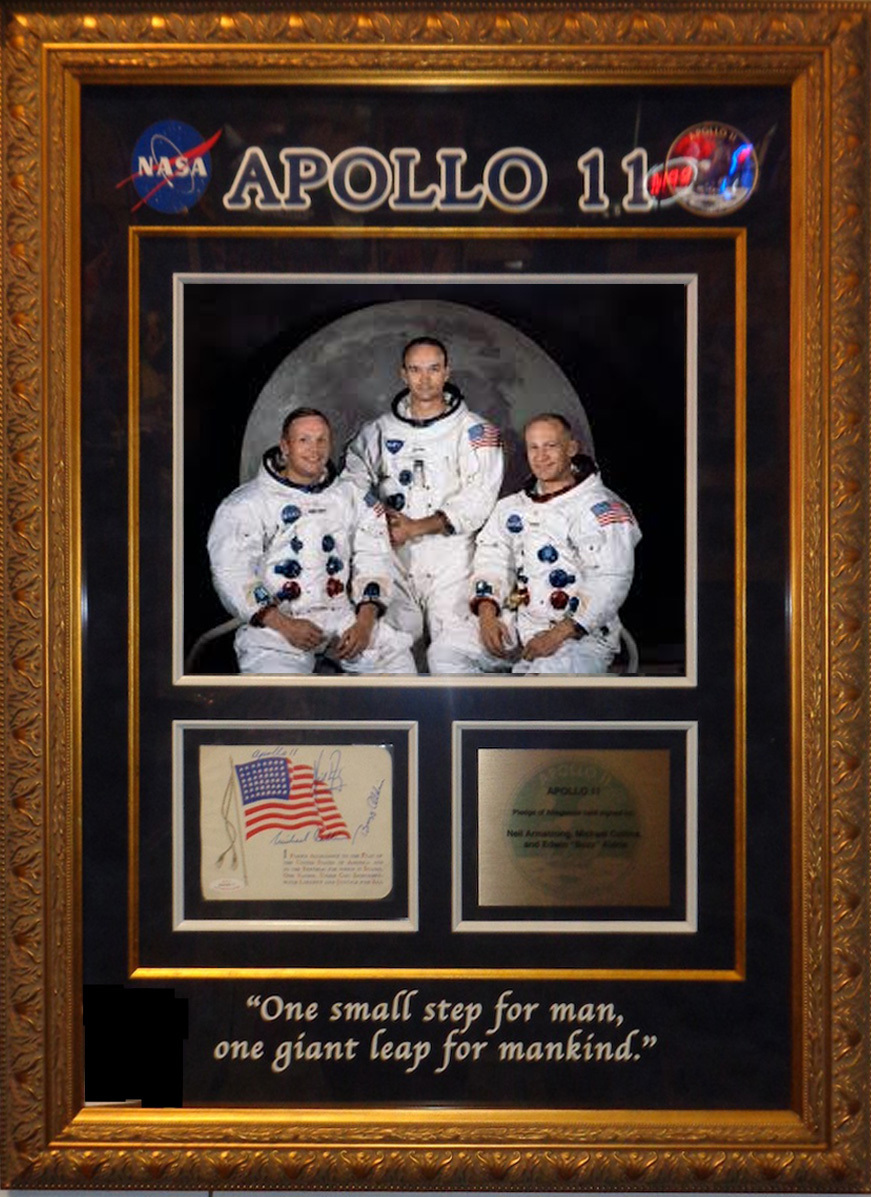 Apollo XI was the first spaceflight that landed humans on the Moon. American astronauts Neil Armstrong, Buzz Aldrin and Michael Collins brought their victorious ship in to land on July 20, 1969. Neil Armstrong became the first man to step onto the lunar surface, and memorably said: "one small step for a man, one giant leap for mankind". Here is an Apollo XI crew signed Pledge of Allegiance card with strong signatures by Neil Armstrong, Buzz Aldrin and Michael Collins Price:$4,995
Beatles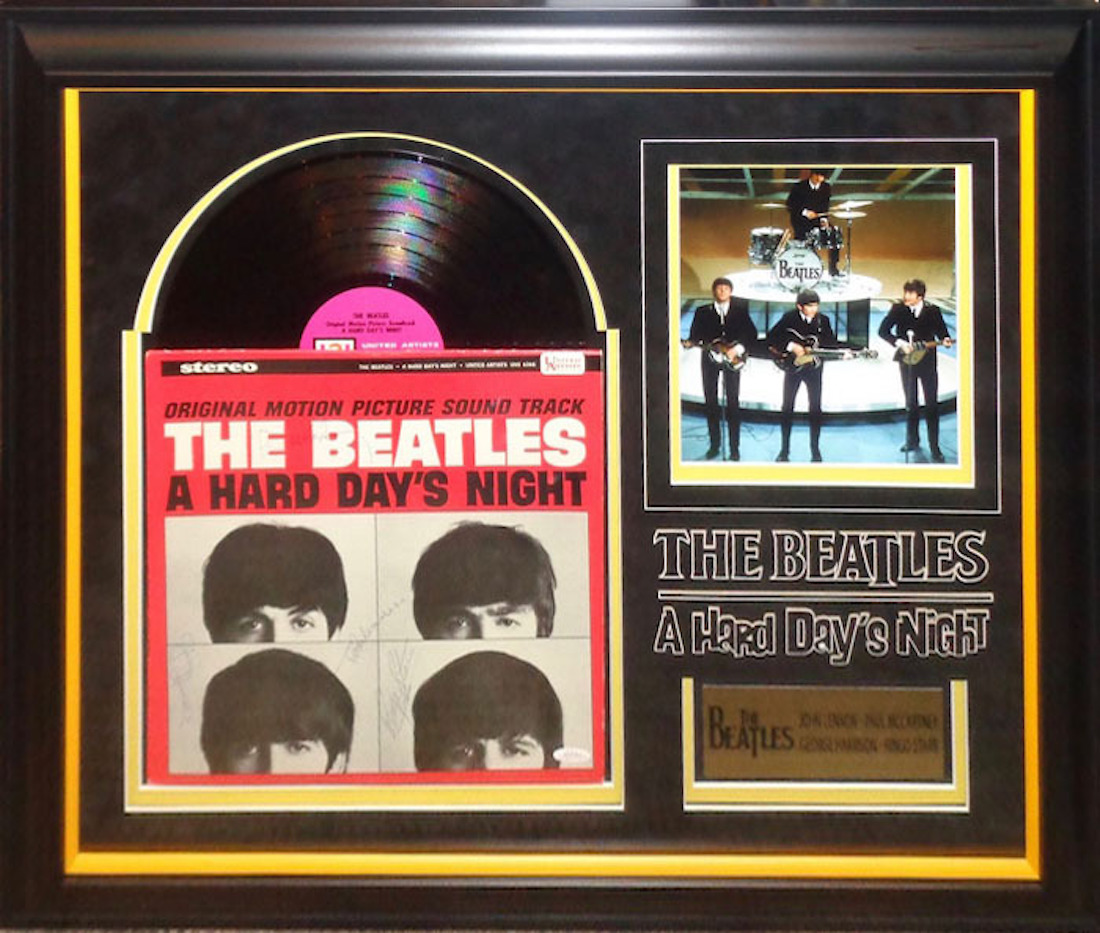 Hard Days Night signed lp by all 4! A Hard Day's Night is the third studio album by English rock band the Beatles, released on 10 July 1964, with side one containing songs from the soundtrack to their film A Hard Day's Night. The American version of the album was released two weeks earlier, on 26 June 1964 by United Artists Records, with a different track listing. The title of the album was the accidental creation of drummer Ringo Starr who said after an all night recording session it's been a "Hard Days Night" .
Price:$16,995
Coca Cola

Model 26 Jacobs, the rarest and one of the most collectible beverage machines ever made, and in limited quantity, of the vintage Coca Cola Machines. The Model 26 was the first of the 4 Jacobs machines, and the very earliest ones had the lower door panel split….which is this one! Made by the F. L. Jacobs Company of Indianapolis in the early 1930s, the arched top and side coin mechanism distinguishes the Jacobs from all the other machines. Even Vendo's later copy could not match the class and style of this one. This also has the original brass i.d. plate saying Jacob's Mfg. Co. Circular drum interior holds small bottles, 6-1/2 oz, 8 oz, pony beer. Beautiful fully refrigerated and operating machine.
Price:$8,995
The Eagles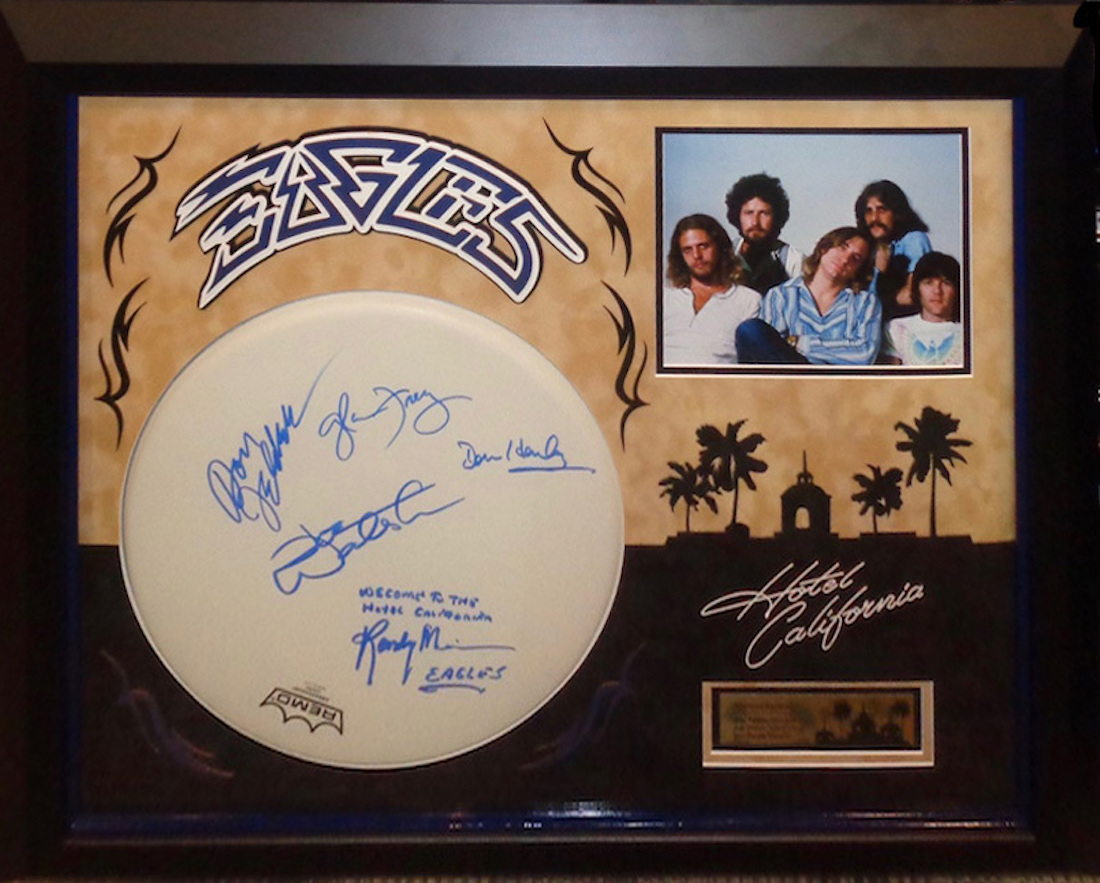 Signed 14″ Remo drumhead by Glenn Frey, Don Henley, Don Felder, Joe Walsh and Randy Meisner, who adds in his own hand: "Welcome to the Hotel California, Randy Meisner, Eagles".
Price:$2,495
Elvis Presley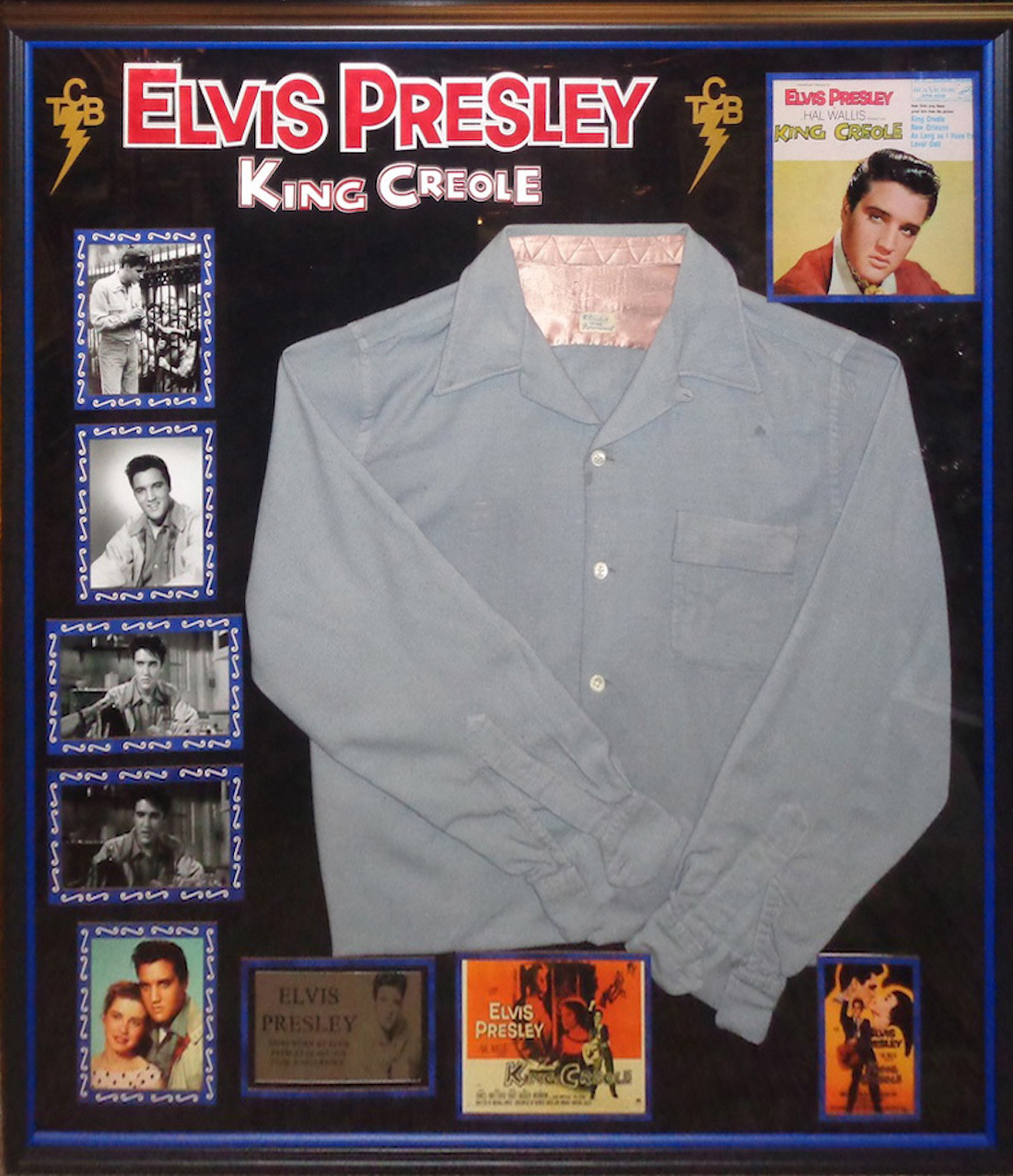 In King Creole! King Creole not only was a worldwide favorite Elvis movie, but was, in fact, Elvis' most favorite movie, because he got to be both a singing star and dramatic actor. Original Elvis Presley grey wool shirt worn in the production of King Creole, Paramount Studios, 1958, as he played the troubled and talented Danny Fisher. It comes with a letter of provenance from Elvis' personal hairstylist Homer Gilleland and has the shirt tag inside. Homer Gilleland is one of the most respected Elvis Presley authenticators and his letters of provenance are used as certification in such great places as Julien, Sotheby, and Christie's auctions….and Antiquities, of course. It is being framed with a lobby card and photos of Elvis in the shirt.
Price:$16,995
Isaac Newton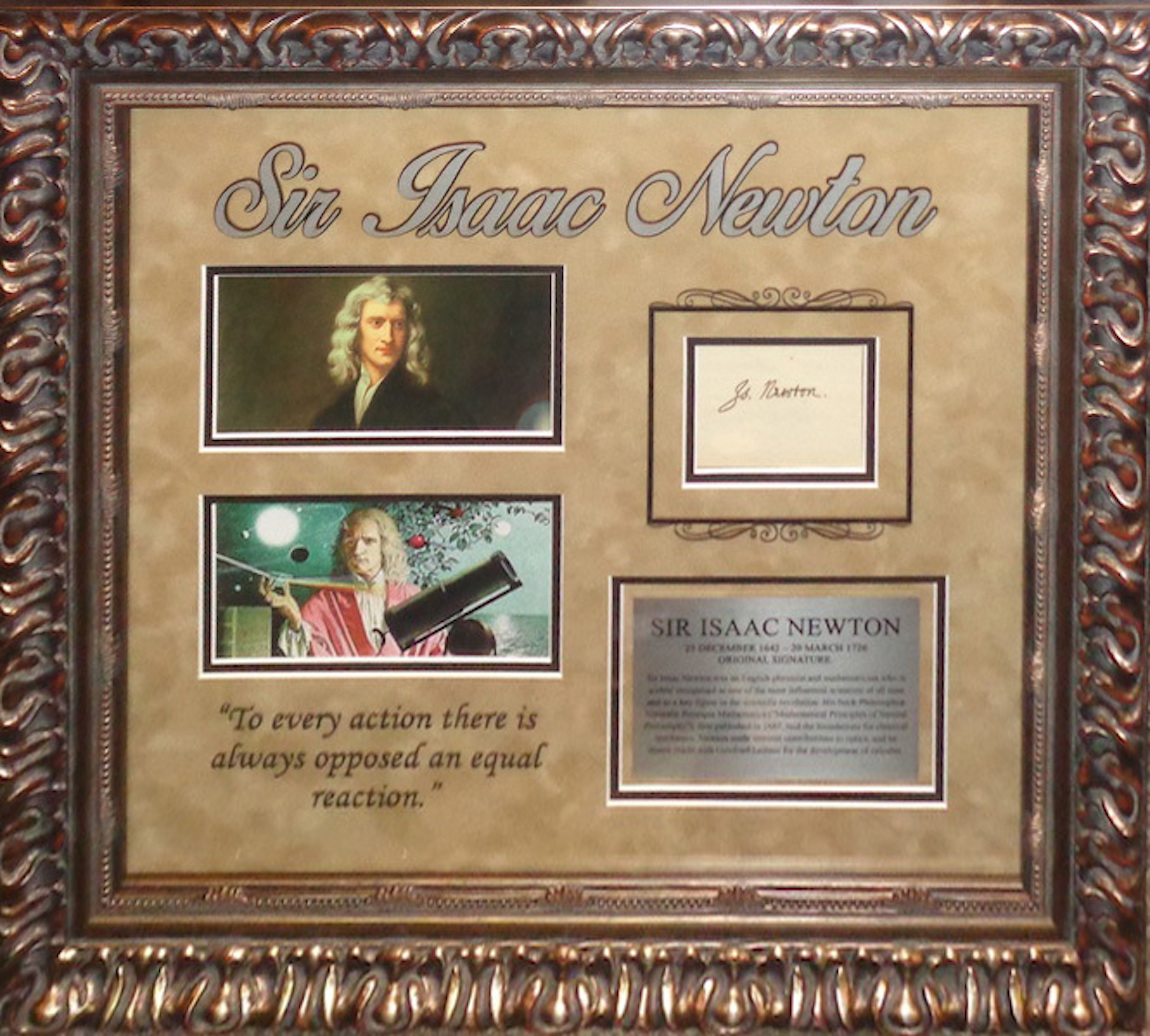 1642 – 1726, English physicist and mathematician, called a "natural philosopher" recognized as one of the most influential scientists of all time and a key figure in the scientific revolution and classical mechanics, sharing credit for the development of calculus and formulating the laws of motion and universal gravity. Newton built the first reflecting telescope, studied the speed of sound, among his many remarkable discoveries and theories. He was a fellow of Trinity College, Lcasian Professor of Math at Cambridge, president of England's Royal Society and Master of the Royal Mint. This hand written and signed letter specifically referring to the change in momentum (mv) in time, and states: "for a constant mass, force equals mass times acceleration F=ma". Here is a scarce original signature, framed in a museum quality presentation.
Price:$5,995
Bruce Springsteen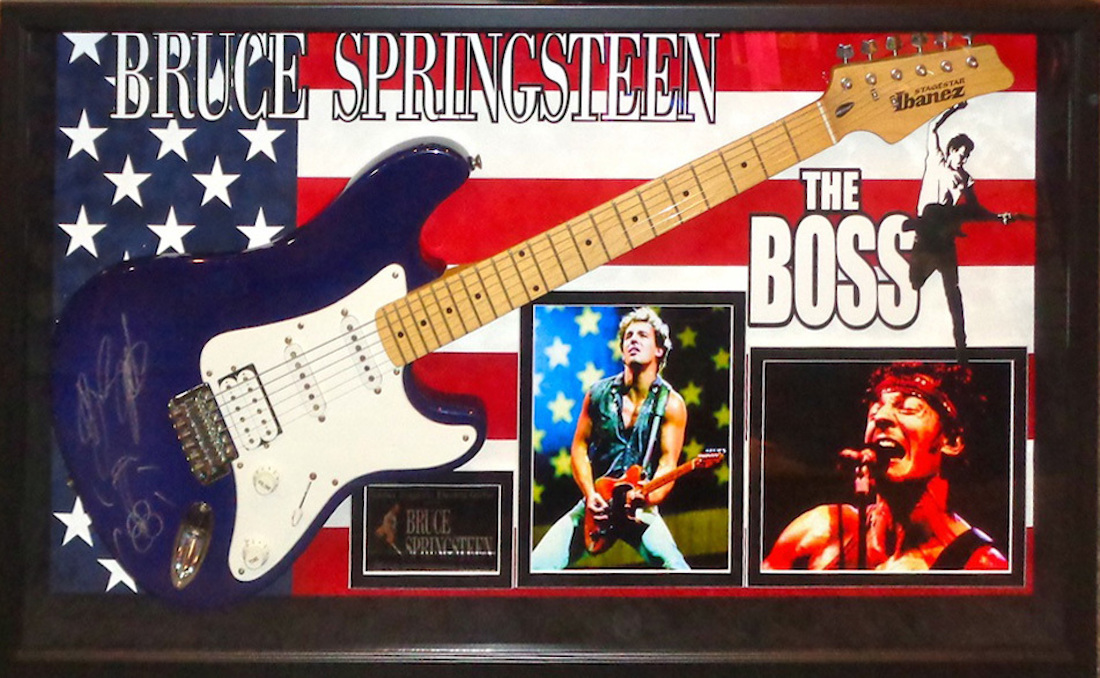 Signed Ibanez electric guitar. In addition to his signature, Springsteen has added a sketch of a guitar. Framed shadowbox display with color photos of The Boss and American flag style matting.
Price:$4,995
The Rolling Stones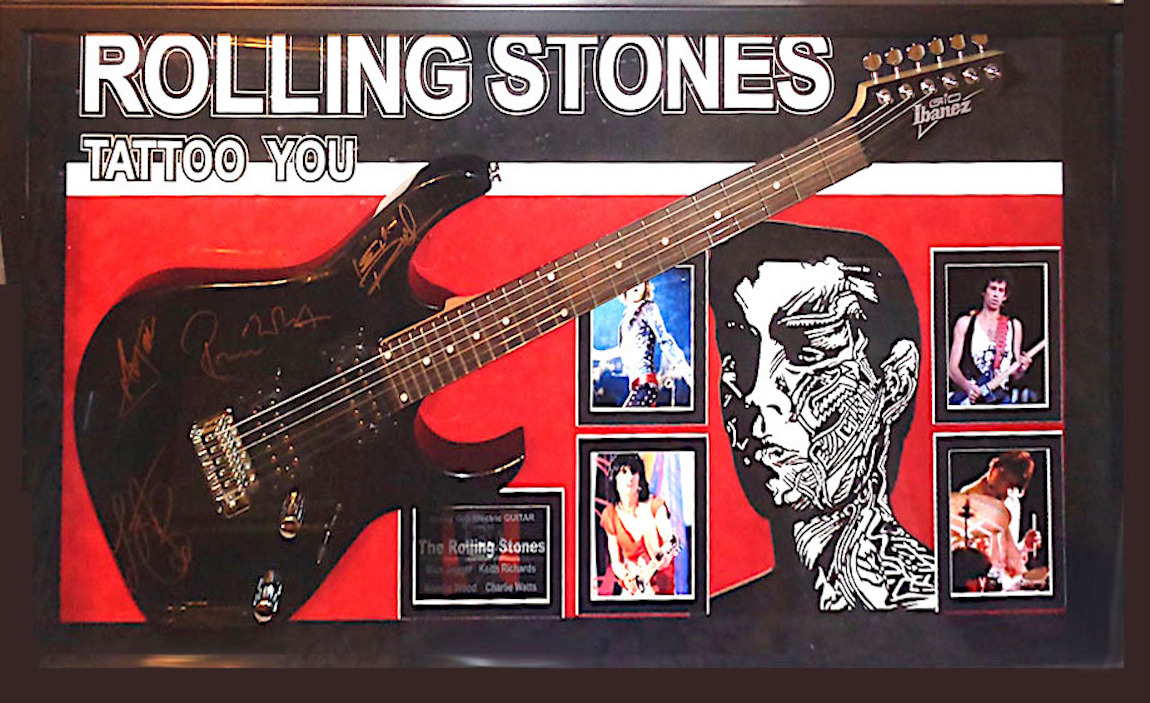 The English rock band that became and still is one of the most famous in the world. The Stones were inducted into the Rock and Roll Hall of Fame, the UK Hall of Fame, and they are ranked as #4 of the "100 Greatest Artists of All Time". Here is a terrific black Ibanez electric guitar signed by the current lineup: Mick Jagger, Keith Richards, Ronnie Wood, Charlie Watts! This is presented with a Tatoo You theme and terrific era correct photo of the band.
Price:$4,995
Wurlitzer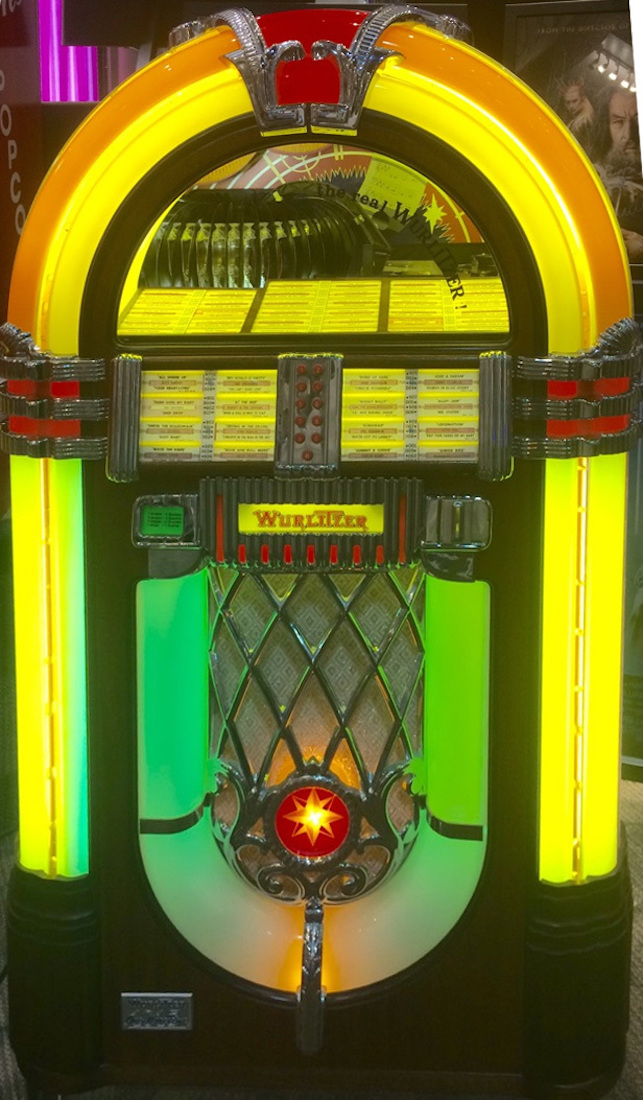 "One More Time" Jukebox, a real treat for the eyes and ears. Plays fifty 45s and even can be customized to connect your Mp3 player. The rotating lights and constantly changing colours and the endless rising bubbles offer a fascinating spectacle. Programmable to play continuously, connections for microphone, additional amplifier,external speakers. The cabinet is solid wood, perfect condition. It was restored in 1998 and used as a restaurant display with very little wear on it and looks and sounds outstanding.
Price:$14,995
Antiquities
The Forum Shops At Caesars Palace
3500 Las Vegas Blvd. South, Ste E13
Las Vegas,Nv 89109
702-792-2274
Visit our website: www.antiquitieslv.com
email:[email protected]