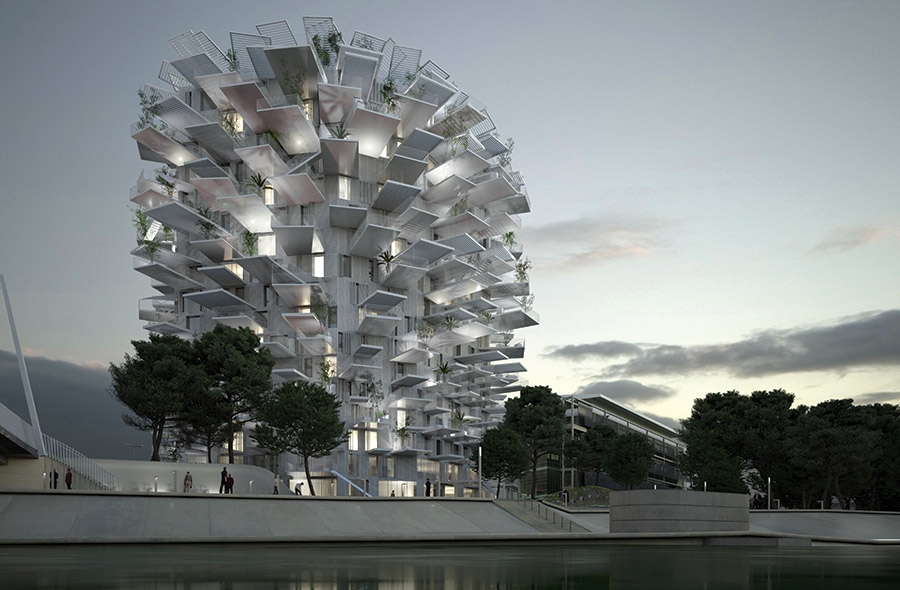 Inspired by Montpellier's tradition of outdoor living, a cross-cultural team of architects from Japan and France entered their futuristic design for a multipurpose tower into the "Folie Architecturale of the 21st Century" competition, and walked away as the winners.
The winning design, created by Sou Fujimoto Architects, Nicolas Laisné Associates and Manal Rachdi OXO Architects, is titled Arbre Blanc, which means "white tree." The all-white tower is encircled by balconies that "sprout out" like the branches of a tree. According to the architects, "Arching like a pair of wings hugging the contours of the Lez River down to Pompignane Avenue, Arbre Blac was intentioned as a natural form that was carved out or sculpted over time by water or wind. It perfectly mimics a tree reshaping itself to grow into its environment, yet simultaneously enhancing it by offering much-needed shade."
The 17-story tower will contain office space on the first floor and 120 residential units above. According to the architects, "The balconies are proportioned to make you gravitate toward the outdoors, like leaves fanning out to soak up the warm nourishing sunlight." A café, which will be open to the public, will occupy the penthouse floor. Just like a tree, the tower will feed off its locally available natural resources to drastically reduce the energy it needs to expend. Construction is scheduled to begin in 2015.