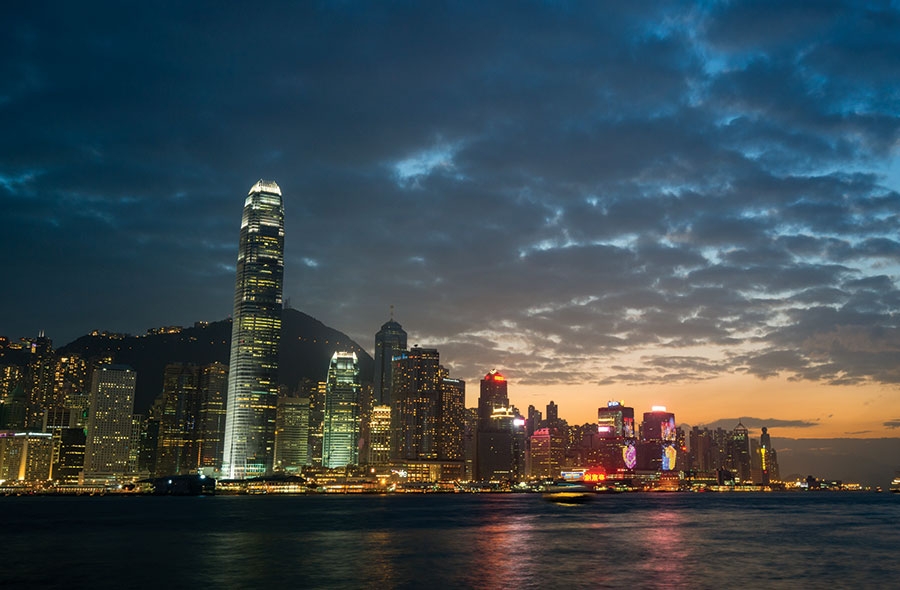 Home to the third largest art auction market in the world, Hong Kong is no stranger to the international arts scene.
But now, as global brand Art Basel unveils its newest fair there in May, the city stands poised to solidify its standing as the premier destination in Asia for international collectors, galleries, artists and art aficionados looking to engage with this multi-faceted region.
A spectacular work of art in its own right, the Skidmore, Owings & Merrill-designed Hong Kong Convention and Exhibition Centre will play host to the first edition of Art Basel Hong Kong, known informally as simply "Basel Hong Kong," over the course of its four-day run, May 23rd to 26th. An elegant steel and glass confection occupying prime real estate on Victoria Harbour's sparkling waterfront, the center will serve as Asia's art market epicenter as a long and prestigious list of galleries and artists present themselves to the art-buying world.
Hong Kong's Basel
The works of more than 3,000 artists and 245 galleries drawn from 35 countries and territories are set to descend on the Asian capital in the coming weeks, with collectors and buyers numbering in the tens of thousands following close on their heels.
An Art Basel show, it should be noted, not only raises the international art profile of its host city, but it fills its hotels, restaurants, and shops with an immense population of deep-pocketed art lovers from around the world. That has certainly been the case in Miami Beach, where the annual Art Basel show attracts fifty to sixty thousand attendees each year, according to Bob Goodman, Art Basel representative in Florida. "We've had so many people coming to Miami Beach since the fairs here," says Goodman, "and it has been great for South Florida. It's certainly very good for American art collectors."
"I'm drawn to Hong Kong for the differences between it and other fairs. There is some crossover, but mostly I am excited by the freshness and newness."
But this isn't Miami Beach's Basel. Or even Basel's Basel. This is Hong Kong's Basel, and its entry onto the crowded list of international art fairs has collectors, artists and dealers abuzz with the potential for widening of East-West partnerships and the cachet the Art Basel brand will bring to the Hong Kong art scene.
Paul Kasmin Gallery of New York will participate in Art Basel's first edition in Hong Kong, and for owner Paul Kasmin, the excitement lies in the fair's "potential to open new horizons. "I'm drawn to Hong Kong for the differences between it and other fairs," says Kasmin via email. "There is some crossover, but mostly I am excited by the freshness and newness."
"It's exciting for the gallerists," says Jennifer Rohr, associate director of New York and Chicago-based Richard Gray Gallery, another Art Basel in Hong Kong participant. "Their management of Basel and Miami has turned them into incredibly successful fairs. It would be great to see Hong Kong follow that same path. There is a lot of opportunity there for us all – for collectors to get to know galleries that they wouldn't otherwise know because they don't come to New York or Miami or Basel, and on the other foot, for us to get to know them and to introduce them to the artists that we represent that they might not know."
And perhaps these newly established relationships could lead to a larger number of Asia-Pacific's collectors attending Basel's sister shows in Europe and Miami Beach, says Goodman. "I think there will be people that will look at the opportunity to go to the Art Basel Hong Kong in the future as a good reason to plan a trip to Hong Kong," he posits. "And I also foresee people in that part of the world, in that region, saying, 'Gee, let's go see what Miami Beach is like.' It gives people a reason to go and make a 12 to 14 hour trip. The aspect of drawing new people to Miami Beach is very wonderful, I think."

 New Ideas and New Inspirations
Over the months leading up to any Art Basel show, Art Basel press materials emphasize the dual roles the fairs play, as both the world's leading art market venues and as learning environments for "discovery and appreciation" of regional cultures and histories, ripe with opportunities for "new ideas and new inspirations."
It is art fair as cultural festival, an idea pioneered by Art Basel, and one which has been a constant both in its eponymous show in Basel, Switzerland and in its sister show in Miami Beach. "I think it goes to the more important aspect of cultures being shared," says Goodman, "people from different cultures all over the world meeting and socializing and getting to know each other."
But perhaps nowhere has the art fair as cultural festival philosophy grabbed center stage attention quite as it has in the run up to Art Basel in Hong Kong. Of a quality and scope far out-shadowing the other major Asia-Pacific shows, Basel Hong Kong is making the most of its spotlight and aiming it directly at the art, artists, galleries, history, and culture of the region. A wide-ranging slate of talks and lectures presented by Asia Art Archive will run in parallel to the show's own featured series, "Conversations" and "Salon," and of the four main sectors of the show, one dubbed "Insight" will feature only galleries and artists from the broader Asian market.
The fair's other three sectors include the Main sector featuring the bulk of the show's world-wide galleries, the Discovery sector devoted to emerging artists and emerging galleries from around the world, and the Encounter sector, for large scale works and installations, which will be unique to Basel Hong Kong.
Perhaps most significant, however, is the oft-noted fact that fifty percent of the show's gallery participants are based in Asia and the Asia Pacific region, or at least have exhibition space there, guaranteeing a wide reaching and diverse representation of the Asia-Pacific art world. That regional focus, as well as the luster of the Art Basel banner, has many industry insiders now looking at Art Basel in Hong Kong as the most important art event of the year in the region, and at Hong Kong as the undisputed art capital of Asia.