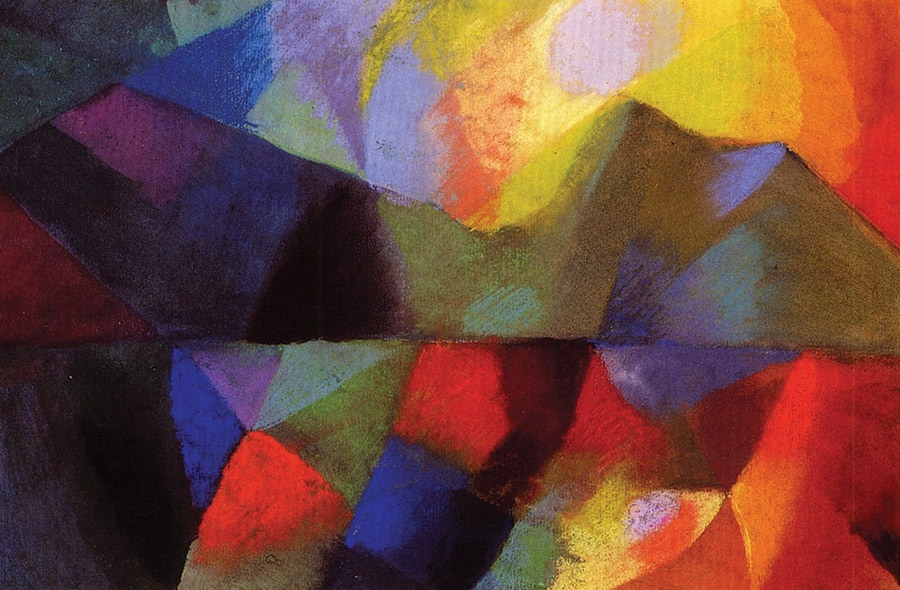 When it comes to adding a personal touch to your home or office, nothing can quite compare to incorporating paintings that you have selected because they reflect your interests, artistic tastes and personal style.
In this section, we've brought together a collection of talented artists for you to consider. Their artistic styles, which range from impressionism to contemporary to representational to abstract, vary as widely as their subject matter. The choice is yours.
Jennifer Annesley
Annesley's paintings are collected worldwide, and have earned international acclaim for their remarkable sense of light, atmosphere and seductive balance of elegance and power.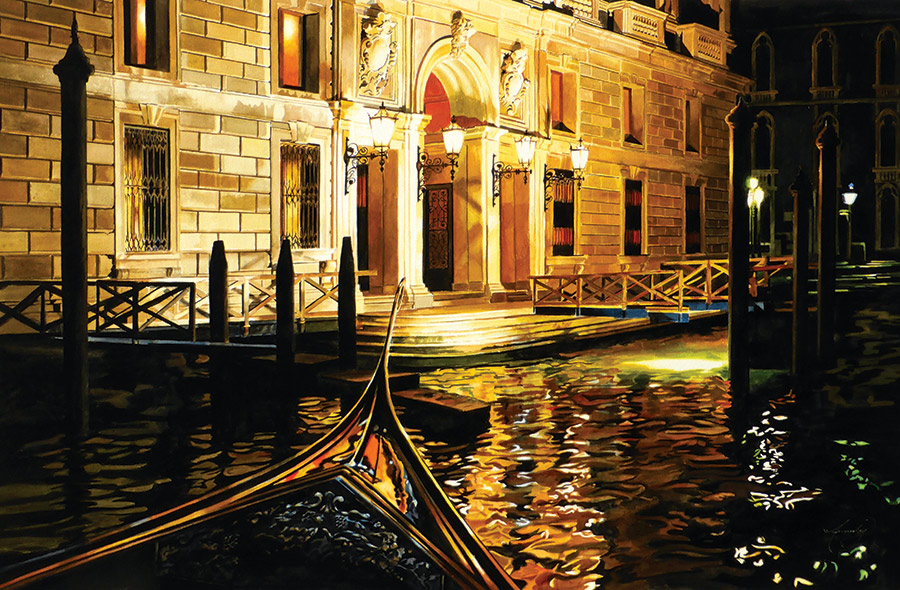 Annesley travels extensively to explore the historic architecture and remote landscapes that are the foundation of her work.
Next Exhibition: "London" November 6, 2014, Edmonton, Canada
Lou Jordan
Lou Jordan, a signature artist, paints brilliantly colored abstracts of the natural world and profound expressions of her love of life, rhythm and form.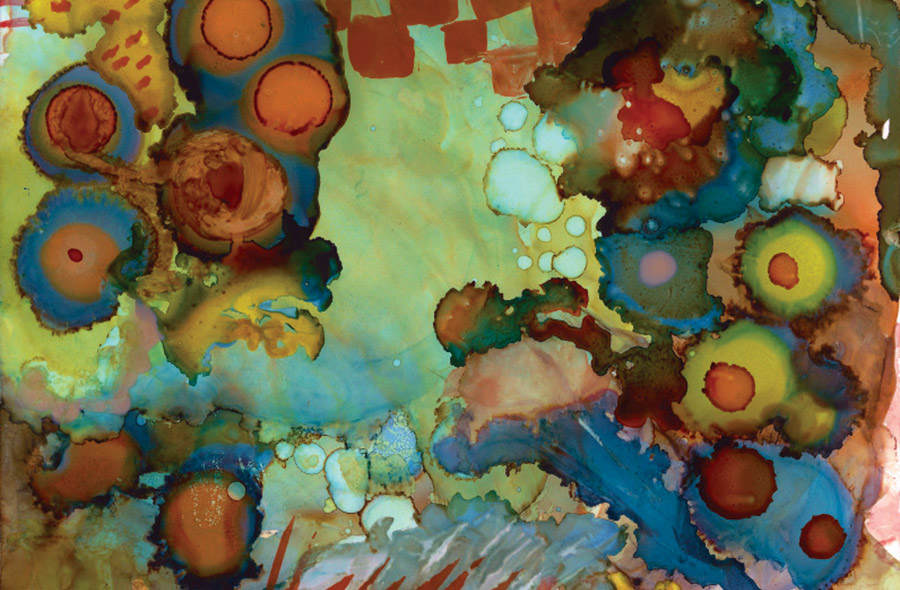 A master of watercolor, an experimenter with new techniques and materials, she creates very small gems with alcohol ink on Yupo, and very large geometric acrylic reflections of 21st century life.
Charles Pifer Abstract Art
Dr. Charles Pifer, Signature Member of the International Society of Acrylic Painters, resides in Carmel, California. His paintings (images) are either playful and direct, or, more complex, stimulating the viewer to search for a deeper vision or meaning. Having been a pilot for years, reflections of flying experiences often appear.
Dwight Bennett's
Wooden Vessels & Sculptures
Inspired by the lyrical beauty of the female form, Dwight Bennett's wooden vessels and sculptures represent the essence of the feminine shape. Inlayed with delicate silver strands that wander and weave through wood; these abstract forms incorporate both the characteristic elegance and strength of wood, enhanced with the fluidity of precious metal. "Wood is the foundation in which I work. The silver should look as if it grew in the wood itself."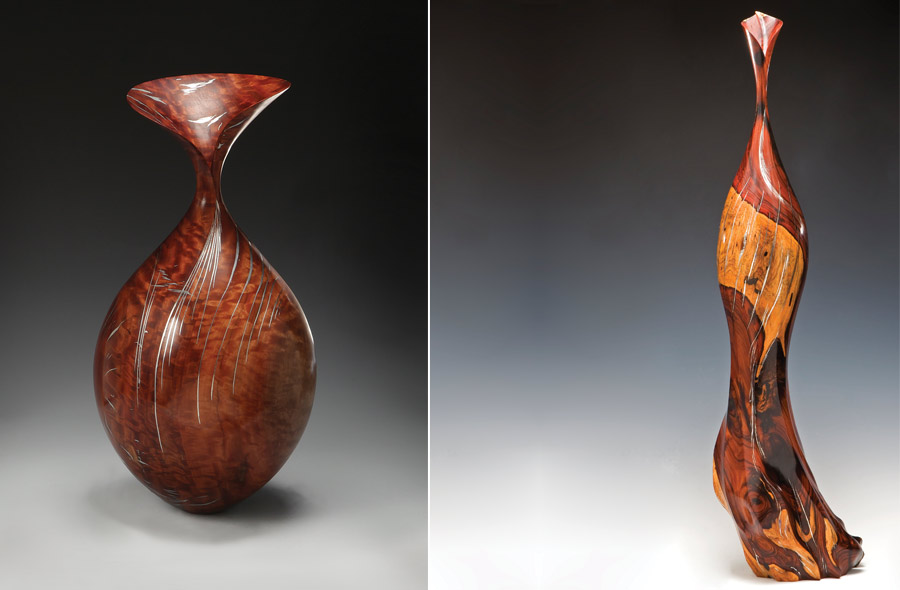 Bennett's career as artist has elevated the field of turned wood vessels and sculpture from craft to fine art. Decades of perfecting his art have brought him respect, recognition and admiration from that of collector and peer. Only the finest pieces in a variety of woods such as; mesquite, olive, holly or Bennett's personal favorite Arizona Ironwood are chosen for his breathtakingly elegant sculptures in wood and silver.
Dwight Bennett's surfaces inspire a sense of wonderment and intrigue from his collectors. From his early works such as the heart-shaped sculpture entitled Life, which toured the United States and Europe as part of a Phoenix Art Museum Collection, to that of his recent work, Bennett continues to enthrall his collectors; most often having them ask the question how? "The how is the most powerful and grabbing for an artist to achieve. If we as artists can get the audience to wonder how, the rest of the who, what and why will follow… keeping them forever looking."
Penny French-Deal
Penny French-Deal creates paintings with a spontaneous brush and impressionistic style all her own. Working primarily in oils, she masterfully creates images full of depth, color and texture, giving her work a wondrous, emotive energy. While comprised of warm, vibrant colors, her palette often evokes a somewhat romantic view of the world around her.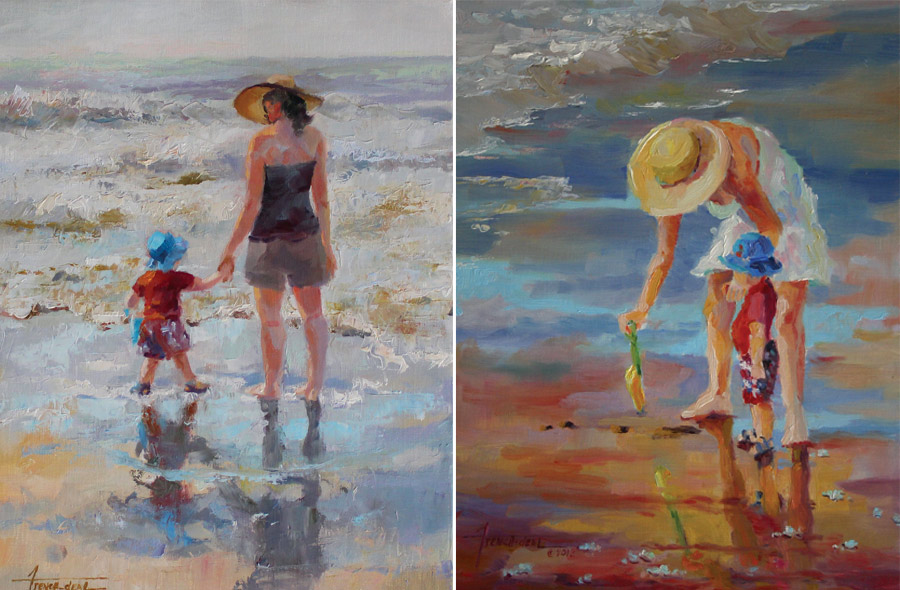 Each piece conveys an abstraction of shapes, colors and contrast that seem to dance on the canvas and allow the viewer to intuitively fill in details. This natural interaction immediately places you in the scene, fully engaged and imagining being in that meadow, secret garden or busy street.
Penny has had many solo shows and received numerous awards. Her inspiration comes from her travels throughout the United States and Europe as well as her fascination with everyday experiences. She has exhibited nationally and internationally, and her work can be found in private, corporate, museum and university collections throughout the United States and Europe.
"As an artist, it is my desire to capture the essence of that which surrounds us," Penny says, "whether that is in the power of movement, the splendor of landscapes or the soul of portraits."
French-Deal.com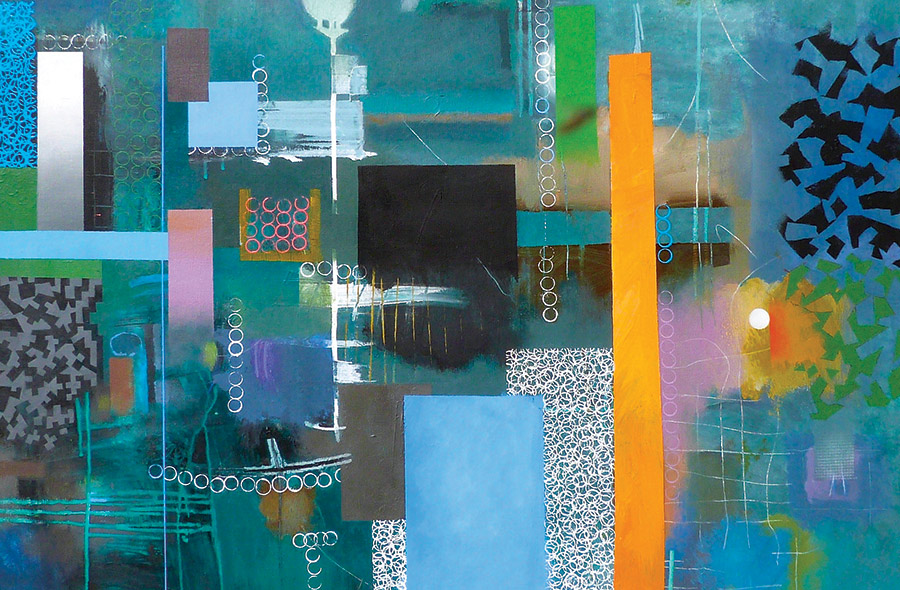 Vermont Painter Harry A. Rich
My paintings are children of the New York School. They strive to build on that heritage, while remaining within the tradition of Modernism.
In the studio, I work principally on the margins of what I already know about painting and paint, searching for what I don't know. Abstract and nonrepresentational painting, unfettered with distracting literal images, may allow the paint to release its transformative potential. It may become a carrier of emotion and small joys. It may even evoke the unique, aesthetic, poetic or meditative capacities of viewers. One can hope, anyway.
In the studio, in the murk of the discovery process, not knowing how to let paint on canvas achieve those things . . . well, that's the engine.
Wayne Weberbauer
American artist Wayne Weberbauer has had a creative spark in his blood since the earliest beginnings of his life. Wayne was considered special by all of his art teachers, giving him a chance to expand his creative talents.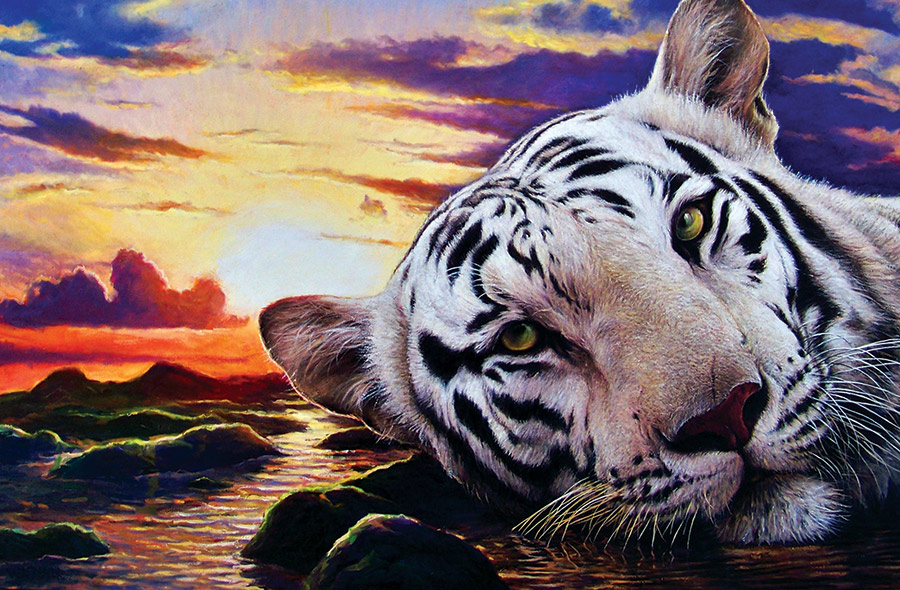 Upon graduating from art school, Wayne settled in Carmel, California, where he concentrated on landscape and wildlife painting. Such galleries as The Wyland Gallery and The Lassen Gallery are but a few who have carried Wayne's work.
He is currently represented by the New Masters Gallery in downtown Carmel. He was commissioned by The Franklin Mint to create the world-famous "Mother Tiger Baby Series," a set of six plates produced and collected worldwide. Wayne currently lives and works outside of Los Angeles, where his studio is located.
Liz Pagano
Liz works in many different mediums. She is inspired by accidental beauty and interested in textures and how they reveal a history. Searching for unexpected possibilities, her work magnifies moments, capturing movements — sometimes reactions or fusions.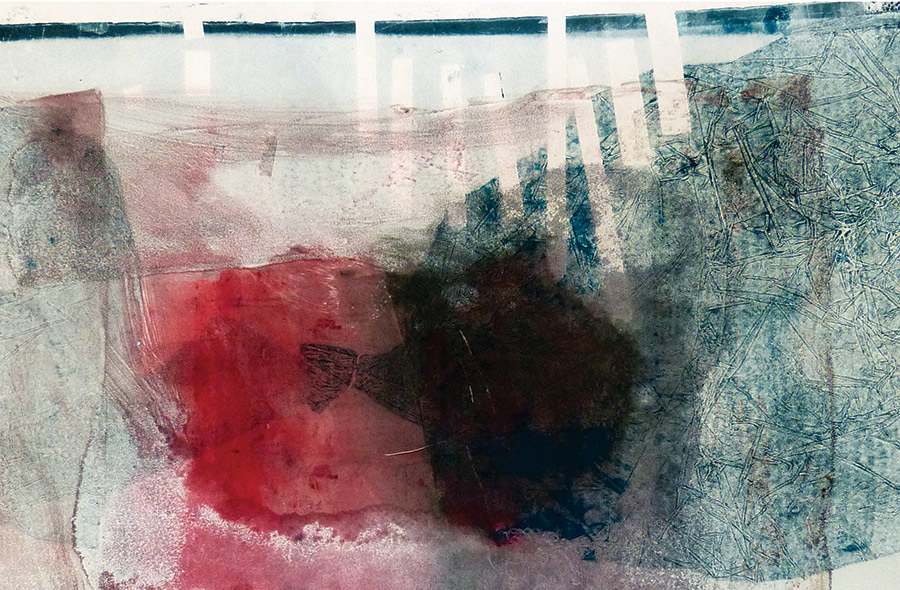 Her process is about exploring interactions of chance and control, coincidence and intent. She is always looking for fresh options to explore.
Commissions welcome.
Jennifer Mack Fine Art
Jennifer's paintings evoke an instant emotional intimacy between the viewer and the horse, a strong sensation of identification with the subject of each of her paintings.
She brings striking visual beauty to the viewer, and palpable presence — "There's nothing like a horse to do that."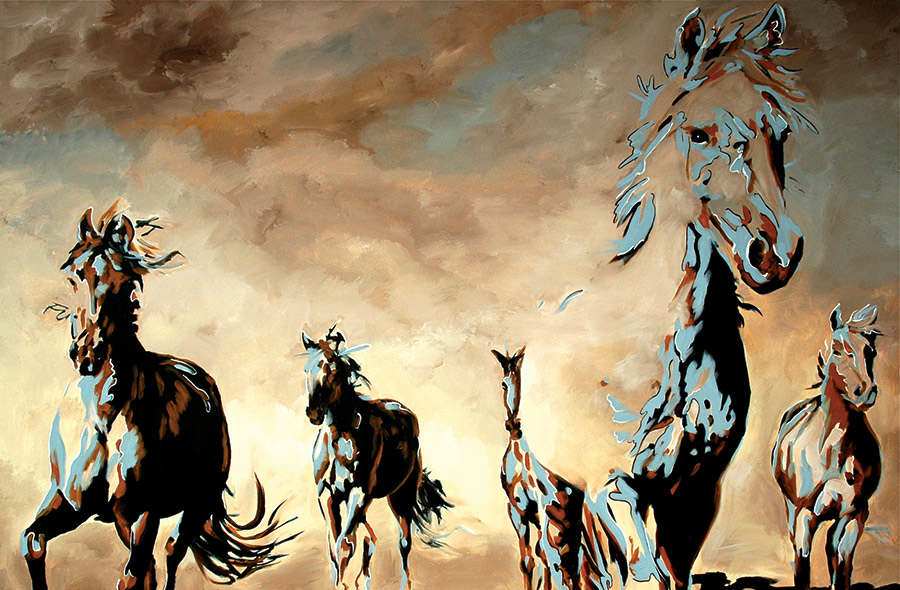 Her paintings are large scale and heirloom quality. She shows in galleries nationally, and is collected by horse lovers, art collectors and corporations internationally. Private commissions are also welcome.
JMackFineArt.com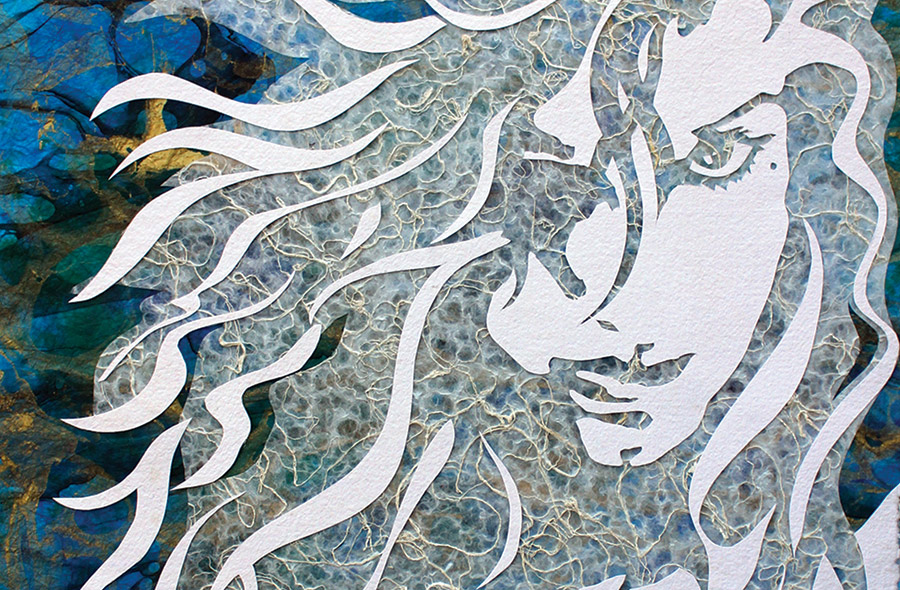 Marcy Ann Villafana Fine Art
Marcy Ann Villafana's work is mostly of the feminine form. She sees the beauty in the light and dark spaces of the figure and joy expressing it through color and or texture.
Inspired by the works of Da Vinci, Michelangelo, Manet, Salvador Dali, Mucha, and Patrick Nagel, she derived her own style through her love of cutting paper. Unlike other artists, who paint and draw (which she does as well), she finds her satisfaction in the precision of cutting the papers with a plain old Exacto knife. She developed this style as a teenager as a result of her near-sightedness.
In her admiration of real women: mothers, athletes, home-makers, dancers, famous or not, women with uplifting attitudes, strong-minded, caring, nurturing — with good will, Marcy strives to create masterful pieces to express their inner beauty, goddess, and spirit within. -the woman today. Radiant Beauty Captivates…
Sally Duback
Sally Duback has spent many years working with live models in her studio. She prefers to work as close to life size as possible, in order to approach her subject as an equal.
To her, this approach simply feels right, as though the figures adorning her studio walls could step off their pages and join the conversation.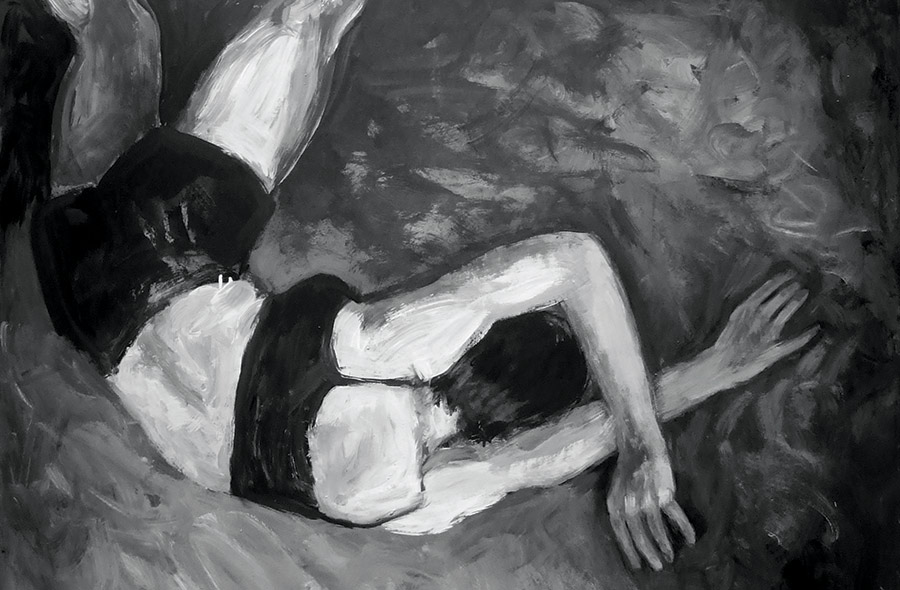 She finds that working from a live model can be as fascinating for the model as it is for the artist, as the experience isn't about smiling for a snapshot, but is about making a deeper connection with the viewer.
Barbara Farren Fine Art
Strong commitments to nature and the beauty of our natural world are the driving forces behind Barbara's work. Classic drawing skills, honed within the discipline of draftsmanship, form the basis for her paintings.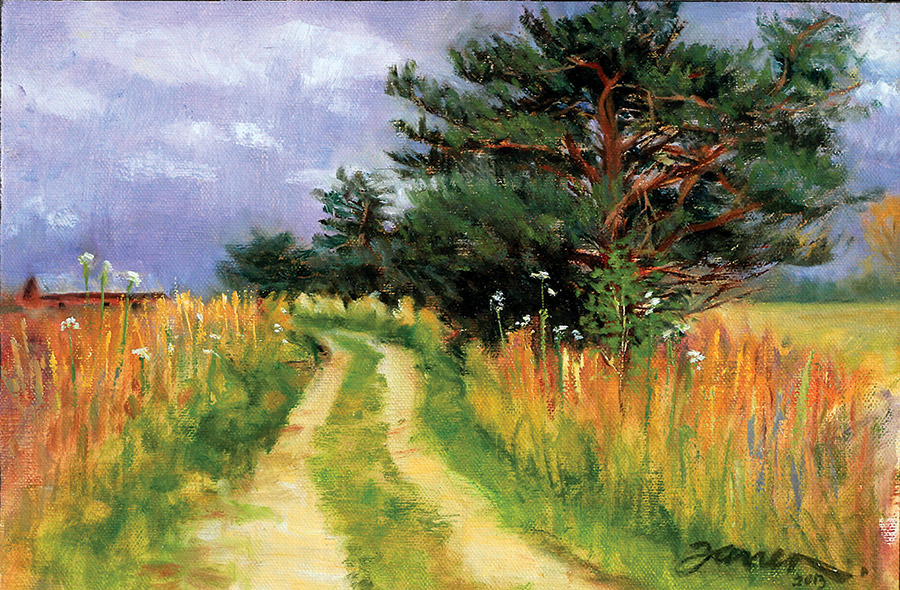 In the tradition of narrative art, every work tells a unique story, giving character and meaning to even the most everyday things. By painting from life whenever possible, she works towards establishing a strong emotional connection with the viewer.
Lina Alattar Fine Art
Lina Alattar's art offers bold, expressive and intimate abstract paintings. Her usage of color and brushstrokes easily create an atmospheric landscape that pays homage to Abstract Expressionism.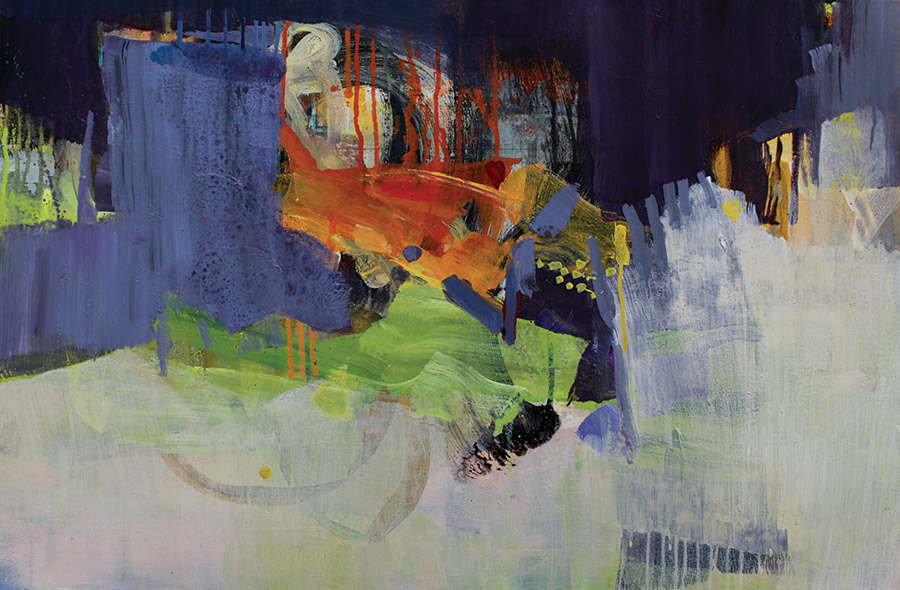 Alattar's commitment to the working process is meant to engage the viewer to appreciate the paintings' sensual, meditative, and intriguing qualities. Each of her paintings is a discovery in finding balance, stillness and meaning in our everyday lives.