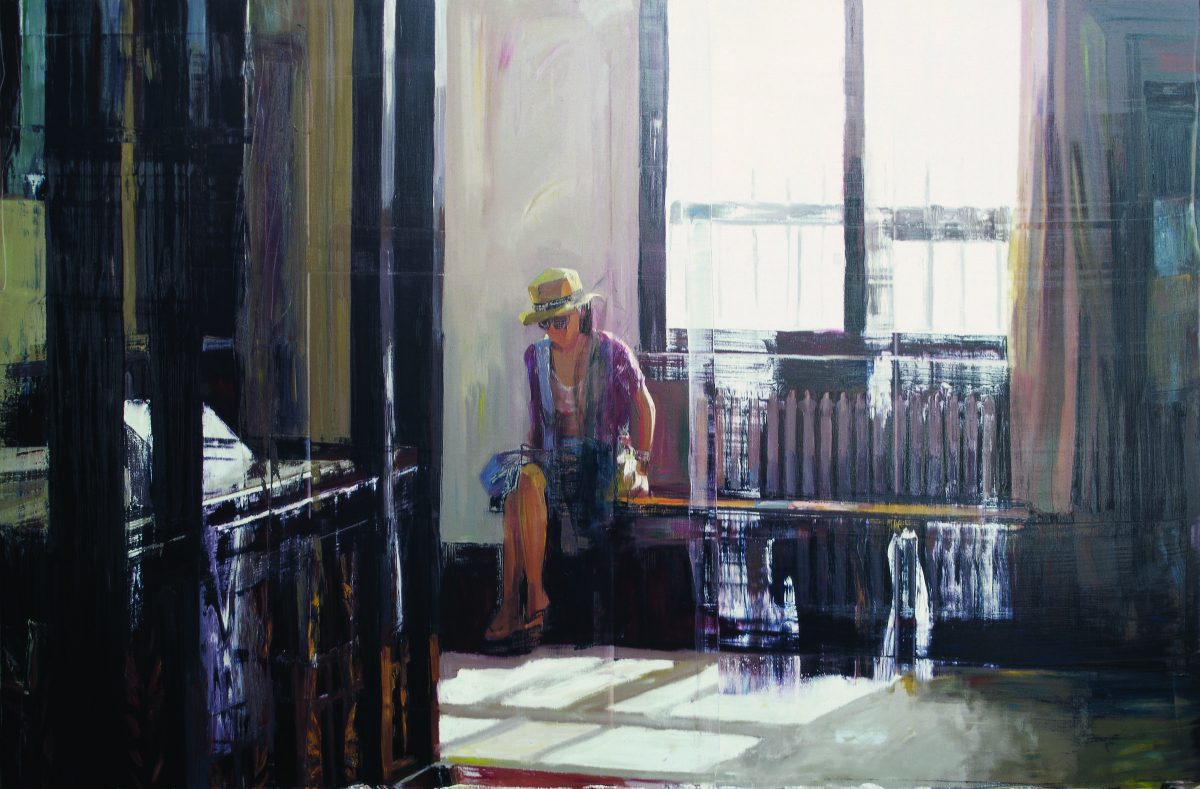 The contemporary Chinese art boom was initially fueled by the interest of Western collectors and museums captivated by the Chinese appropriation and interpretation of Western art forms. Many of these works were infused with the artists' experiences of the Cultural Revolution and their personal tragedies. At the forefront of the movement were outstanding pioneers like the painters Zhang Xiaogang, Fang Lijun, and Yue Minjun.
In the early Nineties, there was also an underground scene in small artistic communities where artists experimented with new ways of expression like performance and photography in order to visualize social problems. The generation that was born after the Cultural Revolution has totally different concerns that vary from cartoons and video games to more intimate personal interpretations of their social conditions. Globalization, consumerism, and urbanization all very strongly influenced a new generation that embraced new media.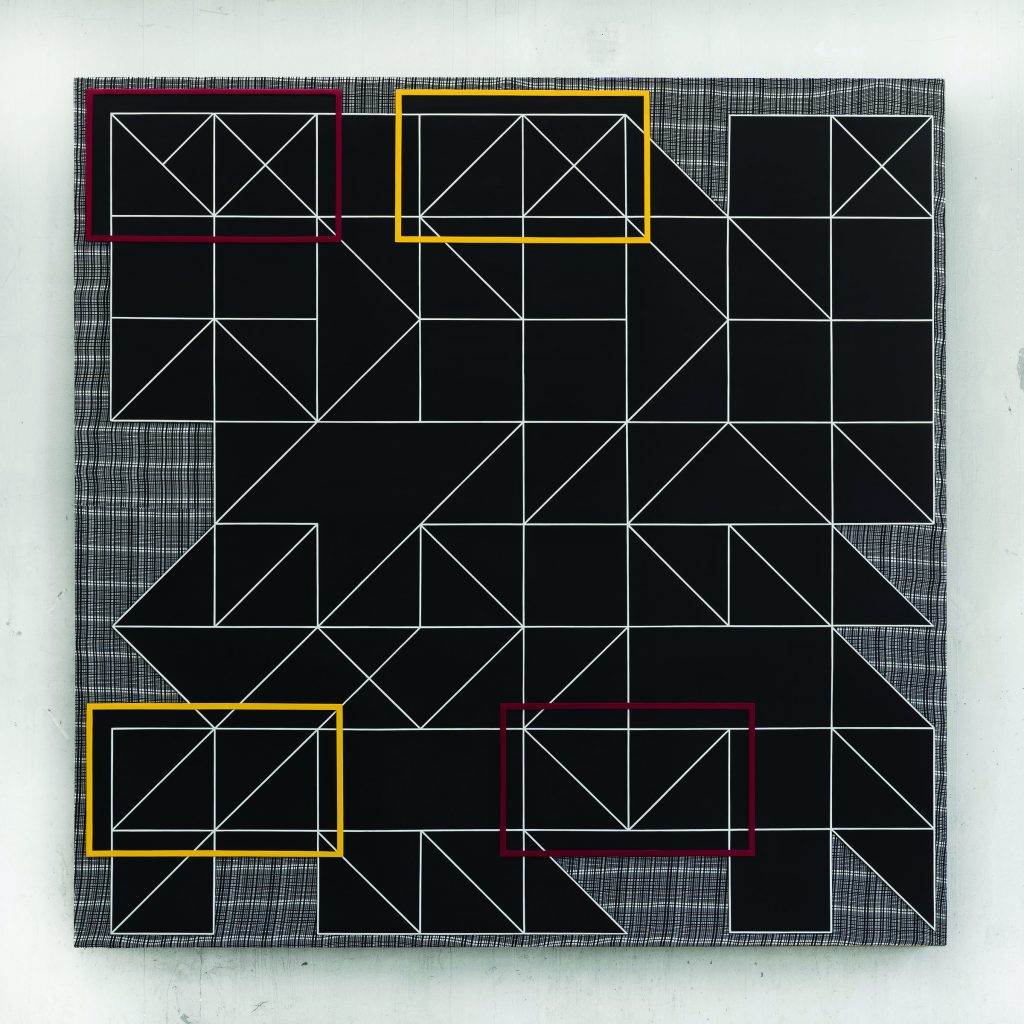 Lately, there has been a strong revival of abstract art in the West, which has been noticed by the Chinese who focus on new forms of geometrical abstraction that are often tinged with conceptual aspirations. Some artists have renewed their interest in calligraphy, finding ways to reinvent this specific Chinese art form, and in some cases, even combining it with new media. There has also been a real U-turn in the mentality of artists who understand that they live in a highly complex world upon which they need to reflect on their cultural tradition, open minds, and high sensitivity. The issues they address relate to and echo the lives and interests of people all over the world.
Moreover, the environment they live in represents the future world that is coming. Densely populated cities, lack of space, increased insecurity, surveillance, and the growing dangers of the Internet are all problems that the Chinese handle naturally because they are confronted by them on a daily basis. The days of opportunism are also gone and the key artists are confident in the long-term approach. The kaleidoscope of pictures gives the reader a condensed overview of the most recent tendencies in Chinese contemporary art.
Like his eminent colleague Zeng Fanzhi, He Wenjue moved from beautiful Hunan to Beijing where he became fascinated by the movie industry. He then carefully selected some iconic images from popular films to make his "Watch Movie" series. This was followed by a new period called the "Daily Images" where the focus lay in the act of translating reality into an image that represents daily activities, travels, moods, and emotions. Museum shows a solitary lady resting on a bench in a museum. The typical blurry technique used by He adds abstract emotions evocative of Luc Tuymans' paintings.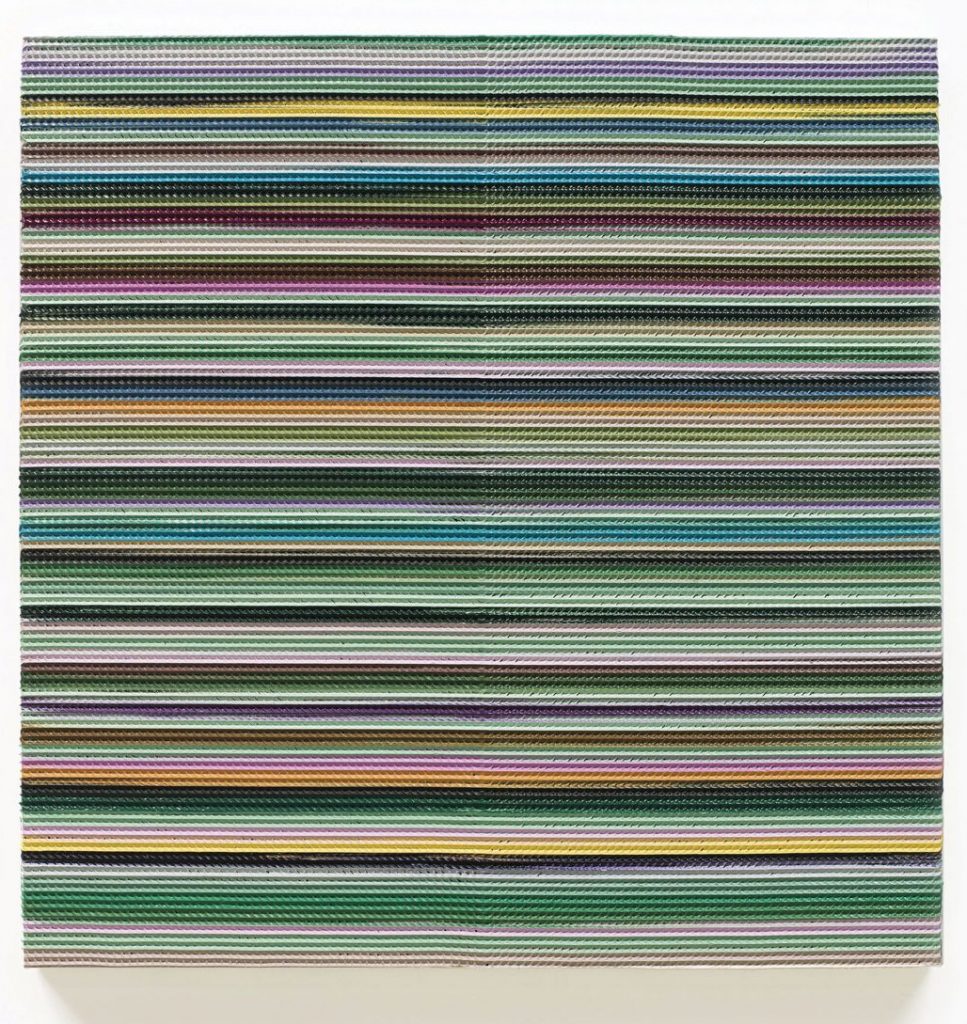 Shanghai-based installation, performance, and video artist Xu Zhen is a master of ironically subverting political exploitation and artistic conventions. He likes to juxtapose elements from different cultures; his stone sculpture Eternity is a technical tour de force that manages to realize a balanced structure of two massive stone sculptures. Xu makes us travel in time and reflect on physical and spiritual issues that are still very relevant today.
One of the youngest and most promising artists in our overview, Sun Xun lives in Hangzhou. The artist produces a multitude of drawings with incorporated text and then films them sequentially to create animations. Fascinated by world history, politics, technology, and natural organisms, his references span thousands of years and range from Song Dynasty calligraphy to something reminiscent of his favorite artist, Albrecht Dürer. (There is also a distinct overlap with William Kentridge, the South African artist who also uses hand-drawn animation to tell the violent story of his country.) The featured pastel-on-canvas painting 21K-50 testifies to Sun's fertile imagination by showing a spaceship of the future.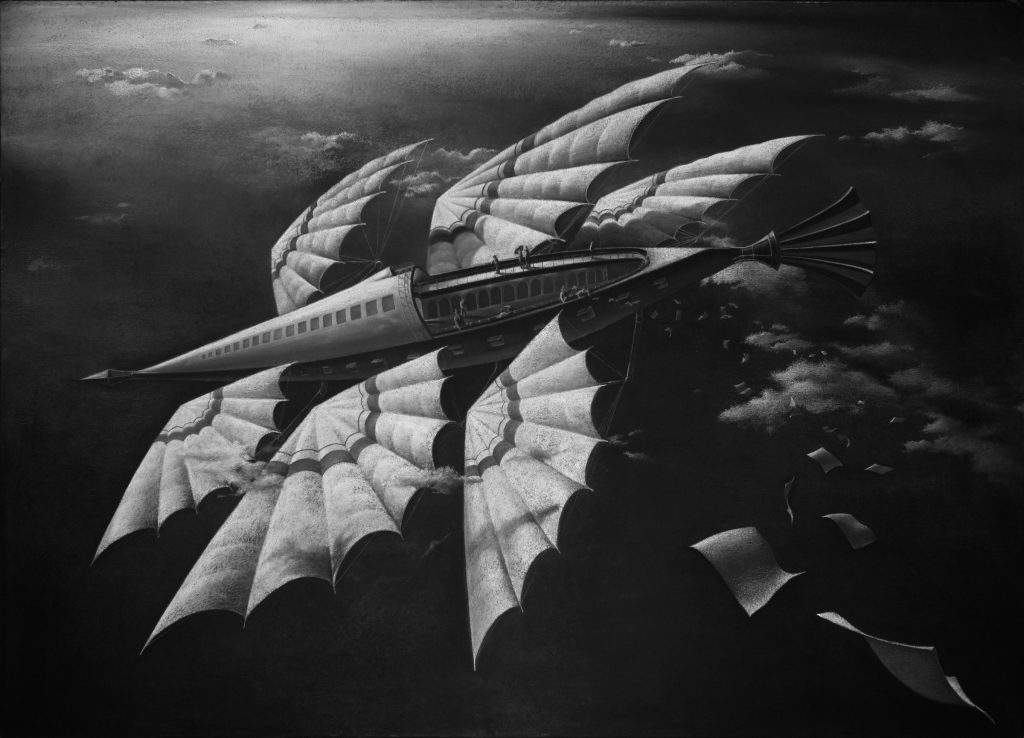 Spaceships are also a fixture of Arx Lee's work, and his "Buda-Pest" series is named according to the surnames of two fictional lovers who live in a desolate world after the end of the human race. The heroes move in space via spaceships that appear to be made of advanced and old technology. The Aviator depicts Buda discovering a spaceship in the form of a beetle, which allows him to escape from a dreadful place to be reunited with his beloved Pest. Like Sun, Arx is fascinated by animation and it is his avowed ambition to turn "Buda-Pest" into an animation film.
Beijing-based artist Liu Wei has mastered a wide range of media and techniques including photography, painting, sculpture, and installation. Found objects are an inherent part of his art and he reworks and transforms them into sculptures and installations. He is well known for his "Purple Air" painting series in which he shows us the city as a dynamic and vital force, where nature still has a role to play. The reproduced paintings reveal abstracted patterns of upward reaching vertical lines that represent the buildings of the future. Liu also uses computer software to produce a multitude of images from which he selects the best for his final works.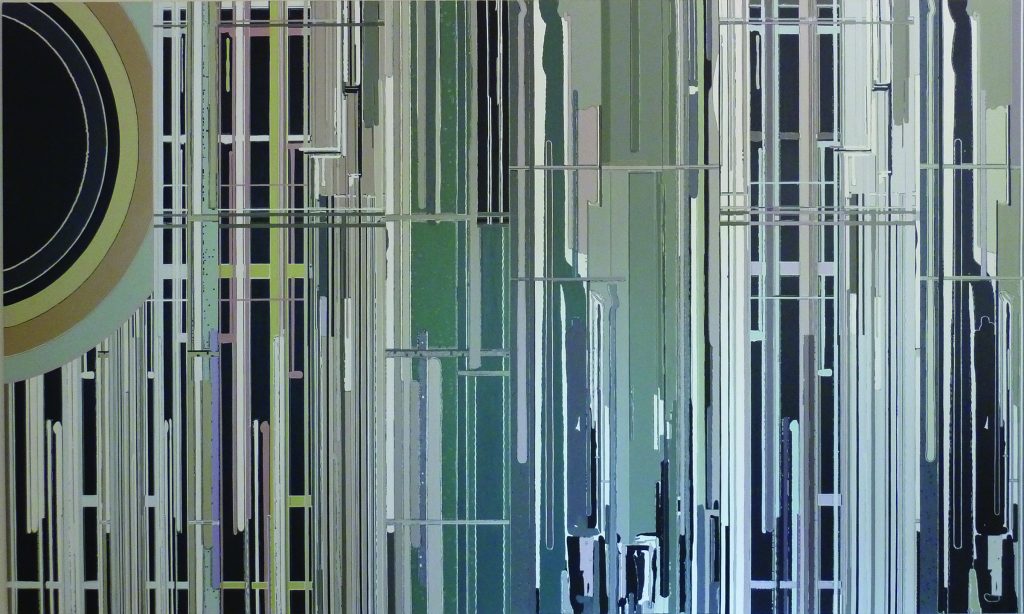 Yang Zhenzhong has constructed a multi-faceted oeuvre that consists mainly of photography and videos. Early in his career he metaphorically represented the nuclear Chinese family by photographing several combinations of a rooster, a hen, and their chickens to articulate his interest for family policy and social planning. He focuses on the intrinsic disharmony and the discrepancies observed in Chinese society. The passage is a recent video that pertains to time, space, and the contrast between the long and the flat spaces of the screen. It is an aesthetic metaphor of life and death, an ultimate achievement by one of the few Chinese video artists who can truly rival the great Yang Fudong.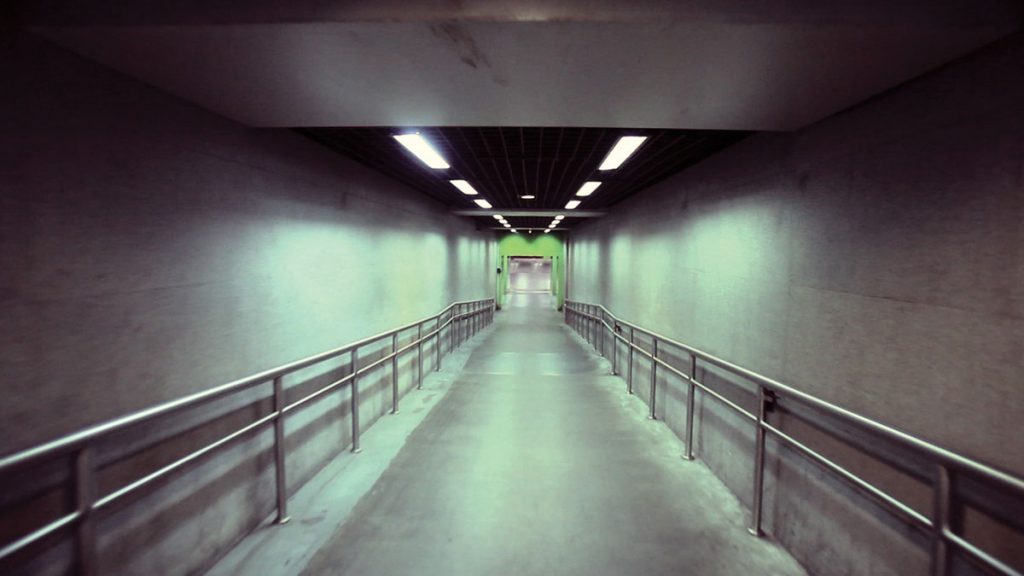 Alongside her husband, Song Dong, Yin Xiuzhen forms the preeminent power couple in contemporary Chinese art. She is famous for her portable cities — suitcases filled with discarded fabric and equipped with speakers that give each "city" its own soundtrack. Her main issues concern the construction of history and memory. The installation "One Sentence" consists of 108 objects, numbered stainless steel tins filled with clothes from various friends and arranged in a circular configuration. The title refers to the words of a sentence that form a unit like the tins, which are numbered and stamped on the lid. Inside the tins, the clothes produce a beautiful abstract portrait of colors and patterns.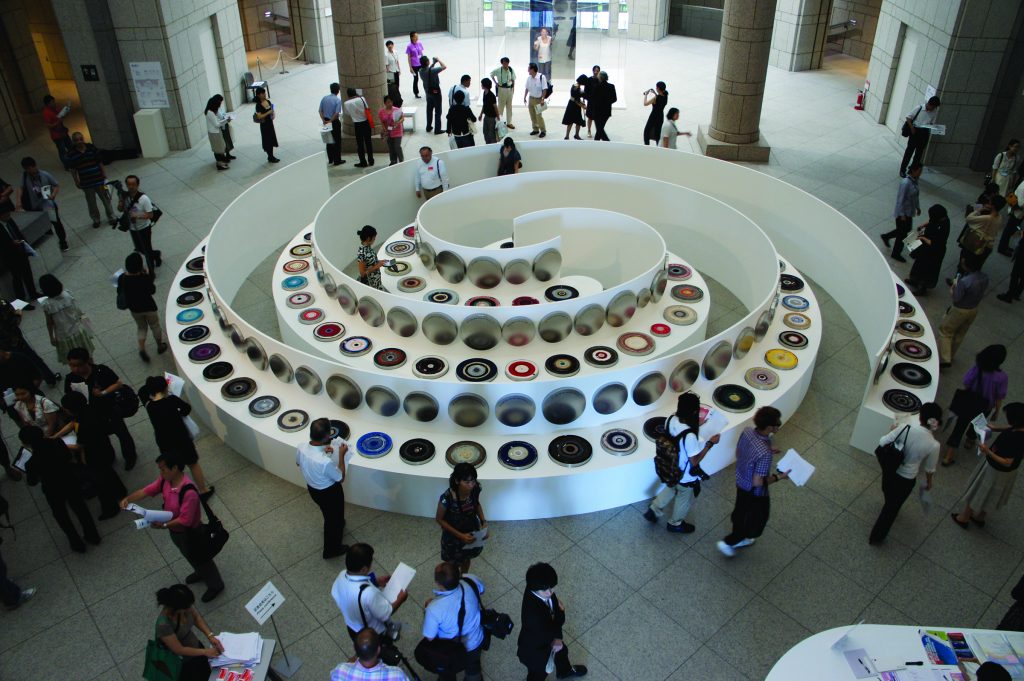 The pioneer of Chinese abstract and conceptual art is clearly Wang Guangle, whose beautiful terrazzo paintings are reminiscences of the tiled floors in his childhood home. The elements of time, memory, and evolution all play a crucial role in his works. The younger abstract painters we have selected have other concerns but they are equally concept-based. Xie Molin is an artist who builds drawing machines that create complex, organized abstract paintings to expand the potentialities of the medium. Some of his paintings, like Overlay No. 10, show horizontal bands of radiant colors, while others feature a vertical or rainbow configuration. His recent paintings are monochrome with an irradiating light in the center. Xie is not throwing the dice like John Cage, but he keeps a balance between chance and concept as can be clearly understood by the differences in his various series.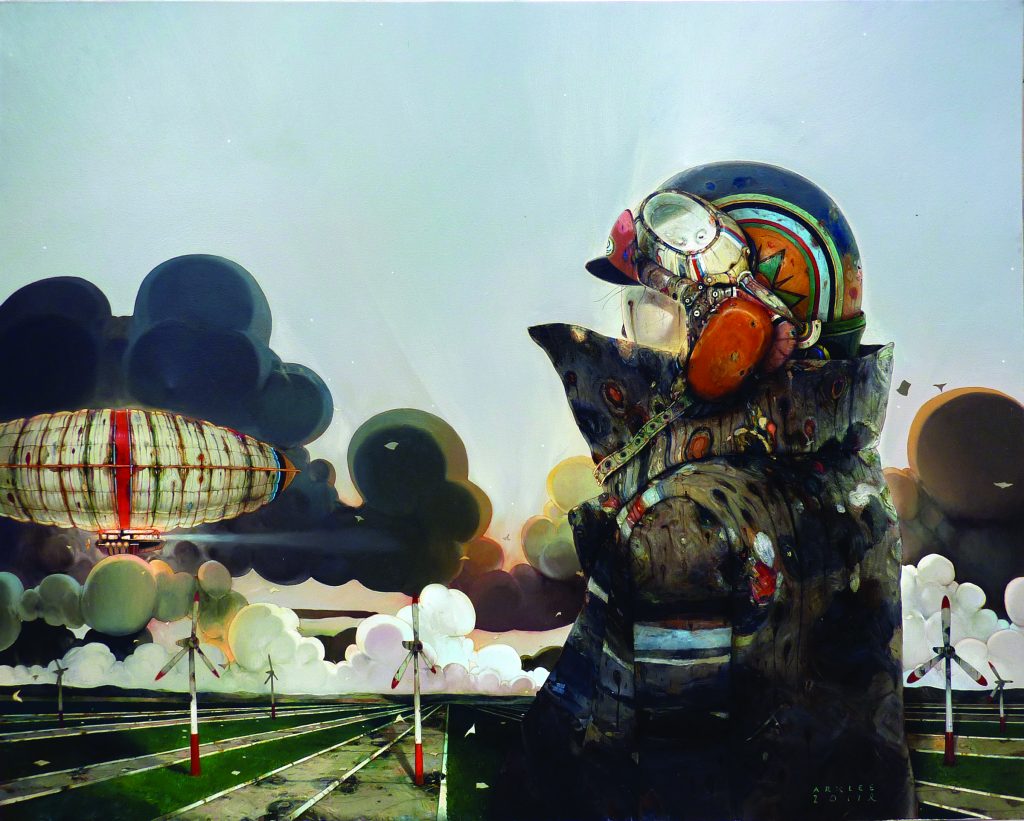 And although Zhao Yao is active in various media, his forte is clearly a conceptual painting.
His recent series "A Painting of Thought" reveals a sense of mission that deals with fundamental questions about art. He likes to use found materials (like used fabric) on which he displays his brand of conceptual abstract art. The viewer has the feeling to be confronted with brain games, dissection puzzles like the centuries-old Tangram. With each new series, Zhao finds new models that redefine the balance between art and artist, art and the viewer.
The amazing diversity displayed by these artists is the living proof of their innovative skills, conceptual and moral strengths, and infinite potentialities. The inexorable rise of Chinese contemporary art will undoubtedly strongly challenge the present supremacy of Western art in the years to come. Serious Western collectors would be wise to pay attention to this burgeoning movement.
This article continues additional contributions from:
Marc Bollansee is a Belgian independent art writer and collector. As a speaker and writer with over 40 years of experience, he has lectured and written on contemporary art from the East and the West. He spent 12 years in Southeast Asia and authored or co-authored five important books on contemporary art from the region. Bollansee has befriended a number of art luminaries and major artists during his visits to all corners of the planet.