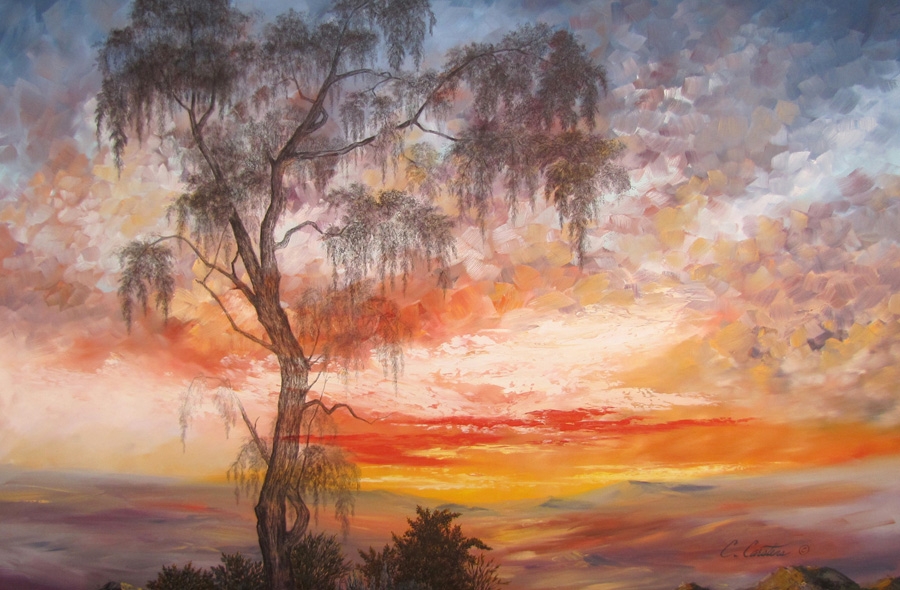 Cyndy Carstens began a love affair with art after winning a scholarship to the Art Institute of Minneapolis at the age of six.
Her career has encompassed work as an art director, graphic designer, illustrator, muralist, fine art painter and gallerist. Cyndy owns and operates Carstens Fine Art Studio & Gallery in the center of the Scottsdale Arts District, AZ. The Scottsdale Artwalk was just named one of the top ten best cultural walks in the world by MSN Travel/U.K.
Cyndy's work can be found in private and corporate collections across the U.S. and Canada. She and her paintings have appeared in numerous newspaper and national magazine articles, as well as being featured/interviewed for television news programs. Her art has won more awards than can easily be counted.
Carstens' paintings currently focus first on the color of light and second on landscape features combining impressionist strokes and realism in the same piece initiating an intriguing artistic tension.
"Art is the music in my head; the light in my soul; and the passion of my heart."
It is said the most exquisite art is created by a tortured soul. No stranger to life's challenges, Cyndy would still argue that while heartache and pain can contribute to the richness and depth of art, it is the breath of peace that truly gives art life, memory & endurance.
Special Events in January and February —
Thursday, January 15th from 7 to 9 pm — The Collector's Artwalk — Downtown Scottsdale Arts District
January 26 through 31st — 10 am to 8 pm — Carstens Fine Art will be Open Late each evening until 8 pm with "Tail-Gating Snacks", Live Oil Paintings Demonstrations and Door Prizes.
Thursday, January 29th from 7 to 9 pm — The Scottsdale Artwalk — Live music with Harpist Jocelyn Obermeyer
Saturday, January 31st from 10 am to 8 pm — The Big Game Artwalk — Live music with Flutist Sherry Finzer — Munch on Super Bowl Treats, watch Live Oil Painting Demonstration and Art-Inspired Door Prizes.
Thursday, February 12th from 7 to 9 pm — Special Valentine Reception at Carstens Fine Art during Scottsdale Artwalk
Thursday, February 19th from 7 to 9 pm — The Western Artwalk — Downtown Scottsdale Arts District — Live Music with Guitarist Darin Mahoney