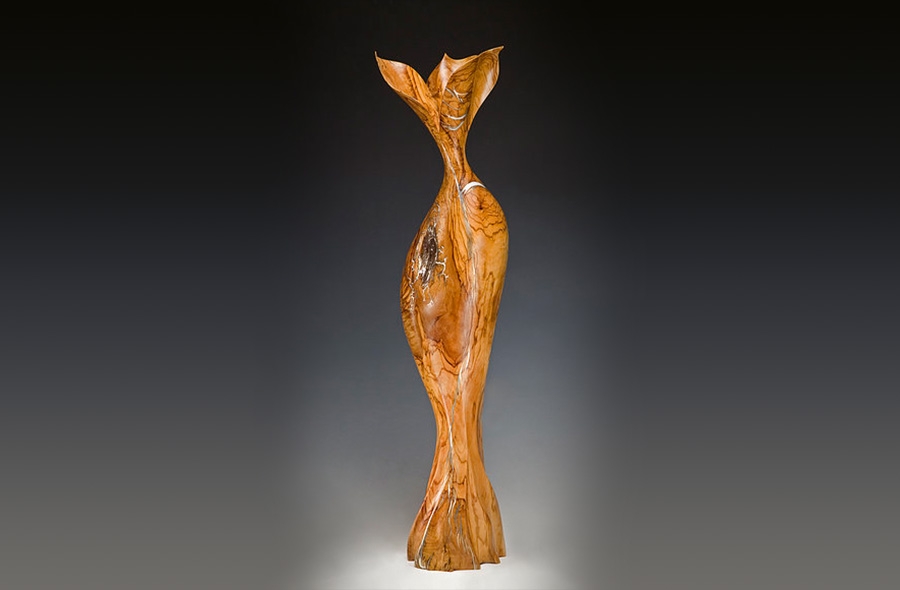 Dwight Bennett has been a sculptor and craftsman since 1968. Late one night in his Studio on April 20, 1981 while working on an ironwood vessel, he became concerned for a magnificent storm that began announcing a presence on the evening horizon.
"As my Studio shares part of its' workspace to the outdoors; the impending storm along with an accompanying light show suggested I should abandon work on my piece and return safely inside. Before this could be managed, a thunderous bolt of lightning struck the wash no more than fifty yards from my studio space.
I was sent to the ground and returned to consciousness a short time thereafter. Upon trying to gather my senses and not entirely certain whether dead or alive; I lay on the ground watching my lathe spin wildly with a shiny spot of light flickering back at me. Managing to get to my feet, I made my way to the lathe for closer inspection and found someone had previously shot a bullet into the wood. The shiny 'silver like' lead bullet had wedged itself into the natural fissures of the wood.
I was amazed to see the unusual patterns that I had unwittingly cut into the lead; oddly, this pattern very much resembled the very bolt of lightning that had sent me to the ground moments prior. In that instant, an epiphany involving my relationship with wood had been reached; impacting how I saw each piece being finished and the story the "Silver Bullet" was born. To this day, it seems upon the completion to a piece of work; the silver was always there, as if a part of nature.
As a sculptor, it's vital that I flow in harmony with the nature of my work. When wood dries and grows old, Mother Nature's caricature gradually slips away; I take this caricature and create from it. My role is to define and shape these areas and thus illuminate Mother Nature's thumbprints. By using my inlaid silver technique, I feel achievement to this end. Being the first to develop this method of vein striation enhancement, the silver gives my work a unique sense of harmony and flow along with perception of electricity and life.
This intricate inlaid silver technique evidenced in today's work was a five year process in development that took two technicians, one metallurgist and myself to refine. After cutting and carving, I give the piece to my technicians who make mold impressions of the wood for the casting process. The metallurgist insures the alloy has workability relative to properties of flexibility.
In every piece that leaves my Studio, a nearly pure silver content with traces of platinum are used to ensure a brilliant luster that shall never be subject to tarnish. We then inlay the cast pieces into the wood. This entire process takes three to six weeks depending on the piece. I then grind, sand and polish the inlaid silver to necessary fit. Finally, a hand rubbed oil finish is applied over a three week period, producing the finished work. Now, 32 years removed from that stormy Arizona spring evening, my inlaid silver technique, which has dazzled art enthusiasts for years, has become my trademark; for this reason I have been referred to as "The Silver Bullet"."
Inspired by the lyrical beauty of the female form, Dwight Bennett's wooden vessels and sculptures represent the essence of the feminine shape. Inlayed with delicate silver strands that wander and weave through wood; these abstract forms incorporate both the characteristic elegance and strength of wood, enhanced with the fluidity of precious metal. "Wood is the foundation in which I work. The silver should look as if it grew in the wood itself."
Dwight Bennett's path to creating exquisite pieces of artistry in wood is as unique as the work he sculpts. A fifth generation native to Arizona, Dwight, as a youth in the third grade, began carving tiny sculptures out of his crayons with his fingernails, and by the eighth grade Dwight completed his first table. As a student at Arizona State University, playing football and studying to receive a degree in both Art and Technology, while later acquiring a Master's Degree, he sold his early work around campus for extra income. "… In those early days at ASU, both the prices and the pieces I created were small in scale and scope."
A gifted athlete and talented artist, it appeared that his creative expression would be saved for later in life as he explored the world of professional athletics shortly after college. Dwight went onto play football for the Los Angeles Rams, an athletic career that was tragically cut short by a near life ending auto accident. Turning his attentions back to family and art, Dwight took a job as a high school art teacher and athletic coach. With this new endeavor he discovered more time to develop and pursue his art. "My adventure into the World of Art was undeniably a 'road less traveled.'"
Provided a chance encounter with Don Pierson, the highly respected art dealer and owner of El Prado Gallery in Sedona Arizona, Dwight was given an opportunity to display his work and thusly, a promising career as an Artist began to take shape. Nearly forty years from these early beginnings Bennett's career as artist has elevated the field of turned wood vessels and sculpture from craft to fine art. Decades of perfecting his art have brought him respect, recognition and admiration from that of collector and peer. Only the finest pieces in a variety of woods such as; mesquite, olive, holly or Bennett's personal favorite Arizona Ironwood are chosen for his breathtakingly elegant sculptures in wood and metal.
Dwight Bennett's surfaces inspire a sense of wonderment and intrigue from his collectors. From his early works such as the heart-shaped sculpture entitled Life, which toured the United States and Europe as part of a Phoenix Art Museum Collection, to that of his recent work, Bennett continues to enthrall his collectors; most often having them ask the question how? "The how is the most powerful and grabbing for an artist to achieve. If we as artists can get the audience to wonder how, the rest of the who, what and why will follow … keeping them forever looking."
Dwight Bennett resides in Paradise Valley, Arizona where he continues to work and create. His art is proudly represented in fine galleries throughout the country.