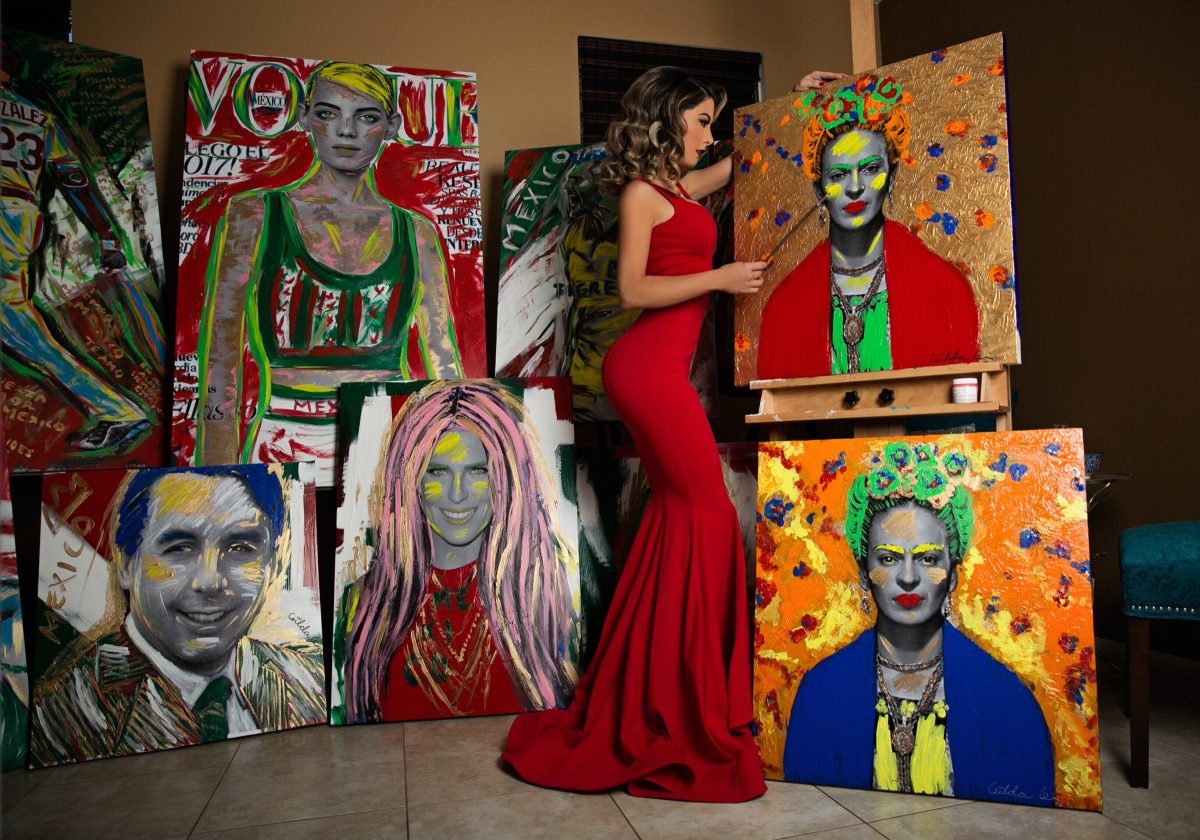 Before the international art community descends on the beautiful beaches of southern Florida for the globally lauded Art Basel festival in Miami, we had the opportunity to sit with one of the art communities rising stars, Mexican Artist Gilda Garza. After experiencing one of the most successful years in her career, with showcases in New York, Las Vegas, and Los Angeles, Garza has ascended herself as one of the art world's brightest young stars.
Garza's reputation for creating not just art exhibits, but experiences that explore all the senses, has quickly made her one of the hottest art attractions in some of the biggest galleries around the world.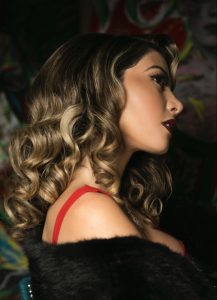 Garza's first introduction to the bright lights of Hollywood was a successful exhibition that took place at the iconic Hills Penthouse in West Hollywood. Titled "Kings & Queens", the event was in support of "Together1heart", an anti-human trafficking organization. Celebrities in attendance included Alexis Knapp, Sammi Rotibi, Annalynne McCord, Kelley Jakle, Janice Dickinson, and David Faustino, among countless others.
Gilda's artwork and imagery has garnered worldwide acclaim, and her work has been sought after by some the most recognized art collectors and dealers around the world. Her clientele now includes international celebrities, who have voiced their support for this rising star.
This year, Garza's art has been showcased in a number of unique places. In addition to having her work featured on the cover of Playboy Magazine, she was honored by having her artwork meticulously integrated into a one of a kind piece by revered fashion designer Roberto Cavalli. Garza also carried the Art and Fashion theme into Fashion Week where she painted her work onto one of Nicole Miller's designs on the catwalk. And lastly, you may have seen Gilda's art lighting up the strip at Caesar's Palace in Las Vegas.
Her exhibit during Art Basel, which will take place on December 6, is one of the most talked about exhibits to come to South Beach this year. The road is bright for this emerging talent, and she sat down with us to offer a glimpse of the life, mind, and creativity of a genuine artist.
What is your favorite exotic locale that you enjoy jetting off to?
To me, if I want to have fun, my choice escape is St Tropez. Not only does art play a pivotal role in setting the energy and life that pulses throughout this French gem, but also I love how the nightlife brings together people from all walks of life. Secondly, if I'm looking to getaway and hide, my favorite is Laucala Island, Fiji. This real life "fantasy island" captures your mind and soul as you immerse yourself in whatever you want that day: ranging from horseback riding in the South Pacific, to painting in the pool.
What is one thing you will never travel without?
I never leave home without my tennis shoes; they come everywhere with me. No matter where I am in the world, I cannot wait to lace up my sneakers and go for a run. I love the inspiration that comes to me when I disconnect from everything.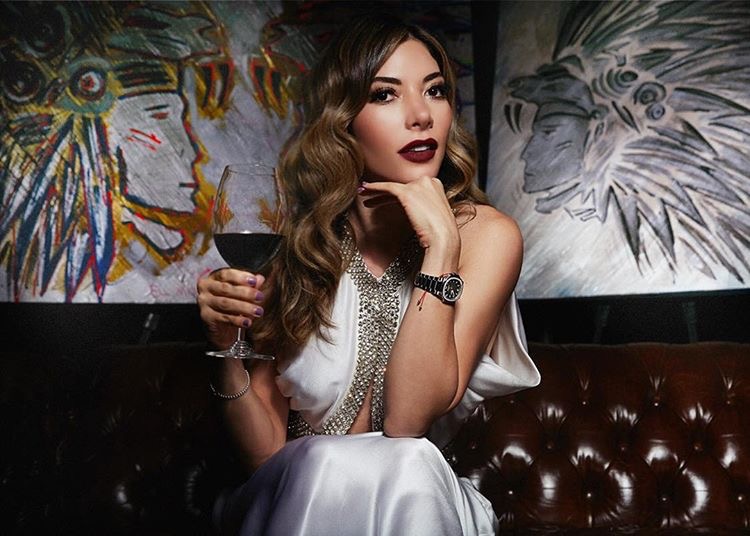 If you could paint with any artist, alive or dead, who would it be and why?
Of course, I draw my inspiration from a lot of different artists. But if I could only pick one I would paint with Jeff Koons. Most people know him for his larger than life "balloon animals," but I admire the creativity and craftsmanship of his brightly colored abstract paintings. The way in which he distorts and re-imagines color is inspiring.
Having already worked with Roberto Cavalli, which designer would you love to collaborate with next on a full line?
This is another tough question, as for the entirety of my life Roberto Cavalli has been one of my favorite designers. Indeed, I have always had a love for fashion —the elegance of Chanel, the boldness of Gucci today—but I feel like D&G would be a fun project. The classic yet modern style of D&G would pair perfectly with my contemporary re-imagining of the symbolic nature of Kings and Queens.
You collect a lot of art yourself, what are your favorite pieces?
I love my gold lips by Niclas Castello and "Panda Bear" by Domingo Zapata; however, right now, I'm in love with my Picasso sculpture from Murano glass in Venice. It's hard not to admire the talent and craftsmanship that goes into every Murano.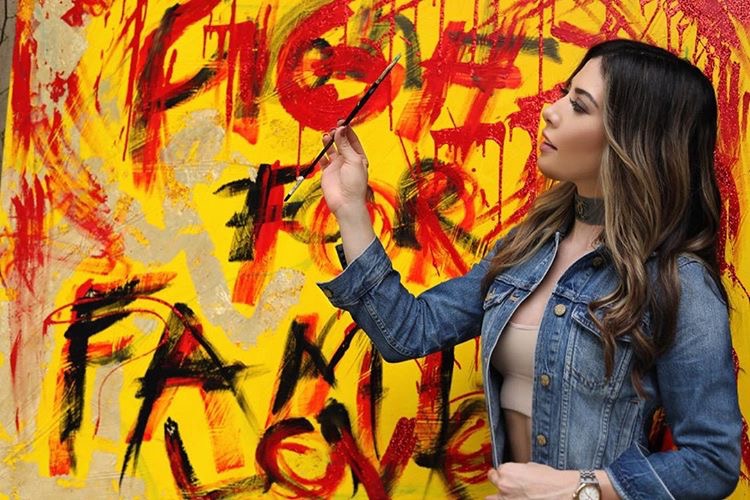 Did the art and architecture of your hometown Sinaloa inspire your art?
It wasn't as much the art and architecture as it was the people and culture. Everyone knows Sinaloa for El Chapo. But my Sinaloa is a beautiful state, full of the most delicious food, the most scenic beaches, and the most inspiring people. However their are aspects of Sinaloa that have broken my heart and those reasons have also fed my inspiration.
At what age did you paint your first piece of art?
Given that my mother is also artist, my earliest memories are those with a paintbrush in my hand.
You have painted a lot of celebrities, who would be the one person you would love to paint?
I would love to paint Beyoncé or Lebron James: Queen B and King James. Our modern queen and king.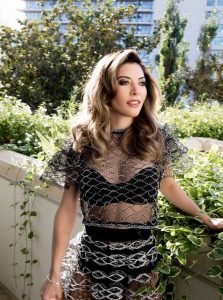 What is your advice to a new budding artist who is trying to get into the art space?
I tell myself every day to find my inner warrior: to stand up for what I believe in and fight for my dreams and passions, with all my heart. Life is too short to not do what you love, and to not give it all you have got!
What artists do you take your inspiration from?
Gustav Klimt has always inspired me. Though his art was initially criticized for its over-sexualization and eroticization of the female body, I believe today it has taken on a new meaning for it exemplifies the power, strength, and sheer beauty of women. I feel a deep connection with him, considering much of my early art was inspired by the concept of the strength of femininity vs. its sexualization.
What inspired you with your most recent collection, Kings & Queens?
My inspiration for this collection is true love. In a relationship, your partner needs to make you feel like a King or Queen. Given all of the images popularized by social media, people often feel disenchanted with themselves. I created the collection to inspire people to pursue love and to surround themselves with people that treat them like the royalty that they are. Growing up, I always saw the way my grandfather treated my grandmother: like a queen and vice versa. The mutual respect for each other fueled their everlasting love and my desire to never settle.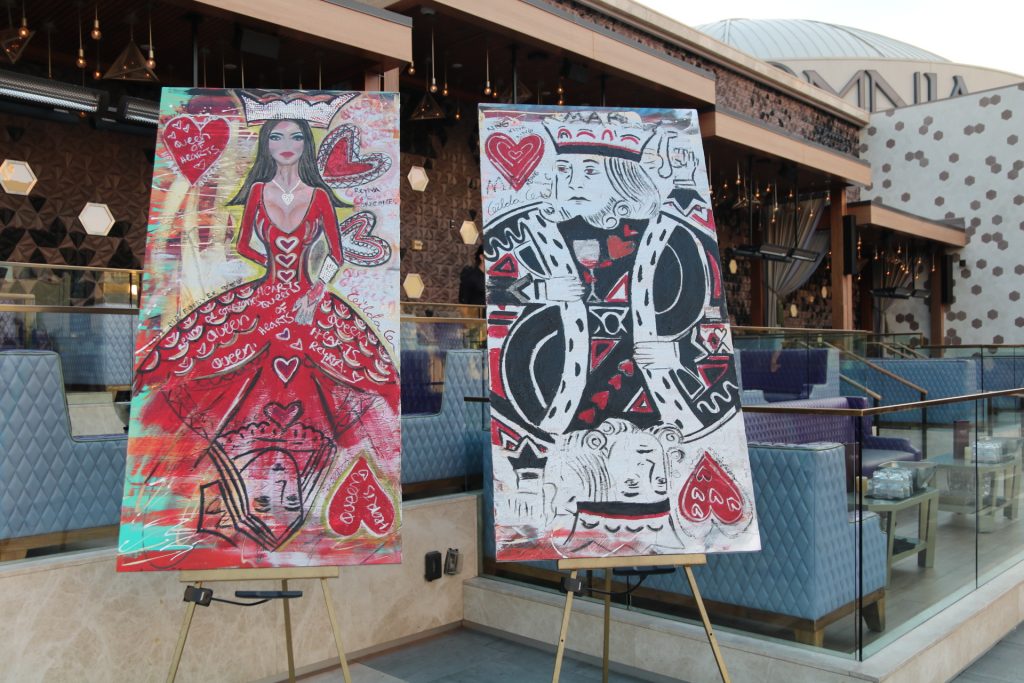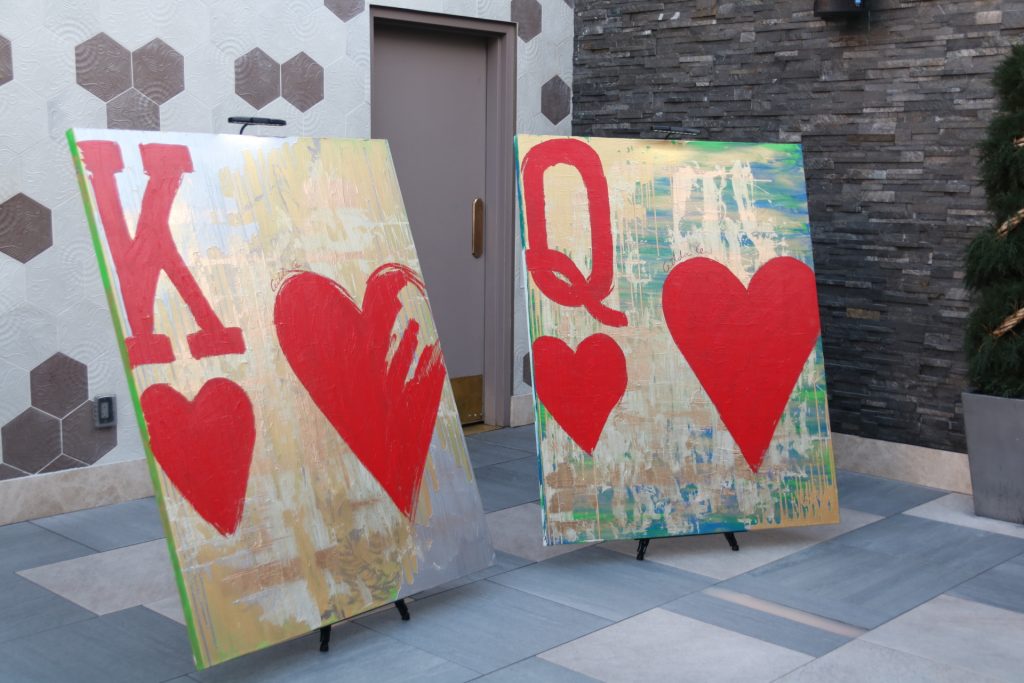 What's your favorite piece of art you have done?
Definitely my King and Queen.
As you have exhibited your work all around the United States, where else in the world would you love to exhibit?
In New York, for it has long stood as an escape for artistic expression and representation.
Is there a museum or gallery you would love to be featured in?
The museum that I would die to be featured in is the Museum of Modern Art in New York City. Not only is the MOMA one of the top tourist destinations in the U.S., but it also houses much of the world's modern art treasures. It would be a dream come true to be featured under the same roof as artists such as Salvador Dali, Frida Kahlo, and Jackson Pollock.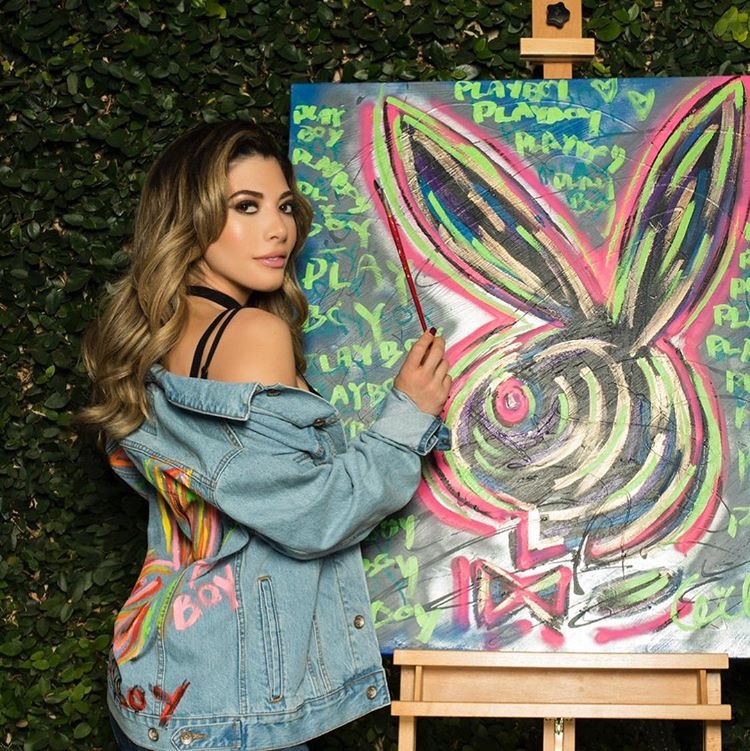 Being that this is your third Art Basel, what are the plans with your show there this year?
There are a couple of events scheduled for this year's Art Basel. My art will be featured alongside "The Lost Warhol's" at the Delano Hotel from November 29th to December the 10th. And I will also be at Miami's newest hotspot, The Swan, on December 6th from 6-10:30 PM.