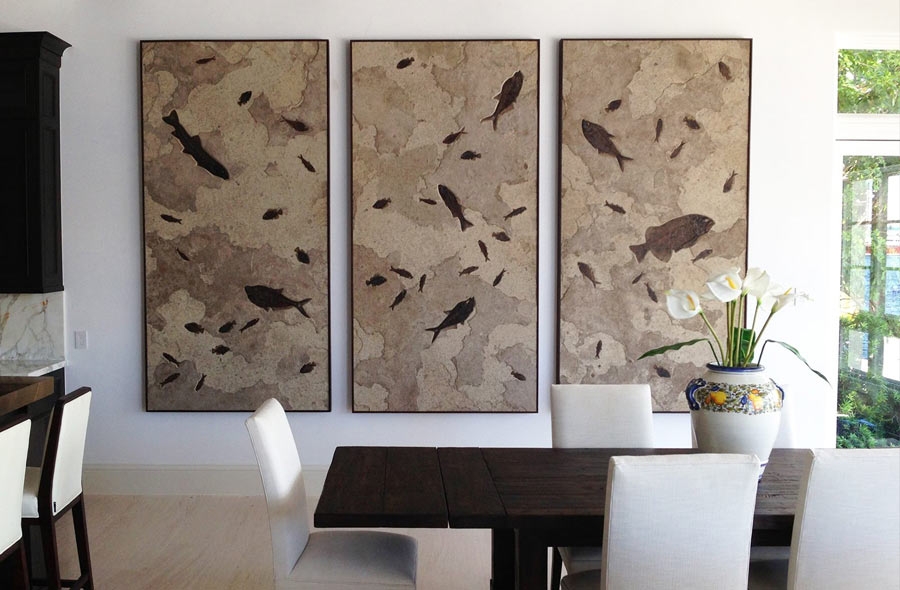 Over a century ago, a 50-million year-old secret was discovered in the desert of Southern Wyoming: a fossilized lakebed that was once a tropical lake teeming with fish and plants.
Moving layers of this dense limestone lakebed has led to the hand selection of the most intriguing fossils; including palm fronds, crocodiles, turtles and a variety of fish. "Absolutely breathtaking" is how Eostone's natural stone fossil artifacts are described by those who look to the past to create today's amazing interior designs.
Once you have seen these captivating works of art, you will understand why they are admired by private collectors, architects, interior designers and fossil enthusiasts. Eostone fossils can be appreciated as art murals, dramatic tables, countertops and backsplashes in both commercial and residential environments. Stone colors can range from chocolate brown to bluish gray to tan depending on the stone layer within the quarry.
Fossil Murals
Our murals are supplied with one of two edge treatments: an irregular natural shape , or cut and framed edging. The natural shaped mural provides a textured edge creating an illusion that the stone is "floating" on the wall. The framed edge incorporates a hardwood frame that compliments the beauty of the stone and the fossil content. These murals are ready to hang with a French cleat and installed by our team of professionals.
Backsplashes, Counter and Vanity Tops
A backsplash, counter or vanity top created from our fossilized limestone becomes a functional, timeless work of natural art. Each one is unique and is designed with function and room integration in mind. Backsplashes can be constructed from small or large tiles selected for their color, finish, and fossil content; or they can be created from a single, continuous slab of stone. You may choose from a selection of pre-made, ready-to-install backsplashes, or we can custom design and build a backsplash to your specifications. Vanity tops are designed to accommodate the sink location, faucet location, and all other design elements, and can be supplied with a matching backsplash.
Tables and Benches
Understanding the unique properties of each piece of fossil stone is essential in making our tables and benches. We take great care to shape and size the stone in ways that enhance the fossils. To highlight the stone's beauty, each top is hand-polished multiple times until the desired color, depth, and patina is achieved. As a final step, a sealer is hand-applied to protect the stone from spills and stains. A wide variety of table sizes and bases are available, including side tables, coffee tables, console tables and dining tables. Adding to the diversity of the range is a selection of several styles of table bases: a sturdy, steel parson style base with a powder coat finish, a hand-forged wrought iron base, or an exquisite wooden base.
Tiles
Tiles from Eostone can add a much-needed focal point to any room. Used in both commercial and residential interiors, they are ideal for kitchen backsplashes, shower walls, floors, bathrooms, wall cladding and a variety of other applications. These one-of-a-kind limestone fossil tiles are cut and finished by hand in a variety of sizes and finishes, and are highly versatile in their applications. Eostone offers a selection of pre-made tiles in a variety of standard sizes, fully prepared and ready to use in any setting. Custom, made-to-order sizes are also available.
Creating these magnificent works of art is a precise and labor-intensive process. All Eostone works are prepared by hand and contain authentic, 50-million-year-old fossils collected from a private quarry. Every unique fossil is collected and prepared in accordance with the strict guidelines established by the American Association of Paleontological Suppliers Code of Ethics, and comes with a Certificate of Authenticity. Before any fossil can be properly displayed in your home or commercial setting, skilled craftsmen prepare it by hand. During this process, great care is taken to highlight the fossils within the stone slab. Whether its exposing them in relief for a more textured effect or honing them flush with the surface of the stone for a smooth surface, the end result of every Eostone fossil is always the same– a timeless work of art!