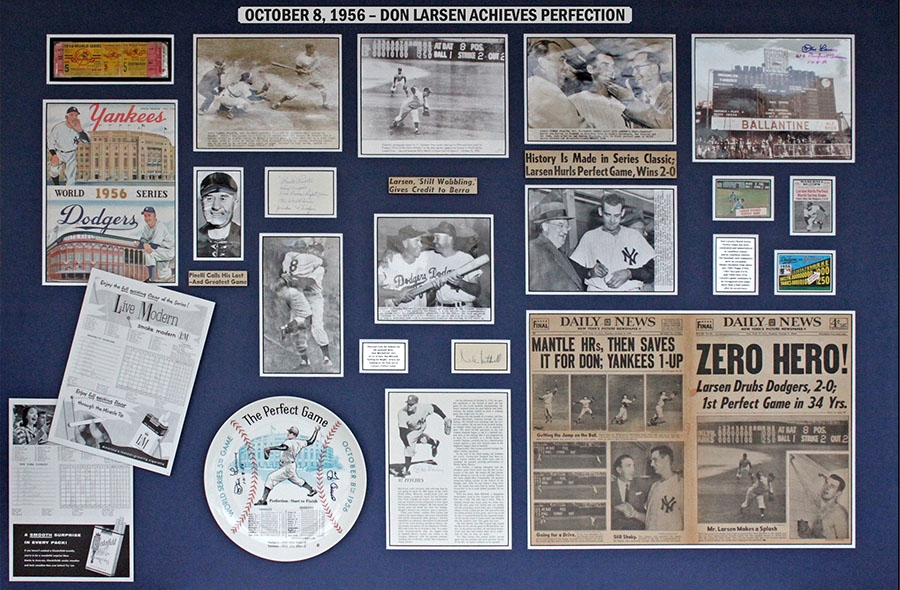 It was while growing up in Mount Vernon, New York, that I first fell in love with the world of sports.
In the 1960s, still in primary school, I watched future NBA basketball stars, Ray and Gus Williams, Earl Tatum, and Rudy Hackett, show their talents in the high school's gymnasium. As a teenager, I grew even more devout when I became the statistician for the Mount Vernon Knights during the years that Rodney and Scooter McCray ran the court. And then there were the Yankees of 1968. That year,accompanying my father to the old Yankee stadium, I witnessed home runs by Baltimore's Frank and Brooks Robinson, as well as my father's personal hero Mickey Mantle, all of which further stoked my desire for all things sport.
I moved on to the University of Wisconsin, then to law school, and for the last twenty-five years, I have worked as an Art dealer, primarily focused on 19th and 20th Century paintings. Of course, I never lost my love for sports, and recently found a way to bring together art and sports, my twin passions. GoingGoingGoneSports is dedicated to creating works of art that celebrate great moments in sport's history. Our artworks include a range of rare artifacts, including autographs, tickets, programs, photographs, and press passes to tell the story of a particular sport's event. These stories appeal as much to American art and history buffs as they do to sports fans. After all, one can reasonably argue that sports history is American history.
What gave birth to GoingGoingGoneSports, you may ask? It was 2004, and despite a seemingly insurmountable 3-0 lead, the New York Yankees lost to the Boston Red Sox in the American League Championship series. The Red Sox stunned the Yankees and the sports world, rebounding to win four straight games and their first World Series Title in 86 years. I was at this epic game and remained in my seat through the final out. Though personally devastated, I knew that my best friend's father happened to be a huge Red Sox fan. How thrilled he would be to receive my ticket stub handsomely framed with a note attached. I wrote, "Congratulating all Red Sox fans on their victory!Be sure to savor this victory which occurs every 86 years!" It wasn't long before I received a phone call from this Red Sox fan. I should mention here that this man also happened to be a collector of fine art. "Gosh Neil, this is the greatest gift I have ever received! Don't tell my wife, but I'd like to take down my Hopper and Mondrian and place this ticket in their stead, the place of honor it undoubtedly deserves." My friend's enthusiasm prompted me to consider that all significant moments in sports appeal to our sense of greatness and are deserving of being recalled again and again. And what better way for a moment to be immortalized, I thought, than to be captured in a frame.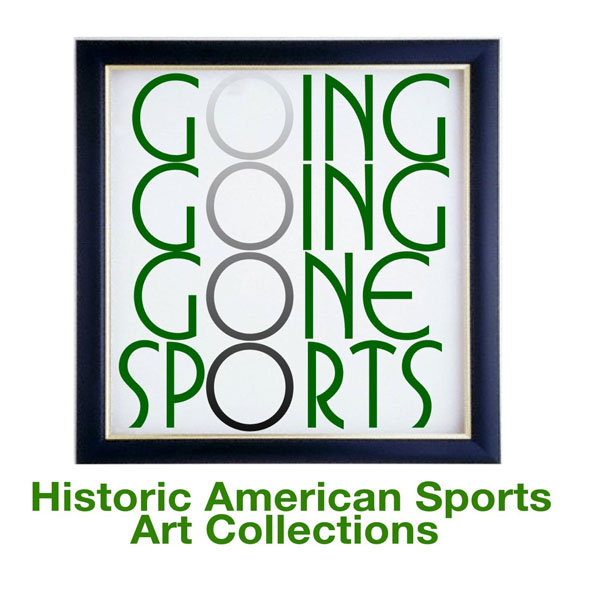 One of our more popular pieces, measuring 60 x 40 inches, celebrates Mickey Mantle's record for most World Series Home Runs (a record which still stands to this day), 18 in total. Arranged around a central signed image of The Mick, it includes a ticket for each home run, as well as the autograph of each pitcher off of which Mantle connected. Another gem homes in on Roger Maris' great feat of breaking Babe Ruth's single season home run total by hitting 61 home runs in 1961. It includes the autographs of all forty-six pitchers who fell victim to Maris' home run power. Other notable one-of-a-kind works in our collection center around the individual achievements of Hank Aaron, Sandy Koufax, Jessie Owen, as well as storied team accomplishments by the 1927 and 1961 Yankees, the 1968 Detroit Tigers, and the 1969 New York Jets and Miracle Mets.
Each GoingGoingGoneSports artwork takes from three months to several years to complete and ranges from $5,000 to $150,000. GoingGoingGoneSports.com welcomes commissioned works for one's own collection or for that special gift to a deserving friend or loved one. One client requested several works that captured championships and Heisman winners from his beloved Ohio State Buckeyes. Currently, we are working on tributes revolving around Wilt Chamberlain's 100-point game and Joe DiMaggio's 56 game hitting streak.
We have been thrilled to see our gallery move from a 4th floor NYC walk up to Madison Avenue in a short period. Our collection has been seen at America's finest institutions and businesses, including Steuben Glass and Thomas Moser, and each showing has had its stay extended for months. Perhaps this may be one reason for why we have titled our most recent show Extra Innings. Our next exhibition will be held at the Atrium of the Citi Corp building in Sept and October in 2015. For further information, please contact GoingGoingGoneSports and Neil Scherer at [email protected] 646-285-1497 or 212-593-9716.