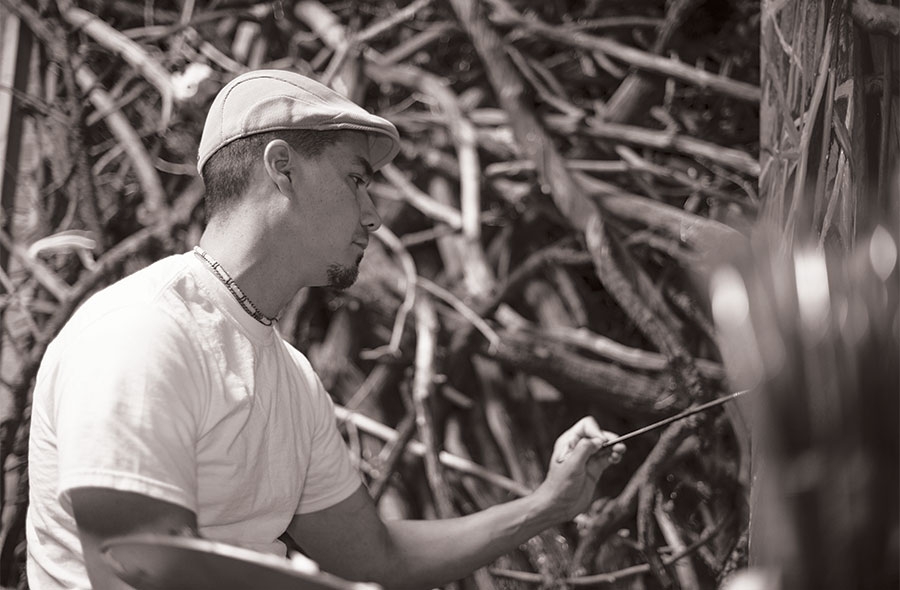 Jeff Hein believes in the process of art. He believes in mastery and skill and the hard work and dedication that result in these traits.
In an era obsessed with bigger and crazier, with performance and video art, with chaos and uncertainty, Hein remains staunchly traditional. With a laser-like intensity, the 39-year-old artist infuses depth, meaning and nuance into even the most banal subject matter. In the case of his portraits, he does not so much infuse as evoke the very essence of his subject to the surface of his canvas.
"I admire the master craftsmanship in all aspects of art, such as a handcrafted piece of furniture or an aria from a voice so naturally beautiful there's no need for digital editing. There's great value in the hard work and training that leads to this. In the same manner, I feel art done without the aid of cameras and computers should be celebrated. I don't feel this way because of how I work. I have sacrificed a lot to work this way because of how I feel."
There are artists that are master draftsmen, who can capture the intricacies and the details of movement, light, line and shadow that comprise a painting in a manner that is mathematical and precise. Then there are expressionistic artists who with their brushstrokes can better capture the emotional essence of a person or the aura of a scene without conveying every detail. Finding an artist that can do both is rare, but Hein possesses that type of talent. His paintings draw to mind the types of images and emotion found in work by Albrecht Dürer or Rembrandt, who he cites as an influence on his artistic development.
Hein explains, "I've tried to acquire a broad range of skills and techniques to allow myself more creative control of my concepts, like a poet or writer might desire a large vocabulary in order to more easily and beautifully express themselves." Within the realm of Heins' paintings, one can see the depth and layers in his work that result from this unique and cumulative artistic and emotional intelligence. Paint strokes are precisely poised to complement one another in a symphony of color and expression.
"I've Tried To Acquire A Broad Range Of Skills And Techniques To Allow Myself More Creative Control Of My Concepts."
A series of Hein's commissioned family portraits are whimsically poignant and create modern-day interpretations of the type of traditional scenes one might find in a Norman Rockwell illustration, conveying warmth and subtle humor. His single subject portraits are more pensive and depict vulnerability, yet in a subtlety protective way. Subjects almost always look directly at the viewer, inviting judgment. In some cases they're reticent and hold objects or pets that act like protective talismans. Other times, they're confrontational, as with Joanne, 2013 who, with her eyes and her expression, appears to be questioning the viewer's motive while simultaneously resigning herself to inspection.
Hein's depth and skill as an artist extend beyond his paintings. His ability to capture motion is even more aptly demonstrated in sculptures he's done of animals that he uses as the basis for future paintings. For Jeff Hein, reality is important. He works from life or studies he's created, but never from photos because for him they're inorganic. They can't do what a living, breathing model can do. A photo is not able to breathe life into Hein's artistic process.
"I see my job as a painter as being one that involves responding directly to the world around me and not through the filter of photography," he explains. "Painting is about thousands of moments, responding to this one and that, editing out one, leaving another in. It's a medium that allows the artist to explore his imagination on canvas."
Hein's work has been included in over 40 group, museum and solo exhibits across the United States and Europe. His paintings and sculpture can be found in several prominent collections, including the private collection of Ann and Mitt Romney. Jeff Hein has been featured in several leading art journals, including Art News, Art & Antiques, Fine Art Connoisseur and American Art Collector.
---
Jenifer Mangione Vogt is a publicist and art and culture writer that works with art, culture and finance clients in Palm Beach, New York and Italy.