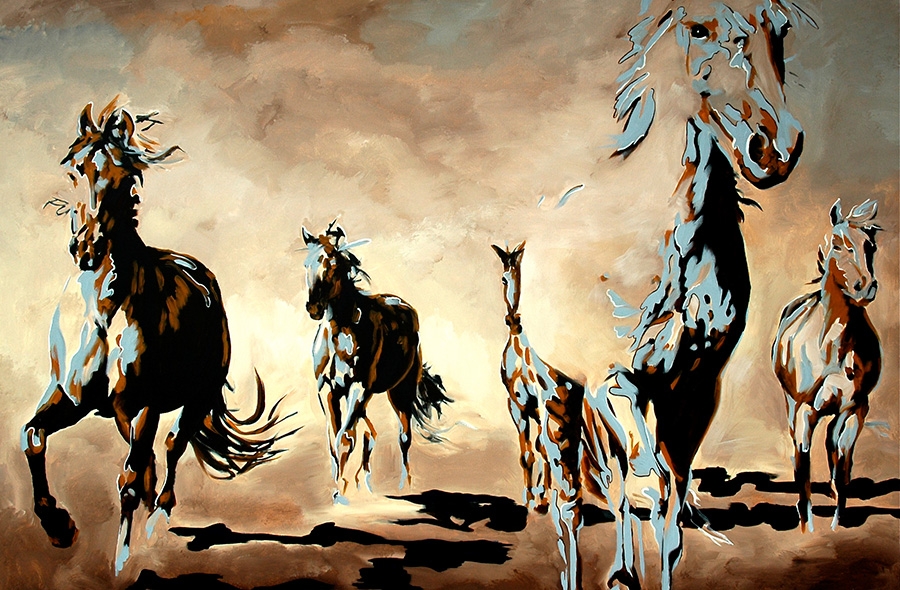 Jennifer Mack's paintings evoke an instant emotional intimacy between the viewer and the horse, a strong sensation of identification with the subject of each of her paintings.
She brings striking visual beauty to the viewer, and palpable presence – "There's nothing like a horse to do that." Her paintings are large scale and heirloom quality. She shows in galleries nationally, and is collected by horselovers, art collectors and corporations internationally. Private commissions are also welcome.
Jennifer's paintings are acrylic on canvas stretched on 1 3/4" frames with the exception of the "Flash of Memory" series, which is high quality/light-fast India Ink on canvas. She has tried many of the professional quality flow-releasers and liquid acrylics, but none can equal the beautiful flow of the Ink of her choice.
All of her paintings are varnished with the highest quality MLS varnishes which include UVLS protection for maximum longevity – her paintings are heirloom quality.
Each series of Jennifer's paintings has a particular inspiration. You will notice the incredible vibrance of her "Feral Desert" series. The images quiver and vibrate like the ripple of mirage first encountered in the Namib Desert that November morning – her original inspiration and founding works on the Equine are found in this series.
The "Dusty West" series is actually a mixture of Western and Eastern Influence. The Eastern influence being the moody and dramatic atmospheres within each of these paintings that is wholly inspired by Jennifer's travels through India – the smokey, dusty, dawns and dusk's that envelope the traveler, (and continue to softly haunt her memories,) combined with the type and familiar domestication of our horses here in the West.
Jennifer Mack is a full time Equine artist. She is represented by galleries nationally and exhibits at the Spruce Meadows Masters tournament annually where she thoroughly enjoys contact with the viewing public.