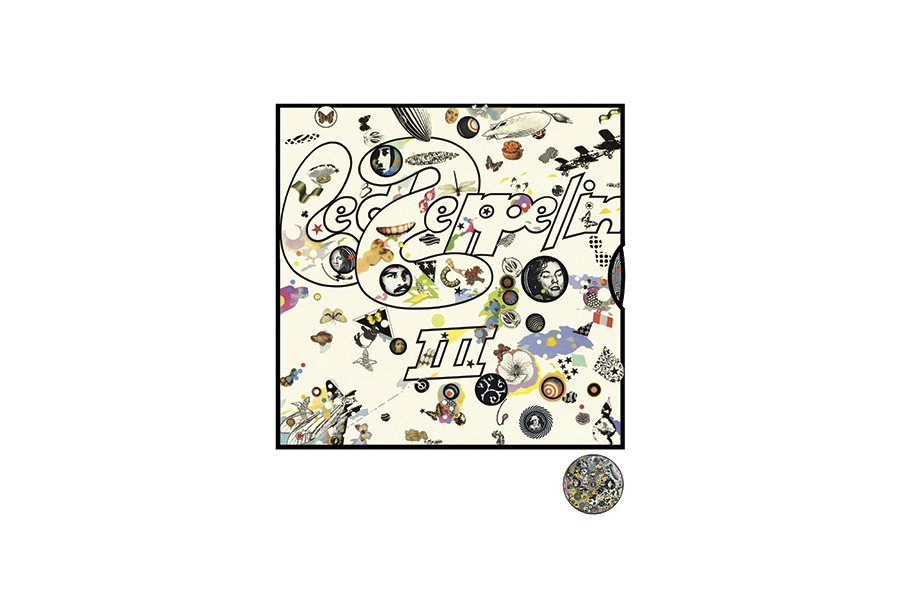 Artist James McNeil Whistler famously remarked that "As music is the poetry of sound, so painting is the poetry of sight," and throughout history, artists and musicians have successfully collaborated, producing harmonious composites of both sight and sound.
In the 1900s, Picasso and Jean Cocteau created costumes and sets for the Diaghilev Ballets. David Hockney in 1978 designed a myriad of magical sets for a production of Mozart's The Magic Flute, and even Piet Mondrian, who arrived in the States in the 1940s, fell in love with New York City and confessed to thereafter adding " a little boogie woogie " to his paintings.
It is not surprising, therefore, back in the 1960s when the music industry was turned on its head by four young men from Liverpool, that The Beatles, and later on, top rock band Led Zeppelin, would turn to the rising stars of British Pop Art to create album covers that have stood the test of time as art designs in their own right.
Based on a sketch provided by Paul McCartney, Sir Peter Blake, as he was to become, designed the cover for the Sgt. Pepper's Lonely Hearts Club Band album in 1967 with fellow artist Jann Haworth. Blake, whose works now command prices well over $500,000, came to prominence in 1961. Back then, he was a part of the now famous Royal Society of British Artists "Young Contemporaries" along with David Hockney, and in the 21st century Blake is seen as the "Godfather" and founder of the British Pop Art movement.
Pop Art first appeared in the 1950s in both Britain and the United States and was seen very much as a challenge to the prevailing traditions of the fine art movement. Found images from popular culture, including advertisements, slogans, newspapers and comics, removed from their traditional setting, isolated or matched with unrelated material, are characteristic of Pop Art work. This was used to great effect in The Beatles' much-imitated album cover, which showed the Fab Four at the center, surrounded by a collage of famous celebrities and figures from the 20th century.
Knighted in 2003, Blake said that he wanted "to make an art that was the visual equivalent of pop music." While at the Royal College of Art, he became aware of American artists such as Jasper Johns and Rauschenberg who anticipated Lichtenstein and Warhol, and based several of his collages on them. Although he has produced a range of work encompassing sculpture, printmaking and engraving, it is his commercial art in the form of album covers for which he is well known and celebrated.
And in the same way that The Beatles led the forefront of the music revolution in the sixties, it was closely paralleled in the world of visual arts. New technology led to the development in multimedia art and one of the leading figures and founding member of the Psychedelic Surrealism Movement was the artist Zacron.
In 1964 while at the Royal Academy in London, Zacron was working on a large construction entitled A Window on London. Questioning the idea that there should be boundaries to an image, he began to extend the painting onto the frame. Hearing of this work, a musician by the name of Jimmy Page came to see it and the pair struck up a resonating friendship, both sharing a great love of art and a keen interest in both traditional techniques as well as the latest technology. Page, of The Yardbirds and Led Zeppelin, bought the artwork A Window on London as well as another Zacron piece which depicted the rotation of a day in color and pictorial fragments.
By the mid-sixties, Zacron, who by then had moved to the north of England, was working on the idea of rotating books, exploring aspects of time and space using a series of intersecting spirals, when he had a telephone conversation with Jimmy Page. "Where on earth have you been?" said Page, "We've been looking for you all over. We want you to design our next album cover." The resulting "meeting of minds" with Page invoking the rotating graphic design and Zacron's innovative use of abstract visual components led to one of the most iconic works of art ever produced. To this day, the cover is still rated among the top four album covers of all time, surpassing even the Peter Blake inspired Beatles Yellow Submarine album cover.
"the images they created have become part of an international archive that will endure throughout the 21st century and beyond."
Following a meeting with Andy Warhol in New York, Zacron added photography to his multimedia vocabulary and commissions in fashion photography, industrial design and commercial art, including the Mini car campaign for British Leyland. He was nicknamed the "King of Collage" in the seventies and his work was likened to that of Peter Max. For the rest of his life, until his death in 2012, he continued to push forward the frontiers in drawing, painting, collage and digital art, all innovative and rich in pictorial imagery.
Friends and colleagues of Zacron often called him the "Renaissance Man" and he refused to be categorized or hedged in by conventional classification into one genre or another. Blake, too, has continued to move and develop as an artist, and today he defines each area of his career as three parts of a stage play, the first act being Pop Art and his most recent works, he classifies as the encore. These two very remarkable and diverse artists are inextricably linked with some of the most iconic musicians of the twentieth century. Both Blake and Zacron's work has communicated loud and clear, not just to the artistic world but to the millions of music fans across the globe, and the images they created have become part of an international archive that will endure.
---
Joseph Manqueros is an independent Consultant, Fine Art Advisor and co-founder of Junzi Consultants. As a speaker, writer, and educator with over 30 years' experience, Mr. Manqueros has lectured on the future of Fine Art worldwide. As a champion of the Arts, Joseph Manqueros has been instrumental in identifying unique and emerging market trends throughout the world. www.junziconsultants.com
Sharon Money is a freelance writer working within the arts and media industry in both the private and public sectors in the UK. A Bachelor of Science Honours graduate from the University of Salford, Sharon founded her company ScribeInkorporated in 2013 and has a passion for writing about contemporary art and modern cultural issues.