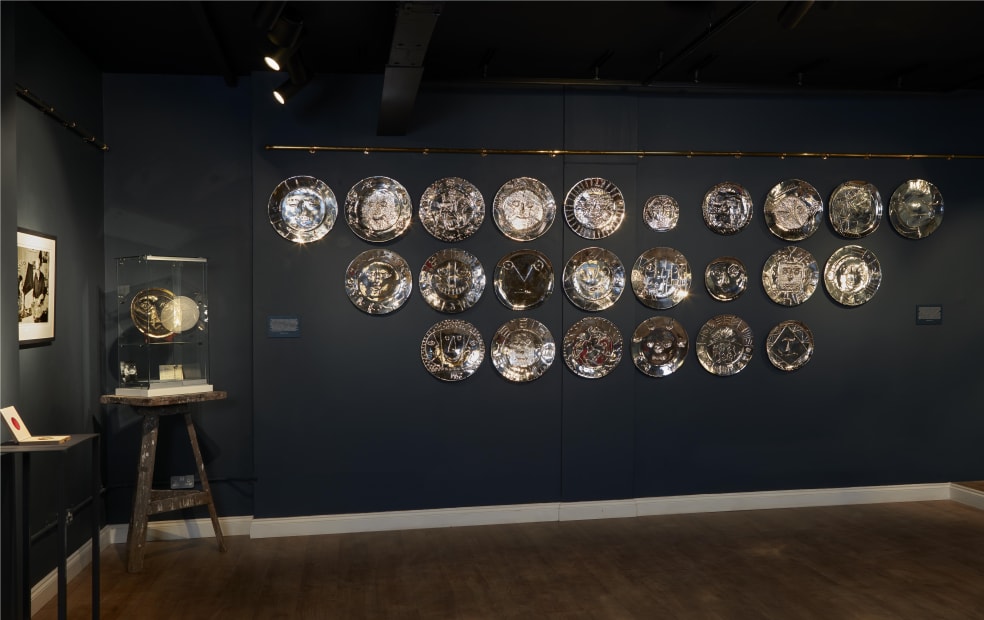 Pablo Picasso was one of the most prolific and influential artists of his generation. Many know him especially as a painter, but he was also an acclaimed sculptor, printmaker, ceramicist, and stage designer. He made history as one of the cofounders of Cubism and made major contributions to Surrealism and Symbolism. The 1950s are considered the golden years of his career. Here is the story of the 25 silver plates designed by Picasso that are available to view online or at the London exhibit by appointment.
From Ceramic to Silver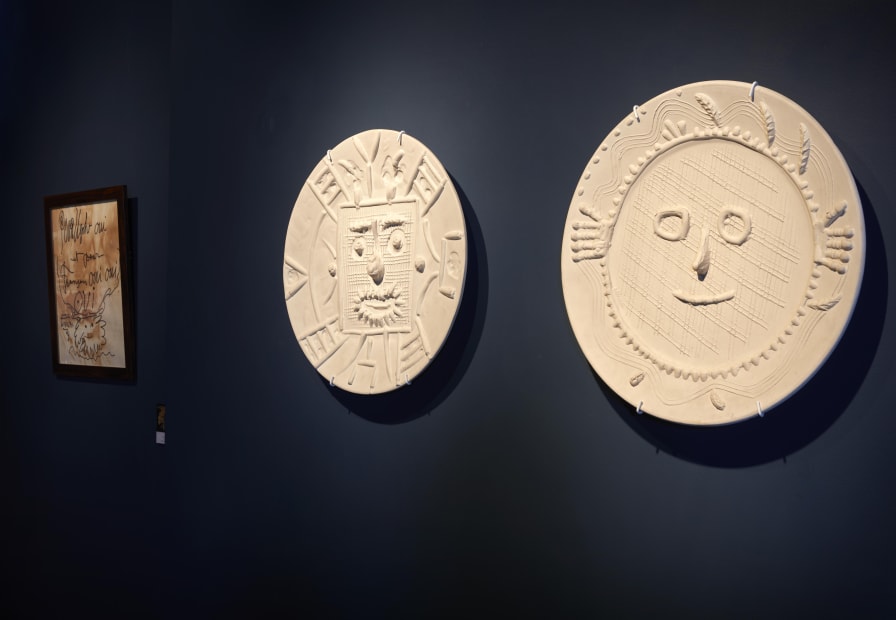 His lifelong passion for ceramics started in 1946 after a visit to the annual potters' exhibition in Vallauris, France. For 25 years Picasso collaborated with Suzanne and Georges Ramié of the Madoura workshop who were able to fabricate and sell over 633 pieces of his work. In 1956 Picasso met through their mutual friend and art historian Douglas Cooper, François Hugo who was an acclaimed French silver and goldsmith plus the great-grandson of the eminent French writer Victor Hugo. Picasso was interested in starting a collaboration and turning his ceramic plate designs into silver. The two immediately clicked: Picasso's specific and clear vision of the desired final product and Hugo's varied skillset and ingenuity in solving practical issues were the perfect combination.
The twenty-four silver plates were realized using the repoussé technique where the metal gets hammered from the reverse side to create a design in low relief. The plates have three recurring themes: bullfighting, Jacqueline Roque, and Henri Matisse.
Plate Design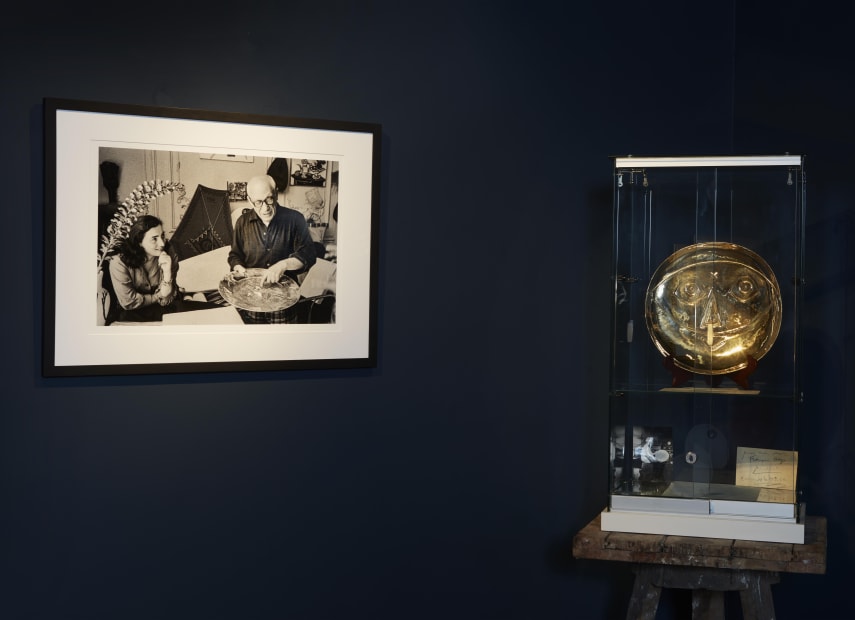 Bulls and horses have always been very present in Picasso's work. He was born and lived in Spain where the Corrida, the Spanish-style bullfighting, is considered a cultural pillar. The dynamic, gore, and actions of these fights are referenced in four plates: Faune cavalier, Joueur de flute et cavaliers, Taureau, and Centaure.
Picasso was 72 when he met 26 years old Jacqueline Roque at the Madoura Pottery Plant. He was immediately charmed by her as she quickly transitioned from being his assistant to one of his greatest muses. They married in 1961 and they stayed together till his death. During this time Picasso made over 400 portraits of her, fascinated by the geometry of her exaggerated neck and feline face which can be recognized in the plate Profil de Jacqueline.
Henri Matisse's work on simplifying forms and lines had a significant influence on Picasso. After Matisse's death in 1954 the Spanish painter started incorporating his legacy into his work. The abstract ornamentation along the Visage aux feuilles and Joie de vivre plates' perimeter recalls Matisse's most famous cut-outs. Joie de vivre is a clear tribute to La Danse, Matisse's most famous painting.
Exhibits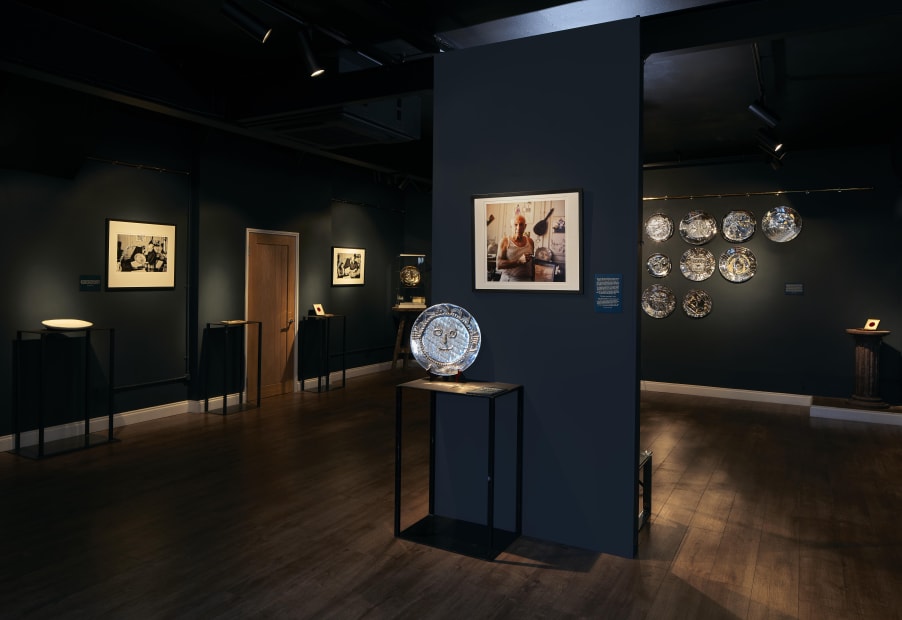 Picasso's intention was to keep all 24 plates for himself and occasionally show them to friends and colleagues. In 1965 he authorized François Hugo to make a numbered edition of each plate, but he limited the sale to a small group of friends and experts. It was in 1967 that some of the pieces were displayed at the gallery Le Point Cardinal in Paris in an exhibition entitled Atelier François Hugo. The public became aware of this precious collaboration only in 1977 during Picasso's solo exhibition at London's Lever Galleries and Paris's Galerie Matignon which became a milestone and a reboot of Picasso's career making him gain an international appreciation for his non-painting works.
The plates have been sold out for years but, finally, there is a full set available to be viewed. Masterpiece Art, London, is "privileged to be able to bring together under one roof an entire edition of these sublime artworks," says Executive Gallery Manager and Sales Director, Alex Cousens.
All 24 plates plus the 25th considered the "progenitor" Visage aux Mains made for Picasso's personal collection are available to view online via a 3-D walkthrough and the PICASSO I HUGO: Agents d'Argent et d'Or exhibit can be viewed in London by appointment. The full set has never been publicly exhibited before in the United Kingdom.