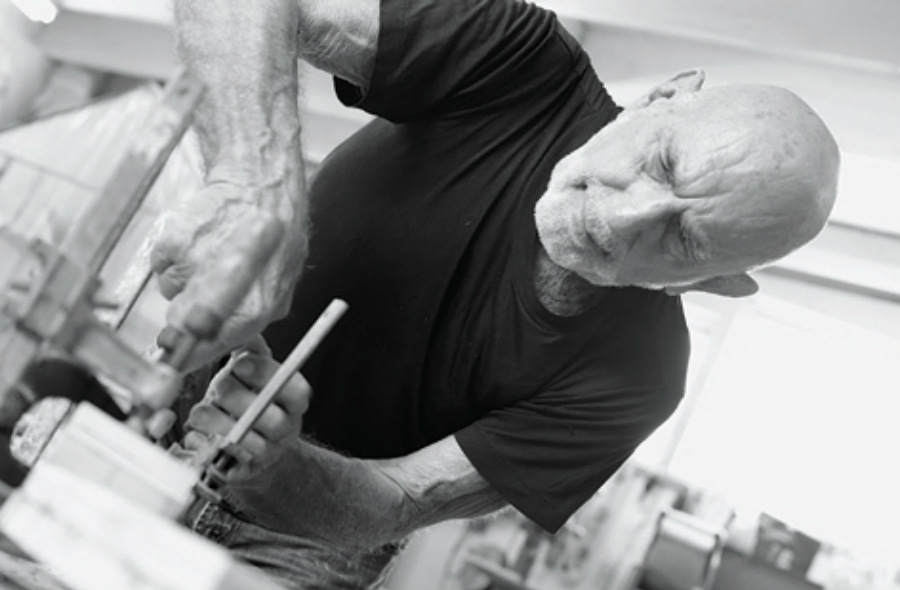 What some might see as just fuel for the fire, Ron Kent sees as fuel for artistic expression using his combustible combination of talent and technique.
Transforming the most organic of materials – wood – Ron Kent has progressed from self-taught artist toying with pieces of Hawaiian driftwood to an internationally-renowned craftsman whose work is listed among the permanent collections of some of the world's leading museums, including the Metropolitan Museum of Art and the Louvre's Musée des Arts Décoratifs.
Decades have passed since Ron Kent started turning a piece of wood on a lathe his wife bought him for Christmas years ago. He started out with driftwood, creating elongated bottle-shaped pieces, which became more sophisticated with new experiments in form. The Hawaiian Islands presented an endless supply of material, and Ron Kent enjoyed his pastime while furthering his career in the financial industry.
While Ron Kent's early works are an important part of his oeuvre and show his progression from tinkerer to titan among wood turners, it was when he turned his attention to creating wooden bowls that the art world began to drink in the exquisite mastery of his work. The artist's use of Norfolk Island pine to create his magnificent vessels resulted in luminous objects that shone like golden, religious chalices.The wooden bowls became a Holy Grail for collectors.
"I would carve the bowls as thin as possible, and then it took months and months to soak it in oil, let it dry, sand it down and repeat the process," Ron Kent once explained. "The oil builds up polymers inside the wood, hardening it from the inside. There's no varnish or lacquer, just oiling and sanding. This way, what you touch is the actual wood itself. It's the insides that have hardened."
Exhibited under gallery lighting, the bowls take on an incandescent quality that has captured the attention of critics and collectors alike. The historic Edward Jacobsen Collection of Turned Wood Bowls that toured the United States included four of Ron Kent's pieces that were presented in the first book to document the viability of turned wood bowls as collectable artworks. He was subsequently included in other perception-changing exhibitions and books, such as Craft Today: Poetry of the Physical (1986), The White House Collection of American Crafts (1993) and Expressions in Wood: Masterworks from the Wornick Collection (1996). As a result, his work has landed in the hands of presidents, crowned heads and even his Holiness Pope John Paul II.
"Though totally dependent upon nature for line, gesture and coloration, it is worth noting the relationship between his work and abstract painting," says writer/curator Kevin Wallace. "The expanse of Ron Kent's bowls and his platters take full advantage of the natural formations that are often quite similar to the canvases of the abstract expressionists. In the case of Ron Kent's work, however, there is also line and form, which has been largely dictated by the natural abstraction found in a particular piece of timber."
Making his home in Hawaii since the 1970s, Ron Kent has built upon a tradition of the islands that has involved the creation of koa wood bowls for generations. But it was Kent, along with fellow artists Dan Deluz and Jack Striata, that elevated it to a new art form and transformed the pieces from functional to ornamental. The decorative aspects of his work caught the eye of Architectural Digest when it selected him to participate in its annual Home Design Show in New York in 2008.
At 81, Ron Kent has never stopped pushing the boundaries of his medium, even as he has inspired others to try and replicate his work's translucent properties. While his signature pieces are often claimed from pieces of Norfolk Island pine, he has tackled other materials, from bonded and pressurized marine plywood to copper and other metals.
Using plywood that is stacked and glued until it reaches heights of seven or eight feet, Ron Kent has created what he calls The Guardians series, monolithic sculptures that hark back to his early bottle shapes and weigh up to 160 pounds. When the Four Seasons Maui Resort at Wailea underwent a $50 million renovation a few years ago, Kent was one of 60 different Hawaiian artists whose works were selected to represent the state's history from statehood to the present.
"I glue a dozen or so together, and then hand-shape them," Kent has said of the plywood pieces. "What I love is the personality that develops in each one. Some are more forceful, others refined."
Whether working with plywood or the remnant of a once living tree, the artist lets inherent shapes and grains guide him in his aesthetic. "My mission is to create and select the silhouette that best interacts with the natural characteristics of each log, highlighting the intrinsic beauties that nature had provided, seeking a harmonious blend," Kent once said of his approach to integrating form and the wood's natural beauty.
Along the way, Kent has kept his collectors and critics scratching their heads as he played with ideas of deconstructing the vessel, as he did with his Post-Nuclear Series, purposely cutting into his sacrosanct bowls then stitching them back together with pieces of patinated copper, pig gut and other materials.
In his Pele Series, named for the Hawaiian goddess of the volcano, the grain and pattern of a wooden bowl is covered with heavy, dark acrylic paint on the outside, while the interior blazes in shades of red, yellow and orange that might be seen inside the cone of a volcano. Taking his experimentation with the medium one step further, the artist has even created an Apocalyptic Series, working with wood that has been consumed by flames that create texture and patterns, which are further worked with a wire brush.
Ron Kent's manipulation of his chosen medium continues to evolve, and in the process, fascinates the viewer into seeing something at once primordial and postmodern – more than just another piece of wood.